Workers in FCT to begin indefinite strike
Some Labour unions in the Federal Capital Territory, Abuja have concluded arrangement to embark on an indefinite strike.
The  Joint Unions Action Committee (JUAC) in the FCT's administrative MDA's including the Federal Capital Territory Administration (FCTA) and Federal Capital Development Authority (FCDA) announced they will go on an indefinite strike, due to the FCT Civil Service Commission Act which they say has not been implemented.
This was disclosed by the Chairman of the Joint Unions, Mr Matilukoro Korede, on Monday in Abuja.
He warned that the Act has not been implemented in 3 years and has been neglected by the Administration as workers are denied their benefits, citing that FCT Minister's refusal to implement the act cannot be allowed to continue.
READ: FCT Minister presents N299.96 billion as 2021 statutory budget
He added that the joint unions were ready to go on an indefinite strike, also stating that the Unions have demanded the implementation of Executive Order 1 of 2004, which abolished the Ministry of the Federal Capital Territory long before the signing of the Act, which allows FCT workers to advance in the service.
"It will also give opportunity to FCT workers to advance more in administrative cadre, while a qualified worker from the system can be appointed FCT Head of Service as obtained in states," he said.
"It was a huge relief when the National Assembly harkened to the voice of the staff of the FCT Administration by enacting, passing into law and gazetting it with the consent of the President and the FCT-Civil Service Commission in 2018.
READ: Resident Doctors' strike: Nigerian Medical Association speaks out
This is three years down the line; the big question is why has it been difficult to implement it till date?
The FCT-Civil Service Commission is created by an act of parliament just like the Federal Civil Service Commission and those of the States Civil Service Commission with primary responsibility of appointment.
Among the demands of the workers are the removal of all FCTA staff from the Accountant-General of the Federation Integrated Personnel and Payroll Information System (IPPIS).
Others include immediate release of all pending cases of conversion, upgrading, advancement and abolishment of casualisation of workers on FCTA. Especially in Transportation Secretariat, Water Board and the Abuja Environmental Protection Board, promotion and discipline also known as (APD), within the FCT," Korede added.
READ: FEC approves N82 billion for infrastructure projects in the FCT
In case you missed it
Following the recent Resident Doctors strike in Nigeria which is affecting healthcare service delivery, the Nigeria Medical Association (NMA) broke its silence on the industrial action, apologising to Nigerians for the strike that has caused challenges to healthcare value chains. The association expressed hope for the resolution of the issues.
Unemployment: Tech can be used to reduce youth unemployment – BOI
The FG disclosed that technology can be used as a catalyst to solve the youth unemployment crisis in Nigeria.
The FG disclosed that Technology can be used as a catalyst to solve the youth unemployment crisis in Nigeria, citing that embracing tech and infusing it into business processes will make organisations and the country more competitive.
This was disclosed by Mr Olukayode Pitan, Managing Director,  Bank of Industry (BOI), at the inauguration of BOI-UNILAG Incubation and Co-Working Hub, on Thursday in Lagos.
What Mr Pitan said
Tech can help solve some of Nigeria's social problems particularly youth unemployment which has been further exacerbated by the pandemic.
At the Bank of Industry, we believe that corporate organisations that are privileged to be in business at these difficult times need to bring groups of like-minded young individuals together to help create wealth and prosperity for future generations.
Embracing tech and infusing it into business processes will make organisations and the country more competitive.
It can create exciting jobs that encourage our young people to stay in Nigeria even as they work and compete globally," he said.
The BOI boss also revealed that 2 additional hubs have been completed in Kaduna and Kebbi, citing that the bank will also provide funding to support credible and bankable ideas that emerge from the tech hubs to enable them start operations and scale into viable businesses.
"At the Bank of Industry, we believe that with the collective will of our young people's positive passion, the right government policies, mentorship, and private capital, this can become a reality in a short period," he said.
What you should know
Nigeria's unemployment rate as of the end of 2020 rose to 33.3% from 27.1% recorded as of Q2 2020, indicating that about 23,187,389 (23.2 million) Nigerians remain unemployed.
According to the last Gross Domestic Product Report, released by the National Bureau of Statistics (NBS), the information and communication sector grew by 13.8%% in full-year 2020 compared to 11.08% recorded in 2019 and 9.65% in 2018.
FG deploys undercover agents to check touting, extortion, others by passport officers
This is part of measures to make the passport application process easier, seamless and transparent.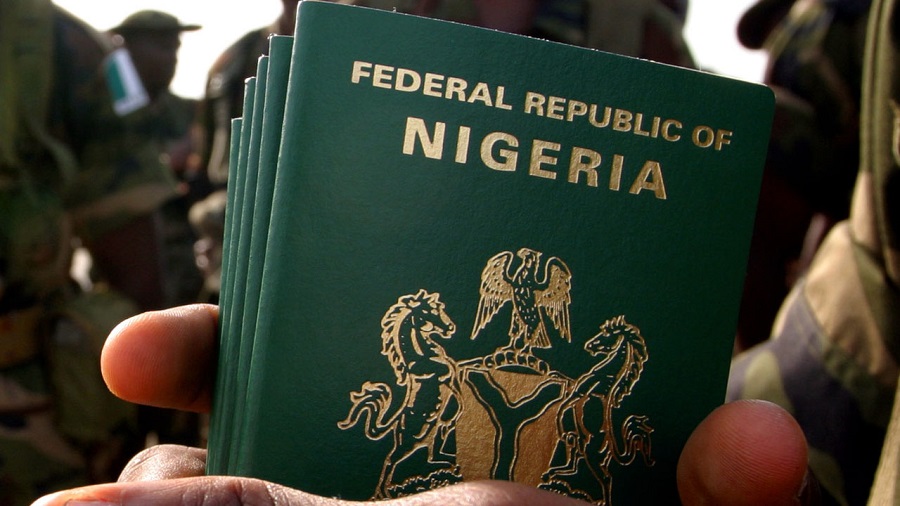 The Federal Government, on Thursday, announced plans to deploy undercover security operatives in a bid to check touting, extortion and other sharp practices by passport officers across the country and at Nigerian missions abroad. This is part of measures to make the passport application process easier, seamless and transparent.
This disclosure was made by the Minister of Interior, Mr Rauf Aregbesola, in Abuja on Thursday, April 22, 2021.
The Minister stated that the country had in the past witnessed several challenges, which included shortage of booklets, touting, racketeering, inflating the cost of passports being issued to ineligible persons, and so on.
What the Minister of Interior is saying
Aregbesola, in his statement, said, "We are turning round the entire passport application process in a way that is going to be easy, seamless and transparent. We will also accord human dignity to applicants and fulfil citizenship integrity.
Therefore, I am declaring a zero-tolerance stance to all forms of touting. No applicant will be made to pay any illegitimate fees. We are going to embed security operatives, seen and unseen, in all our passport offices. They will wear body cameras.
They will also detect and report any form of solicitations, inflation, improper communications, extortion, diversion, hoarding and other corrupt practices. Applicants will have no basis for further communication officers, other than to complete their application process and leave the venue.
The date for the collection of their passports or any challenge to the application will be communicated to them. The technology for the efficient running of this system has been acquired and will be deployed. Those caught will be dealt with according to the law."
The Minister said that an ombudsman would also be created for members of the public to receive complaints and reports on officers trying to deviate from prescribed guidelines and subvert the process.
He explained that 2 special centres for expedited services had been created, adding that the special centres would run on a public-private partnership basis.
He said, "We are publishing on our website the list of the backlog of passports that are ready which are yet to be collected by the owners. They will be required to go to the state commands to collect them."
In case you missed it
It can be recalled that in March 2021, the Federal Government in partnership with the private sector, launched the Nigeria Immigration Service Passport Express Centre.
This is to enable the government offer passport services to Nigerians and make passports available within a maximum period of 72 hours after a successful application.