Covid-19 protocol: FG may suspend flights from UAE, the Netherlands
The FG is considering the suspension of flight operations from the UAE and The Netherlands due to new Covid-19 protocols.
The Federal Government has threatened to suspend flight operations from the United Arab Emirates (UAE) and the Netherlands due to the new Covid-19 protocols introduced by both countries for incoming international passengers.
According to a report from the News Agency of Nigeria (NAN), this disclosure was made by the Director-General of the Nigerian Civil Aviation Authority (NCAA), Mr. Musa Nuhu, at the Presidential Task Force (PTF) on Covid-19 media briefing on Monday, February 1, in Abuja.
Nuhu said that both countries recently requested that passengers from Nigeria must carry out PCR tests four hours before departing the country.
READ: FG suspends passports of 100 Nigerians for refusing post-arrival Covid-19 test
What the Director-General of NCAA is saying
Nuhu in his statement said, "In addition to the requirements are a requirement for PCR test before passengers depart from Nigeria to their countries. They are adding an extra requirement of having a rapid test done four hours before departure or before you board.
"For us, passengers do the test 72 hours before departure and then the PCR test and the PTF recognizes the rights of all countries to put in measures to protect their citizens just like Nigeria has done. If they insist on having these additional tests being done, then PTF has decided that their operations will be suspended into Nigeria."
READ: South Africa receives first batch of COVID-19 vaccines from India
While pointing out that these countries and airlines could not determine for Nigeria, who to approve or how these tests should be done, the NCAA boss said the government would be discussing with the airlines and countries involved.
He further explained, "This will enable the PTF to have a clear and transparent process on determining who will do these tests based on the requirement for accreditation by NCDC, National Laboratory Council, Lagos State Government for Lagos airport and FCT for Abuja airport."
READ: Covid-19: FG reports 36% drop in confirmed cases, disburses N32 billion to 32 states
What you should know
Nairametrics had reported that Rwandair disclosed that the UAE had barred transit flights to Dubai, as it would only allow passengers on direct flights to Dubai. This means that passengers originating from Nigeria to Dubai through any transit point would not be allowed to enter Dubai.
The Netherlands, in their latest travel advice which applies to all passengers including Dutch nationals and nationals of other EU and Schengen countries, said that if a passenger was unable to present a negative test result, they might not travel to the Netherlands and would not be permitted to board the aircraft or ferry.
They also said that anybody arriving in the country would be strongly advised to self-quarantine for 10 days.
COVID-19 Update in Nigeria
On the 24th of February 2021, 655 new confirmed cases and 11 deaths were recorded in Nigeria
The spread of novel Corona Virus Disease (COVID-19) in Nigeria continues to record significant increases as the latest statistics provided by the Nigeria Centre for Disease Control reveal Nigeria now has 153,842 confirmed cases.
On the 24th of February 2021, 655 new confirmed cases and 11 deaths were recorded in Nigeria.
To date, 153,842 cases have been confirmed, 130,818 cases have been discharged and 1,885 deaths have been recorded in 36 states and the Federal Capital Territory. A total of 1.49 million tests have been carried out as of February 24th, 2021 compared to 1.44 million tests a day earlier.
COVID-19 Case Updates- 24th February 2021,
Total Number of Cases – 153,842
Total Number Discharged – 130,818
Total Deaths – 1,885
Total Tests Carried out – 1,489,103
According to the NCDC, the 655 new cases are reported from 21 states- Lagos (240), Ogun (88), Rivers (56), FCT (51), Kaduna (43), Kano (25), Plateau (21), Taraba (19), Edo (17), Abia (15), Delta (13), Nasarawa (11), Akwa Ibom (10), Kwara (10), Oyo (10), Kebbi (9), Borno (5), Bayelsa (4), Gombe (4), Ekiti (2), and Osun (2).
Meanwhile, the latest numbers bring Lagos state total confirmed cases to 55,122, followed by Abuja (19,115), Plateau (8,854), Kaduna (8,422),  Oyo (6,708), Rivers (6,398), Edo (4,491), Ogun (4,277), Kano (3,716), Ondo (2,944), Kwara (2,875), Delta (2,539), Osun (2,326), Nasarawa (2,208), Gombe (2,031), Katsina (2,029), Enugu (1,998), Ebonyi (1,839), Anambra (1,615), and Abia (1,487).
Imo State has recorded 1,440 cases, Akwa Ibom (1,439), Borno (1,247), Bauchi (1,221), Benue (1,188), Niger (912), Ekiti (797), Sokoto (768), Bayelsa (767), Adamawa (762), Taraba (712), Jigawa (496), Kebbi (358), Yobe (268), Cross River (267), Zamfara (219), while Kogi state has recorded 5 cases only.
READ ALSO: COVID-19: Western diplomats warn of disease explosion, poor handling by government
Lock Down and Curfew
In a move to combat the spread of the pandemic disease, President Muhammadu Buhari directed the cessation of all movements in Lagos and the FCT for an initial period of 14 days, which took effect from 11 pm on Monday, 30th March 2020.
The movement restriction, which was extended by another two weeks period, has been partially put on hold with some businesses commencing operations from May 4. On April 27th, 2020, Nigeria's President, Muhammadu Buhari declared an overnight curfew from 8 pm to 6 am across the country, as part of new measures to contain the spread of the COVID-19. This comes along with the phased and gradual easing of lockdown measures in FCT, Lagos, and Ogun States, which took effect from Saturday, 2nd May 2020, at 9 am.
On Monday, 29th June 2020 the federal government extended the second phase of the eased lockdown by 4 weeks and approved interstate movement outside curfew hours with effect from July 1, 2020. Also, on Monday 27th July 2020, the federal government extended the second phase of eased lockdown by an additional one week.
On Thursday, 6th August 2020 the federal government through the secretary to the Government of the Federation (SGF) and Chairman of the Presidential Task Force (PTF) on COVID-19 announced the extension of the second phase of eased lockdown by another four (4) weeks.
Governor Babajide Sanwo-Olu of Lagos State announced the closed down of the Eti-Osa Isolation Centre, with effect from Friday, 31st July 2020. He also mentioned that the Agidingbi Isolation Centre would also be closed and the patients relocated to a large capacity centre.
Due to the increased number of covid-19 cases in Nigeria, the Nigerian government ordered the reopening of Isolation and treatment centres in the country on Thursday, 10th December 2020.
On 26th January 2021, the Federal Government announced the extension of the guidelines of phase 3 of the eased lockdown by one month following the rising cases of the coronavirus disease in the country and the expiration of phase 3 of the eased lockdown.
READ ALSO: Bill Gates says Trump's WHO funding suspension is dangerous
Covid:19 WHO says wealthy countries are undermining COVAX vaccine initiative
WHO DG has said that the deal between rich countries and vaccine manufacturers is undermining its COVAX initiative.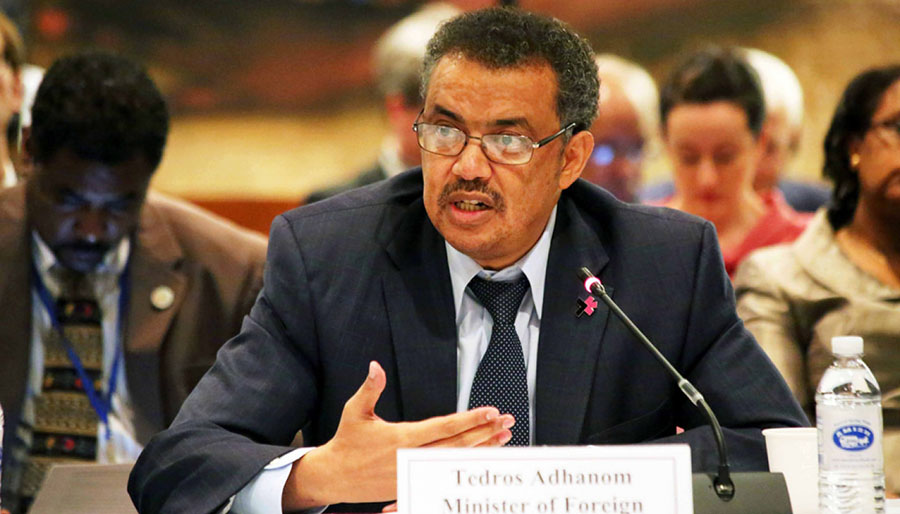 The Director-General of the World Health Organization (WHO), Tedros Adhanom Ghebreyesus, has said that the deal between high-income countries and manufacturers of Covid-19 vaccine are undermining its COVAX initiative by reducing the number of doses it can purchase.
This is as he pleads with rich countries to check before ordering additional Covid-19 vaccine shots for themselves whether that undermines efforts to get vaccine shots to poorer nations.
According to a report from Al Jazeera, this was disclosed by the WHO boss after talks with German President, Walter Steinmeier
Wealthy nations have snapped up several billion vaccine doses and some countries have ordered enough shots to vaccinate their populations more than once, while some countries in the developing world have little or none.
Tedros said that these actions by the rich countries have even led to the reduction of the amount that was allocated to COVAX, although he did not mention the names of the countries involved or provide other details.
He harped on the need for the rich countries to cooperate in respecting the deals that COVAX has with the manufacturers and make sure before they seek more vaccines that their requests do not undermine those deals.
Tedros said, "But I don't think they're asking that question.''
Tedros, who has earlier warned that the world faces a catastrophic moral failure if Covid-19 vaccines are not distributed fairly, said he understands the political pressures leaders in high-income countries face.
He said, "If this virus is not defeated everywhere, we cannot defeat it globally. It will have a safe haven somewhere and can strike back.''
He added that countries left behind in vaccinating could also become breeding grounds for new variants.
He also called for the stepping up of vaccine production because with increased production, there will be more vaccines available, then there is a better volume to share.
What you should know
The WHO has kicked against vaccine nationalism, which they said will prolong the fight against the coronavirus pandemic. A successful global vaccination campaign is considered to be key to stemming the pandemic.
This led to the launching of the WHO-backed COVAX initiative to ensure equitable distribution of the coronavirus vaccine across the globe, especially among the poorer countries.
European nations have given financial support to the UN-backed COVAX scheme, which aims to get vaccines to the world's most vulnerable people and are considering sharing some of their own doses, though they have not specified when.
On Friday, leaders of the Group of Seven industrial powers said they would accelerate global vaccine development and deployment and support "affordable and equitable access to vaccines" and treatments for COVID-19.
They cited a collective $7.5bn from the G7 to UN-backed efforts.
Nairametrics | Company Earnings