Investors' demand for Nigerian stocks climb, as portfolio investment gains N223.4 billion in 4 months
Latest report by the Nigerian Stock Exchange has shown an increase in total portfolio investment.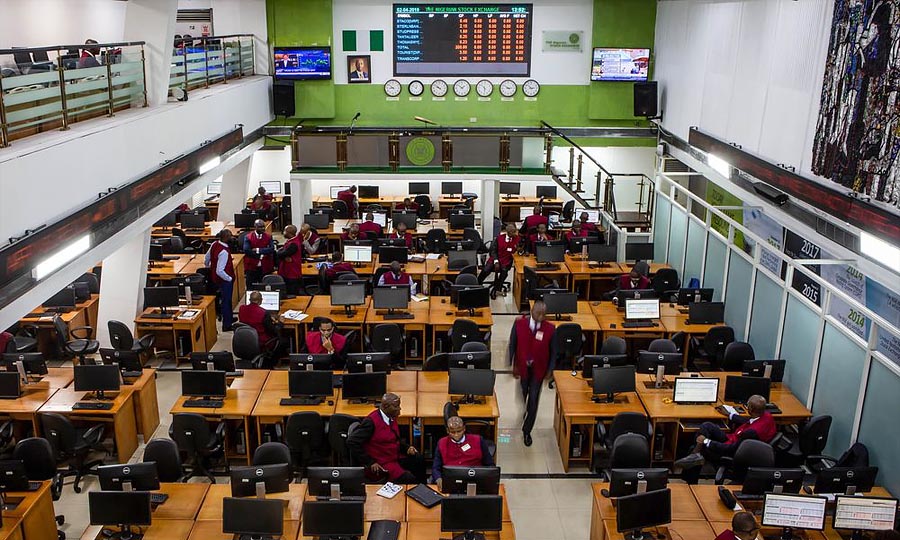 Investors' demand for Nigerian Stocks has maintained an upward trend in the last four months, as total portfolio investments rose by N223.4 billion between August and November 2020.
This is according to a domestic and foreign investments report released by the Nigerian Stock Exchange (NSE).
READ: FCMB founder, Otunba Olasubomi Balogun splashes N15.35 million on additional 5million stocks
According to the report, the total portfolio investments rose by 236.5%, from N94.45billion recorded as at August 2020. The breakdown of the lump sum shows that domestic transactions contributed about 78.82% of the total portfolio transactions as atNovember 2020, while foreign transactions contributed 21.18% for the period under review.
READ: NNPC: Gross revenues surge by 37.3% to N222.3 billion in November
Key highlights
Total portfolio investment between January and November stood at N1.9 trillion
Between August and November 2020, foreign transactions increased by N28.33 billion.
Domestic transactions rose astronomically between the periods under review, from N55.47 billion to N250.50 billion, indicating a gain of 351.6%.
Compared to the months of October 2020, the performance of the current month indicates that total portfolio investments rose by N72.91 billion.
READ: Capital flows to Nigeria down for the second consecutive quarter by 7.8% q/q 
What you should know
Nairametrics earlier reported that Nigerian Stocks was ranked World's best-performing stock market in 2020, with a Year-to-Date return of 50%
The report showed that over a thirteen (13) year period, domestic transactions decreased by 72.30% from N3.556trillion in 2007 to N985billion in 2019.
On the other hand, the historical trend also revealed that foreign transactions increased by 53.08% from N616billion to N943billion over the same period.
In 2019, total domestic transactions accounted for about 51% of the total transactions carried out, whilst foreign transactions accounted for about 49% of the total transactions in the same period.
READ: Trading on Nigerian equities has dropped by 44%
Bottom Line
A long-run analysis of the Nigerian total portfolio investment demand showed that foreign transactions outgrew local transactions, indicating that Nigeria stocks are highly competitive and demanded more by foreign nationals, whereas a short-run analysis proved otherwise.
READ: Nigerian economy's 40% exposure to foreign credit is dangerous- CBN
One key takeaway from the report is that the long-run trend is narrowing down especially in the last couple of months, as more Nigerian investors venture into the market.
Japaul Gold slumps by 30%, after rallying to 52-week high of N1.67 on Monday
Japaul Gold stocks slumped by as much as 30%, as investors sell off shares of the rebranded company.
Japaul Gold stocks slump by as much as 30% in three trading sessions, as investors on NSE continue to sell off shares of the rebranded Gold exploration and mining company, after rallying by 146% in 11 days.
It is important to note that the shares of the rebranded and restructured company with a new focus on Gold exploration as its new name suggests, rallied to a record 52-week high of N1.67 on Monday, as buying pressures moved year-to-date gains to 169.4% at mid-day.
However, profit-taking activities by investors saw the shares of the company dip by 15% from N1.67 to close the market on Monday 25 kobo lower at N1.42.
A preview of the performance of the shares of the company by Nairametrics at the close of trade on the exchange today revealed that Japaul shares slumped by 30.5% from its 52-week record high price of N1.67, which was recorded on Monday 18th January 2020, to N1.16 at the close of trade on the exchange today.
Read Also: Dangote Cement gains ₦273 billion on NSE since release of its 2020 Q3 report
What you should know
The drastic decline in the company's share price was triggered by a huge sell-off by investors, as many consider the shares of the company to be overvalued at the current price.
In line with this, Japaul share price recorded significant decline for the third consecutive day, with the share price of the rebranded company closing at N1.16, after 4.51 million shares of the company exchanged hands in 60 deals worth over N5.2 million.
What to expect
A decline in the shares of the company is expected tomorrow as over N28.9 million units of the company's shares, worth N33.5 million were offered today at N1.16 without a single bid.
This suggests that investors will likely offer the shares of the company at a lower price tomorrow to avoid being trapped, as the shares of the company continue to shed value. 
Governor Sanwo-Olu says 24,000 students yet to resume in public schools
24,000 students in public schools are yet to return back after the reopening of schools, according to Governor Sanwo-Olu.
The Lagos State Governor, Babajide Sanwo-Olu, has revealed that about 24,000 students in public schools are yet to come back after the reopening of schools following last year's lockdown necessitated by the first wave of Covid-19 across the country.
This is as the governor said that resumption of school activities Monday, January 20, 2021, was a difficult decision to make in light of the second wave of Covid-19.
This disclosure was made by the governor while peaking during a press conference on Covid-19 update at the Lagos House, Ikeja on Tuesday.
Sanwo-Olu assured that it was the best decision for the children's safety and long-term development, especially the most vulnerable ones.
What the Lagos State Governor is saying
Sanwo-Olu in his statement said, "Last year after the first lockdown and kids have to come back to school, we are still looking for about 24,000 of them that have not come back to school. So, there is a challenge if you keep them out for that long and their parents or guardians now turn them to other things instead of ensuring that they have time to come back for learning even if it is twice or thrice a week.
"At least they have been registered since the beginning of a session and they can be monitored. If not, they will just be roaming the streets and become endangered. We have seen incidents of child abuse and all unprintable things that are being done to these children. So, we believe to a large extent that schools sometimes happen to be the safe haven for them. We have done the roster in which we ensure they keep social distance and we are monitoring," he said.
What you should know
It can be recalled that public and private schools below the tertiary level in Lagos State, On Monday, January 18, 2021, reopened for academic activities despite opposition from some stakeholders due to the second wave of coronavirus pandemic in the state.
Following the surge in the number of infections in the state, which is the epicentre of the disease in the country, there were complaints about the state of preparedness of the schools, especially the public ones, in adhering to the strict Covid-19 protocols and guidelines.
Breaking: Joe Biden sworn-in as the 46th President of the United States
The whole world watched in awe as Joe Biden was sworn in as the new President of the United States.
Joe Biden has been sworn in as the 46th President of the United States.
The 78-year-old Democrat and former Vice president to Barack Obama is being sworn in after emerging the winner of last year's Presidential elections.
Biden's running mate, Kamala Devi Harris was sworn in as vice president by Justice Sonia Sotomayor, becoming the first woman and the first black and Asian-American person elevated to serve in a role a heartbeat from the presidency.
The inauguration took place at the US Capitol, the same building that was stormed on January 6, by Donald Trump's violent supporters.
Trump who for months refused to conceded to Biden's victory at the polls left the White House for the final time hours earlier and flew to Florida after making it clear weeks ago that he will not be attending the inauguration.
Trump's Vice, Mike Pence attended the ceremony, as he skipped Trump's farewell military salute event at Andrews base.
The ceremony includes musical performances by Lady Gaga – who sang the national anthem – as well as Jennifer Lopez and Garth Brooks.
Former Presidents; Barack Obama, George W. Bush and Bill Clinton were all present at the inuaguration
What you should know
At 78, Biden is the oldest president ever to take the oath of office.
In his speech, Biden swore to defend the constitution and the country "against all enemies, foreign and domestic".
History was made as Kamala Harris became America's first female, first Black and first Asian American vice-president.
Donald Trump skipped the ceremony, becoming the first president not to attend his successor's inauguration since 1869.