WTO members have ensured support for Okonjo-Iweala's candidacy – Garba Shehu
Garba Shehu said President Buhari has reached out to multiple WTO leaders who have ensured their support for Okonjo-Iweala.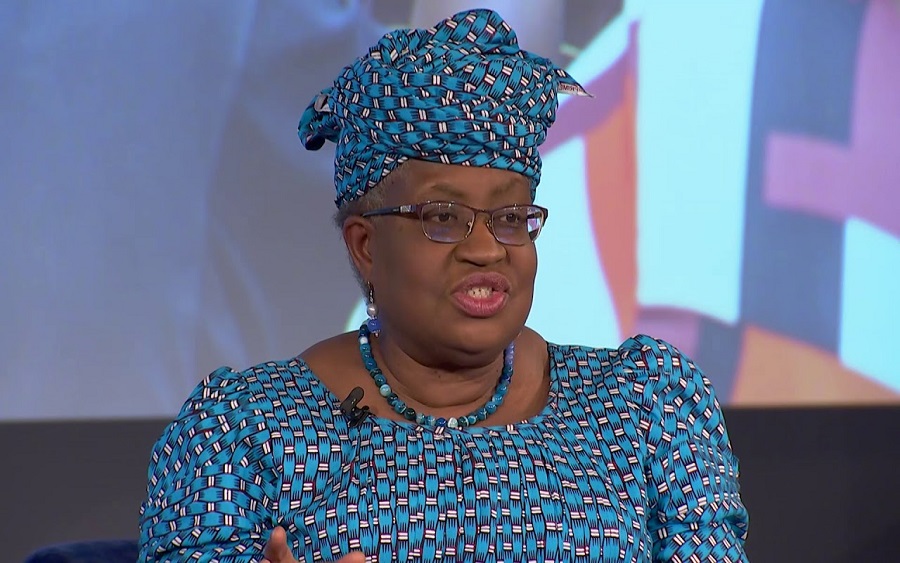 Mr. Garba Shehu, the Media Aide to the President Muhammadu Buhari, said the President reached out to multiple WTO leaders, who have ensured their support for Nigeria's WTO candidate, Ngozi Okonjo-Iweala, despite the postponement of the announcement date for a new DG.
Garba Shehu disclosed this on Sunday in an interview with Channels TV.
READ: Presidency denies building rail line from Nigeria to Niger Republic
He said President Buhari has discussed with multiple leaders, to thank them for their support and also maintain support for Nigeria's candidate which he says is bearing results.
READ: WTO: Nigeria to persuade the US to join the consensus on Okonjo-Iweala – Trade Ministry
"President Buhari has been talking to all world leaders. At some point, Ngozi Iweala had a list of those to be talked to, so President Buhari talked to them; some to thank for being so strong in their support, others maybe to be encouraged to firm up their support for her candidacy and we are seeing the result of this."
READ: WTO: Okonjo-Iweala says she is positive despite hiccups
What you should know 
Nairametrics reported that the World Trade Organization (WTO) announced that it postponed the planned November 9th meeting to discuss the appointment of Nigeria's Okonjo-Iweala as the next Director-General.
READ: Facebook to award $3 million in Community Accelerator program
This comes after the Ministry of Foreign Affairs announced in a statement last month that Okonjo-Iweala, secured the support of the majority of the member nations – but was yet to be declared and returned the winner, as the United States was opposing the consensus.
National Assembly does not have power to replace constitution – Omo-Agege
The Deputy Senate President has stated that the National Assembly does not have the power to replace the constitution.
The Deputy President of Senate, Ovie Omo-Agege, has stated that the National Assembly does not have the power to replace the constitution.
The Senator disclosed this at a meeting with the Alliance of Nigerian Patriots led by Amb. Umunna Orjiako on Wednesday. He was represented by his media aide, Mr. Yomi Odunuga.
READ: FG to inject over N198 billion on capital projects in power sector in 2021
Omo-Agege said what could be achieved was an amendment of the constitution by the National Assembly. He urged stakeholders to channel the demands of a new constitution towards constitutional amendment.
"I am not so sure that we as a Parliament have the power to replace the Constitution. We can only make amendments and it is explicit in sections 8 and 9 of the constitution on how we can do that and the requisite number of votes required.
READ: Nigeria is the 14th largest producer of tomatoes in the world, second in Africa – NIHORT
"I say that because there are some top attorneys in this country, who for some reasons, keep saying that we don't even need any of this, that we should just bring a new constitution. We can't do that.
"What we are mandated to do by law is to look at those provisions and bring them up-to-date with global best practices, especially to the extent that it tallies with the views of the majority of Nigerians. So we are not in a position to replace this constitution, but we can only amend."
READ: Commercial banks in frenzy as they seek N1.5 trillion boost
The senator also said that the Senate would look into issues like restructuring if there is a major demand for it from Nigerians and also the exclusive legislative list.
"But, like I said, most of the issues you have raised here, like zones replacing states, that's another euphemism for going back to the regions. We will look into that if that is what majority of our people want.
"You talked about devolution of powers. The preponderance of views we have received so far is that those 68 items are very wide and need to shed some weight and move them to the Concurrent Legislative List."
READ: Update: Buhari seeks power to freeze accounts, clamp down on money launderers
What you should know 
Nairametrics reported last week, that Sokoto State Governor, Aminu Tambuwal, said any plan to restructure Nigeria and the Constitution must pass through legal due process from the National Assembly.
Dapo Abiodun presents N339 billion budget to Ogun State Assembly
Ogun State Governor has presented a N339 billion 2021 budget to the State House of Assembly.
The Governor of Ogun State, Prince Dapo Abiodun, presented the N339 billion budget for 2021 tagged "Budget of Recovery and Sustainability," to the Ogun State House of Assembly.
This was disclosed by the Governor on Wednesday after he presented the budget proposal to the House. He added that the budget will remain focused on completing as many projects as possible.
READ: We are working to clear N124 billion backlog of export claims – NEPC
READ: Buhari presents N13 trillion 2021 Budget to National Assembly
I have just presented the Appropriation Bill for the Year 2021, tagged "Budget of Recovery and Sustainability" at the Ogun State House of Assembly, following inputs from stakeholders across the three Senatorial Districts in the State. pic.twitter.com/laWjnFzxkv

— Prince Dr. Dapo Abiodun – MFR (@dabiodunMFR) December 2, 2020
What they are saying 
"Aggregate expenditure for the State Government is N339billion, with a recurrent expenditure of N162billion and capital expenditure of N177billion," the State Governor said in his statement.
He added that the budget would be focused on project completion in the state.
READ: Sanwo-Olu presents N1.1 trillion 2020 budget
"The budget remains focused on the completion of as many ongoing projects as possible. The State House of Assembly would be presented with the most critical projects, which we must all work collectively to ensure they receive adequate funding," he said.
READ: Lagos Rail Mass Transit: House of Assembly approves N153 billion for construction
He also said that the budget will provide suitable grounds for recovery from the obvious economic challenges of the current fiscal year, while ensuring that Ogun State's local economy remains sustainable going forward.
Gov. Wike presents 2021 budget worth N448.6 billion
Rivers State Governor has presented the 2021 budget worth N448.66 billion to the Rivers State House of Assembly.
The Governor of Rivers State, Nyesom Wike, has presented the 2021 budget titled "Budget of Recovery and Consolidation," worth N448.66 billion to the Rivers State House of Assembly for consideration.
According to a report by the News Agency of Nigeria, the budget represents more than 20% increase over the 2020 Revised Budget of N300 billion.
READ: FG's unsustainable budget deficit and debt service cost
What you should know
The 2021 budget comprises the sum of N305.89billion budgeted for capital expenditure, while N142.78billion is earmarked as recurrent expenditure.
Of the budgeted sum for capital expenditure, which represents 68.18% of the total sum constituted; Administrative Sector, N87.7 billion; Economic Sector, N105 billion; Law and Justice, N1.7 billion; Social sector, N132 billion; and deductions/Loan repayments, N38 billion.
N82.9 billion is budgeted for provision of infrastructure including roads, bridges and the completion of flyover projects at Okoro-Nu-Odo, Rumuola, Rumuogba, and GRA junctions, all in Port Harcourt metropolis.
Out of the sum budgeted for recurrent expenditure, N76 billion is for personnel costs; N18.8 billion is for overheads and N47.7 billion will be for grants and transfers to the consolidated revenue charges.
READ: IGR: States generate N612.9 billion in H1 2020, dips by 11.7% 
What they are saying
Commenting on the budget, the Governor said: "The 2021 budget will also prioritise security and sustain existing efforts in combating insecurity and keeping residents safe and secure.
"We will also deliver the Ogoni/Andoni/Opobo unity road, the Eastern Bypass dualisation, 6th and 7th flyover projects and the Wakama road, as well as all other ongoing rural roads in our communities and local government areas across the state."
READ: N200 billion Unclaimed Dividend: Securities dealers reject FG's plan to manage fund
READ: SEC says state governments have borrowed N900 billion from capital market
What this means
With about 68.18% of the total budget allocated to capital expenditure, this is a pointer that the present administration is committed to continuing various capital and developmental projects aimed at transforming the state, advancing its economic and social growth, and positioning it as one of the frontline states in Nigeria.