CBN, First Bank on collision course over removal of MD/CEO
Sources in First Bank accuse CBN of meddling in its internal affairs.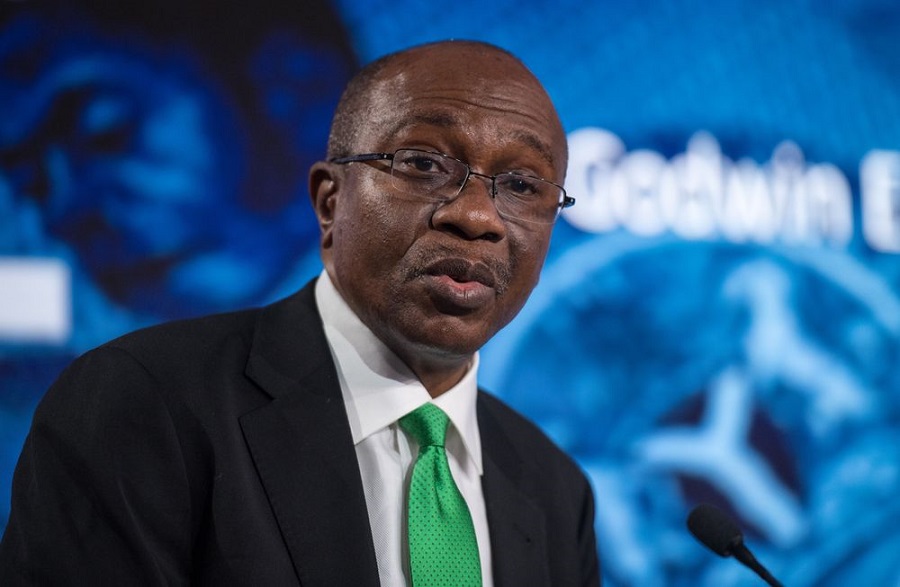 The Central Bank of Nigeria (CBN) has issued the Board of First Bank Ltd, one of Nigeria's oldest banks a query for the removal of its CEO.
On Wednesday the Board of Directors of First Bank of Nigeria Limited revealed it had appointed Gbenga Shobo as its Managing Director/Chief Executive Officer (CEO). The appointment was disclosed in a statement made by the bank's Chairman, Ibukun Awosika.
However, in an apparent leak, a letter from the central bank to First Bank revealed a query from the former to the latter expressing concern that the appointment of Shobo was done without the approval of the apex bank.
READ: CBN debits banks N8.3 trillion as CRR in 2020
"The attention of the Central Bank of Nigeria (CBN) has been drawn to media reports that the Board of Directors has approved the removal of the current Managing Director of the bank, Dr. Sola Adeduntan, and appointed a successor to replace him. The CBN notes with concern that the action was taken without due consultation with the regulatory authorities, especially given the systemic importance of First Bank Ltd."
The CBN also claimed that the tenure of Mr. Adedutan was yet to expire (bank MD's have a maximum 10 years) and that they were also not aware of any misconduct of the former MD and as such there was no justification for his removal.
"Given that the tenure of Dr. Adeduntan is yet to expire and the CBN was not made aware of any report from the Board indicting the Managing Director of any wrong-doing or misconduct, there appears to be no apparent justification for the precipitate removal."
READ: Analysis: GTB is minting profits but CBN is squeezing its cash
However, sources within the bank informed Nairametrics that First Bank has a maximum of 6 years tenure for its MDs in line with its succession plans. They also claimed the CBN is meddling in its internal affairs as the removal of the MD is in line with its succession plans and also does not exceed CBNs maximum of 10 years.
"First Bank followed its corporate governance framework in its change of leadership and appointment of new executive directors. No Managing Director in the 127 years history of FirstBank has ever attempted a tenure extension. Why now?"
Another source who did not want to be mentioned as they were not authorized to do so lamented that "Adeduntan's term formally ends in June this year after 2 terms of 3 years each. Leaving early is in line with the bank's succession planning. When he was appointed 6 years ago and a DMD role was created, the erstwhile FirstBank Managing Director knew the DMD would succeed him and this is what has happened. This is corporate governance at its best."
READ: CBN reportedly suspends Paystack and other non-bank financial institutions from offering BVN validation services
However, the apex bank in the leaked letter also suggested that it had provided First Bank with "regulatory forbearance" which can be interpreted as a bailout subliminally indicating that it has a say in the operations of the bank.
"We are particularly concerned because the action is coming at a time the CBN has provided various regulatory forbearances and liquidity support to reposition the bank which has enhanced its asset quality, capital adequacy and liquidity ratios amongst other prudential indicators. It is also curious to observe that the sudden removal of the MD/CEO was done about eight months to the expiry of his second tenure which is due on December 31, 2021. The removal of a sitting MD/CEO of a systemically important bank that has been under regulatory forbearance for 5 to 6 years without prior consultation and justifiable basis has dire implications for the bank and also portends significant risks to the stability of the financial system."
READ: FUGAZ Banks suffer N1.9 trillion in CRR Debits in Q2
Sources within the bank also allude without proof that the involvement of the central bank in this matter may also be due to First Bank's support of Flutterwave which may have angered CBN.
"Is this payback for FirstBank for supporting and enabling Flutterwave and other tech companies? FirstBank MD-Designate, Gbenga Shobo created a revolution by partnering with Flutterwave and other tech companies. Is this payback? The CBN Governor must be called to order. This is not a banana economy. We need to preserve the FirstBank heritage with its seamless succession planning."
READ: CBN includes sugar, wheat on FX restriction list
It is unclear how this matter will end but stemming from experience, we will not be surprised if this matter ends in court in a few days. The Central Bank has often controversially delved into board-related issues such as appointments and even firing of all or some Board members for what it perceives as severe infractions.
And as expected, it ended its query to the bank with a threat to the board if the decision to remove Adeduntan is not reversed.
"In light of the foregoing, you are required to explain why disciplinary action should not be taken against the Board for hastily removing the MD/CEO and failing to give prior notice to the CBN before announcing the management change in the media."
FG places high profile Nigerians under security watch for terrorism financing
The FG has said that it is currently profiling a large number of high profile Nigerians who have been alleged to have reasonable links to terrorism financing.
The Federal Government has said that it is currently profiling a large number of high profile Nigerians who have been alleged to have reasonable links to terrorism financing.
This follows the arrest of an undisclosed number of suspects recently after the convictions of some Nigerians on terrorism financing in the United Arab Emirates (UAE).
This disclosure was made by the Attorney General of the Federation and Minister of Justice, Abubakar Malami, during a chat with the press at the Presidential Villa, Abuja on Friday.
What the Attorney General of the Federation is saying
The Minister said that the convictions of Nigerians in the UAE has given rise to wider and far-reaching investigations in Nigeria.
Malami in his statement said, "As you will actually know, sometimes back, there were certain convictions of Nigerians allegedly involved in terrorism financing in the United Arab Emirates (UAE).
That gave rise to a wider and far-reaching investigation in Nigeria and I'm happy to report that arising from the wider coverage investigation that has been conducted in Nigeria, a number of people, both institutional and otherwise, were found to be culpable, I mean reasonable grounds for suspicion of terrorism financing have been established, or perhaps has been proven to be in existence in respect of the transactions of certain high-profile individuals and businessmen across the country.
I'm happy to report that investigation has been ongoing for long and it has reached an advanced stage. Arriving from the investigation, there exists, certainly, reasonable grounds for suspicion that a lot of Nigerians, high-profile, institutional and otherwise, are involved in terrorism financing and they are being profiled for prosecution.
In essence, it is indeed true that the government is prosecuting and it's indeed initiating processes of prosecuting those high-profile individuals that are found to be financing terrorism. It is indeed true.
However, Malami did not give the number of such suspects as he maintained that investigation was still ongoing until a conclusion is arrived at.
"As to the number, the investigation is ongoing and it has to be conclusive before one can arrive at a certain number, but one thing I can tell you is it is a large number and they are being profiled for prosecution.
It is indeed a large number and I'm not in a position to give you the precise number as at now because the profiling and investigation are ongoing."
Malami warned that government will not hesitate to invoke the full wrath of the law on anyone found culpable in sponsoring terrorism in the country as nobody found culpable in terrorism financing will be spared.
What you should know
It can be recalled that in March 2021, the Association of Bureau De Change Operators of Nigeria (ABCON) confirmed the arrest of some of its members by security operatives over the investigation of some of their transactions which border on money laundering, terrorism financing and Know Your Customer status.
ABCON in its statement said that it considers these as serious allegations especially given the security challenges facing the country. It appealed to the authorities to expedite action to ensure that innocent people who have been caught up in this investigation can be released and so that they can return to their anxious families and resume their lives.
Nigeria's VAT collection surges to N496.4 billion in Q1 2021
Nigeria's VAT collection surged by 52.93% (year-on-year) to stand at N496.4 billion in Q1 2021.
Nigeria generated a sum of N496.39 billion revenue from Value Added Tax (VAT) in the first quarter of 2021, a surge of 52.93% year-on-year compared to N324.58 billion recorded in the corresponding period of 2020.
This is contained in the sectoral distribution of value added tax report, recently released by the National Bureau of Statistics (NBS).
According to the report, VAT collections in the period represents a 52.93% increase as against N324.58 billion recorded in Q1 2020; and a 9.17% increase compared to N454.7 billion recorded in the previous quarter.
The increase in VAT collections could be attributed to increased economic activity in the country, compared to the previous year, where most economic activities were put on hold as a result of the covid-19 pandemic.
Highlights
Highlights of the report showed that the manufacturing sector generated the highest amount of VAT with N49.41 billion generated, closely followed by Professional Services, having generated N42.50 billion, and State Ministries & Parastatals, which generated N26.96 billion.
Mining generated the least, closely followed by Pioneering, Textile & Garment Industry with N48.36 million, N77.01 million, and N289.41 million generated respectively.
Also, out of the total amount generated in Q1 2021, N224.85 billion was generated as Non-Import VAT locally while N171.66 billion was generated as Non-Import VAT for foreign.
The balance of N99.88 billion was generated as NCS-Import VAT.
Manufacturing sector topples professional services
The manufacturing sector toppled the professional services sector to lead the list of sectors with the highest VAT remittances in the first quarter of 2021. A total of N49.41 billion was collected as Value Added Tax from the manufacturing sector.
Professional services followed closely, having remitted N42.5 billion in VAT to the government, State ministries and parastatals stood in third position with N26.96 billion VAT.
Others on the list include; Commercial and trading sector with N22.8 billion, oil-producing (N15.8 billion), Transportation and haulage services (N14.9 billion), Breweries, bottling, and beverages (N11.9 billion).
Federal ministries and parastatals (N8.8 billion), banks and financial institutions (N3.3 billion), and oil-marketing (N3 billion).
Why this matters
The increase in VAT collection is a development in the right direction, especially given the recent positive growth recorded in global crude oil prices, indicating an increase in government revenue.
However, the government needs to intensify its effort in creating innovative ways of increasing revenue given growing overheads and statutory spending, coupled with increasing debt profile.
Nairametrics | Company Earnings
Access our Live Feed portal for the latest company earnings as they drop.