Weekly Roundup/Outlook: Market Cap Crosses N10 Trillion For The First Time Since November 2015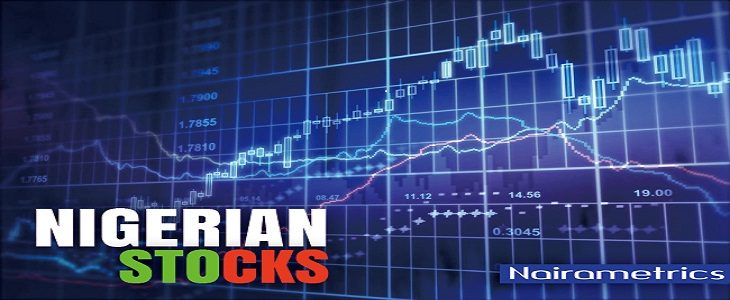 The Nigerian Stock Exchange was on steroids last week as stocks rallied on the back of the new flexible exchange rate policy. Investors decided to take positions in stocks in anticipation of an influx of foreign portfolio investments into the country in the next few weeks or months.
The NSE All-Share Index and Market Capitalization appreciated by 7.40% to close the week at 29,247.27 and N10.045 trillion respectively. In fact, all other major Indices finished higher during the week.
Highlights for the week
All share Index closed 7.4%, 5.73%, 15.57%, and 2.1% week to date, month to date, quarter to date and year to date respectively
NSE 30 index gained 7.18% during the week and essentially drove the all share index Northwards
The market capitalization of the index closed at N10 trillion the first time since November 9th 2015.
Banking Index rose 8.75% as most investors expected commercial banks to benefit more from the new forex policy.

Forty-four (44) equities gained in price during the week, higher than twenty-seven (27) equities of the previous week. Twenty-four (24) equities depreciated in price, lower than forty-one (41) equities of the previous week, while one hundred and twelve (112) equities remained unchanged equal to that of the previous week.
Top Gainers
Champion Breweries led the gainers chart with a 27% pop. This was followed closely by
| | | | | |
| --- | --- | --- | --- | --- |
| | | | | |
| | | | | |
| | | | | |
| | | | | |
| | | | | |
| N.E.M INSURANCE CO.(NIG) PLC | | | | |
| | | | | |
| TRANSNATIONAL CORPORATION OF NIG PLC | | | | |
| UNITED BANK FOR AFRICA PLC | | | | |
| | | | | |
| ZENITH INTERNATIONAL BANK PLC | | | | |
Top Losers
Fortis Microfinance Bank led the losers chart with a massive 50% drop in value.
| | | | | |
| --- | --- | --- | --- | --- |
| | | | | |
| FORTIS MICROFINANCE BANK PLC | | | | |
| GLAXO SMITHKLINE CONSUMER NIG. PLC | | | | |
| | | | | |
| NATIONAL AVIATION HANDLING COMPANY PLC | | | | |
| BERGER PAINTS NIGERIA PLC | | | | |
| | | | | |
| | | | | |
| | | | | |
| | | | | |
| TRANS NATIONWIDE EXPRESS PLC | | | | |
The following stocks adjusted their price for dividend payments
| | | | |
| --- | --- | --- | --- |
| Stock | Dividend | Bonus | Ex div price |
| BETA GLASS CO PLC | N0.40 | Nil | N42.83 |
| FORTIS MICROFINANCE BANK PLC | Nil | 1 for 1 | N2.58 |
| LAFARGE AFRICA PLC | N3.00 | 1 for 10 | N68.98 |
| MCNICHOLS PLC | N0.05 | 1 for 10 | N1.23 |
Outlook for the week
We expect the market to continue its bullish runs this week ahead of the end of the full implementation of the new forex policy. Profit taking may take place towards the end of the week when the initial euphoria must have waned. The following stocks are on our radar for major movement;
Zenith Bank
GT Bank
Stanbic IBTC
Champion Breweries
Nigerian Breweries
Seplat
Presco
Okomu Oil
Dangote Cement
Forte Oil
The rich get richer in May
The gradual easing of the lockdown, which started on May 1, appears to have brought some relief to these men, giving them room to recover some of the earlier losses.  
The news of the lockdown hit raw nerves across all sectors in Nigeria. One thing that was obvious from the onset was that everyone was going to be hit somehow, but what no one could say for sure, was how.
Nairametrics had earlier examined the first 12 weeks of COVID-19 in Nigeria, and found that Nigeria's billionaires lost billions between February and April. However, the gradual easing of the lockdown which started on May 1, appears to have brought some relief to these men, giving them room to recover some of the earlier losses.
Jim Ovia
Zenith bank founder Jim Ovia is the largest individual shareholder with 3,546,199,395 direct shares and 1,513,137,010 indirect shares.
Zenith bank closed April at N14.3, putting the value of Ovia's total 5,059,336,405 shares at N72,348,510,591.5 (N72.35 billion).
During the month of May, the share appreciated by 18.2%, and was worth N16.9 at the end of trading on May 29.
With this, the worth of Ovia's 5,059,336,405 shares increased by N13.15 billion to N85,502,785,244.50.
The volatility of the shares in the previous quarter had seen the billionaire lose about N21.2 billion, but May 2020 sure gave him a chance to recover some of this.
READ ALSO: Forbes 2020 world's richest rankings: Only 4 Nigerians make exclusive billionaires list
Herbert Wigwe
Group MD/CEO of Access Bank, Herbert Wigwe, has 201,231,713 direct shares and 1,184,680,195.5 indirect shares with the bank, totalling to 1.39 billion shares.
At N6.60 per unit, the total shares were worth N9.15 billion (N9,147,018,596.1) on April 30.
Access bank stocks moved upwards to N7.1, bringing the worth of the stocks to N9.84 billion (N9,839,974,550.35).
Wigwe's stock value gained N692.96 million, a mild compensation for losing N2.22 billion in the first 12 weeks of COVID-19 presence in Nigeria.
READ MORE: Herbert Wigwe sells 28.8 million Access Bank shares
Aliko Dangote
Dangote Cement shares were worth N130 at the end of April, having had a rough first quarter. However, the price improved over the next four weeks and ended May 29 at N139 per unit.
Aliko Dangote directly owns 14,500,315,501 shares in Dangote Cement Plc, as well as 27,642,637 shares which he controls through Dangote Industries Limited.
All 14,527,958,138 shares were worth N1.88 trillion (N1,888,634,557,940) on April 30, and the value increased to N2 trillion (N2,019,386,181,182) by May 29, an increase of N130 billion (N130,751,623,242).
A similar trend is also seen in Dangote Sugar where share price increased from N12.45 on April 30 to N12.90 at the close of trading on May 29.
The billionaire directly owns 653,095,014 shares and indirectly owns 8,122,446,281 shares through the Dangote Industries Limited in Dangote Sugar, summing up to 8.77 billion shares.
All shares were worth N109 billion (N109,255,489,123) on April 30, and appreciated through the month of May to close at N113 billion on May 29.
From the increase in the market share price of Dangote Sugar, Aliko Dangote became N3.9 billion (N3,948,993,583) richer.
Summing up the gains in Dangote Cement and Dangote Sugar, we can see that the billionaire added another N134.7 billion (N134,700,616,825) to his worth.
This article does not include calculations for NASCON. Aliko Dangote is not listed on the board, hence, there is no way to confirm the exact amount of stocks he owns in the company.
However, NASCON allied shares were worth N10.05 on April 30 and made a 10.4% increase to N11.10 by May 29.
READ MORE: Dangote: The King cement maker moving against all odds
Tony Elumelu
The popular TOE, as he is called, controls a total of 2,304,211,118 units of shares – 190,100,234 direct and 2,114,110,884 indirect shares.
UBA's shares tried to regain losses from earlier months, and moved from N6.05 on April 30 to N6.65 on May 29.
The total worth of Elumelu's 2.3 billion shares appreciated from N13,940,477,263 on April 30 to N15,323,003,934 on May 29, giving the billionaire an additional N1.38 billion (N1,382,526,670.8).
Compared to the N1.49 billion lost in the preceding 12 weeks, Elumelu clearly recovered most of the earlier losses.
Abdulsamad Rabiu
The merger of CCNN and Obu cement gave birth to BUA cement. The 2019 financials from the company shows that Rabiu owns 19 billion (19,044,995,225) direct shares.
He also has indirect shareholdings through 3 companies, totalling to 12.2 billion (12,225,657,346) units.
BUA cement stocks ended April 30 at N32.60 and appreciated by 28% to N42 per unit at the close of trading on May 29.
By April 30, Rabiu's 31.27 billion shares (direct and indirect) were worth N1.01 trillion (N1,019,423,273,814.60) at N32.6 per unit, and by the end of trading on May 29, the market value of the same shares had risen to N1.31 trillion (N 1,313,367,407,982.00).
The billionaire's worth added N293.94 billion (N 293,944,134,167.40) representing a 28% gain, and making him the highest billionaire gainer in the period under review.
Mike Adenuga
As Chairman of Conoil Nigeria Plc, Mike Adenuga directly controls 516,298,603 units of shares, as well as 103,259,720 units of shares controlled through Conpetro Limited, making for about 74.4% of Conoil's issued share capital.
Conoil's stock prices closed at N17.4 on April 30, putting the value of Adenuga's indirect shares at N1.79 billion (N1,796,719,128), and his direct shares at N8.9 billion (N8,983,595,692.2), totalling to N10.78 billion.
Conoil gained 20.7% in May, and ended at N21 per unit share at the end of trading on May 29.
With this, the total shares were worth N13 billion; direct – N10,842,270,663 and indirect – N 2,168,454,120.
After losing N371 million in the preceding 12 weeks, it must have been refreshing to gain some N2.23 billion in four weeks.
Austin Avuru
However, the month of May was not profitable for the co-founder of Seplat, Austin Avuru, who indirectly owns about 58,970,463 indirect shares in the oil and gas company.
A stock price of N494.4 as at April 30 showed that these stocks were worth N29.15 billion (N29,154,996,907.2).
At the share price of N476.4 on May 29, Austin Avuru's shares were worth N28,093,528,573.20.
He lost another N1.06 billion, after an earlier loss of N6.5 billion between February to April.
In all, Seplat stocks have fallen some 28% from January till May 29. Sad loss for Avuru.
Summary
| Billionaire | Gain (N'billions) | % gains |
| --- | --- | --- |
| Aliko Dangote | 134.7 | 6.74% |
| Tony Elumelu | 1.38 | 9.9% |
| Jim Ovia | 13.15 | 18.2% |
| Herbert Wigwe | 0.69 | 7.6% |
| Austin Avuru | -1.06 | -3.6% |
| Mike Adenuga | 2.23 | 20.7% |
| Abdulsamad Rabiu | 293.94 | 28% |
Note: The stock figures, and prices used in the analysis above was sourced from the Nigerian Stock Exchange (NSE) website.
---
Access, GTBank, Custodian end winning streak at Nigerian stock market
Performance across sectors closed bearish, as three out of the five major sub-indices posted losses.
The Nigerian bourse reversed its previous days gain, as the All Share Index declined by 0.38% to close at 25,312.05 index points. Thus, YTD loss currently stands at -5.71%.
Activity levels closed weak compared to the previous trading session, as total volume and value declined by -23.53% and -24.72% to close at 270.19million units and N5.29billion respectively. FBNH was the most traded stock by volume at 41.3 million units, while DANGCEM topped by value at N2.57 billion.
READ ALSO: Bitcoin could hit above $100,000 by August 2021
Market breath was slightly negative with 17 losers led by CUSTODIAN (-7.14%), against 16 gainers, topped by SKYAVN (+9.69%).
Performance across sectors closed bearish, as three out of the five major sub-indices posted losses. Decline in ACESS (-5.11%) and GUARANTY (-2.00%) spurred sustained losses in the Lenders' Index (-2.12%), trailed distantly by the Oil & Gas (-0.39%) and Insurance index (-0.555), on the back of price decline in OANDO (-3.57%), CUSTODIAN (-7.14%) and AIICO (-5.22%).
Gains in DANGSUGAR (+6.76%), FLOURMILL (+4.25%) and DANGCEM (+1.00%) buoyed a 0.89% and 0.23% improvement in the Consumer Goods and Industrial indices respectively.
Top gainers
SKYAVN up 9.69% to close at N2.49; CILEASING up 9.28% to close at N4.85; DANGSUGAR up 6.76% to close at N15; FLOURMILL up 4.25% to close at N20.85; DANGCEM up 1.00% to close at N141.9.
READ ALSO: More than 40 SMEs in Lagos shut down due to economic crisis
Top losers
CUSTODIAN down 7.14% to close at N5.85; ACCESS down 5.11% to close at N6.5; GLAXOSMITH down 5.06% to close at N7.5; GUARANTY down 2.00% to close at N24.5; and MTNN down 1.69% to close at N116.
Outlook
Market sentiment finished bearish on Thursday, as significant profit taking was noticed, especially among financial stocks. Nairametrics envisages cautious buying of Nigerian stocks.
List of Dividends announced so far in 2020 (June)
List of Dividends announced so far in 2020 (June)
As audited accounts start to trickle in, companies will propose dividend payments to their shareholders as recommended by their respective boards of directors. It is also important to track these announcements to know who is eligible to collect the dividend, when it will be approved and when it will be paid. Dividend payment also affects share prices.
This page will be updated from time to time.
READ ALSO: Updated: Gender Balance, looking at the board composition of top banks on the NSE
Legend
Date Announced – The date the company announced dividends evidenced by a corporate action published on the website of the NSE.
Qualification date – Shareholders who own shares as of this date will receive dividends. If you buy shares and want to receive dividends make sure it is at least three days before this date. Shares get transferred to you on the basis of the T+3 rule (the date you bought plus 3 working days).
Payment date – This is when the dividend will be paid to you, either via post (dividend warrants) or direct credit to your bank accounts (e-dividend).
Closure of Register – Only shareholders who own shares listed in their register before this date will be paid dividends.
You can also scroll sideways to view the rest of the columns if using a mobile phone.
READ MORE: How to read stock market tables
2020 Dividends from companies quoted on the Nigerian Stock Exchange
| Company | DPS | Date Announced | Bonus | Closure of Register | AGM Date | Payment Date | Qualification date |
| --- | --- | --- | --- | --- | --- | --- | --- |
| Prestige Assurance Plc | Nil | 4th June 2020 | 2 New shares for every 11 existing shares | 22nd - 26th June 2020 | 30th June 2020 | N/A | 19th June 2020 |
| Presco Plc | N2.00k | 3rd June 2020 | Nil | 20th - 22nd July 2020 | 5th August 2020 | 7th August 2020 | 17th July 2020 |
| Trans-Nationwide Express Plc | N0.03k | 1st June 2020 | Nil | 6th - 10th July 2020 | 16th July 2020 | 20th July 2020 | 3rd July 2020 |
| Nigeria Aviation Handling Company PLC | N0.30k | 28th May 2020 | Nil | 1st - 3rd July 2020 | 16th July 2020 | 16th July 2020 | 30th June 2020 |
| Skyway Aviation Handling Co. Plc | N0.16k | 1st June 2020 | Nil | 17th - 23rd June 2020 | 30th June 2020 | 30th June 2020 | 16th June 2020 |
| 11 Plc | N8.25 | 28th May 2020 | Nil | 30th Sept - 5th Oct 2020 | to be announced | to be announced | 29th Sept 2020 |
| Glaxo SmithKilne Consumer Nig. Plc | N0.55k | 22nd May 2020 | Nil | 23rd June - 2nd July 2020 | 23rd July 2020 | 24th July 2020 | 22nd June 2020 |
| Airtel Africa | 0.03 | 13th May 2020 | Nil | 6th July 2020 | Not applicable | 24th July 2020 | NA |
| Caverton Offshore Support Group Plc | N0.20k | 22nd May 2020 | Nil | 16th June 2020 | 25th June 2020 | 25th June 2020 | 15th June 2020 |
| Nigerian Breweries Plc (Revised) | N1.51k | 20th May 2020 | Nil | 5th-11th March 2020 | 23rd June 2020 | 24th June 2020 | 4th March 2020 |
| BUA Cement | N1.75k | 19th May 2020 | Nil | 28th Sept - 2nd Oct 2020 | 22nd October 2020 | 23rd October 2020 | 25th September 2020 |
| NASCON Allied Industries Plc | N0.40k | 13th May 2020 | Nil | 15th - 16th July 2020 | 27th July 2020 | 29th July 2020 | 14th July 2020 |
| Total Nigeria Plc | N6.71 | 13th May 2020 | Nil | 5th - 11th June 2020 | to be announced | 24hrs after meeting | 4th June 2020 |
| Cadbury Nigeria Plc | N0.49k | 13th May 2020 | Nil | 25th - 29th May 2020 | 24th June 2020 | 25th June 2020 | 22nd May 2020 |
| May and Baker Plc | N0.25k | 13th May 2020 | Nil | 27th - 29th May 2020 | 4th June 2020 | 8th June 2020 | 26th May 2020 |
| NPF Microfinance Bank Plc | N0.20k | 11th May 2020 | Nil | 17th - 22nd June 2020 | 30th June 2020 | 30th June 2020 | 16th June 2020 |
| Okomu Oil Palm Plc | N2.00 | 23rd April2020 | Nil | 19th - 22nd May 2020 | 28th May 2020 | 29th May 2020 | 18th May 2020 |
| Lafarge Africa Plc | N1 | 27th April 2020 | Nil | 4th - 8th May 2020 | 3rd June 2020 | 3rd June 2020 | 30th April 2020 |
| Wema Bank Plc | N0.04k | 23rd April 2020 | Nil | 7th - 12th May 2020 | 18th May 2020 | 18th May 2020 | 6th May 2020 |
| UAC of Nigeria Plc | N0.10k | 20th April 2020 | Nil | 19th - 22nd May 2020 | to be announced | to be announced | 18th May 2020 |
| Union bank of Nigeria | N0.25k | 13th April 2020 | Nil | 27th - 30th April 2020 | 6th May 2020 | 6th May 2020 | 24th April 2020 |
| FBN Holdings | N0.38k | 6th April 2020 | Nil | 21st - 22nd April 2020 | 27th April 2020 | 28th April 2020 | 20th April 2020 |
| Lafarge Africa Plc | N1.00k | 6th April 2020 | Nil | 4th - 8th May 2020 | 26th May 2020 | 26th May 2020 | 30th April 2020 |
| Ikeja Hotel Plc | N0.02 | 3rd April 2020 | Nil | 2nd - 8th July 2020 | 30th July 2020 | 7th August 2020 | 1st July 2020 |
| McNichols Consolidated Plc | N0.03k | 1st April 2020 | Nil | 2nd - 8th July 2020 | 30th July 2020 | 7th August 2020 | 1st July 2020 |
| NEM Insurance | N0.15k | 1st April 2020 | Nil | 4th - 8th May 2020 | to be announced | to be announced | 30th April 2020 |
| FCMB Group Plc | N0.14k | 31st March 2020 | Nil | 15th - 17th April 2020 | 28th April 2020 | 28th April 2020 | 14th April 2020 |
| Beta Glass Nigeria Plc | N1.67k | 30th March 2020 | Nil | 15th - 19th June 2020 | 2nd July 2020 | 3rd July 2020 | 11th June 2020 |
| Capital Hotel Plc | N0.05k | 26th March 2020 | Nil | 20th - 24th April 2020 | 27th May 2020 | 3rd June 2020 | 17th April 2020 |
| Sterling bank Plc | N0.03k | 26th March 2020 | Nil | 5th - 8th May 2020 | 20th May 2020 | 20th May 2020 | 4th May 2020 |
| Boc Gases | N0.30k | 26th March 2020 | Nil | 8th - 10th June 2020 | 25th June 2020 | 26th June 2020 | 5th June 2020 |
| Fidelity Bank Plc | N0.20k | 23rd March 2020 | Nil | 20th - 24th April 2020 | 30th April 2020 | 30th April 2020 | 17th April 2020 |
| Seplat Petroleum Dev. Company Plc | 0.05 | 23rd March 2020 | Nil | 13th May 2020 | 28th May 2020 | 4th June 2020 | 12th May 2020 |
| Julius Berger Nig. Plc | N2.75k | 13th March 2020 | 0.002 | 1st to 3rd June 2020 | 18th June 2020 | 19th June 2020 | 29th May 2020 |
| Nigeria Energy Sector Fund (NESF) | N75.00 | 10th March 2020 | Nil | 20th March 2020 | | 6th April 2020 | 19th March 2020 |
| Access Bank Plc | N0.40k | 6th March 2020 | Nil | 15th April 2020 | 30th April 2020 | 30th April 2020 | 14th April 2020 |
| Nestle Nig Plc | N45.00k | 28th February 2020 | Nil | 18th - 22nd May 2020 | 2nd June 2020 | 2nd July 2020 | 15th May 2020 |
| Stanbic IBTC Holdings Plc | N2.00 | 5th March 2020 | Nil | 19th - 26th March 2020 | 30th June 2020 | 18th June 2020 | 18th March 2020 |
| Guaranty Trust Bank Plc | N2.50k | 2nd March 2020 | Nil | 19th March 2020 | 30th March 2020 | 30th March 2020 | 18th March 2020 |
| United Bank of Africa | N0.80k | 2nd March 2020 | Nil | 16th - 20th March 2020 | 27th March 2020 | 27th March 2020 | 13th March 2020 |
| Transcorp Plc | N0.01k | 28th February 2020 | Nil | 18th - 23rd March 2020 | 25th March 2020 | 27th March 2020 | 17th March 2020 |
| MTN Nigeria Plc | N4.97k | 28th February 2020 | Nil | February 17, 1900 | 8th May 2020 | 19th May 2020 | 17th april 2020 |
| Transcorp Hotels Plc | N0.07k | 28th February 2020 | Nil | 13th-17th March 2020 | 24th March 2020 | 26th March 2020 | 12th March 2020 |
| United Capital PLC | N0.50k | 18th February 2020 | Nil | 9th-13th March 2020 | 24th March 2020 | 26th March 2020 | 6th March 2020 |
| Infinity Trust Mortgage Bank PLC | N0.035K | 30th January 2020 | Nil | 9th-13th March 2020 | 7th May 2020 | 14th May 2020 | 6th March 2020 |
| Zenith bank Plc | N2.50k | 21st February 2020 | Nil | 10th March 2020 | 16th March 2020 | 16th March 2020 | 9th March 2020 |
| Africa Prudential Plc | N0.70k | 25th february 2020 | Nil | 9th-13th March 2020 | 23rd March 2020 | 23rd March 2020 | 6th March 2020 |
| Dangote Cement Plc | N16.00 | 25th february 2020 | Nil | 26th May 2020 | 15th June 2020 | 16th June 2020 | 25th May 2020 |
| Tripple Gee & Company Plc | N0.05k | 8th July 2019 | Nil | 2nd-6th September 2019 | 16th September 2019 | 28th September 2019 | 30th August 2019 |
| Presco Plc | N2.00 | 6th June 2019 | Nil | 8th-10th July 2019 | 24th July 2019 | 29th July 2019 | 5th July 2019 |
| C & I Leasing Plc | N0.075 | 25th June 2019 | Nil | 15th-19th July 2019 | 30th July 2019 | 31st July 2019 | 12th July 2019 |
| NPF Microfinance Bank Plc | N0.05 | 25th June 2019 | Nil | 8th-12th July 2019 | 25th July 2019 | 25th July 2019 | 5th July 2019 |
| Learn Africa Plc | N0.15k | 2nd July 2019 | Nil | 23rd-27th September 2019 | 17th October 2019 | 18th October 2019 | 20th September 2019 |
| Academy Press Plc | N0.05k | 1st Juky 2019 | Nil | 5th-9th August 2019 | 19th September 2019 | 26th September 2019 | 2nd August 2019 |
| University Press Plc | N0.15k | 1st July 2019 | Nil | 2nd-6th September 2019 | 26th September 2019 | 26th September 2019 | 30th August 2019 |
| Redstar Express Plc | N0.43k | 2nd July 2019 | Nil | 17th-19th July 2019 | 8th August 2019 | 16th July 2019 | |
| Veitva Griffin 30 Plc | N0.27 | | Nil | N/A | N/A | 31st May 2019 | |
| Vetiva S&P Nig. Sovereign Bond ETF | N13.00 | | Nil | 31st May 2019 | N/A | 7th June 2019 | |
| Law Union & Rock Insurance Plc | N0.02 | 9th May 2019 | Nil | 3rd - 7th June 2019 | 25th June 2019 | 26th June 2019 | 31st May 2019 |
| NEM Insurance | N0.13 | 30th April 2019 | Nil | 3rd - 7th June 2019 | 25th June 2019 | 25th June 2019 | 31st May 2019 |
| Forte Oil | N1.15 | 3rd June 2019 | Nil | 4th - 7th June 2019 | N/A | 10th june 2019 | 3rd June 2019 |
| Smart Products | N0.15 | 30th April 2019 | Nil | 1st - 5th July 2019 | 29th August 2019 | 5th Septemner 2019 | 28th June 2019 |
| AIICO Insurance Plc | N0.06 | 16th April 2019 | Nil | 10th - 17th May 2019 | 20th May 2019 | 20th May 2019 | May 9 2019 |
| Consolidated Hallmark Insurance Plc | N0.02 | 23rd April 2019 | Nil | 7th - 13th March 2019 | to be announced | to be announced | 6th May 2019 |
| FBN Holdings | N0.26 | 12th April 2019 | Nil | 24th - 29th April 2019 | 3rd May 2019 | 6th May 2019 | 22nd |
| Lotus Halal Fixed Income Fund | N28.00 | | Nil | N/A | N/A | 12th April 2019 | |
| Nigerian Aviation Handling Coy Plc | N0.25 | 17th April 2019 | Nil | 9th - 11th July 2019 | 26th July 2019 | 26th July 2019 | 8th July 2019 |
| Prestige Assurance Plc | N0.03 | 17th April 2019 | Nil | 6th - 10th May 2019 | to be announced | to be announced | 3rd May 2019 |
| Regency Alliance Insurance Plc | N0.03 | 15th April 2019 | Nil | 13th - 17th May 2019 | 18th June 2019 | 19th June 2019 | 10th May 2019 |
| Cement Coy. Of Northern Nig. Plc | N0.40 | 29th March 2019 | Nil | 2nd - 8th July 2019 | 25th July 2019 | 26th July 2019 | 1st July 2019 |
| Dangote Sugar Refinery Plc | N1.10 | 4th April 2019 | Nil | 3rd - 5th June 2019 | 18th June 2019 | 19th June 2019 | 31st May 2019 |
| The Initiates Plc | N0.05 | 2nd April 2019 | Nil | 3rd - 7th June 2019 | to be announced | to be announced | 31st May 2019 |
| Aluminium Extrusion Ind. Plc | N0.085 | 26th March 2019 | Nil | 17th - 21st June 2019 | to be announced | to be announced | 14th June 2019 |
| Beta Glass Nigeria Plc | N1.30 | 29th March 2019 | Nil | 17th - 21st June 2019 | 4th July 2019 | 5th July 2019 | 14th June 2019 |
| UAC of Nigeria Plc | N0.64 | 29th March 2019 | Nil | 21st - 24th May 2019 | 26th June 2019 | 27th June 2019 | 20th May 2019 |
| Okomu Oil Palm Plc | N3.00 | 27th March 2019 | Nil | 14th - 17th May 2019 | 13th June 2019 | 20th June 2019 | 13th May 2019 |
| Wema Bank Plc | N0.03 | 29th March 2019 | Nil | 29th April - 6th May 2019 | 8th May 2019 | 13th May 2019 | 26th April 2019 |
| Berger Paints Plc | N0.65 | 19th March 2019 | Nil | 29th April - 3rd May 2019 | 23rd May 2019 | 24th May 2019 | 26th April 2019 |
| Caverton Offshore Support Group Plc | N0.25 | 29th March 2019 | Nil | 8th May 2019 | 21st May 2019 | 24th May 2019 | 7th May 2019 |
| Eterna Plc | N0.25 | 29th March 2019 | Nil | 14th - 17th May 2019 | 13th June 2019 | 14th June 2019 | 13th May 2019 |
| Infinity Trust Mortgage Bank Plc | N0.03 | 29th March 2019 | Nil | 25th April - 9th May 2019 | 16th May 2019 | 23rd May 2019 | 24th April 2019 |
| CAP Plc | N2.50 | 29th March 2019 | Nil | 27th - 31st May 2019 | 20th June 2019 | 21st June 2019 | 24th May 2019 |
| Portland Paints and Products Nig. Plc | N0.05 | 28th March 2019 | Nil | 6th - 10th May 2019 | 30th May 2019 | 31st May 2019 | 3rd May 2019 |
| Glaxo SmithKilne Consumer Nig. Plc | N0.05 | 8th March 2019 | Nil | 24th April - 6th May 2019 | 23rd May 2019 | 24th May 2019 | 22nd April 2019 |
| Chams Plc | N0.03 | 4th April 2019 | Nil | 18th - 24th April 2019 | to be announced | to be announced | 17th April 2019 |
| Fidson Healthcare Plc | N0.15 | 3rd April 2019 | Nil | 18th - 24th April 2019 | to be announced | to be announced | 17th April 2019 |
| Capital Hotel Plc | N0.05 | 2nd April 2019 | Nil | 24th - 29th April 2019 | April 22, 2000 | 9th May 2019 | 23rd April 2019 |
| May and Baker Plc | N0.20 | 29th March 2019 | Nil | 23rd - 26th April 2019 | 30th May 2019 | 3rd June 2019 | 18th April 2019 |
| Unilever of Nigeria Plc | N1.50 | 29th March 2019 | Nil | 15th - 23rd April 2019 | 9th May 2019 | 10th May 2019 | 12th April 2019 |
| Total Nigeria Plc | N14.00 | 28th March 2019 | Nil | 23rd - 29th April 2019 | 27th June 2019 | 28th June 2019 | 18th April 2019 |
| FCMB Group Plc | N0.14 | 29th March 2019 | Nil | 12th - 18th April 2019 | 26th April 2019 | 29th April 2019 | 11th April 2019 |
| Fidelity Bank Plc | N0.11 | 29th March 2019 | Nil | 15th - 19th April 2019 | 26th April 2019 | 26th April 2019 | 12th April 2019 |
| Custodian Investment Plc | N0.35 | 21st March 2019 | Nil | 12th - 17th April 2019 | 24th April 2019 | 24th April 2019 | 11th April 2019 |
| 11 Plc | N8.25 | 22nd March | Nil | 3rd - 10th May 2019 | 16th May 2019 | 17th May 2019 | 2nd May 2019 |
| NASCON Allied Industries Plc | N1.00 | 22nd March 2019 | Nil | 31st May - 3rd June 2019 | 13th June 2019 | 17th June 2019 | 30th May 2019 |
| Cadbury Nig. Plc | N0.25 | 21st March 2019 | Nil | 20th - 24th May 2019 | 18th June 2019 | 19th June 2019 | 17th May 2019 |
| Julius Berger Nig. Plc | N2.00 | 21st March 2019 | Nil | 3rd - 7th June 2019 | 20th June 2019 | 21st June 2019 | 31st May 2019 |
| UBA Plc | N0.65 | 15th March 2019 | Nil | 3rd - 9th April 2019 | 23rd April 2019 | 23rd April 2019 | 2nd April 2019 |
| Access Bank Plc | N0.25k | 14th March 2019 | Nil | 12th April 2019 | 25th April 2019 | 25th April 2019 | 11th April 2019 |
| Stanbic IBTC Holdings Plc | N1.50k | 7th March 2019 | Nil | 21st March 2019 | 19th June 2019 | 20th June 2019 | 20th March 2019 |
| Guaranty Trust Bank Plc | N2.45 | 6th March 2019 | Nil | 9th April 2019 | 18th April 2019 | 18th April 2019 | 8th April 2019 |
| Seplat Petroleum Dev. Company Plc | US$0.05 | 6th March 2019 | Nil | 21st March 2019 | 16th May 2019 | 23rd May 2019 | 20th March 2019 |
| Nestle Nig Plc | N38.50k | 4th March 2019 | Nil | 13th - 17th May 2019 | 28th May 2019 | 29th May 2019 | 10th May 2019 |
| McNichols Consolidated Plc | N0.05k | 1st March 2019 | Nil | 9th - 15th April 2019 | 16th April 2019 | 26th April 2019 | 8th April 2019 |
| Dangote Cement | N16.00 | 28th February 2019 | Nil | 4th - 10th June 2019 | 17th June 2019 | 18th June 2019 | 3rd June 2019 |
| Africa Prudential Plc | N0.50k | 26th February 2019 | Nil | 14th - 20th March 2019 | 26th March 2019 | 26th March 2019 | 13th March 2019 |
| United Capital Plc | 30kobo | 21st February 2019 | Nil | 14th - 20th March 2019 | 28th March 2019 | 2nd April 2019 | 13th March 2019 |
| Zenith Bank Plc | N2.50 | 19th February 2019 | Nil | 11th - 15th March 2019 | 18th March 2019 | 18th March 2019 | 8th March 2019 |
| Transnational Corp. of Nig. Plc | 3k | 18th February 2019 | Nil | 1st - 5th March 2019 | 15th March 2019 | 19th March 2019 | 28th February 2019 |
| Nigerian Breweries Plc | N1.83K | 18th February 2019 | Nil | 7th - 13th March 2019 | 17th May 2019 | 20th May 2019 | 6th March 2019 |
| Transcorp Hotel | 15k | 15th February 2019 | Nil | 28th February - 1 March 2019 | 15th March 2019 | 19th March 2019 | 27th February 2019 |
| Newrest ASL NIG Plc | 20k | | Nil | 29th April - 3rd May 2019 | 15th May 2019 | 16th May 2019 | |
| SIAML Pension ETF 40 | N1.17 | | Nil | 25th January 2019 | N/A | 28TH January 2019 | |