Fear of weakened dollar pushes Bitcoin to record high
Most analysts still believe that bitcoin still has a bullish tendency, but how long is the question lingering in everyone's mind?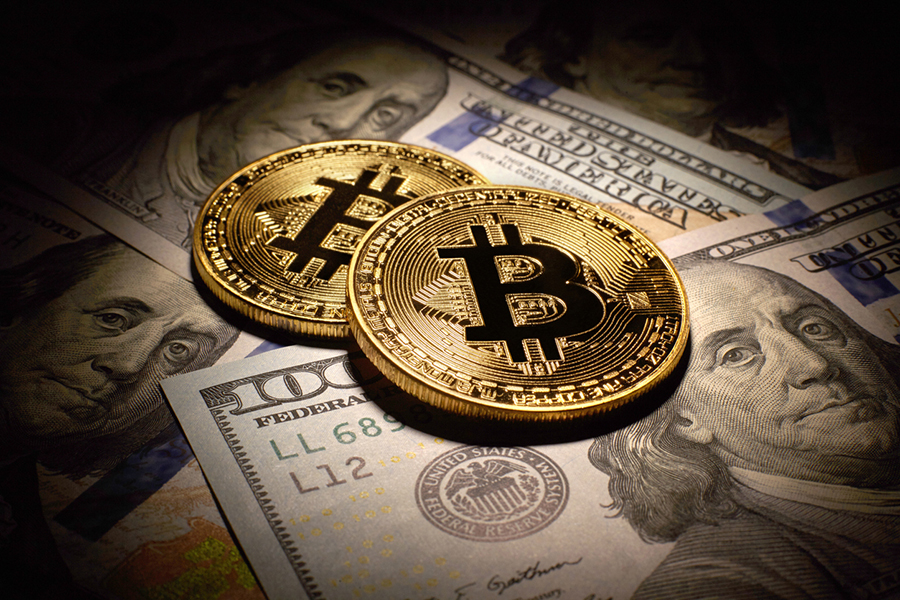 The crypto giant, Bitcoin has been on a bullish run, as investors' appetites for technology stocks rejuvenates and the stimulus package announced by the Joe Biden administration causes investors to hedge against the weakened dollar.
As stimulus was set to reach households this weekend, bitcoin made a historical move. Bitcoin has surpassed the previous high of $58,000 set last month. Despite the troubling pull back, the crypto giant has had a bullish victory for 7 straight days as of March 11, 2021, but saw a pullback on March 13, 2021 to $57,800. Currently, Bitcoin is at $60,000 as at the point of writing this article.
Analysts believe that the surge is due to the attention created by investment banks, companies, and high net worth individuals. Even the world most valuable bank; JP Morgan, created an investment note on companies with the purchase of Bitcoin on their balance sheet. Golden Sachs president Waldron has indicated that he has seen an increase in demand for bitcoin this week.
READ: Gold prices post gains on $1.9 trillion stimulus program
Typically, Bitcoin advocates have perceived the asset as a hedge against inflation since it is decentralized and not tied to any central bank. Africa's largest economy, despite the cryptocurrency ban issued by the Central Bank of Nigeria, has seen a 15% increase in P2P bitcoin transactions showing its resilience to the impact of government policy.
Also, the European Central Bank's intention to increase the bond purchase can be seen as a potential push to the Bitcoin bullish run. Analysts believe that more stimulus could weaken the dollar which is advantageous to the bull run of bitcoin.
Market sentiments about Gary Gensler, and his recent victory in confirmation hurdle to the position of the Chair of the Securities and Exchange Commission (SEC) are seen to be favourable to the crypto world. Despite his claims to crack down on money laundering, he is seen as a forward thinker.
READ: Crypto market post all-time high, breaks past $1.15 trillion
Regardless of the claim that Bitcoin is to be a safe haven, the assets remain speculative as it only recently had a correction to $43,000, giving credence to the speculative nature of Bitcoin. Hence, it would be prudent to diversify your portfolio and take a cautious position. Most analysts still believe that bitcoin still has a bullish tendency, but how long is the question lingering in everyone's mind?
Dogecoin post weekly gains of over 450%, more valuable than Barclays and Credit Suisse
The listing of DOGE on Coinbase and other related institutional-focused exchanges could make DOGE's value rise as high as $1.
In recent weeks, Dogecoin (DOGE) has become the darling of many crypto traders and investors as it rallied by more than 450% amid high buying pressure.
Even after earlier pullbacks, its current market valuation of about $35 billion makes it more valuable than century-old banks like Barclays and Credit Suisse which have a valuation of $32 billion and $23.9 billion respectively.
The crypto asset, at the time of writing, was the only profitable crypto in the top 5, triggered by Twitter posts from Elon Musk, one of the world's most powerful and wealthiest person alive.
READ: Crypto market surges above $2 trillion, as Bitcoin stages a huge comeback above $60,500
Market pundits argue that the credence from the world's leading billionaires like Elon Musk and Mark Cuban might have given the fast-rising crypto enough support amid the recent price correction ongoing in the flagship crypto market.
Crypto pundits also argue that the listing of DOGE on Coinbase and other related institutional-focused exchanges that offer altcoin derivatives could make its value rise as high as $1.
READ: SEC ban on foreign stocks denies Nigerian investors of generational wealth
At the time of writing this report, Dogecoin traded at $0.409118 with a daily trading volume of $35.3 billion. It is currently the fifth most valuable crypto by market value surpassing the likes of Tether, Cardano, and Polkadot.
Dogecoin is a type of digital coin that is decentralized and facilitates peer-to-peer digital transactions. This means you can send money online with much ease. It is usually referred to as "the internet currency."
Bank of England considers digital currency
If approved, the digital currency would exist alongside other payment options, rather than replacing them.
The UK government and the Bank of England are taking landmark steps towards the creation of a central bank digital currency, joining other nations that include China and Bahamas in the digital currency drive.
A press release issued on the government's website announced the creation of a body with the mandate to coordinate on the possibility of a Bank of England-issued digital money for use by households and businesses.
If approved, the digital currency would exist alongside other payment options, rather than replace them.
READ: Bank of Canada quickens up its digital currency launch
Speaking at Fintech Week, Chancellor Rishi Sunak spoke on the initiatives put in place with regulatory support and structural reforms toward the British drive on a central bank digital currency.
Chancellor of the Exchequer, Rishi Sunak said:
"Our vision is for a more open, greener, and more technologically advanced financial services sector. The UK is already known for being at the forefront of innovation, but we need to go further. The steps I've outlined today, to boost growing fintechs push the boundaries of digital finance and make our financial markets more efficient, will propel us forward. And if we can capture the extraordinary potential of technology, we'll cement the UK's position as the world's pre-eminent financial centre.
A new Taskforce, bringing together HM Treasury and the Bank of England, will be established to explore a possible UK central bank digital currency (CBDC).
READ: U.S Central Bank leader says no rush into crypto dollar
Two new forums will also be established to engage technical experts and key stakeholders (including financial institutions, merchants, business users, civil society groups, and consumers) through the process."
A digital currency is a cash balance recorded electronically on a store value card or other physical devices, which could someday replace the physical notes of the British pound or Naira, for instance.
Digital currencies can be decentralized, a situation where the control over cash supply can come from diverse sources. Digital currencies can also be centralized, a situation where there is a midpoint of control over cash supply, just like the way central banks work.
READ: Crypto crash: 3 major risks involved in investing in Crypto
The U.S government is also considering a framework for creating a U.S. central bank digital currency, which would be mined through the blockchain protocol, transferred between users, and recorded in a public ledger.
Nairametrics | Company Earnings
Access our Live Feed portal for the latest company earnings as they drop.