NBS hits back at Prof Hanke, says Nigeria's inflation is not 33%
The National Bureau of Statistics highlighted seven reasons why Prof. Hanke's claim is faulty and holds no ground in the Nigeria ecosystem.
The National Bureau of Statistics (NBS) has hit back at the claim of Prof. Steve Hanke that Nigeria's inflation is actually 33.5% rather than the reported 14.23% as at October 2020. This was disclosed in a tweet on the official Twitter handle of the agency.
READ: Inflation rate, rise and fall explained
In the disclosure, the National Bureau of Statistics (NBS) highlighted seven reasons why Prof. Hanke's claim is faulty and holds no ground in the Nigerian ecosystem.
READ: A summer of higher food prices, limited room for monetary policy
Highlights of the disclosure
Firstly, it must be noted that inflation numbers are tirelessly collated, rigorously analyzed, and transparently published by the Nigerian National Bureau of Statistics (NBS), which has yield offices in the entire 744 local governments of the country.
READ: COVID-19: Best and worst case scenarios for the Nigerian economy
Secondly, what are the so-called "high-frequency data" he uses to reach his unfounded conclusions? Whatever these datasets might be, it is critical to remind the Professor that inflation is not about price changes for a "selected number" of goods/services, but price changes to "all/general" goods/services. If the price of wristwatches doubles over a given period that does not mean the price of maize or beans has also doubled.
READ: Minister discloses major driver of inflation rate in Nigeria
Prof Hanke's use of Purchasing Power Parity (PPP) is surprising, as he should know that it comes with a ton of well-known issues. For example, PPP numbers assume that all purchases are done in US Dollars. PPP exchange conversions are problematic, because of the difficulty of finding an exact comparable basket of goods between two countries, especially those that are starkly different like Nigeria and the US. Also, Americans may eat more beef while Nigerians may eat more rice. It then begs the question, "How did the Prof control for these differences in his PPP calculations?"
READ: Naira falls to 12-week low at black market as demand pressure increases
Many aspects of PPP comparison are theoretically implausible, especially when countries differ fundamentally like US and Nigeria. For example, there is no basis for comparison between the Nigerian Commercial motorcyclist who lives on those earnings and the American Cheese farmer, because Nigerian commercial bike riders are not in America and there are no Nigerian Cheese farmers. So, in general, PPP makes sense when the two countries have much more similar price structure.
READ: UPDATED: Devaluation is here as CBN sells dollars at N380/USD
While it is certainly true that inflation is rising in Nigeria, Prof Hanke's figures wildly exaggerated price movements. This is exemplified by the fact that his calculations also suggest that Nigeria experienced deflation between May 2017 and May 2018, which does not line up at all with the reality experienced by any Nigerian during that period of time.
READ: Nigeria's inflation rate hits 13.71% as food prices soar
Also, Professor Hanke did not note that values under 25% must be considered unreliable. However, if this is the case, it is unclear how the same methodology can therefore be reliable for values above 25%. Any measure of inflation must provide credible estimates, otherwise, it cannot be helpful to any policy maker.
READ: Local Vegetable Oil prices Drop in Latest Household Food Price Survey
Whilst Prof Hanke's methodology is not transparently stated, it appears that it is primarily based on exchange rate data. However, this is not a complete picture of the economy as imports only represent about 18% of GDP. Therefore, his numbers would not accurately measure price movements in non-tradable goods like Garri, and non-tradable services like a haircut. Yet, inflation must capture price movement for ALL goods and services rather than a few.
READ: Nigerian Treasury Bills real interest rate falls to -12%
Knowing Prof. Hanke's inglorious and controversial history with promoting Currency Boards (a history that was publicized by very many Economists including Nobel Laureate, Paul Krugman; one can see that his bias would be to imply a far more depreciated Naira and problems with Nigeria's exchange rate system. Of course, both assumptions introduce an upward inflationary bias to Nigeria's numbers, without the reality on ground to support this outcome.
READ: At 60, can Nigeria keep depending on Crude Oil?
Finally, aside from the substance of the tweet though, it also reflects something much deeper: self-aggrandizing and largely-unfounded intellectual superiority. It is interesting that a Professor sitting thousands of miles away from Nigeria, claims to know more than the entire bureaucracy of the Nigerian National Bureau of Statistics (NBS), which has buzzing offices and grand staff in each of the country's 774 Local Government Areas.
READ: Lower disposable income and rising food inflation is a potential crisis
The statement, therefore asked, "Is it possible and/plausible that the Prof knows more than this entire operations?"
What you should know
Professor Steve Hanke in a series of tweets called out the recently released inflation report at 14.23% by the National Bureau of Statistics. The tweet reads, "@nigerianstat measured inflation in Nigeria at 14.23%/yr for Oct. 2020. They must have pulled that number from Sleepy @MBuhari's hat. I accurately measure inflation every day in Nigeria. Today, it's 33.5%/yr. This is over 2x the farcical official rate."
#BREAKING: @nigerianstat measured #Inflation in #Nigeria at 14.23%/yr for Oct. 2020. They must have pulled that number from Sleepy @MBuhari's hat. I accurately measure inflation every day in Nigeria. Today, it's 33.50%/yr. This is over 2x the farcical official rate. pic.twitter.com/Pqc8kyrOeU

— Prof. Steve Hanke (@steve_hanke) November 17, 2020
Recall that Nairametrics had reported earlier in the week that Nigeria's inflation rate rose by 14.23% (year-on-year) in October 2020, as disclosed by the National Bureau of Statistics (NBS). A reality that was majorly affected by the significant hike in the price of food items and services such as medical services, air transport, hair saloon, amongst others.
Senate endorses ex-Service Chiefs as Non-career Ambassadors
The Senate has confirmed President Buhari's nomination of the immediate past service chiefs as non-career ambassadors.
The Nigerian Senate has endorsed the nomination of the past serving Military Service Chiefs as Non-career Ambassadors.
This was confirmed during Tuesday's plenary session and announced in a social media statement by the Nigerian Senate.
Their confirmation follows the consideration of the report of the Senate Committee on Foreign Affairs, Chaired by Senator Adamu Bulkachuwa.
According to reports, the Senate Minority Leader Enyinaya Abaribe, however, questioned the nomination and confirmation of the ex-service chiefs when the Senate had on 3 different occasions called for their sack.
Senator Abaribe also raised issues on the petitions against the former service chiefs and questioned why they were dismissed without explanations.
But Senate President Ahmad Lawan dismissed Senator Abaribe's concerns, ruling that the nomination of the former service chiefs cannot be nullified simply because the upper chamber had called for their sack, noting that this is totally a different assignment.
In his concluding statement, the Senate President, Senator Lawan added that these nominees that have just been confirmed have served this country to the best of their abilities. He appealed to the executive to make sure they use their experience as military men to the best.
"These nominees that we have just confirmed are nominees that have served this country to the best of their ability. Our appeal to the Executive is to make sure they use their experiences as military men to the best," Lawan said.
Lawan, on behalf of the senate, wished them a very successful career in their capacity as Non-Career Ambassadors.
What you should know 
Recall Nairametrics reported earlier this month that President Muhammadu Buhari nominated ex-Service Chiefs for Senate approval as non-career Ambassadors-Designate.
Their appointment came barely a week after their retirement as service chiefs and their replacement with new ones.
This led to a spate of criticisms from some Nigerians who felt that the nation's security situation got worse under their watch.
They were reported to have tendered their resignation from their positions amid heightened calls that they should be sacked due to the increasing rate of insecurity across the country.
2020 budget performance: FG achieves 89% capital release in December 2020
The Minister of Finance has revealed that the FG achieved 89% release of the capital component of the 2020 budget to MDAs as of December 2020.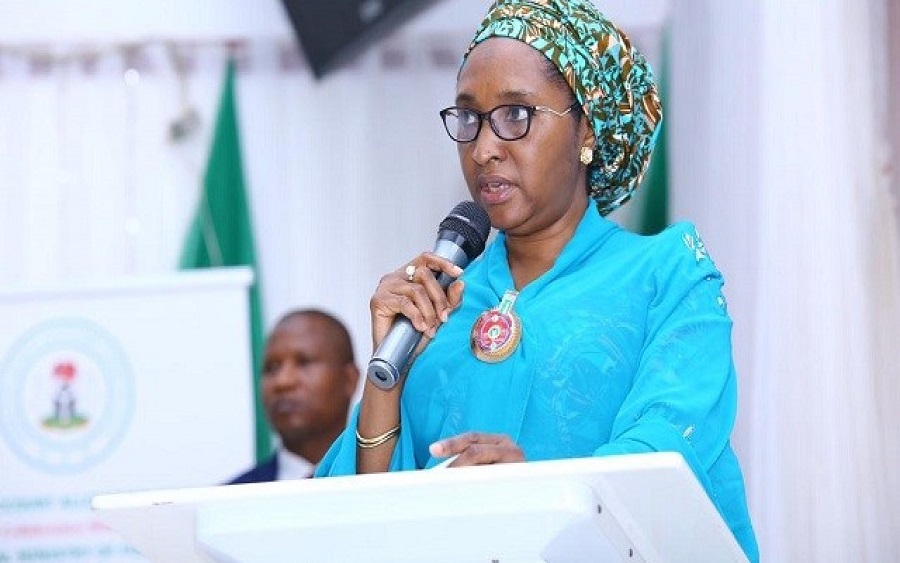 The Minister of Finance, Budget and National Planning, Zainab Ahmed, has revealed that the Federal Government achieved 89% release of the capital component of the 2020 budget to Ministries, Departments and Agencies (MDAs) as of December 2020.
She said that the 89% capital funding for MDAs was achieved with the release of N1.74 trillion.
According to a report by the News Agency of Nigeria (NAN), this disclosure was made by Ahmed at an interactive session with the leadership of the National Assembly on Monday, February 22, 2021.
She also revealed that the government had disbursed N118.37 billion for Covid-19 capital expenditure from the fund.
READ: Recession: Senate attributes recovery to it's cordial relationship with Executive
What the Minister for Finance is saying
Ahmed said the Nigerian economy faced serious challenges in 2020, with the macroeconomic environment significantly disrupted by the Covid-19 pandemic.
She said this led to a 65% drop in projected net 2020 government revenues from the oil and gas sector, which adversely affected foreign exchange inflows into the economy.
On the delayed release of funds to implement the 2020 capital budget until March 31, the Minister said the complaint had decreased.
She said, "I think the complaint was earlier in the year when we were trying to transfer the balances. As far as I know, in the past three weeks, I haven't heard any such complaints and we have been able to address them.
"But when we started the transfers, we couldn't transfer to some agencies because of some limitations in the system, but we have since been able to transfer the capital component that is being utilised by the agencies budget to the system."
READ: Nigeria receives $9.68 billion capital inflows in 2020, lowest in 4 years
While pointing out that the implementation of the MDAs projects was tied to procurement processes and capacity of the MDA, Ahmed also said the extension of the 2020 capital budget implementation to March 31 had recorded 30% performance as at January.
However, Ahmed said that she expected that the extension would record 100% performance in March.
Speaking during the interaction, the Senate's Chief Whip, Senator Orji-Uzor Kalu, commended the Minister on the capital performance of the 2020 budget.
READ: FG to reopen Kano and Port Harcourt airports for international flights
He said, "I want to commend the minister and her team because this is the first time in the history of Nigeria that by December 31, we are having 89% performance expenditure of the budget. It has never happened before; Last year was the very first.
"The budget had been going 49%, 27%; this means from what the Senate President was asking, it means by March, we should be looking at implementing the budget 100%.''
Earlier, President of the Senate, Ahmad Lawan said the meeting was to get an update on the capital implementation of the 2020 budget given its extension for implementation by the national assembly to March 31.
What this means
The 89% capital release for the 2020 budget as of December 2020 is quite encouraging as it occurred despite the economic challenges and disruption caused by the outbreak of the coronavirus pandemic.
There seems to be an improved effort by the Federal Government at the budgeting process with the early passage of the 2021 budget and the implementation of the capital component of the 2020 budget.
Nairametrics | Company Earnings