N-Power opens batch C application portal, reveals requirements and how to register
The N-Power 2020 recruitment portal will re-open by 11.45 pm today Friday, June 26, 2020. See more details below.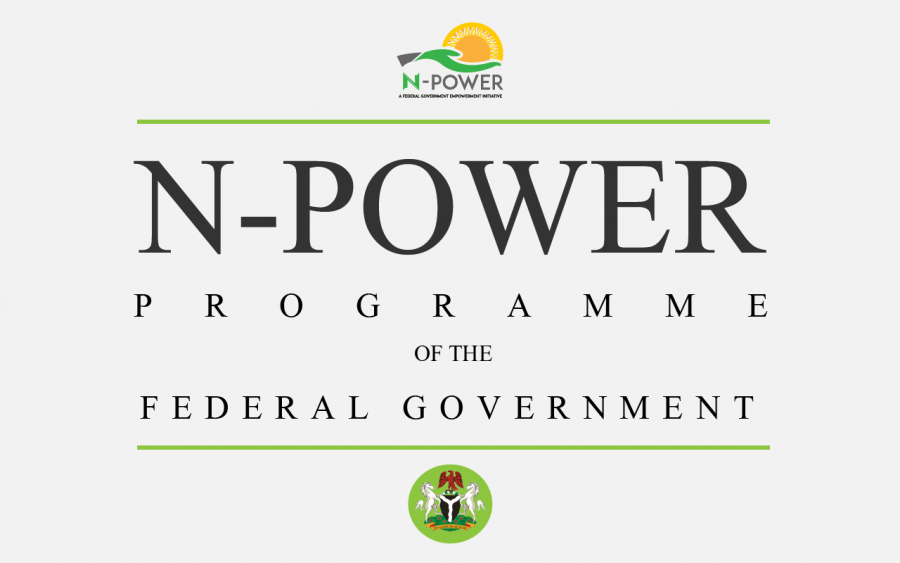 The Federal Government has announced the reopening of the application portal of its social investment scheme, N-Power, for fresh registration of the June 2020 Batch C intakes.
This was disclosed in a series of tweet posts by the Federal Ministry of Humanitarian Affairs, Disaster Management and Social Development on Friday, June 26, 2020.
According to the tweet posts, the N-Power 2020 recruitment portal will re-open by 11.45 pm today, Friday, 26 of June 2020. The ministry noted that those that all applications made prior to the re-opening date and time will not be recognised, but instead declared null and void.
The humanitarian affairs ministry also explained that all the processes involved in the application are free.  As such, applicants do not have to pay anybody. Part of the post from the ministry said:
"Dear intending N-Power 2020 applicants. Here is how to prepare for the N-Power application. Remember Portal opens 11.45 pm, June 26, 2020, application is free. Do not pay anyone to apply on the N-Power portal. Get a printout or accurate details of your BVN.'
''We understand some people have attempted registration. Please note that your registration is null and void. It doesn't' count till the portal opens at 11.45 pm tonight.''
Dear Intending N-Power 2020 Applicants,

Here is how to prepare for the N-Power application.

Remember
1. Portal opens 11.45pm, June 26th, 2020.
2. Application is FREE. Do NOT pay anyone to apply on the N-Power portal.
3. Get a printout or accurate details of your BVN.#NPowerNG pic.twitter.com/q9enxbvzCP

— N-Power (@npower_ng) June 25, 2020
(READ MORE:Ecobank Transnational CEO warns that debt cancellation will hurt African countries)
The N-Power programme, which was inaugurated by President Muhammadu Buhari in 2016 under the National Social Investment Programme (NSIP), has the mandate of lifting citizens out of abject poverty through capacity building, investment, and direct support.
Here are some of the requirements for registration for the N-Power 2020 Batch C
Get your BVN ready.
Ensure you are not an existing employee in any organization.
A printout or current details of your Bank Verification Number (BVN).
A current passport photograph (1MB) either JPEG or PNG files.
A valid contact email address or a working phone number
Your degree certificate and NYSC certificate (if you are a graduate) and want to apply for N-Teach or N-Health.
Application is done online.
It should be noted that the N-Power 2020 application portal is npower.fmhds.gov.ng.
This is how to Register for N-Power 2020 Recruitment
Input your valid contact information (email or phone number).
The information will be redirected to your email for a confirmation.
Once your email address has been confirmed, you are to fill in your 11-digit BVN and date of birth in the following format (dd/mm/yy). Note that if your BVN details are inaccurate, you will not be allowed to go past this interface.
(READ MORE: COVID-19 Update in Nigeria)
Fill in your surname, first name, and middle name in identical terms to your BVN information for your biodata and contact page.
Kindly indicate if you have received education or not on the education and programme page. The N-Power programme is open to all, however.
The N-Teach and N-Health sub-programmes are however open to only graduates. ii. (In addition, please note that for N-Power Health, selection preference will be given to holders of Bachelor's Degree, HND, OND in health sciences such as Medicine, Microbiology, Nursing, Public Health, Botany, Midwifery, Psychology or other allied disciplined in the sciences). iii. Where applicable, you will be required to upload your degree certificates and NYSC certificate.
You will be required to answer some questions and upload your Government issued Identity Card on the employment and other details page. Kindly note that the acceptable Government IDs are International Passport, National ID Card issued by NIMC, Valid Driver's License and Permanent Voter's Card.
Review all the information you have inputted and then submit on the review and submit page and upon submission, you will receive a unique ID number. write it down and keep it safe.
Nigerian and US Authorities battle former Enron Nigerian Subsidiary over $80 million Yacht
Both Nigerian and American governments have opposed Enron Nigeria's appeal. 
19 years after the bankruptcy of Enron Corporation, one of the biggest corporate bankruptcies in American history, a former subsidiary of the company is battling Nigerian and American Authorities over the sale of a yacht valued at over $80 million acquired by Nigerian businessman Kolawole Aluko. 
The yacht was seized by the US Government in 2018 after prosecutors say it was bought with the proceeds of bribes paid to Nigeria's former Minister of Petroleum, Diezani Alison–Madueke. 
The yacht was later auctioned for $37 million in 2019. The Nigerian government also dropped claims to the proceeds of the sale recently and a Texas Court ordered all proceeds should be retained by the US Government. 
However, a former unit of the Bankrupt Enron, Enron Nigeria Power Holdings claims it's entitled to the proceeds and demands $22 million in a bid to get an arbitration awarded to them against the Nigerian government for suspending a contract signed with Enron in 1999 to build and operate a Power plant. 
(READ MORE: Nigeria leads Africa combined in Q2 2020 on BTC P2P)
Enron Nigeria claims the Nigerian government dropped claims to the proceeds of the yacht's auction in an attempt to fraudulently transfer assets to stop creditors from accessing them. Saying Nigeria dropping its claims was "a recognition of the factual and legal basis" in a DOJ court filing. 
Both Nigerian and American governments have opposed Enron Nigeria's appeal. 
Enron Nigeria Power Holdings Ltd is owned by ex-Enron staff involved in the negotiations for the Power Plant contract in Nigeria and was bought out of bankruptcy for $750,000 in 2004 by a Cayman Islands registered company. 
An arbitration ruling in 2012 awarded Enron Nigeria Power Holdings $11.2 million including interest in damages against the Nigerian government. 
The DOJ says Mr. Aluko bought the yacht for $82 million in 2013 and funded a lavish lifestyle for Alison Madueke in exchange for NNPC contracts valued at over $1.5 billion. 
Aluko and his business partner, Olajide Omokore are also accused of laundering illicit revenues into and through the United States
Apapa Command's revenue rises 10.59% to N227.3 billion in the first half of 2020 – Customs 
Abba-Kura also praised the Customs Service for its achievements in spite of multiple challenges.
The Nigerian Customs Service announced on Thursday that its revenue for the Apapa Command rose by 10.59% from the previous year as it has generated N227.3 billion during the first half of 2020. 
While disclosing this, the Customs Area Controller, Mohammed Abba-Kura said, "There has been a steady improvement in revenue collection all through the half-year except for the month of May which recorded a decline of about 3.531 billion, when compared between year 2019 and 2020. The command in the half-year of 2019 collected a total sum of N203.264 billion as customs duty and other charges like seven percent surcharge, Value Added Tax, one percent Comprehensive Import Supervision Scheme (CISS) among others. 
 "From January to June this year, the command collected a huge sum of N227,347,046,233.53, which represents an increase of N24,082,991,550.84 or 10.59 percent increase from the previous year." 
READ MORE: Court slams N5 million fine on Nigeria Customs Service for collecting duty on personal effects
According to NAN, Abba-Kura also praised the Customs Service for its achievements in spite of multiple challenges they have faced this year. 
"In spite of all challenges, the Apapa Area Command has maintained its tempo at ensuring that maximum revenue is collected in addition to trade facilitation and suppression of smuggling," he said.  
The Area Controller further disclosed that the Command seized 142 containers of various items during the period. The seizures were related to smuggling and were seized pursuant to sections 46 and 48 of the Customs and Excise Management Act (CEMA) which enforces laws related to forfeiture of goods that are illegally imported. 
The seized goods ranged from luxury cars like Rolls Royce 2018 and a 2019 Lamborghini Hurricane. Others include pharmaceuticals, rice, clothes, assorted foodstuff, and other materials. 
Meanwhile, in terms of exports, the value of exported products so far is about N52,369,506,770.90 – Free on Board Value, mainly Agricultural produce and Mineral resources. 
READ MORE: Even with a 939% jump in H1 Profit, Neimeth still needs to build consistency
Unfortunately, the Coronavirus pandemic has inevitably affected the operations of the Command this year.
According to Abba-Kura, "ten of our men in Apapa command got infected with COVID-19 and were sent to the isolation centre and as at today, they are all well now and we appreciate the Lagos State government and doctors at the Lagos University Teaching Hospital for their help."  
Note that the Customs revenue growth comes at a time of declining revenue for Nigeria, even as the Federal Government's debt service as a percentage of revenue rose to 99% in the first quarter of 2020. Therefore, it is a good development. 
Nairametrics reported the country earned N950.5 billion in revenue compared to a prorated budget of N1.9 trillion, representing a whopping shortfall of 52%.  Oil revenue was N464 million representing a shortfall of 30% when compared to budget while non-oil revenue was N269 billion representing a shortfall of 40% in the first quarter of 2020. 
Buhari suspends NSITF MD and other top management officials, appoints acting MD  
The minister disclosed that the suspension of these officials became imperative after the preliminary investigation.
President Muhammadu Buhari has approved the indefinite suspension of the Managing Director and Chief Executive Officer of the Nigeria Social Insurance Trust Fund (NSITF), Mr Adebayo Somefun and three Executive Directors of the Government agency over corruption allegations. 
Also suspended are some other top management staff of the agency.  
This was disclosed in a press statement by Charles Akpan of the Press and Public Relations of the ministry on behalf of the Minister for Labour and Employment, Chris Ngige, on Thursday, July 2, 2020.  
The suspended Executive Directors are Jasper Ikedi-Azuatalam, Executive Director (ED), Finance and Investment, Mrs Olukemi Nelson, ED, Operations and Alhaji Tijani Darazo Sulaiman, ED, Administration. 
Also suspended are Mr Olusegun Olumide-Bashorun, General Manager, Administration/Human Resources/Maintenance, Mr Lawan Tahir, General Manager, Finance, Mr Chris Esedebe, General Manager, Claims and Compensation, Mr Olodotun Adegbite, Deputy General Manager, Investment and Treasury Management, and Mr Emmanuel Enyinnaya-Sike, Deputy General Manager, Finance and Accounts. 
The press statement also mentioned Mrs Olutoyin Arokoyo, Deputy General Manager/Acting Head, Legal, Ms Dorathy Zajeme-Tukura, Deputy General Manager, Administration, and Mrs Victoria Ayantuga, Assistant General Manager, Internal Audit as part of the management team that was suspended. 
The minister disclosed that the suspension of these officials became imperative after the preliminary investigation established prima facie infractions on the extant Financial Regulations and Procurement Act. and other acts of gross misconduct. 
According to the statement, ''During the period of their suspension, the officers will face a Joint Board and Audit Investigative Panel that had been set up to look into the financial and procurement breaches, as well as gross misconduct in the NSITF from 2016 to date. 
"The gross misconduct has invariably put the contributions of stakeholders in a perilous state. The affected officers have also been directed to hand over to the most senior officers in their respective departments." 
The statement also quoted the Minister, Chris Ngige, as directing the most senior General Manager, Dr Kelly Nwagha, to take over as the Acting Managing Director/Chief Executive with effect from Monday, July 6, 2020. 
The Labour Minister also charged the Chairman of the Board, Mr Austin Enajemo Isire, to ensure that the investigative panel commenced work as soon as possible. 
The NSITF has not been new to controversies as the Federal Government had alleged that N48 billion out of the N62 billion contributions to the agency was mismanaged by the former board and management between 2012 and 2015. 
Some of the former officials of NSITF including the former Chairman, Ngozi Olejeme, were charged to court for corrupt practices and embezzlement by the Economic and Financial Crimes Commission (EFCC). 
Also, sometime last year, Ngige, had a running battle with the Nigerian Labour Congress over the non-inauguration of the board of the government agency.