N-Power opens batch C application portal, reveals requirements and how to register
The N-Power 2020 recruitment portal will re-open by 11.45 pm today Friday, June 26, 2020. See more details below.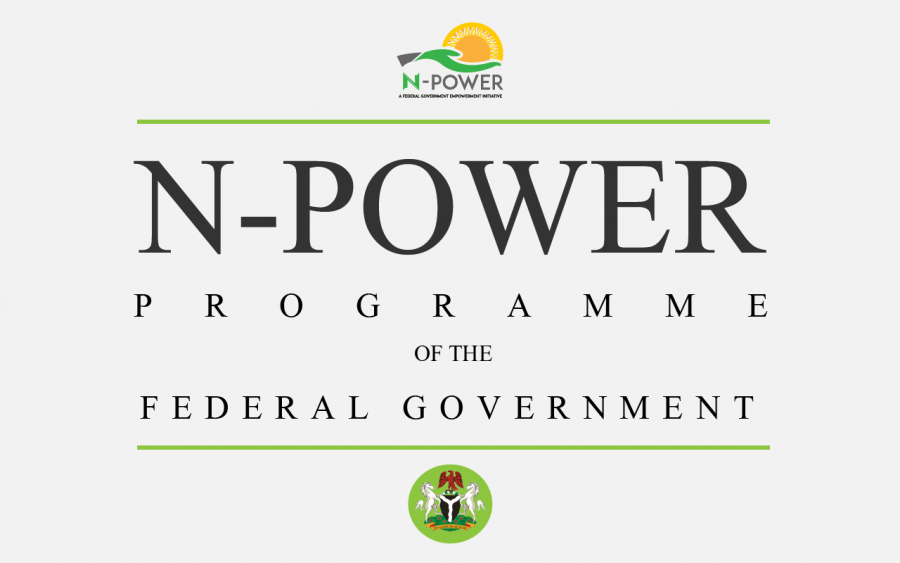 The Federal Government has announced the reopening of the application portal of its social investment scheme, N-Power, for fresh registration of the June 2020 Batch C intakes.
This was disclosed in a series of tweet posts by the Federal Ministry of Humanitarian Affairs, Disaster Management and Social Development on Friday, June 26, 2020.
According to the tweet posts, the N-Power 2020 recruitment portal will re-open by 11.45 pm today, Friday, 26 of June 2020. The ministry noted that those that all applications made prior to the re-opening date and time will not be recognised, but instead declared null and void.
The humanitarian affairs ministry also explained that all the processes involved in the application are free.  As such, applicants do not have to pay anybody. Part of the post from the ministry said:
"Dear intending N-Power 2020 applicants. Here is how to prepare for the N-Power application. Remember Portal opens 11.45 pm, June 26, 2020, application is free. Do not pay anyone to apply on the N-Power portal. Get a printout or accurate details of your BVN.'
''We understand some people have attempted registration. Please note that your registration is null and void. It doesn't' count till the portal opens at 11.45 pm tonight.''
Dear Intending N-Power 2020 Applicants,

Here is how to prepare for the N-Power application.

Remember
1. Portal opens 11.45pm, June 26th, 2020.
2. Application is FREE. Do NOT pay anyone to apply on the N-Power portal.
3. Get a printout or accurate details of your BVN.#NPowerNG pic.twitter.com/q9enxbvzCP

— N-Power (@npower_ng) June 25, 2020
(READ MORE:Ecobank Transnational CEO warns that debt cancellation will hurt African countries)
The N-Power programme, which was inaugurated by President Muhammadu Buhari in 2016 under the National Social Investment Programme (NSIP), has the mandate of lifting citizens out of abject poverty through capacity building, investment, and direct support.
Here are some of the requirements for registration for the N-Power 2020 Batch C
Get your BVN ready.
Ensure you are not an existing employee in any organization.
A printout or current details of your Bank Verification Number (BVN).
A current passport photograph (1MB) either JPEG or PNG files.
A valid contact email address or a working phone number
Your degree certificate and NYSC certificate (if you are a graduate) and want to apply for N-Teach or N-Health.
Application is done online.
It should be noted that the N-Power 2020 application portal is npower.fmhds.gov.ng.
This is how to Register for N-Power 2020 Recruitment
Input your valid contact information (email or phone number).
The information will be redirected to your email for a confirmation.
Once your email address has been confirmed, you are to fill in your 11-digit BVN and date of birth in the following format (dd/mm/yy). Note that if your BVN details are inaccurate, you will not be allowed to go past this interface.
(READ MORE: COVID-19 Update in Nigeria)
Fill in your surname, first name, and middle name in identical terms to your BVN information for your biodata and contact page.
Kindly indicate if you have received education or not on the education and programme page. The N-Power programme is open to all, however.
The N-Teach and N-Health sub-programmes are however open to only graduates. ii. (In addition, please note that for N-Power Health, selection preference will be given to holders of Bachelor's Degree, HND, OND in health sciences such as Medicine, Microbiology, Nursing, Public Health, Botany, Midwifery, Psychology or other allied disciplined in the sciences). iii. Where applicable, you will be required to upload your degree certificates and NYSC certificate.
You will be required to answer some questions and upload your Government issued Identity Card on the employment and other details page. Kindly note that the acceptable Government IDs are International Passport, National ID Card issued by NIMC, Valid Driver's License and Permanent Voter's Card.
Review all the information you have inputted and then submit on the review and submit page and upon submission, you will receive a unique ID number. write it down and keep it safe.
Insecurity: FG to implement town hall meetings to reach a national consensus
The meetings are set to address the twin issues of insecurity and its concomitant effect on national unity and cohesion.
The Federal Government announced the launch of town hall meetings to address the twin issues of insecurity and its concomitant effect on national unity and cohesion.
This was disclosed by the Minister of Information, Lai Mohammed, at the Town Hall Meeting in Kaduna on Thursday, themed "Setting Benchmarks for Enhanced Security and National Unity in Nigeria."
What the Minister is saying
"The correct starting point towards addressing these myriads of problems is the building of an "elite consensus" on the security, unity, indissolubility, and peaceful existence of Nigeria.
"Such elite consensus had worked in the past. Can we make it work now and proffer solutions in order to stave off the threats to our unity as a nation?" he said.
The Minister disclosed that the meetings are necessary to bring all critical stakeholders together to deliberate on the issues and possibly reach a consensus on the way forward.
"We expect this Town Hall meeting to develop concrete, implementable resolutions because a lot of talks and postulations had taken place with little or no requisite outcome."
In case you missed it 
Former Vice President, Atiku Abubakar warned that the rising insecurity in Nigeria is a result of rising youth unemployment. He urged Nigeria to tackle out-of-school children cases, pay a monthly stipend to poorer families, incorporate youths who are above school age into massive public works programmes and others.
Senator Ali Ndume insisted that the Federal Government needs to increase its total military spending to be able to tackle the rising insecurity in Nigeria which has seen a number of school students in 2021 kidnapped by bandits.
IMF lifts 2021 global GDP growth to 6%
The group also warned that economic recoveries are diverging dangerously across and within countries.
The International Monetary Fund has lifted its global growth outlook to 6% in 2021 (0.5% point upgrade) and 4.4% in 2022 (0.2 percentage point upgrade), after an estimated historic contraction of -3.3% in 2020 due to the effects of the COVID-19 pandemic. This disclosure was made on the organisation's website on Tuesday.
The group also warned that economic recoveries are diverging dangerously across and within countries, as economies with slower vaccine rollout, more limited policy support, and more reliance on tourism do less well.
READ: Corruption erodes the constituency for aid programmes and humanitarian relief – IMF
What the IMF is saying
"The upgrades in global growth for 2021 and 2022 are mainly due to upgrades for advanced economies, particularly to a sizeable upgrade for the United States (1.3 percentage points) that is expected to grow at 6.4 percent this year.
This makes the United States the only large economy projected to surpass the level of GDP it was forecast to have in 2022 in the absence of this pandemic.
China is projected to grow this year at 8.4 percent. While China's economy had already returned to pre-pandemic GDP in 2020, many other countries are not expected to do so until 2023."
READ: Nigeria needs structural and monetary policy reforms to unlock potential – IMF
On divergent recoveries 
The IMF stated that divergent recovery paths are likely to create wider gaps in living standards across countries compared to pre-pandemic expectations.
"The average annual loss in per capita GDP over 2020–24, relative to pre-pandemic forecasts, is projected to be 5.7 percent in low-income countries and 4.7 percent in emerging markets, while in advanced economies the losses are expected to be smaller at 2.3 percent," they said.
"Faster progress with vaccinations can uplift the forecast, while a more prolonged pandemic with virus variants that evade vaccines can lead to a sharp downgrade. Multispeed recoveries could pose financial risks if interest rates in the United States rise further in unexpected ways."
For Africa, IMF forecasts economic growth of 3.4% in 2021 and 4% by 2022, Nigeria is expected to grow by 2.5% in 2021 and 2.3% by 2022, while South Africa is projected to hit growths of 3.1% and 2.0% for the respective years in focus.
READ: The 4th industrial revolution and the birth of a new international monetary system
In case you missed it 
The International Monetary Fund (IMF)  identified some factors that hamper the economic recovery of low-income countries from the devastating impact of the coronavirus pandemic, factors including access to vaccines, limited policy space to respond to the crisis, the lack of means for extra spending, pre-existing vulnerabilities such as high levels of public debt in many low-income countries and sometimes weak, negative, total factor productivity performance in some low-income countries. These factors continue to act as a drag on growth.
Nairametrics | Company Earnings
Access our Live Feed portal for the latest company earnings as they drop.