First Bank presents devices to Lagos towards driving 1 million students to e-learning
Bank  has enabled over 10,000 free sign-ups to the Roducate e-learning platform.
First Bank of Nigeria Limited, Nigeria's leading financial inclusion services provider on Thursday, 11 June 2020, presented 20,000 units of e-learning devices to the Lagos State government at the State House in Marina, Lagos. The devices are planned for distribution to school children.
With the gesture, the Lagos State governor, Babajide Sanwo-Olu said the State had found a "real development partner" in FirstBank, noting that the intervention came at a time the Government was massively deploying technology to transform the conventional mode of teaching and learning.
The presentation of these devices which is also in partnership with Robert & John (an edu-tech company that owns Roducate) is part of activities implemented to close the gap caused by the disruption in children education's due to schools' closure, following the COVID-19 pandemic.
So far the Bank  has enabled over 10,000 free sign-ups to the Roducate e-learning platform with the goal to empower one million students.
"When we were developing our vision to change the face of education in Lagos, we knew from the outset that we could not achieve much progress in improving the quality of learning without using technology as a strong enabler. So, it is not out of place that we are witnessing more infusion of technology in learning and this intervention by FirstBank could not have come at a better time," said Sanwo-Olu, the Governor of Lagos State.
"It feels great when you have people and organisations share in your vision and working with you to realise it. I'm glad to say that we have found a real development partner in FirstBank, which has supported us to actualise the vision we have signed to achieve.
Many years back, nobody foresaw Coronavirus (COVID-19) would come and disrupt our ways of life. These devices will be useful to our pupils in the current circumstances we have found ourselves."
"FirstBank and all technical partners that worked on this project have written their names in the heart of students that will be using the device to learn. They will be forever grateful for passing the future to them."
The e-learning device is configured in line with the government's accredited curriculum for primary, secondary and tertiary schools across various fields of academic endeavours, such as science, commercial and arts.
It is built to promote cost-effective learning as there is minimal need for internet connectivity, whilst learning on the device is on-going.
Speaking on the presentation, Dr. Adesola Adeduntan, Chief Executive Officer, First Bank of Nigeria Limited said "the e-learning initiative aligns with our Corporate Responsibility and Sustainability initiatives and falls under one of our key strategic pillars, Education."
"We are excited to promote education and have consistently demonstrated this in our support of 10 universities and 3 secondary schools on infrastructure projects; our support of 10 universities with professorial Chairs and provision of financial literacy, entrepreneurial and career counselling to over 80,000 students in over 80 secondary schools in the country", he added.
The Bank has also collaborated with IBM and Curious Learning to ensure the e-learning initiative swiftly moves across the country to school children and individuals with the need to promote the pursuit of knowledge, irrespective of age.
The partnership with IBM, offers the Digital-Nation Africa program, an online youth-focused learning programme that enables innovation and skills development on emerging technologies through focus areas such as Artificial Intelligence, Coding, Cloud, Internet of Things, Blockchain, Data Science and Analytics, and Cybersecurity whilst Curious Learning offers academic-based contents for students aged 3-8, using fun, self-guided learning apps to help them with their cognitive skills at a fundamental level.
About FirstBank
First Bank of Nigeria Limited (FirstBank) is the premier Bank in West Africa and the leading financial inclusion services provider in Nigeria for over 125 years.
With over 750 business locations and 55,000 Banking Agents spread across 99% of the 774 Local Government Areas in Nigeria, FirstBank provides a comprehensive range of retail and corporate financial services to serve its over 15 million customers. The Bank has international presence through its subsidiaries, FBN Bank (UK) Limited in London and Paris, FBNBank in the Republic of Congo, Ghana, The Gambia, Guinea, Sierra-Leone and Senegal, as well as a Representative Office in Beijing.
The Bank has been nimble at promoting digital payment in the country and has issued over 10million cards, the first bank to achieve such milestone in the country. FirstBank's cashless transaction drive extends to having more than 9.5million people on its USSD banking service through the nationally renowned *894# banking service and over 3.5 million people on Firstmobile platform.
Since its establishment in 1894, FirstBank has consistently built relationships with customers focusing on the fundamentals of good corporate governance, strong liquidity, optimised risk management and leadership. Over the years, the Bank has led the financing of private investment in infrastructure development in the Nigerian economy by playing key roles in the Federal Government's privatisation and commercialisation schemes. With its global reach, FirstBank provides prospective investors wishing to explore the vast business opportunities that are available in Nigeria, an internationally competitive world-class brand and a credible financial partner.
FirstBank has been named "Most Valuable Bank Brand in Nigeria" six times in a row (2011 – 2016) by the globally renowned "The Banker Magazine" of the Financial Times Group; "Best Retail Bank in Nigeria" for seven consecutive years (2011 – 2017) by the Asian Banker International Excellence in Retail Financial Services Awards and "Best Bank in Nigeria" by Global Finance for 15 years. Our brand purpose is to always put customers, partners and stakeholders at the heart of our business, even as we standardise customer experience and excellence in financial solutions across sub-Saharan Africa, in consonance with our brand vision "To be the partner of first choice in building your future". Our brand promise is to always deliver the ultimate "gold standard" of value and excellence. This commitment is anchored on our inherent values of passion, partnership and people, to position You First in every respect.
Folake Ani-Mumuney
Group Head, Marketing & Corporate Communications
www.firstbanknigeria.com
Spacefinish is redesigning the future of training academies for banks 
In designing the Purple Academy, Spacefinish infused copious inspiration touchpoints.
Training academies are an important part of the corporate world. These academies provide access to a rich pool of talent and also equip professionals with the necessary resources to transition into various careers and build their professional networks.
In Nigeria, commercial banks have a considerably high number of training academies. In fact, out of the 22 registered commercial banks in the country, 17 have accredited academies. As the demands for better career experience increase, banks are beginning to focus on the learning experience of their people by investing in learning spaces that provide students and instructors with what they want and expect. A very good example of this is Wema Bank's Purple Academy designed by Spacefinish.
For a long time, banks' training institutes have typically functioned around rigidity. From their spatial architecture, learning modes, to furnishings, these spaces hardly allow for flexibility which is a core requirement for the learning space of the future. 
In designing the Purple Academy, Spacefinish set out to create a state-of-the-art corporate learning space that is future relevant and user-centred by focusing on the following shifts:
A Flexible Space That Supports Active Learning
Recent research has shown that learning spaces that are flexible enough to allow users learn how, where and when they want will deliver more impact to professionals. By introducing elements like dynamic modular furniture into the design of the Purple Academy, Spacefinish ensures that users can enjoy endless configuration that accommodate peer-to-peer collaboration or focus work as their various learning situations demands.
Multi-functionality and Blended Learning
Corporate institutions need to reimagine their learning space to allow for blended learning which allows for physical and online learning experiences to take place at the same time. This will produce improved outcomes in the experience of students. The Purple Academy boasts of audio visual features like screens on the wall and ceiling mounted microphones to optimize the experience for remote learners. Also, the lecture theatre spots a collapsible wall that not only inspires users but also enhances the multi-functionality of the space. 
Engendering Innovation Through Inspiration
Students and instructors want to be a part of something creative and inspiring. However, traditional learning space comes with a lot of inhibition in this regard by being bland and uninspiring. In designing the Purple Academy, Spacefinish infused copious inspiration touchpoints. The library in the Purple Academy reflects the influence of technology on libraries. To portray this, Spacefinish installed tablet-like bookshelves to show how educational materials can now be accessed through digital devices. 
Wema Bank's Purple Academy has shown that at a time like this, it has become paramount for corporate institutions like banks to reimagine their learning spaces. Through the intentional design of learning spaces that are flexible enough to promote collaboration and innovation easily, corporate institutions can be assured that professionals can become the best version of themselves.
Upcoming Flare Network launch and lawsuit win may propel XRP to ATH – PrimeXBT Lead Analyst, Kim Chua
The Flare Network is expected to go live in 2Q2021, which could be anytime between now and June.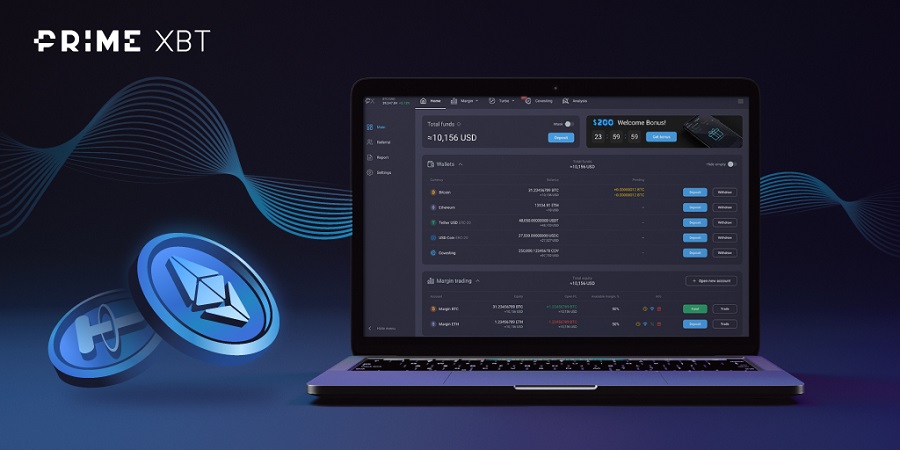 The price of XRP has tripled in value over 2 weeks and subsequently pulled back sharply. Can we expect more upside for XRP, or is the XRP run up over? 
With more positive news and developments in store over the next few months, this run may not be over yet. Other than the edge Ripple has over the SEC in the lawsuit, another reason may send the price of XRP soaring.  
This is related to the Flare Network. Recall that in December last year, before news of the SEC lawsuit broke, investors were getting excited over the Spark (FLR) token airdrop that will be the native token on the Flare Network. That airdrop incited a huge surge in the price of XRP before the SEC lawsuit news sent its price reeling. 
The Flare Network is expected to go live in 2Q2021, which could be anytime between now and June. The launch of Flare Network, with the airdropped FLR tokens to be finally distributed to qualified holders of XRP (those who owned XRP during the snapshot in December), couldn't have come at a better time to hype up XRP again. 
Not only will FLR tokens be distributed into the accounts of XRP holders, another airdrop will occur around one month after the launch of Flare Network. 
Flare Finance, which is built on the Flare blockchain and designed to power swaps, stable currency, yield farming, asset-backed loans, insurance, and yield mining, plans to offer those same participants another airdrop. The company says it will airdrop DAOFlare token (DFLR) to users who receive Spark. DFLR holders can then swap those tokens for YieldFlare, Flare Finance's official token. This means additional free money and tools for the same XRP community who have benefitted from the Spark airdrop – certainly reason for die-hard XRP community to be very excited and pleased about and re-hype XRP all over again.
Flare Network's launch provides another utility for the XRP token since XRP holders are able to buy FLR using XRP, or use their airdropped FLR tokens to mint FXRP that is interoperable with the ETH blockchain. This gives holders of XRP opportunity to participate in ETH-based DeFi and NFT projects to do yield-farming, trade on DEX, and join the NFT mania, which it otherwise was not able to do. This is very exciting news indeed for one more use case for the XRP token.  
Other than the Flare Network launch, another important news that may impact the price of XRP greatly is definitely the result of the SEC lawsuit. Ripple has filed a motion to dismiss the SEC lawsuit, and the SEC will have up to 14 May to contest it. Should the SEC not contest, or should the judge rule in Ripple's favour, the lawsuit will be dropped. Dropping of the lawsuit will definitely cause the price of XRP to spike again.
Furthermore, with it becoming clear that people outside Ripple that sell XRP cannot be charged for selling illegal securities, exchanges are beginning to relist the XRP token. A swiss exchange has since announced that is has relisted XRP. Should more prominent exchanges begin to relist XRP again, it could bring the price of XRP up further. Chatters are already in overdrive after a Twitter user speculated that Coinbase was planning to relist XRP. Coinbase however, has not confirmed nor denied the rumour. Should a Coinbase relisting happen, the price of XRP is expected to spike again, regardless of the outcome of the lawsuit. 
On the technical charts, after extending a solid run from $0.635 to a high of $1.99, XRP has retraced its first up thrust to its 61.8% Fibonacci retracement level at $1.14 and bounced. Its RSI is no longer in the overbought territory. After letting out much froth, XRP can now resume its uptrend in a more steady and sustainable manner towards its ATH of $3.30. The area around $1.00 provides a very solid support that is not likely to be broken. A break above $1.50 could mean that the retracement is over and price will resume on its uptrend again. 
The only risk now, other than a bad surprise in the SEC lawsuit result, is Jed McCaleb, the co-founder and former CTO of Ripple Labs. As one of Ripple's main contributors, Jed acquired more than 9 billion XRP as part of the compensation plan for his role, and has been regularly selling his stash. However, he is left with only around 2 billion XRP and he is allowed to sell a percentage of XRP's daily traded volume tabulated in the 2 weeks prior. With the higher trading volume in the last 2 weeks, Jed will be allowed to sell around 40 million XRP per day beginning 18 April. Whether or not he sells is unknown, but it is something traders need to take note of as a potential pressure on price should buyers not be able to absorb his selling. However, Jed's selling has been well-absorbed all this while without any impact to price and his stash will finish by May if he were to keep selling. This will then remove a huge supply overhang and be good for the price of XRP moving forward. 
As we move closer to the month of May, both the fundamental and technical picture bodes well for XRP. Perhaps the month of May could be the period when XRP tests its ATH of $3.30. If the momentum remains strong, it is possible XRP may even test $3.30 before May arrives.
About Kim Chua, PrimeXBT Market Analyst:
Kim Chua is an institutional trading specialist with a track record of success that extends across leading banks including Deutsche Bank, China Merchants Bank, and more. Chua later launched a hedge fund that consistently achieved triple-digit returns for seven years. Chua is also an educator at heart who developed her own proprietary trading curriculum to pass her knowledge down to a new generation of analysts. Kim Chua actively follows both traditional and currency markets closely and is eager to find future investment and trading opportunities as the two vastly different asset classes begin to converge.
Nairametrics | Company Earnings
Access our Live Feed portal for the latest company earnings as they drop.