FG to organize another tripartite meeting for Lagos-Ibadan expressway gridlock
The FG has announced plans to organize tripartite stakeholders' meeting to resolve issues on the Lagos-Ibadan expressway.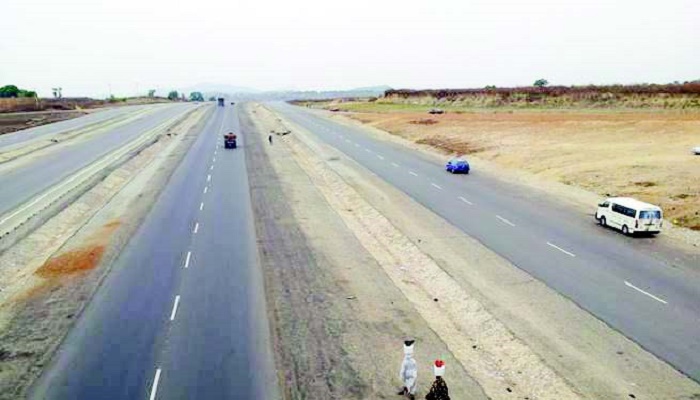 The Federal Government has announced plans to organize another tripartite stakeholders' meeting, as they have reiterated their commitment towards resolving the incessant gridlock and truck menace on the Lagos-Ibadan expressway.
This disclosure was made by the Coordinating Director, Highway Construction and Rehabilitation in Nigeria, Mr Funsho Adebiyi on Saturday during an inspection tour of the ongoing Lagos-Ibadan Expressway rehabilitation and reconstruction project.
According to a report from the News Agency of Nigeria (NAN), Adebiyi said that those invited to the meeting include the Lagos, Ogun and Oyo state governments, as well as truck drivers and owners, traffic regulatory agencies, amongst others.
What Mr Adebiyi is saying
While expressing regret that the constant presence of articulated trucks parking indiscriminately on the Oghere section of the ongoing Lagos-Ibadan Expressway project is damaging new construction work on the highway, he said that drastic steps must be taken to tackle the problem in each of these states in conjunction with their governments.
He said,
"You see trailers in their hundreds park on the road shoulders we are just repairing. Some of them are not parked empty, they are carrying as much as 900 bags of cement and they are abandoned there on the road shoulder.''
He pointed out the need for another meeting, as the 4 previous stakeholders' meetings held with truck drivers and owners, as well as other stakeholders did not achieve the desired results.
Adebiyi said,
"I had invited my Minister to a town hall meeting before and he has met them and we are organizing another town hall meeting with them next week Friday and Saturday, to come and sit down with them to discuss with the truck drivers, truck owners, the truck park operators. We are making efforts also to construct parks where they can park – about 4,000 capacity truck park. It will be constructed still along this Oghere end, but we are begging them to stop parking on the road.''
Adebiyi, during an earlier inspection of section one of the highway which stretches from Ojota in Lagos to Sagamu interchange, said the federal government was constructing two major additional interchanges.
He also added that two flyovers were being constructed on section one, in addition to 14 existing ones on other stretches in Ogun and Oyo, to curb gridlock and improve the safety of new communities along the axis.
What you should know
The reconstruction/rehabilitation of the Lagos-Ibadan expressway, which faced several setbacks was flagged off in 2013 with the award of the contract to 2 firms.
Section one of the project that spans from Ojota in Lagos to Sagamu interchange in Ogun state was awarded to Julius Berger, while the other section which spans from Sagamu interchange to Ibadan was awarded to RCC.
Osinbajo reveals what Nigerians in diaspora asked for to make more investments in the country
Osinbajo has disclosed that the Nigerians in diaspora seek an enabling business environment in order to make more investments.
Nigeria's Vice President, Yemi Osinbajo, has revealed that the Nigerians in diaspora asked for improvement in the enabling business environment in order to make more investments into Nigeria in specific engagements with investment opportunities.
This follows the conduct of a study by the Federal Government with stakeholders, which found out that many Nigerians have a keen interested in investing in the country.
This disclosure was made by Osinbajo while speaking at a webinar organized by Fidelity Bank Plc, entitled, 'The New FX Policy, Implications and Positive Impact on Diaspora Investments'
Osinbajo, who was represented by the Executive Secretary/Chief Executive Officer of Nigerian Investment Promotion Commission (NIPC), Yewande Sadiku, commended the new CBN FX policy, 'Naira 4 Dollar Scheme,' an initiative aimed at incentivising senders and recipients of international money transfers, saying it would aid more investment from Nigerians living abroad.
What Nigeria's Vice President is saying
Osinbajo pointed out that for several years, the remittances from Nigerians in diaspora exceeded Nigeria's oil revenue, adding that the country is interested in finding out how to translate this potential to investments.
He said, "Nigerians in diaspora represent an indomitable force, they are flag bearers of Nigeria's image, Nigeria entrepreneurial energy and Nigeria's incredible can-do attitude. In business, politics, education, sports, entertainment, science, medicine, and arts, Nigerians have demonstrated across the world what Nigerians represent in Nigeria. We realise the role of the diaspora and the potential that they represent.
"For several years, the remittances from Nigerians in diaspora exceeded Nigeria's oil revenues, which translated sometimes as high as six per cent of GDP. We are interested in understanding exactly how to translate this potential to investments.
"So, the office of the VP working with stakeholders, including NIPC, worked on a study and we found that many Nigerians, particularly first-generation males, have a keen interest in investing in their country."
Going further, Osinbajo added, "We noticed that 70 per cent of remittances go into family support and only 30 per cent of the inflows go into investments and in that 30 per cent, a bulk of it goes into real-estate.
"But what Nigerians in the diaspora indicated would be useful for them is to undertake more investments into Nigeria in specific engagements that promote investment opportunities led by the private sector. From government, what they asked for was improvement in the enabling business environment.
"The effort of government in recent years has been on improving the business environment and initiatives, such as this, driven by the private sector, to attract investment from the diaspora is one of the key things they asked for,'' he said.
The Vice President expressed delight with the new CBN policy that makes it easier for Nigerians in diaspora not just to transfer funds to Nigeria but to have greater control over the funds they transfer to Nigeria.
He said that he is confident that when statistics would be released, there would be a material impact on the diaspora remittances from Nigerians to Nigeria.
What you should know
It can be recalled that the CBN in an earlier circular dated March 5, 2021, stated its new forex policy initiative that all recipients of diaspora remittances through the apex bank's licensed IMTOs shall henceforth be paid N5 for every $1 received as remittance inflow as an incentive.
This means for instance if an individual sends you $10,000, you will get an additional special credit alert of N50,000.
The new policy initiative which is with effect from Monday, March 8 and end on Saturday, May 8, 2021, states that this incentive is to be paid to recipients whether they choose to collect the US dollar as cash across the counter in a bank or transfer same into their domiciliary account. In effect, a typical recipient of diaspora remittances will at the point of collection, receive not only the USD sent from abroad but also the additional N5 per USD received."
BUA commences legal action over allegations of involvement in $20 million bribe scandal
BUA has urged stakeholders and the public to disregard malicious, baseless allegations circulating in some news media concerning its OML 110.
The management of BUA Group has commenced legal actions against parties involved in spreading spurious allegations of corruption and involvement in a $20 million bribe scandal.
The leading conglomerate revealed that the corruption allegations which were published by some Nigerian news channels allegedly attributed to a purported statement by Alhaji Ibrahim Mai Deribe and Cavendish Petroleum with respect to BUA's OML 110 as false, defamatory, malicious and libellous.
According to the statement published by the management of BUA, the Group had been duly contacted by Cavendish Petroleum as well as the alleged writer of the statement, Alhaji Ibrahim Mai Deribe and both parties have told BUA on the record that neither Cavendish, the Mai Deribe Family nor any of its Executives put out such a malicious statement.
The Group noted that the statement was made with the clear intent to impugn the integrity and reputation of BUA Group and its Chairman, Alhaji Abdul Samad Rabiu.
BUA fingers Kainos MD as instigator of false allegations, commences legal action
An inhouse investigation conducted by the Group revealed that the source of the fraudulent news is Mr James Onyejekwe, the MD of Kainos Exploration and Production.
In reaction to this, BUA has therefore instructed its legal team to immediately commence criminal defamation proceedings against the MD of Kainos, the said originator of the malicious letter fraudulently attributed to Alhaji Ibrahim Mai Deribe, with damages.
The legal action will also extend to the online blog, blazenews.com.ng – which first published the unsubstantiated malicious news without a careful fact check in their duty of journalistic care, to confirm and clarify the source of such a weighty allegation.
The Group believes these actions are necessary, in order to protect the name and reputation of the manufacturing conglomerate, noting that there is no reason why Mr. James Onyejekwe of Kainos Exploration and Processing would single out BUA in a supposed business dispute which had no link to the BUA Group in its entirety.
Nairametrics | Company Earnings
Access our Live Feed portal for the latest company earnings as they drop.