Understanding currency trading and its dynamics
If you have never traded currencies or want to start, you are in the right place.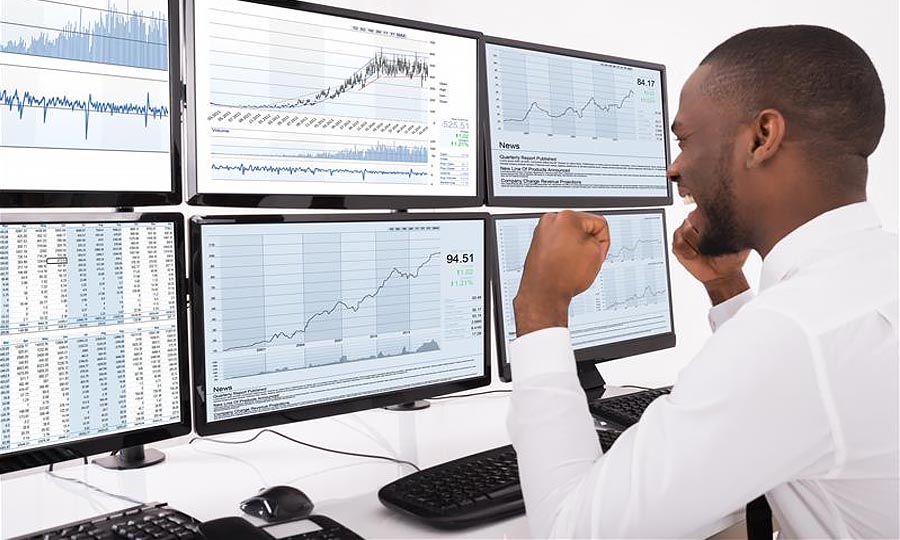 Currency trading is a complex subject for some people, and has inhibited their willingness to take on the market.
I will dissect the mystery of currency trading with this post. If you have never traded currencies or want to start, you are in the right place.
READ: Two cryptos you should consider investing in
Some background
The Currency market is the largest in the world with about $6.6trillion traded daily. The currency markets are a consequence of global trade. Take Emeka as an example, he wants to export cocoa to Holland, he will earn dollars from that transaction, Emeka then wants to buy rice from Japan and import it back to Nigeria. This transaction has many exchange rate risks including;
When he sells his Cocoa, the dollar rate may have fallen
When he wants to buy Rice in Yen, Yen may have risen
With the currency markets, he can buy a Forward Derivative that can lock in an exchange rate for the rice and cocoa transactions. The thing to note is that the currency markets were not created for speculation but trade facilitation.
READ: Currency traders relatively neutral on U.S dollar, despite impressive U.S Jobs report
The Market, the Lot, the Quote, the Spread and the Pair
Currency market trading moves from market to market. Thus, the market will open in Asia, then to Europe, then the Americas, and back to Asia, closing on Friday evening to reopen Sunday evening. Thus, buyers seeking Yen will see more Yen volume as the Asian markets are open.
Currencies are also bought in lots sizes, stated as Micro, Mini and Standard Lots. If you are buying US dollars, the Standard lot size will be $100,000, Mini will be $10,000, while micro is $1000.
READ: Ecobank drags client to court over N25 billion unpaid 'debt'
Currencies are quoted in pairs. This means you cannot simply buy just US Dollars, as you would buy say shares of Tesla. You must make a quote to sell a currency and simultaneously buy another currency. For example, the base currency (the currency you want to buy) is quoted first, and the currency you quote to sell to get that base currency is called the quote currency is last. So if Emaka wants to buy $1000 US dollars and sell Yen, he will quote a micro par USDJPY.
READ: Mr. Eazi plans to sell shares of his streamed music
Currencies are also quoted up to the fourth decimal place. The lowest common factor in any currency pair is the Pip, if a currency rises, that rise is reflected in pip or the last digit of a fourth decimal point. The difference in the pips of the pairs is the spread. A large spread means few buyers and sellers, while a smaller spread means lots of bids and offers so less room for arbitrage
READ: U.S dollar drops, nears two and a half years low
It's just trading no deliveries
The traders are not like Emeka who wants to receive rice, traders are not exporting or importing anything; thus, when they trade, they are not expecting to hold those positions or receive the currencies from the contract, rather, they are taking a position or a bet on the direction of that currency intending to make a spread.
When traders buy US Dollars, for instance, they are making a bet that the US economy will go up, meaning more investors will want to buy US assets and will demand more US Dollars to fund their purchase. Thus, traders seek to move from a less in-demand currency to a currency in demand.
READ: Professional forex traders reveal their secrets to successful trading
Another example is a company that does cross border trades, e.g. BMW sells cars in the US in USD but remits those funds to Germany in Euros. BMW will offer to sell USD and buy Euros from the US currency markets. Thus, BMW will quote EURUSD 1.21110/1.21115 to a broker, meaning he wants to buy Euros and sell US Dollars at a spread of 5 pips. (1.21110 less 1.21115).
READ: PayPal Crypto service on high demand
Now imagine lots of European companies are exporting to the US and need to get Euros, they will keep selling US Dollars and buying Euros. This will make the US dollar weaker and less in demand. In this scenario, a profitable currency trade will be to take a position in advance and sell US today and buy Euros in advance and then reverse the sale by selling Euros to "BMW" today.
There are many ways traders determine currency movements, using technical analysis, but that's another topic. This is just the basics.
READ: Bamboo says USD Wire Transfer option is no longer available for deposits
Nigeria's high recurrent costs, low revenue and escalating debt numbers
Nigeria continues to face issues of poor revenue generation and a lack of will to efficiently manage its expenditure.
In the recently released Q3 2020 debt report by the National Bureau of Statistics, the total public debt was N32.22trn as of 30 September 2020, with local debt making up 62.18% of the total public debt in the period while external debt made up 37.82%.
This is similar to the country's debt structure in the same period of 2019 when domestic debt made up 68.45% of total public debt and external debt made up 31.55%. Whilst debt to GDP ratio remains within the acceptable threshold, we are increasingly concerned about the nation's ballooning debt service to revenue ratio.
READ: U.S. budget suffers a deficit of $3.1 trillion in 2020, as pandemic slams the economy
Recall that the Federal Government of Nigeria following a series of revisions to the 2020 appropriation bill arrived at a fiscal deficit of N4.98trn. Based on the finance ministry data, an aggregation of debt monetization (N2.86trn) and New borrowings (N3.28trn) was used to finance the deficit.
READ: Heads of defaulting revenue generating agencies will be severely sanctioned – Buhari
The 2021 appropriation bill forecasts a budget deficit of N5.60tn which would be financed mainly by borrowings of N4.69tn, privatization proceeds of N205.15bn and project linked bilateral & multilateral loans of N709.69bn. The country's financing structure is of concern when one considers that the budget is tilted more towards recurrent expenditure than capital expenditure and raises questions on the sustainability of the current fiscal practices.
READ: FG directs the suspension of NIMC staff involved in extortion of NIN applicants
The significantly higher recurrent component of the budget continues to drag the country's economic growth, resulting in poor infrastructural development. Spending more on capital projects can promote industrialization, improve local purchasing power and help the federal government's diversification drive.
READ: NEM Insurance CEO/MD purchases 4 million additional shares worth N9.2 million
Nigeria continues to face issues of poor revenue generation and lack of will to efficiently manage its expenditure. No significant cuts have been made to its overheads and statutory spending has continued to rise. Nigeria's growing debt stock with little to show for it in terms of capital expenditure remains a major concern.
READ: Nigeria's total public debt stock increased by N2.381 trillion in 3 months
---
CSL Stockbrokers Limited, Lagos (CSLS) is a wholly owned subsidiary of FCMB Group Plc and is regulated by the Securities and Exchange Commission, Nigeria. CSLS is a member of the Nigerian Stock Exchange.
How Africa's youth contribute to the African society
The growth of technology has created an opportunity for several African youths to come up with new innovations.
Africa has been called a lot of names – dark continent, the savage, the continent of Safaris, third world, emerging market continent and more recently, Sh**hole, but it is hardly called the Continent of Youths.
It is not a secret that the youths are the future of the African continent. They are already emerging and will be the next thought leaders, creators and innovators that will help galvanize the African continent to greater heights.
According to the United Nations in 2015, Africa has 226 million youth aged 15-24 and one-fifth of the world's youth population. This means that one out of every five youth on earth is from Africa. The African Youth population is forecasted to grow by 42% by 2030. There should be a new focus on the youth in Africa, as we examine how much they contribute currently to the continent.
One area where youth are thriving well in Africa is in the tech sector. The sector has become an interesting source of Foreign Direct Investments and in 2019 accounted for close to half a billion-dollar raked into the continent. In 2020, – the Paystack/Stripes deal brought in about 200 million dollars. The growth of technology has created an opportunity for several African youths to come up with new innovations, which are even more helpful in the current fledging economic and social climate affected by the pandemic.
There are several examples of many African youths using technology to start new ventures. Mike Endale, an Ethiopian American based in Washington, D.C, who is the principal at BLEN Corp, an information technology firm that leads the Ethiopia COVID-19 Emergency Tech Volunteer Task Team and assists Ethiopia's Ministry of Health. During the pandemic, they have recruited over 1,700 software engineers and have even created an Africa COVID-19 response toolkit.
Temie Giwa-Tubosun, the founder of LifeBank in Nigeria, is another African youth making strides in the tech scene. Since its establishment in 2016, it helps to deliver 22,830 units of blood, according to Next Billion, to hospitals in Nigeria, which help connect donors to blood banks. Next Billion also stated that LifeBank conducts drive through COVID-19 testing and supply oxygen to health centers. The Lifebank recently expanded in East Africa. In December 20280, the US- Africa Business Center of the US Chamber in conjunction with the American Business Council Nigeria in recognition of the great impact of start-ups in the wake of the Pandemic, inaugurated a digital entrepreneurship competition.
African youths are also thriving in the entertainment sector, particularly in the music business.  The Afrobeats genre continues to rule the music world and the likes of Burna Boy, Davido, Mr. Eazi and Omah Lay, who are still in their 20's, spearhead and remain the face of the genre. The international recognition of Afrobeats has given artists more visibility on the global forefront. This was the case for Davido, Mr. Eazi and Tiwa Savage, who were featured on the cover of the Billboard magazine. Music remains of significant importance and the youths are a big factor to the success of the industry.
In Nigeria, the music revenue grew from $26 million in 2014 to $34 million dollars in 2018, according to Statista. The music revenue in Nigeria is expected to increase to $44 million by 2023 as reported by Statista.
Africa's youth are also flying high in the area of sports, particularly in soccer. Wilfred Ndidi and Kelechi Ihenacho of Nigeria (both players at Leicester City in the English Premier League) come to mind. Also, Percy Tau, a South African soccer player, who was with R.S.C Anderlecht in Belgium, will now be returning to his parent club, Brighton & Hove Albion in the premier league. Tau plays in a forward position and he is expected to make his debut for the seagulls (Brighton & Hove Albion) in the 2020-21 season of the premier league.
Lastly, youths in Africa have also been influential on the activism forefront, especially in the last couple of years. This was evident in October of 2020, when several Nigerian youths took to the streets to fight against police brutality in the End SARS protests. In Uganda, Musicians like Bobi Wine's foray into Politics first as a parliamentarian and presidential candidate is attracting more youth to get into politics.
Other youths like Christelle Kwizera, founder of Water Access Rwanda, have been involved in helping communities with access to water. According to Global Citizen, Kwizera's plan is to eradicate water scarcity and to provide clean water for people in local communities. Currently, her organization has supplied 70,000 people in Rwanda with clean water. Kwizera's efforts earned her the Cisco Youth Leadership Award at the 2020 Global Citizen Prize.
African youths definitely have a lot to offer in several sectors and this would be vital to the growth of the continent. African governments need to understand this and invest meaningfully and in a sustainable way on the youth population to reduce the migration drain.
The enthusiasm, the work rate, and efforts are why the current children of Africa have an opportunity to be wonderful leaders of tomorrow. With the right nurturing environment in place, Africa's future is in safe hands.
Written by Paul Olele
World Bank's global outlook amid COVID-19 surge
The World Bank's projection for Sub-Saharan Africa (SSA) is expected to grow by 2.7%, while the expected growth for Nigeria is set at 1.1% in 2021.
Recently, the World Bank published its January 2021 global economic prospects. The bank expects global growth to expand by 4% in 2021 from an estimated 4.3% contraction in 2020.
In the report, the World Bank expressed concerns about the recovery phase of many economies, especially the emerging and developing economies except policymakers can put in place robust and comprehensive policy framework to improve the existing frail business and economic environment caused by the unprecedented coronavirus pandemic.
The bank's growth projection for advanced economies (AEs) and emerging & developing economies (EMDEs) including China was 3.3% and 5.0% in 2021 respectively. Sub-Saharan Africa (SSA) is expected to grow by 2.7%, while the expected growth for Nigeria is set at 1.1% in 2021.
The World Bank appears less optimistic about the growth prospects across the globe including Nigeria as many countries are enfeebled as a result of the ripple effect of the pandemic causing elevated debt levels, rising unemployment and with the new strain of Covid-19 in many countries resulting in renewed lockdowns and restrictions, growth estimates may not be met. The bank stresses that quicker vaccination process across the world would aid faster economic growth which could step up to 5%, while a possible delay in rollout of vaccines amid rising infections could hamper growth expansion to 1.6% in 2021.
The prospect of quick vaccination appears a little bleak to us at this time. To give perspective, according to the Center for Disease Control (CDC) a few days ago, only 6.7 million Americans had received at least the first dose of the vaccine and that is roughly 2% of America's population in 2 months.
The bank extended its weakened optimism to Nigeria as the country faces severe pressures from dwindling oil revenues, weak private investments, eroding consumer spending power and declining foreign investor participation.
In our opinion, restoring the economy to the path of sustainable growth requires government's conscious efforts in addressing structural challenges impeding growth in the economy.
---
CSL Stockbrokers Limited, Lagos (CSLS) is a wholly owned subsidiary of FCMB Group Plc and is regulated by the Securities and Exchange Commission, Nigeria. CSLS is a member of the Nigerian Stock Exchange.