Professional forex traders reveal their secrets to successful trading
Expert forex traders give insightful tips to becoming a successful forex dealer.
Is forex or currency trading worth the risk? This is one of the most popular questions a lot of individuals ask when considering trading forex. They do so because currency trading is among the top lucrative jobs in finance around the world.
Data obtained from salary.com revealed that the average foreign exchange trader's salary at the entry level in the world's biggest economy was $76,458 as of July 27, 2020. However, the range typically falls between $42,048 and $97,964 for the rest of the world.
Bank forex traders only make up 5% of the total number of currency traders around the world, with other retail forex speculators accounting for the remaining 95%. But even at that, these few bank traders account for 92% of all forex volumes globally.
READ MORE: Apple becomes world's largest public listed company, valued at $1.82 trillion
So, how can one become a good Forex trader?
Michael Chukwuka, a currency trader at a leading Nigerian bank who spoke to Nairametrics, shared insight on what it takes to be a Forex dealer at a bank. He said:
"In my years of being a banker and a forex trader, I would say it has been an interesting one for me. But what I tell a lot of people who have exclaimed 'Oh wow!! I hear you guys make a lot of money trading,' is that well, true there is a lot of money to be made in any business venture you go in and also so much money to be lost. This all depends on the will power to learn, understand, and have the will power to be guided properly with a goal in mind not just I want to be a Forex Trader."
Micheal also stressed that currency trading is not for the faint-hearted. In other words, you must be emotionally strong and have proper risk management in place. He continued by saying:
"Trading in the banking space is a whole different ball game than trading for your own self.  The same techniques are used from Price Action Trading, Trend Trading Strategy, Position Trading, Forex Scalping Strategy and a whole lot more, but you first of all need to know in-depth what you are about to start and be willing to go down the tunnel because you would make losses which most times scare people and they give up. In the same vein, you can make so much profit as you see everywhere today on the internet, but mind you, the losses are real too."
READ ALSO: Fitch Rating agency affirms AfDB's AAA rating with stable outlook
He rounded up by advising that as a matter of importance, those who want to learn forex must have proper risk management in place. He said:
"We would keep this short, but I would advise you to learn the first basic steps to guide a forex trader on the right path. A few of these tips can be read about to get a full understanding of what it entails as it guides you along the path of being a forex trader. Knowledge is power, set aside funds, set aside time, start small, time those trades, cut losses with limit orders, be realistic about profits (This isn't a Ponzi scheme)."
Lukman Otunuga, a Senior Research Analyst at ForexTime (FXTM), spoke to Nairametrics from his London office, on why discipline is paramount in trading forex. He said:
"When going head-on with the largest and most liquid market in the world, one needs to have faith in their trading strategy. Discipline is critical and sticking to the game plan is the real test, especially when things do not go your way. Aim for positive risk/reward setups as trading is a numbers game. Most importantly, respect the volatile and unpredictable nature of the markets."
READ MORE: This simple advice could help solve your investment challenges 
Opeoluwa Dapo-Thomas, an independent oil trader, in a phone chat interview with Nairametrics, laid emphasis on the importance of having a good strategy when trading Forex. He said:
"What makes professional traders stand out is their stance on risk management. Every trader has a strategy and a plan. Executing these plans is one thing, managing it is another kettle of fish. With proper risk management, professional traders try not to over-leverage while trading and still target decent returns.
"For example, 30-40% returns in a year from trading out do return on most risk-free investments and portfolio benchmarks. New FX traders ignore proper risk management and target 200-300% returns which most times ends up disastrous for their accounts."
Finally, it's very important to note that the present world can boast of less than 5% successful Forex traders. Therefore, to be among these elite class of traders, you must have a very good strategy, proper risk management plans, be highly disciplined, have the ability to make snap judgment calls, and great knowledge of currency markets.
Nigeria is Africa's leader in Bitcoin transfers, transacts $8 million weekly
Data shows that the use of Bitcoin for peer to peer lending in Nigeria is on an astronomical run.
Nigerians increasing their use of BTC is no longer news, but what seems astonishing is the volume that they transact with BTCs weekly, compared to other African countries.
Data shows that the use of Bitcoin for peer to peer lending in Nigeria is on an astronomical run.
Recent statistics obtained from usefultulips, a BTC analytic data provider, stated that Nigeria leads Africa peer to peer lending in 2020, posting weekly P2P volumes of between $8million, followed by South Africa and Kenya posting about $2 million weekly.
READ: Has the President erred in stopping CBN from funding food imports?
Quick Facts: In BTC's case, peer to peer is the exchange of BTC between parties (such as individuals) without the involvement of a central authority. This means that peer to peer use of BTC takes a decentralized approach in the exchange of Bitcoins between individuals and groups.
It shows that BTC's long-running narrative as the "digital gold" for hedging against global economic turmoil is gaining the trust of Nigerians for payments and transfers.
READ: Unknown Bitcoin whale moves $1.3 billion in minutes
The financial market turmoil triggered by COVID-19 has definitely changed the way Nigerians view the whole financial system, as data also obtained from Google trend shows Nigeria leading the pack around the world in Bitcoin searches.
This is a testament to the fact that Nigerians truly love their Bitcoins.
It's important to note that Nigeria's Securities and Exchange Commission is aware of the high precedence of crypto use in Africa's biggest economy, and has up come with rules recording to the fast-changing financial sector
READ: SEC discovers 12 ponzi scheme operators, warns investing public
Chimezie Chuta, Founder, Blockchain Nigeria User Group, spoke with excitement on the long-overdue legal framework by the Nigerian Securities and Exchange Commission regulating digital assets and blockchain investments.
"SEC Nigeria has consistently shown that it has a clear understanding of her role in creating a conducive environment for the growth and development of Virtual Financial Assets, and Cryptocurrencies in general.
"This recent publication will act as a catalyst for mass adoption. It will also create much needed institutional investor confidence for the Nigeria Capital Market."
Nike stocks post gains, women's apparel division grow by 200%
Nike has used the COVID-19 pandemic as leverage to expand its digital business as it reported a surge in its in online sales.
Nike, the most valuable fashion brand in the sports business, saw its stock price rising on Tuesday, as the company reported an 82% surge in online sales and offered an impressive outlook that calls for demand to grow through the holidays.
Nike has used the COVID-19 pandemic as leverage to expand its digital business, and its women's apparel division grew by nearly 200%. Parents stocked up on back-to-school items, and its business picked up in key markets like China.
READ: Flour Mills and its diverse challenges
Highlights of the results 
First-quarter reported revenues were $10.6 billion, down 1 percent on a reported basis, and flat to the prior year on a currency-neutral basis.
Nike's direct sales were $3.7 billion, up 12 percent on a reported basis, and up 13 percent on a currency-neutral basis, with growth across all geographies.
Brand digital sales increased 82 percent, or 83 percent on a currency-neutral basis, with double-digit increases across North America, Greater China, and APLA and triple-digit growth in EMEA.
READ: Unmarked hotels and short-stay apartments report high occupancy rates during COVID-19
Diluted earnings per share for the quarter was $0.95, up 10 percent. Inventory rose 15 percent versus the prior year, but decreased 9 percent versus the prior quarter.
"Our results this quarter continue to demonstrate NIKE's full competitive advantage, as we strengthen our position in the midst of disruption," said John Donahoe, President, and CEO, Nike, Inc.
READ: UPDATED: Nigeria received $1.29 billion capital inflows in Q2 2020, down by 78.6%
"In this dynamic environment, no one can match our pace of launching innovative products and our Brand's deep connection to consumers. These strengths, coupled with our digital acceleration, are unlocking NIKE's long-term market potential."
COVID-19 pandemic is also helping Nike's digital potential. The company disclosed that its digital sales now make up at least 30% of its total quarterly sales, a threshold that Nike had previously aimed to hit in three years' time.
"Nike is recovering faster based on accelerating brand momentum and digital growth," CFO Matt Friend stated on Tuesday.
Full details of the results can be found here
Investors flock to US dollar, as Gold, Bitcoin, Global Stocks record heavy sell-offs
The US dollar is stronger this morning on the back of a marked drop in risk appetite in European and US markets.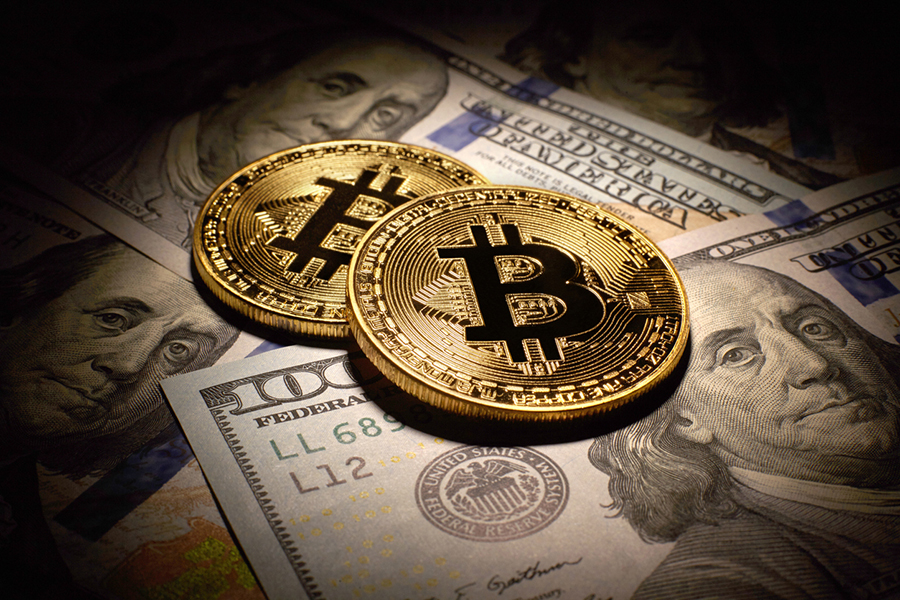 The U.S dollar closed high on Monday, hitting a six-week high, as currency traders and global investors rushed into the safe-haven currency.
This is coming on growing COVID-19 fears and worries over the U.S. Congress' stimulus impasse drove a heavy sell-off in almost all other assets that include gold, Bitcoin, and Stocks.
What we now; At the time this report was drafted, Bitcoin traded at $10,463.98 with a daily trading volume of $23,554,819,012. BTC price is down -4.6% in the last 24 hours.
READ: U.S dollar drops lower, as U.S Federal Reserve plans on boosting inflation
Overnight on Wall Street, the Dow Jones Industrial Average fell 1.84%, the S&P 500 lost 1.16%, and the Nasdaq Composite dropped 0.13%.
Gold spot lost about 2.1% to trade at $1,909.05 per ounce on Monday, after falling as much as 3.4% earlier in the session, its lowest since Aug. 12. U.S. gold futures settled down 2.6% at 1,910.60.
Australia's S&P/ASX 200 dropped 0.7% pressured by miners and energy stocks, while China's blue-chip index shed 0.1% and Hong Kong's Hang Seng index was down 0.5%. Japanese markets were closed for a public holiday
READ: U.S stock futures trade flat, Apple regains $2 trillion market value
However, at the time this report was drafted, U.S. Dollar Index, which tracks the greenback against a basket of other currencies, dropped some gains to trade at 93.608
Quick fact: The U.S. Dollar Index tracks the greenback against a basket of major global currencies such as the Japanese yen, British pound sterling, Swedish Krona, Euro, etc. Individuals hoping to meet foreign exchange payment obligations via dollar transactions to countries like Europe, and Japan, would need to pay more dollars in fulfilling such payment obligations.
READ: FIRS generates N490 billion tax revenue in July, collects 89% from non-oil sector
Stephen Innes, Chief Global Market Strategist at AxiCorp in a note to Nairametrics gave vital insights on the safe-haven currency, saying:
"The US dollar is stronger this morning on the back of a marked drop in risk appetite in European and US markets, but off overnight highs, as US stocks are rebounding in good order.
"Two factors explain much of the risk aversion. Banking shares are sharply lower following the International Consortium of Investigative Journalists report examining bank behavior in the context of Suspicious Activity Reports. Travel and leisure names are weaker in Europe on the back of continued angst around the rising COVID-19 case count in the Eurozone and the UK.
"The fickle nature of currency trading these days suggests that as US stocks fall, the USD rises, reflecting the USD's dominance in demand when there are big down moves in risk sentiment."