Massive buying pressures on NSE triggers market-wide circuit breaker
A market-wide circuit breaker kicked in today when the NSE All-Share Index rose beyond the set threshold of 5%.
The Nigerian Stock Exchange disclosed that a market-wide circuit breaker kicked on Thursday, November 12, 2020, at exactly 12:55 PM, when the NSE All-Share Index (NSE ASI) rose beyond the set threshold of 5%.
This disclosure was made by the Nigerian Stock Exchange in a newsletter which was made available on its website.
READ: Airtel Africa to sell its 4,500 tower assets to cut down $3.5 billion debts
READ: Why exchange rate disparity remains high despite CBN's intervention
Why this matters
The Circuit Breaker protocol was triggered by the excessive gains today, as NSE ASI rose from 33,268.36 to 34,959.39, due to massive buying pressures on the bourse, which triggered a 30-minute trading halt of all stocks.
The market reopened at exactly 1:25 PM with a 10-minute intraday auction session, before resuming continuous trading till the close of the day at 2:30p.m
READ: Dangote Cement given approval to export through land borders
This protocol provided a necessary break for market participants to incorporate and analyze the latest events in a bid to ward-off market-wide speculative trading and ensure rational trading decisions.
However, this was the first time that the circuit breaker had kicked in since its introduction in 2016. During the halt of trading, no order could be placed until trading resumed.
READ: Six Nigerians convicted in UAE for funding Boko Haram in 2019
However, existing orders could be withdrawn or canceled but could not be modified. Trading halts did not affect the clearing, settlement, and depository operations for matched trades, as these functioned as normal.
Furthermore, all existing orders keyed in prior to the trading halt and were re-activated and matched upon resumption of trading.
READ: $32 billion invested in Telecoms in the past 5 years – NCC
READ: Ripple emerges as fourth biggest fintech company globally, worth $10 billion
Naira crashes to new low at Black market as exchange rate closes in on N500/$1
At the black market, the Naira depreciated against the dollar to close at N495/$1 on Thursday.
Forex turnover rose sharply by 303.6%, as the Naira's exchange rate at the NAFEX window remained stable against the dollar to close at N393.25/$1 during intra-day trading on Thursday, November 26.
Also, the naira crashed again to a new record low against the dollar, closing at N495/$1 at the parallel market on Thursday, November 26, 2020, as some CBN forex policies restrict access to dollars on official window thereby putting more demand pressure on the black market.
Parallel market: According to information from Abokifx – a prominent FX tracking website, at the black market where forex is traded unofficially, the Naira depreciated against the dollar to close at N495/$1 on Thursday.
This represents an N8 drop when compared to the N487/$1 that it exchanged for on Wednesday, November 25.
The local currency had strengthened by about 7.8% within one week in September at the black market, as the CBN introduced some measures targeted at exporters and importers.
This is to boost the supply of dollars in the foreign exchange market and reduce the high demand for forex by traders.
The CBN has sold about $1 billion to BDCs since they resumed forex sales on Monday, September 7, 2020.
This was expected to inject more liquidity into the retail end of the foreign exchange market and discourage hoarding and speculation.
However, the exchange rate against the dollar has remained volatile after the initial gains made, following the CBN's resumption of sales of dollars to the BDCs.
The President of the Association of Bureau De Change Operators, Aminu Gwadebe, said he expects the impact of the extra liquidity in the market to be gradual.
Despite the drop in speculative buying of foreign exchange, the huge demand backlog by manufacturers and foreign investors still puts pressure and creates a volatile situation in the foreign exchange market.
NAFEX: The Naira remained stable against the dollar at the Investors and Exporters (I&E) window on Wednesday, closing at N393.25/$1.
This was the same rate that it exchanged for on Wednesday, November 25.
The opening indicative rate was N388.15 to a dollar on Thursday. This represents a N1.86 drop when compared to the N386.29 that was recorded on Wednesday.
The N394 to a dollar was the highest rate during intra-day trading before, it still closed at N393.25 to a dollar. It also sold for as low as N380/$1 during intra-day trading.
Forex turnover: Forex turnover at the Investor and Exporters (I&E) window increased by 303.6% on Thursday, November 27, 2020.
According to the data tracked by Nairametrics from FMDQ, forex turnover rose from $52.09 million on Wednesday, November 25, 2020, to $210.25 million on Thursday, November 26, 2020.
The CBN is still struggling to clear the backlog of foreign exchange demand, especially by foreign investors wishing to repatriate their funds.
The sharp increase in dollar supply after the previous trading day's drop reinforces the volatility of the foreign exchange market. The supply of dollars has been on a decline for months due to low oil prices and the absence of foreign capital inflow into the country.
The average daily forex sale for last week was about $169.93 million, which represents a huge increase from the $34.5 million that was recorded the previous week.
Total forex trading at the NAFEX window in the month of September was about $1.98 billion, compared to $843.97 million in August.
The exchange rate is still being affected by low oil prices, dollar scarcity, a backlog of forex demand, and a shaky economy that has been hit by the coronavirus pandemic.
A financial expert and Managing Director of Financial Derivatives had stated that he expects the exchange rate at the parallel market to likely depreciate to N470-N475/$1 in November and December due to low oil prices that will further limit foreign exchange supply.
Some members of MPC of the CBN have expressed serious concerns over the increasing demand pressure in the country's foreign exchange market. This is an obligation of manufacturers to their foreign suppliers that continues to increase in the face of dollar shortages.
Nigeria generates N416.01 billion from Company Income Tax in Q3 2020
Total company income tax generated increased by 3.48% in Q3 2020, compared to N402.03 billion recorded in Q2 2020.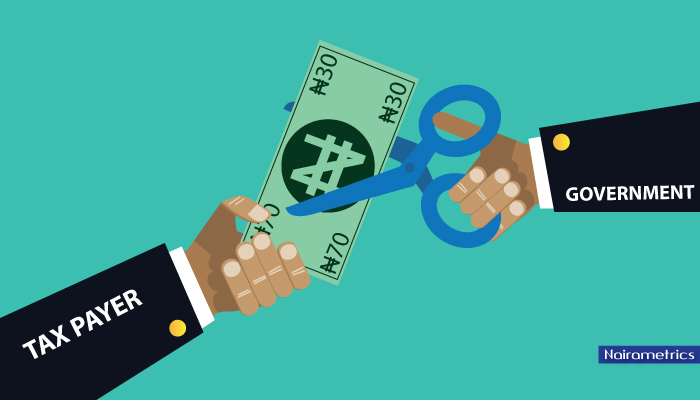 Nigeria generated the sum of N416.01 billion from Company Income Tax (CIT) in the third quarter of 2020. This was revealed in the Company Income Tax by Sectors report, recently released by the National Bureau of Statistics (NBS).
According to the report, the total CIT generated increased by 3.48% in Q3 2020, compared to N402.03 billion recorded in the previous quarter (Q2 2020). It reduced by 20.13% compared to N520.89 billion recorded in the corresponding quarter (Q3) of 2019.
Highlights
Company income tax generated year-to-date sums up to N1.11 trillion as against N1.26 trillion in the comparable period of 2019.
Professional Services including Telecoms generated the highest amount of CIT with N55.52 billion generated, closely followed by Other Manufacturing with N42.03 billion.
Banks & Financial Institutions generated a sum of N24.05 billion.
Mining generated the least, closely followed by Textile and Garment Industry and Local Government Councils with N120.93 million, N167.51 million, and N321.72 million generated respectively.
Out of the total amount generated in Q3 2020, N244.70 billion was generated as CIT locally, while N70.34 billion was generated as foreign CIT payment. The balance of N100.97 billion was generated as income taxes from other payments.
Automobiles and Assemblies grows CIT by 994%
In terms of sectors with the highest increase in company income tax remittances, the Automobiles and Assemblies sector grew its CIT by 994%, from N81.6 million in Q2 2020 to N892.7 million. It was closely followed by the Gas sector, which grew its CIT by 626% to stand at N4.76 billion from N655.5 million.
On the flip side, transport and haulage services recorded the highest decline in company income tax, as it reduced by 76% to stand at N7.35 billion from N31.1 billion. This is closely followed by Banks and financial institutions, which declined by 51% to stand at N24.1 billion.
Bottom line
The rise in company income tax is an indication of the Nigerian government's move to improve the generation of revenue from the fiscal side as against oil exportation. However, the halt in economic activities due to the COVID-19 pandemic contributed to the year-on-year decline in company income tax.
COVID-19 Update in Nigeria
On the 26th of November 2020, 169 new confirmed cases were recorded in Nigeria
The spread of novel Corona Virus Disease (COVID-19) in Nigeria continues to record significant increases as the latest statistics provided by the Nigeria Centre for Disease Control reveal Nigeria now has 66,974 confirmed cases.
On the 26th of November 2020, 169 new confirmed cases were recorded in Nigeria, having carried out a total daily test of 7,101 samples across the country.
To date, 66,974 cases have been confirmed, 62,585 cases have been discharged and 1,169 deaths have been recorded in 36 states and the Federal Capital Territory. A total of 756,237 tests have been carried out as of November 26th, 2020 compared to 749,136 tests a day earlier.
COVID-19 Case Updates- 26th November 2020,
Total Number of Cases – 66,974
Total Number Discharged – 62,585
Total Deaths – 1,169
Total Tests Carried out – 756,237
According to the NCDC, the 169 new cases were reported from 12 states- Kaduna (74), FCT (42), Lagos (17), Kano (8), Ogun (6), Oyo (6), Rivers (6), Ekiti (3), Bauchi (3), Katsina (2), Delta (1) and Ondo (1).
Meanwhile, the latest numbers bring Lagos state total confirmed cases to 23,083, followed by Abuja (6,671), Plateau (3,813), Oyo (3,721), Kaduna (3,019), Rivers (2,969), Edo (2,696), Ogun (2,202), Delta (1,824), Kano (1,789), Ondo (1,728), Enugu (1,332),  Kwara (1,096), Ebonyi (1,055), Katsina (1,014), Osun (945), Gombe (938). Abia (926), Bauchi (765), and Borno (745).
Imo State has recorded 662  cases, Benue (496), Nasarawa (488), Bayelsa (445),  Ekiti (357), Akwa Ibom (339), Jigawa (331), Niger (296), Anambra (285), Adamawa (261), Sokoto (165), Taraba (157), Yobe (94), Kebbi (93), Cross River (90), Zamfara (79), while Kogi state has recorded 5 cases only.
READ ALSO: COVID-19: Western diplomats warn of disease explosion, poor handling by government
Lock Down and Curfew
In a move to combat the spread of the pandemic disease, President Muhammadu Buhari directed the cessation of all movements in Lagos and the FCT for an initial period of 14 days, which took effect from 11 pm on Monday, 30th March 2020.
The movement restriction, which was extended by another two-weeks period, has been partially put on hold with some businesses commencing operations from May 4. On April 27th, 2020, Nigeria's President, Muhammadu Buhari declared an overnight curfew from 8 pm to 6 am across the country, as part of new measures to contain the spread of the COVID-19. This comes along with the phased and gradual easing of lockdown measures in FCT, Lagos, and Ogun States, which took effect from Saturday, 2nd May 2020, at 9 am.
On Monday, 29th June 2020 the federal government extended the second phase of the eased lockdown by 4 weeks and approved interstate movement outside curfew hours with effect from July 1, 2020. Also, on Monday 27th July 2020, the federal government extended the second phase of eased lockdown by an additional one week.
On Thursday, 6th August 2020 the federal government through the secretary to the Government of the Federation (SGF) and Chairman of the Presidential Task Force (PTF) on COVID-19 announced the extension of the second phase of eased lockdown by another four (4) weeks.
READ ALSO: Bill Gates says Trump's WHO funding suspension is dangerous