2021 Budget Review: 5 key sectors to invest in
Ugochukwu Obi-Chukwu has offered insights into some of the sectors of the economy that are expected to succeed in 2021.
Without mincing words, the year 2020 has been an eventful one, from the coronavirus pandemic to the #EndSARS protest that shut the economies of the nation's commercial cities, which was later hijacked by hoodlums and culminated in the destruction of public and private properties including loss of lives, the year would not be forgotten anytime soon.
In the midst of all these developments, many have found their diamonds in the rubble – and many more will. These people, however, will be those who are willing to adapt to the changing times by repositioning themselves to leverage the opportunities that will arise, especially in the year 2021.
READ: Where to invest $10,000 right now
With respect to the nation's 2021 N13 trillion budget, there are different opportunities across several sectors in the Nigerian economy and that is based on what experts have seen now.
At the Quarterly Economic Outlook Webinar recently hosted by Nairametrics, the founder of Nairametrics, Ugochukwu 'Ugodre' Obi-Chukwu, offered insights into some of the industries that are expected to succeed in 2021 given the changing times and which you can take advantage of.
READ: Crypto: Large investors transfer over 700,000 Ethers
Construction & real estate
Ugodre said, "We've seen the devastating effects that the hoodlum-hijacked-protest did for Nigeria in general, not just in Lagos, but across the country.
"Government also plans to spend big in terms of Construction and real estate, and so I see value-driven opportunities here for people who are in the furniture and fittings business, paintings, steel, sanitary.
"If you also go by some of the results that we've seen, particularly on the Nigerian Stock Exchange, I have seen a lot of opportunities that have presented itself for businesses in that sector, particularly in the industrial sector."
READ: FG set to create at least 5 million jobs for youths in the power sector – Minister of Power 
He added that there are opportunities for consultancy jobs as well, whether you are an architect, quantity surveyor, or evaluator, you have to plug in and position yourself well to seize some of the opportunities that this sector will spring up.
"If there is anything that will drive economy in Nigeria, it's got to be construction. One of the reasons we've also seen Nigeria's GDP contracting and also with tepid growth in other cases is because the real estate and trade sectors are down. So, you've got to move to construction, real estate, trade a little bit better for Nigeria to start to see the dividends of economic development," he added.
READ: Orange launches high speed internet network in Nigeria, Ghana, and 6 others
Transportation and logistics
"Although a lot of people are not happy with the tolling and ticketing, and that's what is going to happen, as at some point, there will be private sector investment in this space and it's just going to happen as government can't build all the roads and they can't close all the infrastructural gaps and deficits in the country.
"So there is plenty of opportunities in this area. However, road maintenance is going to be huge in this space, as the more roads the government constructs, the more they are going to have to spend on maintenance and other services, "Ugodre opined.
READ: Kano allocates N1.5 billion for road maintenance in 2021
He predicts that there is going to be a lot going to road maintenance and services too. According to him, filling stations and fast-food restaurants are going to open up when you have major roads like expressways and interstate roads, which would need these services.
"They would need fast-food restaurants and ancillary services for this infrastructural development. So make no mistake about it, as there are opportunities here for anyone who is in the transport and logistics sector."
READ: FG seeking approval from National Assembly for $1.2 billion agric loan
Food and water
Ugodre explained that about 65-70% of Nigerians spend their income on food and water, and this is always going to be big for the nation.
"It appears that you can't get it wrong if you are in the food business. If you sell good food, people will always eat and there is food for everyone, no matter where you find yourself. Even the local 'mama put' person will find opportunities here. As we continue to build more roads and continue to open markets, and people continue to strive for survival, they are going to need food.
"Nigeria is one of the top consumers of water in the world. So I think that packaged and bottled water will continue to be significant this year and beyond.
"For 2021, people who are in the field of food and water business should remain in that business because opportunities there would only continue to expand and the interesting thing is that the barrier to entry is not that high, all you need to look for is a very good market and look for the right type of food, and people would come in there."
READ: CAC to implement new technology for business registration, customers to print certificates
Agriculture
With the Federal Government's continued emphasis that Agriculture would be a priority, Ugodre insists that that sector would be a good place to invest in 2021.
He said, "Investors are going to see a lot of funds pumped in here. I have a friend who just came into Nigeria recently and he is around for farming, with his land in the Lekki area of Lagos.
"You will see a lot of people going into this space, because so long as this is where the government is pointing it's direction to, you are going to see a lot of funds roaming in that sector and it's only an opportunity for you.
Healthcare
Ugodre believes this sector needs no introduction, as the nation has seen the impact of COVID-19, which has once again brought healthcare to the fore.
"Over the last few years, a lot of people have been talking about healthcare as probably one of the next big things in Nigeria, but COVID-19 has basically just fast-tracked how important healthcare is.
"A lot of investors have told me that this is one space that they think they can actually channel into. Now the most difficult part of healthcare is health insurance, and not just in Nigeria but across the world," he added.
CBN's Emefiele vows to reject the continuous importation of maize in Nigeria
The CBN has said that it will oppose all attempts to continue the importation of maize into the country.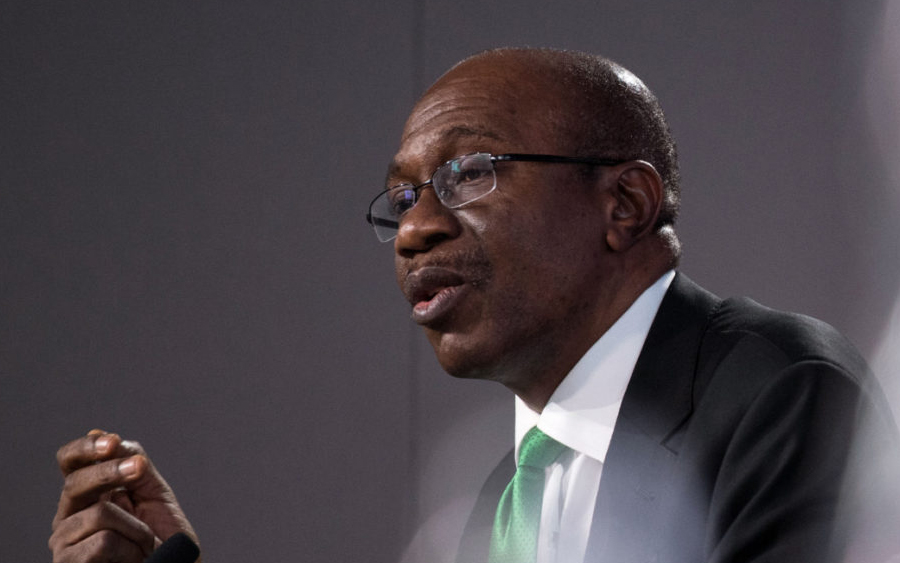 The Central Bank of Nigeria (CBN) has said that it will oppose all attempts to continue the importation of maize into the country.
This is geared towards encouraging local production as the apex bank believes that maize farmers in Nigeria have what it takes to close the maize demand gap of over 4.5 million metric tonnes in the country.
This was made known by the CBN Governor, Godwin Emefiele while speaking in Katsina on Thursday during the unveiling of the first maize pyramid and inauguration of the 2021 maize wet season farming under the CBN-Maize Association of Nigeria Anchor Borrowers' Programme.
READ: Nigeria must eat what we produce, agriculture is the way out – Buhari
Emefiele said, "With over 50,000 bags of maize available on this ground, and others aggregated across the country, maize farmers are sending a resounding message that we can grow enough maize to meet the country's demand.''
He explained that the maize unveiled at the ceremony would be sold to reputable feed processors adding that this would in turn impact positively on current poultry feed prices, as over 60% of maize produced in the country were used for producing poultry feed.
Emefiele said that the apex bank was ready to provide support to the youths that are willing to engage in agriculture and encouraged them to embrace agriculture.
READ: Nigeria secures $1.2 billion loan from Brazil for agriculture modernization
Speaking at the event, the Katsina State Governor, Bello Masari, said the state had suffered a setback in agriculture as over 60,000 hectares of farmlands were uncultivated due to insurgency, which hindered farmers from gaining access to their means of livelihood.
On his part, President Muhammadu Buhari, who was represented by the Kebbi State Governor, Atiku Bagudu, while unveiling the pyramids, reassured the farmers, processors and other value chain participants, of the support of government towards ensuring that they perform optimally.
What you should know
It can be recalled that in July 2020, the CBN included maize importation to its list of 41 items banned from assessing forex at the official market as it directed all banks/authorised dealers to immediately discontinue the processing of Forms M for maize/corn importation into the country.
The apex bank in its circular said that this measure is aimed at increasing local production of the commodity, stimulating a rapid economic recovery, safeguarding rural livelihoods and increasing jobs.
FG releases N29.1 billion advance for deployment of Covid-19 vaccines
The FG has announced the release of N29.1 billion to the NPHCDA as an advance for the operational cost of deployment of the Covid-19 vaccines.
The Federal Government has announced the release of N29.1 billion to the National Primary Health Development Agency (NPHCDA) as an advance for the operational cost of deployment of the Covid-19 vaccines.
This is as the government has expressed its commitment to procuring 29.588 million doses of the Johnson & Johnson vaccine through the AVAT initiative, coordinated by AFREXIMBank,
This disclosure was made by the Minister of Finance, Budget and National Planning, Mrs Zainab Ahmed while speaking at 'Collaborative Africa Budget Reform Initiative (CABRI) General Assembly webinar on Friday.
What the Minister of Finance, Budget and National Planning is saying
Ahmed in her statement said, "Therefore, the supplementary budget for COVID-19 vaccines will cover the cost of additional vaccines over and above those provided by COVAX, as well as the full cost of operations and logistics for delivering the vaccines around the country.
"Already, the sum of N29.1bn has been released from the Routine Immunization budgetary provision (Service Wide Vote) to the National Primary Healthcare Development Agency (NPHCDA) as an advance for the operational cost of deployment of the COVID-19 vaccines. The N29.1bn represents about 52 percent of the amount required over 2021-22", she said.
Mrs Ahmed stated at the 18th General Assembly of CABRI that the World Bank has indicated willingness to provide needed facilities in support of the country's Covid-19 vaccination plan.
Considering key elements of Nigeria's vaccine financing strategy, she said that the government is working on a supplementary budget to provide for the cost of vaccine procurement and delivery
She said, "The Federal Ministry of Health plans to vaccinate 70 per cent of eligible (18 years and above) Nigerians over the 2021 and 2022 fiscal years."
She noted that the nation has received commitments from COVAX for Covid-19 vaccines that could cover 43.1 million of the eligible population, as donations from some development partners.
On the impact of the Covid-19 pandemic and the oil price crash on the Nigerian economy, she noted that prior to the pandemic, implementation of the Economic Recovery and Growth Plan 2017-20, prudent resource management and fiscal policy implementation had resulted in 11 consecutive quarters of GDP growth, with GDP growth rising from 1.91% in 2018 to 2.27% in 2019.
Mrs Ahmed also noted that "the government had begun the process of moving our economy away from its primary dependence on oil for revenues and foreign exchange, and we're making steady gains in addressing infrastructure and human capital challenges."
"FGN is committed to procuring 29.588m doses of Johnson & Johnson #vaccine through the AVAT initiative, coordinated by @afreximbank"- HM @ZShamsuna speaking recently at 'Collaborative Africa Budget Reform Initiative (CABRI) General Assembly webinar.

Via: https://t.co/fOZyCt4zbh pic.twitter.com/doVtMQLWpG

— Ministry of Finance, Budget and National Planning (@FinMinNigeria) May 7, 2021
Nairametrics | Company Earnings
Access our Live Feed portal for the latest company earnings as they drop.