Stanbic IBTC introduces Super App; upgraded with exciting features to enable seamless transactions
Stanbic IBTC Holdings PLC has upgraded its mobile App by introducing exciting features to enable seamless transactions.
The financial services industry is enjoying a phenomenal growth and Stanbic IBTC bank, certainly is not left behind in its effort to consistently guarantee a seamless digital experience. Everyday customers are exposed to innovative mobile technologies, this therefore places a higher expectation that Banking Apps will provide a fully rounded experience.
Stanbic IBTC Holdings PLC, a member of Standard Bank Group, has upgraded its mobile App by introducing exciting features to enable seamless transactions for its customers with additional cutting-edge capabilities to enhance the customer experience. The App, termed the "Super App" is a one-stop App that offers the opportunity to transact across core banking transactions, while also managing Mutual Funds, Pensions, Insurance and Stockbroking accounts. Customers have a unique opportunity to experience unified access to all of these products, all at once. The App delivers easier, faster, and more convenient all-round experience.
Banking without barriers
At its core, the App has "My Bank" Module.  This module of the Super App makes it possible to transfer funds to a single as well as multiple beneficiaries. You can also use My Bank on the Stanbic IBTC Super App to buy airtime, pay bills, make cardless withdrawals from an ATM, schedule payments and load a prepaid card. The special 'Hide Account Balance' feature on My Bank allows customers to hide their account balance, especially when in public or insecure environments. The Super App also offers quick log-in capability with facial and fingerprint biometric options and provides more self-service options such as unfreezing of account and password reset option. The integration of an automated voice banking service on the "Super App" allows customers to bank as quickly as they speak. Basic transactions can be performed by speaking directly to your mobile phone using the microphone icon on the top left corner of the App.
@Ease Wallet
The Electronic wallet module is designed to meet the lifestyle needs of the informally served, under-banked and multi-banked using a unique combination of technology and agent network. With the @ease wallet, customers can send and receive money, purchase airtime, pay bills and withdraw cash through any of the agent networks. To ensure maximum security, the @easewallet is protected by a four-digit secret pin which is needed to log-in and authenticate all transactions on the App.
The Stockbroking module.
The Stanbic IBTC Stockbroking module gives direct access to the Nigerian Stock Market for its customers to trade independently. The days are gone when customers had to visit their stockbrokers and spend hours trying to attend to basic concerns about their investments in stocks and securities. This module also allows customers to check current stock prices; get stock market news; view, modify or cancel pending stock orders. Customers can also retrieve their stockbroking account information (trading account number, CSCS number, address, and more).
The Pensions module – A richer tomorrow.
With the Pension module, customers can enjoy the benefits of making inquiries, signing-up for e-statements, viewing their Retirement Savings Account (RSA), Approved Existing Scheme (AES) and Voluntary Contribution (VC) balances. They can also request registration certificates and customize their log-in profiles.
The Insurance module.
Stanbic IBTC has also introduced Insurance Brokerage solutions as a new feature on the Super App. This functionality enables customers of Stanbic IBTC Insurance Brokers view the status of their insurance policies, view their transaction history, renew insurance policies, report claims and upload claims-related documents and pictures.
The Mutual Funds module allows customers invest to ensure overflowing streams of income. You can also use the 'Mutual Funds Module' to create a new mutual funds account, increase online redemption limit, buy additional mutual fund and move funds across your various mutual funds or to a new mutual fund. With the "Mutual Funds Module', you can make Investments with a few taps.
Indeed, the new Stanbic IBTC Mobile App is more than just the ordinary; It is a Super App.
JustLiquidity; The best place for easy and decentralized Crypto
JustLiquidity aims to be the leading top decentralized exchange on the Binance SmartChain, with revolutionary developments and product's
Introduction of Julwallet feature (NFTs minting and NFTs shop)
NFTs and NFT artists have been trending a lot in the African art space
NFTs or NonFungibleTokens as it stands, are redefining the very outlook of various forms of creative work like art, video, music, characters in a game etc. NFTs by their very definition represents unique data on the digital ledger or blockchain. Unlike Fungible tokens on the blockchain, these tokens are not interchangeable as they represent something unique in themselves.
Justliquidity has introduced a few products to the general public that makes creating, storing, selling and sending NFTs all on the Binance SmartChain as BEP1155 token, the Julwallet is one of its revolutionary products that has all these features in it and more in development currently.
Our Telegram group and Twitter handles are:
CHI Limited celebrates its maiden Hollandia Dairy Day
The Hollandia Dairy Day Conference is a public interest initiative created to highlight the importance of dairy in everyday nutrition and healthy living in Nigeria.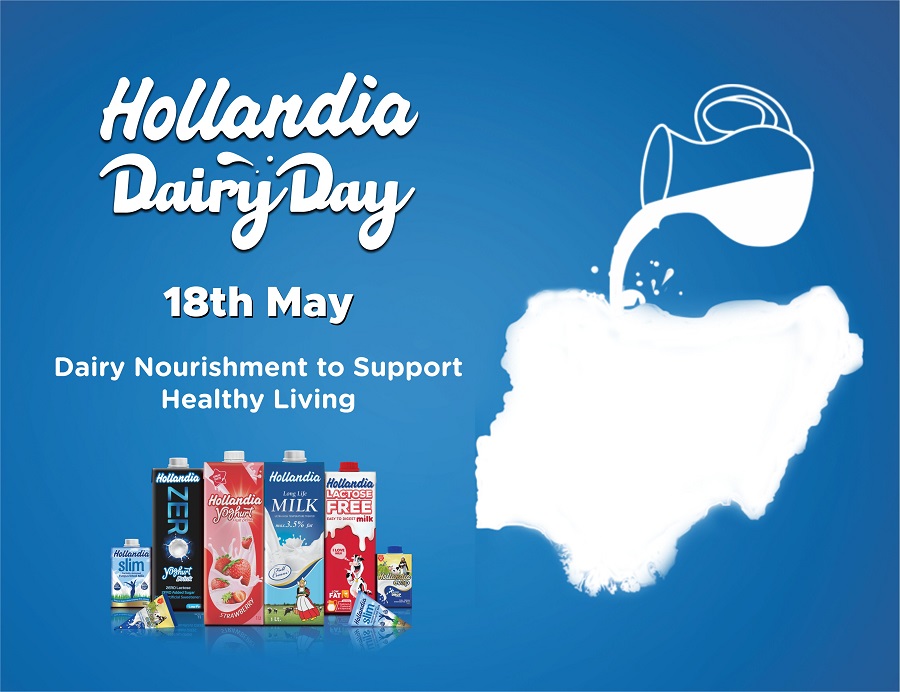 Nigeria's leading dairy brand, Hollandia, is set to hold the maiden edition of its Hollandia Dairy Day. The event which will be celebrated on the 18th of May 2021 will provide a veritable platform to drive national discourse on the unrivaled health and nutrition benefits of dairy consumption to people of all ages.
Set to be hosted as a conference, the theme of this year's event is "Dairy Nourishment to Support Healthy Living", and it focuses on the vital role dairy consumption plays in our everyday nourishment, its benefit to our overall health, and why dairy products should be included in our diets every day.
This conference, which is designed as a hybrid of physical and virtual event, will feature presentations, interviews and panel discussions from health experts and nutritionists as they provide insights and share perspectives to guide informed decisions about dairy consumption as part of a daily balanced diet. The event is opened to the public through the brand's multiple social media platforms.
According to a report by the Food and Agriculture Organization of the United Nations, 2019, Nigeria has low dairy consumption levels per head – 15 to 20 liters' per capita consumption. This is partly attributable to low purchasing power of the average Nigerian household, who rank milk and dairy products as non-essential luxuries and prioritize other staple foods such as rice, beans, and yam.
By provoking the conversations and stimulating public action/intervention, Hollandia aims to drive consciousness for dairy consumption and its importance to achieving optimum health, and to get many more Nigerians drinking, using, and consuming dairy products.
The past year has presented unprecedented shocks and disruptions, including a global COVID-19 pandemic. As communities throughout the world look for ways to minimize the risk of COVID-19, maintaining and boosting good health is top of mind for many. Dairy foods such as milk and yogurt contain essential nutrients, including Vitamins A and D, Zinc and Protein, which support immune function.
The Hollandia Dairy Day Conference is a public interest initiative created to highlight the importance of dairy in everyday nutrition and healthy living in Nigeria.
Nairametrics | Company Earnings
Access our Live Feed portal for the latest company earnings as they drop.