Tron Whale moves 40,000,000 TRX from Okex
A whale moved about 40,000,000 Trx worth over $1 million from Okex.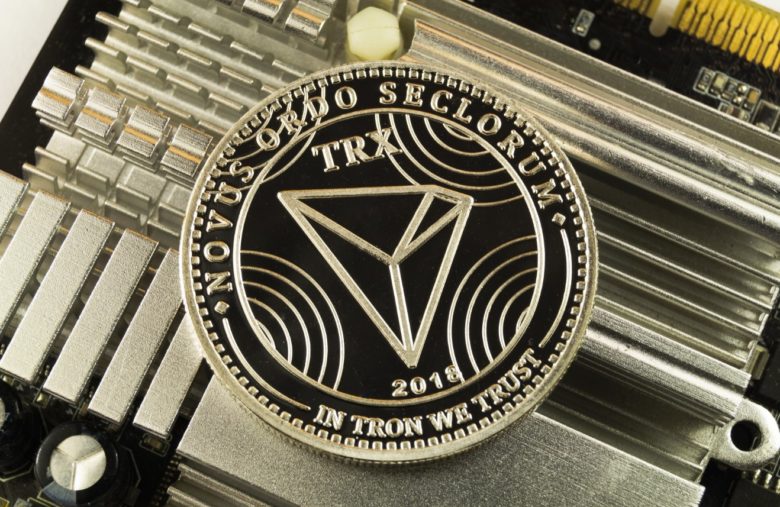 Large investors seem to have increased their buying interest on the fifteenth-most valuable crypto lately.
Data fed on Whale Alert, an advanced crypto tracker, revealed a whale moved about 40,000,000 TRX worth over $1 million from  Okex to another unknown wallet.
READ: Buying signs: Ethereum's total coin supply held off exchanges continues to rise
40,000,000 #TRX (1,091,701 USD) transferred from #Okex to unknown wallet

— Whale Alert (@whale_alert) October 4, 2020
At the time this report was drafted TRON price traded at $0.02674796 with a daily trading volume of $1.1 billion TRX price is up 0.9% in the last 24 hours.
The popularly known crypto has a circulating supply of 72 billion coins and a max supply of 101 billion coins.
Quick fact, Justin Sun is a Chinese tech entrepreneur, the founder of a renowned crypto-asset, Tron, and the present leader, BitTorrent. Sun became very popular after placing a record-breaking $4.5 million bid to have a private lunch with Warren Buffet in June 2019.
READ: Bitcoin is on rampage as it breaks through $12,000 price level
TRON is a blockchain-based platform that is designed to ensure that its technology is suitable for daily use. Whereas Bitcoin can handle up to six transactions per second, and Ethereum up to 25, TRON states that its network has capacity for 2,000 TPS — 24/7.
This project is best described as a decentralized platform focused on content sharing and entertainment; to this end, one of its biggest acquisitions was the file-sharing service BitTorrent back in 2018.
What you should know about the 15th most valuable crypto by market value;
TRON is one the biggest and most popular blockchains globally, ranked fifteen by market value, and has entered a strategic alliance with BitGo, the leader in digital asset financial services, to bring Wrapped Bitcoin (WBTC) and a newly minted Wrapped Ether to the TRON ecosystem as TRC20 tokens.
READ: This billionaire made $39 billion in 2019, thanks to his luxury brands 
As stated, "Everyone may now use their BTC/ETH to enjoy all the benefits of the TRON DeFi ecosystem without the high gas fees on Ethereum! JustSwap, a Uniswap alike service on TRON, has achieved $100 million 24-hour volumes since its start and represents TRON's strong and growing DeFi ecosystem."
#EndSARS Nigerian Rights group switch to Crypto
A Nigerian rights group strongly supporting the #EndSARS campaign has highlighted why it is accepting donations in Bitcoin.
Nigerian millennials in the past few weeks have taken to the streets in unprecedented numbers, kicking against the abuse done by a significant number of law enforcement officers, most specifically, the disbanded Special Anti-robbery Squad (SARS).
As the protest rages on, various rights groups have set up funds to provide participants, support, while they glamour for the long-overdue reforms.
READ: #EndSARS protest: Lagos loses N234 million to tollgates closure
READ: CBN to sanction exporters who default on export proceed number
Feminist Coalition, recently gave reasons why it's now switching to crypto. The group said;
"We're moving to only accepting donations in Bitcoin using BTC Pay. BTC Pay is a free, secure, decentralized, and censorship-resistant platform, which makes it our best option, given the past few days #EndPoliceBrutalityinNigeria. Please donate here: https://donatebtc.feministcoalition2020.com"
READ: President Buhari signs amended Companies Allied Matters bill
We're moving to only accepting donations in Bitcoin using BTC Pay. BTC Pay is a free, secure, decentralized and censorship-resistant platform, which makes it our best option, given the past few days #EndPoliceBrutalityinNigeria

Please donate here: https://t.co/FvsEKetUL9

— feministcoalition (@feminist_co) October 15, 2020
The fast-rising Nigerian rights group provides logistics, aid to Nigerians pressing for Police reforms via street protests disclosed they raised about 8 bitcoins valued at over $88,0000 and other cash donations.
All balances
NGN 34,610,019.13
USD 11,474.34
CAD 5,595.89
GBP 5,733.49
EUR 875.42
GHS 1,256.70
KES 53,016.60
BTC 7.82026017

2/2#EndSARS

— feministcoalition (@feminist_co) October 19, 2020
Why this matters
The donations are used in providing medical and legal bills for some Nigerians arrested in recent days, and most importantly to hire private security guards in protecting them against armed gangs, who of late have tried to discredit the theme of the peaceful protests.
READ: Hackers, expose crypto wallets worth $150 million at Kucoin
Another critical macro making many Nigerian millennials use crypto amid protest for reforms is basically because the #EndSARS protests in principle is decentralized. There is no known centralized authority coordinating the protest, and not forgetting, the much advantage cryptos have over fiat currencies are that they are decentralized finance assets, meaning, funds can't be controlled, blocked or disengaged by any central authority.
Also, crypto donations are very secure, and privacy concerns kept at a minimal level, on the basis you don't disclose your personal details when making such transfers.
READ: COVID-19: Short-term reforms needed to reduce impacts on the Nigerian economy -NESG
Backstory
Nairametrics had earlier given vital insights on how for years, young Nigerians, mostly via social media, have called for the notorious Police unit to be disbanded and rogue elements in the force brought to justice. Despite repeated promises by the government, they have failed to heed to the demands, triggering a new wave of protests that have now spread across the country.
READ: #EndSARS: President Buhari promises extra-judicial killings investigations, Police reform
Customers' data: Coinbase received 1,914 requests from FBI, SEC
Coinbase recently disclosed it had a significant number of requests from law enforcement agencies regarding customers' data.
The world's most valuable crypto exchange, Coinbase, recently disclosed that it had a significant number of requests from law enforcement agencies in the world's largest economy, U.S, and other parts of the globe.
In its first-ever Transparency Report, Coinbase disclosed that it currently serves about 38 million customers globally, thus it collected 1,914 requests from global law enforcement and government agencies in H1,2020 that sought to get details on customers' details and their financial data.
READ: 3 Crypto exchanges control about 14.3% circulating BTC supply
Unsurprisingly, the United States leads the pack with 58% of such requests; others include law enforcement agencies from the United Kingdom, Germany, and France which filed for 441, 176, and 45 information requests, respectively.
READ: Over $500 million dollars worth of Bitcoins withdrawn from BitMEX
READ: Hackers, expose crypto wallets worth $150 million at Kucoin
Why this matters: The leading American U.S crypto exchange believes that trust is optimized through transparency and honesty via releasing a Transparency Report that shares insights into how it handles legitimate government requests for some customers' data.
READ: NNPC releases audited financial statements, refineries record losses of N154 billion
Coinbase believes that transparency reports like this should be encouraged, in spite of the opaque reporting seen by many startups, especially in financial services. It believes that it is important, not just for crypto companies, but for fintechs and banks at large to shed light on financial data sharing practices, and contribute to the understanding of industry trends in a meaningful way.
READ: Crypto: Celo gains over 50% within a day, as Coinbase announces its listing
Insights
58% of all requests come from US agencies.
90% of all requests come from three jurisdictions: the U.S., UK, and Germany.
16% of all U.S. requests come from state or local authorities.
READ: CBN reacts to videos, pictures of new N2,000 and N5,000 in circulation
Bitcoin could reach $225,000 by 2021
Morgan Creek Digital Assets' Anthony Pompliano outlines key fundamentals that may trigger Bitcoin price action.
Popularly known Crypto hedge fund manager and co-founder of Morgan Creek Digital Assets, Anthony Pompliano, recently revealed some key strategies on how the world's flagship crypto, Bitcoin, could reach $225,000 by 2021.
In his most recent letter to investors, the hedge fund manager outlined key fundamentals that may trigger such price action in the not too distant future by saying:
"The average investor fears inflation right now, regardless of whether we actually see that inflation or not. This fear has driven significant capital flows into inflation-hedge assets (Gold, Bitcoin, Real estate, etc). The combination of the Fed's asset price manipulation and inflation fears have driven gold and Bitcoin to drastically outperform equities and other commodities.
READ: UK court receives $200 million bank guarantee from Nigeria
"Let's first look at the demand side of the equation. The macro-environment is serving as a tailwind. Bitcoin is up more than 50% year-to-date. The continued 0 rate environment and QE will continue to drive demand. Additionally, we are seeing traditional asset management firms start to make the leap into owning Bitcoin.
"Fidelity Investments recently published a paper showing a positive impact for 1%-5% Bitcoin allocation in clients' portfolios. Stone Ridge ($10B asset manager) now owns $115M in Bitcoin.
READ: Uniswap biggest DeFi Crypto Exchange
"Paul Tudor Jones publicly revealed that he has put 2% of assets into Bitcoin. Multiple public pensions in the US have now gained exposure to Bitcoin via fund managers. Grayscale, the largest digital asset investment manager, saw record inflows of $1B+ in 3Q20 and now has almost $6B in total AUM."
Why it matters: The world's economy now looks to be heading toward the insolvency phase, meaning that crypto traders, and global investors are now wary that pre-COVID-19  global economic growth will take longer than anticipated, thereby leading popular companies to hedge against currency devaluation and inflation via investing in digital assets like Bitcoin. Coupled with the bias, there is a fixed amount of BTCs to satisfy the huge appetite prevalent in institutional investors.
READ: 3 Tron investors transfer 719,000,000 cryptos
Anthony Pompliano also gave key insights on why bitcoin's high demand, in spite of its fixed amount of supply, might just signal the push in price value next year. He said:
"This increase in demand is just starting in my opinion. We can list all of the leading, forward-thinking firms in only two paragraphs. Eventually, their peers will join them. The demand outlook is strong, and it shows signs of actually accelerating into the first half of 2021.
READ: Publicly traded companies own 601,000 Bitcoins, gain $500 million
"More than 60% of all Bitcoin in circulation today have not changed hands in the last 12 months. This means that the majority of Bitcoin investors stomached multiple double-digit price movements, both up and down, and continued to hold the asset.
READ: Ethereum robber transfers $1.5 million worth of Crypto
"You could evaluate this situation as (a) demand is increasing significantly, (b) the supply shock is making Bitcoin more scarce, and (c) the available float is much smaller than people actually realize. This framework leads me to believe that we are going to see a violent upward movement in the Bitcoin price by the end of 2021. My base case is approximately 10x to $100,000 and the bull case is around $250,000 per Bitcoin."