Nigerian Bourse record gains triggered by GTBANK, FLOURMILL , BUACEMENT
Trading volume was impressive on Monday's trading session.
Nigerian stock market began the trading week on a positive note. The All Share Index gained 0.29% to close at 24,766.12 basis points as against +0.18% appreciation recorded at the last trading session. Nigeria bourse Year-to-Date (YTD) returns currently stands at -7.73%.
Trading volume was impressive on Monday's trading session as trading volume surged by +83.45% as against -32.45% plunge recorded in the previous session. RANSCORP, CUSTODIAN, and GUARANTY were the most active to boost market turnover.
READ MORE: $30 billion worth of BTCs disappears forever 
Market breadth closed positive as NEIMETH led 19 Gainers as against 15 Losers topped by UACN at the end of today's session – an unimproved performance when compared with the previous outlook.
Top gainers
NEIMETH up 10.00% to close at N1.65,FLOURMILL up 9.97% to close at N18.75,GLAXOSMITH up 8.16% to close at N5.3,BUACEMENT up 2.03% to close at N40.2,GUARANTY up 1.56% to close at N22.85.
READ MORE: Top banks' stocks plunge, as bears overwhelms Nigerian tier-2 banks' rally
Top losers
UACN down 10.00% to close at N6.3, AIICO down 9.57% to close at N0.85, CUSTODIAN down 7.27% to close at N5.1, NEM down 5.00% to close at N1.9, DANGSUGAR down 3.77% to close at N11.5.
Outlook
Nigeria bourse ended on a positive note despite falling crude oil prices, as institutional investors increased their buying pressures on some Nigerian stocks. Narametrics however envisages cautious buying as growing concerns on the resurgence of COVID-19 virus raises some fears among investors.
Apple, Amazon, Netflix drop over 4%, investors Jittery on COVID-19
Top tech brands drifted lower, as investors fretted over uncertainty around the COVID-19 pandemic.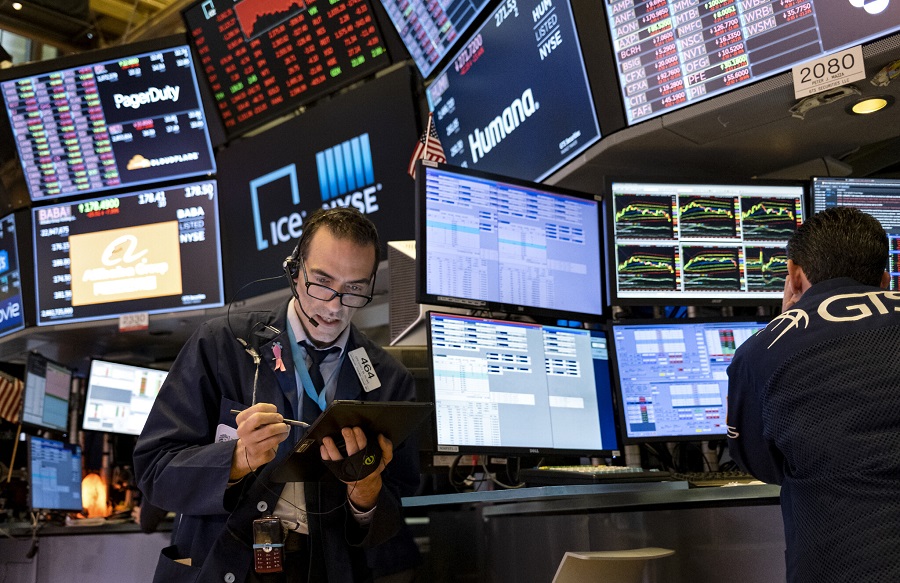 U.S tech Stocks dropped massively at the last U.S trading session, adding to September's woeful performance.
Top tech brands drifted lower, as investors fretted over uncertainty around the COVID-19 pandemic, and pending stimulus package awaited from the world's largest economy.
What we know: Shares of Amazon and Netflix plunged by 4.1% and 4.2%, respectively, to lead Big Tech lower. Facebook dropped 2.3%. Alphabet closed 3.5% lower. Apple ended the day down 4.2%, and Microsoft dipped 3.3%.
READ: U.S stocks suffer biggest drop since June
The Dow Jones Industrial Average closed 525.05 points lower – 1.9%, at 26,763.13. Earlier in the session, the Dow was up 176 points. The S&P 500 dropped 2.4% to 3,236.92; and the Nasdaq Composite pulled back by 3%, to close at 10,632.99.
Stephen Innes, Chief Global Market Strategist at AxiCorp, in a detailed note to Nairametrics, gave deep insights on the bearish trend, in view of the tech-dominated stock index,
"Fading prospects for US fiscal stimulus, and the stepping up of mobility restrictions on concerns about the second wave of Covid-19, are smacking global stock markets again.
READ: OECD reduces global economic decline to 4.5% from earlier forecast of 6% 
"The NASDAQ got hammered, after the US Department of Justice submitted a proposal for Congress to curb legal protections for tech companies, and compel them to take more responsibility for site content, following through President Donald Trump's bid from earlier this year to crack down on tech giants," Innes said.
He also spoke on the role of monetary stakeholders on the prevailing market condition, stating:
"The regulatory overhang is just such an imposing factor, and extremely difficult to the backburner
"Added to that, and in a not too subtle reminder, that we are still smack dab in the COVID-19 abyss, a procession of US Federal Reserve speakers voiced more concerns about the ongoing impasse on additional fiscal stimulus."
Finally, you should note that global investors and stock traders are showing high rates of rotation out of tech, and into cyclical stocks in September.
Nigerians in diaspora reveal their favourite Nigerian Stocks 
Nigerians in the diaspora have given their thoughts on some of the Nigerian stocks that have caught their attention lately.
The Nigerian equities market has in recent weeks recorded impressive gains, as investors take positions in blue-chip stocks. 
The All-Share Index and market capitalization, on Wednesday, gained 0.50%, to settle at 25,783.02 points and N13.474 trillion respectively, reducing the YTD loss to -3.92%. 
As the COVID-19 virus continues to rattle global financial markets, including the Nigerian bourse, it became prevalent to seek diverse opinions about Nigerian equities. In this case, that of Nigerians living abroad. 
READ: Leaked memo: CBN instructs banks to block bank account of 38 companies for "forex abuse" 
Nairametrics interviewed Investment Experts, Traders and an Engineer, seeking their opinions on what Nigerian Stocks they will presently consider for a BUY. 
Their responses were varied, ranging from top Banking, Industrial, and unsurprisingly, Agriculture-based stocks. 
London based, Lukman Otunuga, the Senior Research Analyst at ForexTime (FXTM) said, 
READ: CBN allows banks to pay winnings, salaries for 7 banned betting & gaming companies
"In a world where the coronavirus menace has created widespread chaos, disruptions, and uncertainty, no prisoners were taken. 
"Oil has been one of the biggest causalities of COVID-19, down roughly 40% year-to-date (YTD), as worldwide restrictions a few months back, crippled demand for the commodity. With a fair chunk of Oil & Gas companies losing billions of dollars to the pandemic, their respective stock prices declined considerably.   
"Big names in Nigeria such as Oando, LekOil, Seplat Petroleum Development Company, and 11 Plc, among others, have seen their shares depreciate between 20 to 40% + YTD. However, if Oil rebounds on stabilizing global economic conditions and a possible breakthrough in finding a COVID-19 vaccine, this could provide an opportunity for Oil & Gas companies to roar back to life – ultimately pushing stocks higher." 
READ: Trading on Nigerian equities has dropped by 44%
According to France-based Computer Engineer, and COO, Feldel Gas Limited, Oladayo Oladele, 
"Generally speaking, I will be interested in stocks in the IT/Telecoms sector, which includes MTN Nigeria, Airtel,  because Nigeria has a digital economy that is growing at an exponential rate. Lots of tech startups like PiggyVest,  Paystack, and Flutterwave are fast becoming internationally relevant, not forgetting agriculture-based stocks like Okomu oil, as the border closure by President Buhari's administration seems to increase their profitability in the near term. Finally, FMCG stocks, like Nestle and Unilever, as significant buying pressures from their offshore-based parent companies, shows a high room for more upside.  
"My bias is that, no matter how unstable Nigeria's economy looks presently, these domains are the least affected in my opinion." 
READ: Can Agriculture replace Oil in Nigeria?
In the words of Scotland-based Market Analyst, and an Energy Trader, Dapo-Thomas Opeoluwa, "When it comes to picking stocks from overseas, it's a bit difficult, because we do not know how the companies are faring in the country. Sometimes we go with Warren Buffet's recommendation of investing in a good business.  
"So, to be on the safe side, we invest in the household names that give us dividends, and hopefully capital appreciation in the long run.  
"I invest in Zenith; GTB; Stanbic; Sahco PLC (which are particularly promising, because of its cheap price and high potential, given how tourism might pick up, the aviation company might benefit); and Dangote Plc.  
READ:  Nigeria's stock market drops by N16.88 billion
"Sometimes we go through the financials of these companies, and check if the businesses are healthy and if they've got what we call 'moat'.  
"Notably, because our stock exchange isn't as fundamentally driven, as it is in England or the United States, we can't trade stocks like we do overseas." 
Explore the Nairametrics Research Website for Economic and Financial Data
It is imperative to note that, most of the professionals interviewed seem unsurprisingly attracted to banking, energy dominated stocks, and most especially, blue-chip stocks on their prevalence to Nigeria's economy. 
Many Nigerian stocks still look greatly undervalued, and exhibit high potential for more upsides, in terms of their present price action and also attraction attributes to foreign portfolio investors in the long term. 
MTN, Seplat, Mobil record gains, ASI up by 0.50%
SEPLAT led the gainer's chart today, while ETERNA was the top loser.
The Nigerian equities market witnessed another green day, as investors take positions in blue-chip stocks.
The All-Share Index and market capitalization added 0.50% to settle at 25,783.02 points and N13.474 trillion respectively, reducing the YTD loss to 3.92%.
A total volume of 414 million units of shares, valued at N6.28billion exchanged hands in 3,793 deals.
STERLNBANK was the most traded shares by volume at 85.2million units while MTNN topped by value at N3.12billion.
Investor sentiment as measured by market breadth was positive as 21 stocks advanced against 14 decliners. SEPLAT (+3.90%) led the gainer's chart today, while ETERNA (-6.72%) was the top loser.
NSE Oil & Gas Index: Improved by 2.02%, on SEPLAT (+3.90%).
NSE Consumer Goods Index: Gained by 1.35%, on price appreciation in INTBREW (9.09%) and NB (3.57%)
NSE Insurance Index: Up by 1.09%, on price appreciation in PRESTIGE (+9.09), CORNERST (8.33%), and LASACO (3.85%)
NSE Banking Index: Up by 0.65%, buoyed by FCMB (+1.94%), ZENITHBANK (+1.80%) and FIDELITYBK (+1.69%).
NSE Industrial Index: inched by 0.09%, on WAPCO (+1.54%)
Top gainers
SEPLAT N385 N400 15 3.90%
NB N42 N43.5 1.5 3.57%
MTNN N123 N123.9 0.9 0.73%
MOBIL N192.5 N193.1 0.6 0.31%
FLOURMILL N19.65 N20 0.35 1.78%
Top losers
ETERNA N2.68 N2.5 -0.18 -6.72%
BOCGAS N4.36 N4.25 -0.11 -2.52%
AFRIPRUD N4.45 N4.35 -0.1 -2.25%
NPFMCRFBK N1.3 N1.22 -0.08 -6.15%
CUSTODIAN N4.85 N4.8 -0.05 -1.03%
Outlook
Nigerian bourse closed Wednesday's trading session amid rising cases of the COVID-19 virus globally.
Buying pressures from NSE30 stocks like Seplat, MTN Nigeria, Mobil, Nigerian Breweries, Flourmill triggered the bourse to closed green.
Nairametrics however envisage you seek the advice of a certified stockbroker in selecting stocks to buy.