The world's biggest oil hedge program underway
Having the hedge in place has protected Mexico from the plunge.
The world's biggest oil hedging program is underway. Major oil producer Mexico has asked leading global investment banks to submit quotes for its sources.
Premiums on crude oil options surged this week ahead of the megadeal.
Usually, every year, Mexico purchases as much as $1 billion in oil derivatives, the world's largest oil hedge program, to protect its oil revenues form market volatility, according to Reuters.
READ MORE: St Kitts and Nevis addresses Hushpuppi's citizenship
Quick fact: Hedging can be defined as a way of protecting one's self against financial losses or adverse circumstances. It is also an investment intended to reduce the risk of adverse price movements in an asset. Crude oil producers can, therefore, hedge against crashes in oil prices by taking a position in the crude oil futures market.
Recall, a few months ago, Nairametrics explained how profitable these programs have been. Even though the hedge comes at a $1 billion annual cost to buy the option, it has shielded Mexico from market shock over the last 20 years, helping it to make $5.1 billion when prices crashed in 2009 during the global financial crisis, $6.4 billion in 2015, and another $2.7 billion in 2016 after Saudi Arabia's price war.
Having the hedge in place has protected Mexico from the plunge. "The 2020 hedge, arranged in 2019, was completed at $49 a barrel," according to the country's finance ministry, and Mexican President Andres Manuel Lopez Obrador said in April that the hedge would yield roughly 150 billion pesos ($6 billion).
Negotiations of this megadeal are usually secretive as limited participants on both sides attempt to secure the best deal in a highly competitive deal for investment banks.
Mexico is expected to pay more for these oil derivatives because volatility in the crude oil is higher this year, for less coverage for the insurance policy for 2021. However, it is expected to go ahead to avoid ruining its financial standing among global financial investors, private sources have said.
Brent Crude price trades at $45 per barrel, as fuel demand picks up
Brent crude held most of it gains from the previous trading session.
Brent Crude oil prices dropped slightly at Asia's trading session.
Brent crude prices held most of it gains from the previous trading session after U.S. government data showed a fall in U.S Crude Stockpiles supporting the view that fuel demand is picking up despite the COVID-19 pandemic.
Brent crude was slightly down by 0.07% to trade at $45.40 a barrel by 04.32 GMT, after a gain of around 2% in the previous session.
READ ALSO: Top banks' stocks plunge, as bears overwhelms Nigerian tier-2 banks' rally
Quick fact: Brent crude is the leading global benchmark for Atlantic basin crude oil. The international benchmark is used to set the price of crude oil of about two-thirds of the world's traded crude oil including Nigeria's crude.
However, Stephen Innes, Chief Global Market Strategist at AxiCorp in a note to Nairametrics, revealed vital macros, that could keep crude oil relatively stable in the coming days. He said;
"But even worries around stalled US fiscal talks are partly offset by the US administration's conciliatory tone on China's compliance with the 'Phase One' trade deal.
"The upcoming six-month assessment seems unlikely to prompt any significant fireworks. Also, investor's optimism remains high on a vaccine cure that is no longer being viewed as a pie in the sky.
"Finally, the US dollar's weakness helps Oil prices in general, but even more so in this environment, as the weaker US dollar reflects a global "risk-on" environment, not a flagging US economy. "
Download the Nairametrics News App
Global COVID-19 cases now exceed 20 million, so in the absence of meaningful progress on a COVID-19 vaccine, traders are still looking over their shoulders to where new lockdowns might be necessary.
Gold prices drop below $1,900 after U.S dollar strengthens
The plunge came as appetite for risk assets recovered thanks to a stronger greenback and real rates.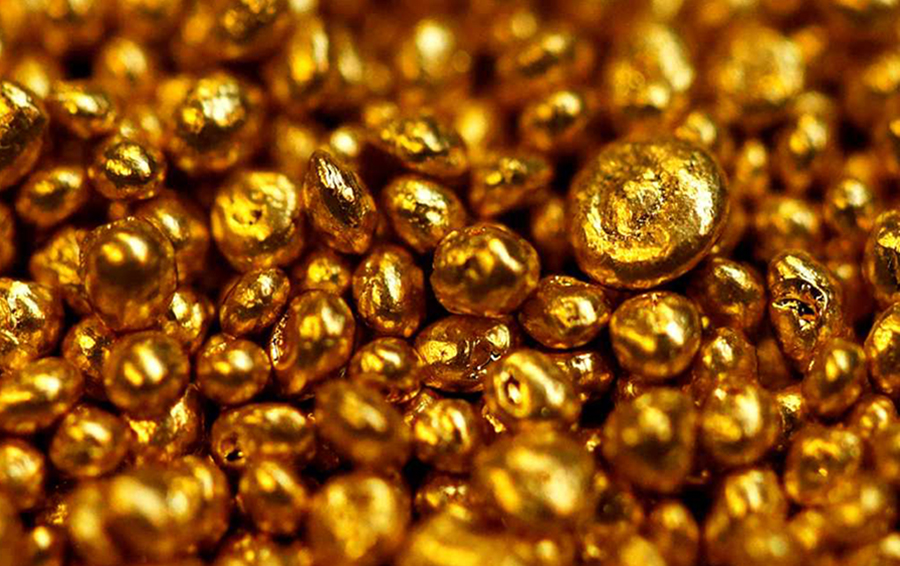 Gold prices dropped sharply on Wednesday at London's trading session. Gold futures were down 2.69% to trade at about $1,893.20 as at the time this report was drafted.
The plunge came as appetite for risk assets recovered, thanks to a stronger greenback and real rates. The U.S dollar is up on Wednesday, continuing to rise from its two-year lows.
The present huge sell-offs recorded in the precious metal market astonished many gold traders after the per-ounce price of the yellow metal plunged below $1,900.
READ MORE: Silver surpasses three-week high, joins Bullish momentum
Here's an Insight: Stephen Innes, Chief Global Market Strategist at AxiCorp, in a note to Nairametrics, explained the macros, giving Gold bears such strength, as the precious metal continues its sudden downward trend. He said;
"The real pain trade gold as swollen positions got hit with the truncheon, and gold plunged the most in seven years as the bottom fell out of the markets with US Treasuries and bunds bear-steepening and real yields higher.
"Gold markets sold off picking speed exponentially as freshly minted gold longs ran for the exit.
"And in typical low liquidity August fashion, market makers were merciless pounding gold to within a hair's breadth of $1900 as the steam roller got heading downhill when the afternoon Shanghai session saw waves of Asia banks selling en masse."
READ ALSO: LINK, most profitable crypto-asset in 6 months, gains 451%
Whether or not gold can regain its previous highs will depend on whether there is more room for downside in real yields or more dovish policies by the US Federal Reserve. Still, the possibility of squeezy price action remains in play after the US Bond market sent out the most explicit warning last week.
Gold price loses $80 following Russia's COVID-19 vaccine approval
This marks gold's steepest daily decline in nearly five months.
Gold futures have lost about  5% or $80 in less than four hours, at the London trading session this afternoon.
Gold futures fell as low as $1,950 per ounce, $80 differential from its opening price of $2,030
This marks gold's steepest daily decline in nearly five months, even as global stocks went bullish following news that Russia's COVID-19 vaccine has obtained regulatory approval.
READ MORE: Cocoa prices melt lower as COVID-19 weakens demand 
The COVID-19 vaccine approval by Russia was met with some skepticism by experts.
Russian President Vladimir Putin announced on Tuesday that a locally developed vaccine for COVID-19, Sputnik-V, has been given regulatory approval and is ready for use.
Russian Health Minister Mikhail Murashko said that the vaccine had "proven to be highly effective and safe", with mass vaccination planned to start in October.
But health regulators elsewhere have cast doubts on the vaccine, as it has not yet gone through safety trials and Russia did not offer any scientific evidence of the vaccine's effectiveness and safety.