COVID-19: WHO reports highest global daily cases
The death rate had been an average of 5,000 per day in July.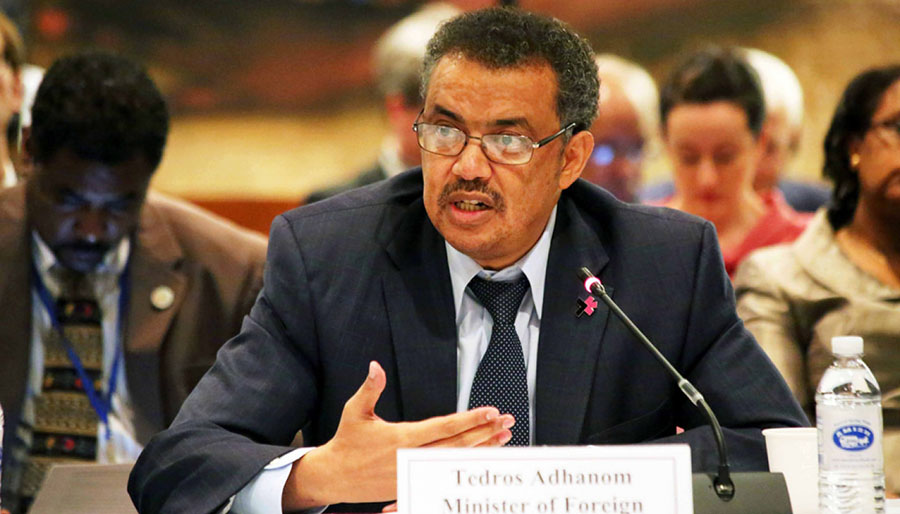 The World Health Organization (WHO), reported a record increase in the global coronavirus cases with the total rising by 284,196 within 24 hours on Friday. 
WHO reports that deaths rose by 9,753, which is the biggest single-day increase since a record high of 9,797 deaths was recorded on April 30. The previous WHO record for daily new cases was 259,848 on July 18. 
The death rate had been an average of 5,000 per day in July, up from an average of 4,600 per day in the month of June. 
READ: How to access the N50 billion CBN Covid-19 intervention fund for SMEs
According to the WHO, this is the first time the number of new daily infections has surpassed a quarter of a million. The biggest increases were recorded in the United States, Brazil, India and South Africa. 
The UN health agency reported 69,641 new cases in US, 67,860 cases in Brazil, 49,310 cases in India and 13,104 cases in South Africa.  
READ ALSO: COVID-19: WHO presents disturbing report as global cases surge
The global death toll from the coronavirus disease rose by 7,360, the largest daily increase in May with the biggest increases of 3,876 deaths in Peru, 1,284 deaths in Brazil, 1,074 in the United States, 790 in Mexico and 740 in India. 
The cases are surging in several states in the US, particularly in southern states that were initially reluctant to enforce lockdowns or mandate wearing of face masks. States like Texas, Florida and Arizona have seen high surges in cases. Florida is currently the epicenter of the pandemic in the US with more than 10,000 new infections. This brings the total number of cases to 337,000 with a death toll of over 5,000. 
Peru recently reviewed its COVID-19 data and in a single day increased its total death toll by 3,000 to a total of over 17,000 fatalities.  
READ ALSO: Why this is the best time to buy Bitcoins
India on July 17, became the third country in the world to record more than 1 million cases of the coronavirus disease, behind only to the United States and Brazil. Epidemiologists revealed that India is most likely months away from hitting its peak. 
South Africa, which had one of the largest single-day increase in cases, has the highest number of confirmed cases in Africa. 
READ: CBN waives guarantor requirement for N50 billion COVID-19 loan applications
The Western European countries, which have managed to largely contain the spread of the virus, are now beginning to reopen their borders and businesses. 
COVID-19 Update in Nigeria
On the 28th of September 2020, 136 new confirmed cases and 3 deaths were recorded in Nigeria
The spread of novel Corona Virus Disease (COVID-19) in Nigeria continues to record increases as the latest statistics provided by the Nigeria Centre for Disease Control reveal Nigeria now has 58,460 confirmed cases.
On the 28th of September 2020, 136 new confirmed cases and 3 deaths were recorded in Nigeria, having carried out a total daily test of 1,450 samples across the country.
To date, 58,460 cases have been confirmed, 49,895 cases have been discharged and 1,111 deaths have been recorded in 36 states and the Federal Capital Territory. A total of 507,006  tests have been carried out as of September 28th, 2020 compared to 505,556 tests a day earlier.
COVID-19 Case Updates- 28th September 2020,
Total Number of Cases – 58,460
Total Number Discharged – 49,895
Total Deaths – 1,111
Total Tests Carried out – 507,006
According to the NCDC, the 136 new cases were reported from 13 states- Lagos (71), Rivers (23), Plateau (12), Adamawa (6), Oyo (6), Kaduna (5), Abia (3), FCT (3), Katsina (2), Kwara (2), Bauchi (1), Borno (1), Edo (1).
Meanwhile, the latest numbers bring Lagos state total confirmed cases to 19,310, followed by Abuja (5,677), Plateau (3,400), Oyo (3,260), Edo (2,625), Kaduna (2,402), Rivers (2,370), Ogun (1,836), Delta (1,802), Kano (1,737), Ondo (1,631), Enugu (1,289), Ebonyi (1,040), Kwara (1,034), Abia (894), Gombe (864). Katsina (859), Osun (827),  Borno (742), and Bauchi (699).
Imo State has recorded 568 cases, Benue (481), Nasarawa (449), Bayelsa (398),  Jigawa (325), Ekiti (321), Akwa Ibom (288), Niger (259), Adamawa (240), Anambra (237), Sokoto (162), Taraba (95), Kebbi (93), Cross River (87), Zamfara (78), Yobe (76), while Kogi state has recorded 5 cases only.
READ ALSO: COVID-19: Western diplomats warn of disease explosion, poor handling by government
Lock Down and Curfew
In a move to combat the spread of the pandemic disease, President Muhammadu Buhari directed the cessation of all movements in Lagos and the FCT for an initial period of 14 days, which took effect from 11 pm on Monday, 30th March 2020.
The movement restriction, which was extended by another two-weeks period, has been partially put on hold with some businesses commencing operations from May 4. On April 27th, 2020, Nigeria's President, Muhammadu Buhari declared an overnight curfew from 8 pm to 6 am across the country, as part of new measures to contain the spread of the COVID-19. This comes along with the phased and gradual easing of lockdown measures in FCT, Lagos, and Ogun States, which took effect from Saturday, 2nd May 2020, at 9 am.
On Monday, 29th June 2020 the federal government extended the second phase of the eased lockdown by 4 weeks and approved interstate movement outside curfew hours with effect from July 1, 2020. Also, on Monday 27th July 2020, the federal government extended the second phase of eased lockdown by an additional one week.
On Thursday, 6th August 2020 the federal government through the secretary to the Government of the Federation (SGF) and Chairman of the Presidential Task Force (PTF) on COVID-19 announced the extension of the second phase of eased lockdown by another four (4) weeks.
READ ALSO: Bill Gates says Trump's WHO funding suspension is dangerous
Lagos launches N5 billion support fund for 2,000 low-cost private schools
The Governor said the facility will benefit low-cost schools with amounts ranging from N500,000 to N5 million.
Lagos State government has launched a N5billion support fund to help reduce the impact of Coronavirus pandemic on low-cost private schools in the state.
This was disclosed by the Governor of the state, Babajide Sanwo-Olu via his Twitter handle on Friday.
READ: N4.16 billion unpaid lottery revenue recovered by EFCC
According to him, the educational sector is one of those severely impacted by the pandemic, with schools and vocational learning-centres shut since March.
He said, "With access to funding for privately owned schools and vocational training centres in the state, we are confident that this programme, under the partnership between First Bank Nigeria and Lagos State Education Trust Fund (LSETF) will help accelerate a sustainable return to learning and skills acquisition."
READ: FG releases new details on MSMEs support scheme, budgets N200 billion for loans
Today, I launched a N5bn support fund to help reduce the impact of #COVID19 on low-cost private schools in Lagos. The educational sector is one of those severely impacted by the pandemic, with schools and vocational learning-centres shut since March. #EducationMeetsFunding pic.twitter.com/PrKjLhxBXq

— Babajide Sanwo-Olu (@jidesanwoolu) September 25, 2020
He explained that the facility will benefit 2,000 low-cost schools with amounts ranging from N500,000 to N5 million.
Explore the Nairametrics Research Website for Economic and Financial Data
"As a responsible Government, we are obligated to provide interventions that would enable learners in schools study in line with the new normal," the Governor Sanwo-Olu added.
The Chief Executive Officer, First Bank Nigeria, Dr Adesola Adeduntan, said "With this partnership, we are sure that registered educational institutions in Lagos State will have access to funds at subsidised interest rates to meet their needs as they reopen at this auspicious time."
WHO endorses emergency use of China's COVID-19 vaccine
China says WHO has approved the emergency use of its COVID-19 vaccine.
The World Health Organization (WHO) has endorsed the plans by China to start administering experimental coronavirus vaccines to people while clinical trials are still underway.
This disclosure was made by a Chinese Health Commission official, Zheng Zhongwei, during a news conference on Friday, September 25, 2020.
Zheng recalled that China launched its emergency programme in July, having communicated with the WHO in late June. Hundreds of thousands essential workers and other limited groups of people considered at high risk of infection have been given the vaccine, even though its efficacy and safety had not been fully established as Phase 3 clinical trials have not yet been completed.
Zheng at the news conference said, "At End-June, China's State Council approved a plan of COVID-19 vaccine emergency use program. After the approval, on June 29, we made a communication with the relevant representatives of the WHO Office in China, and obtained support and understanding from WHO.''
Nairametrics had reported that Chinese Pharmaceutical firms have been quite aggressive about the development of a Covid-19 vaccine with the likes of Sinovac Biotech and Sinopharm publicly displaying their vaccine candidate for the first time at a trade fair in Beijing earlier this month.
(READ MORE: COVID-19: European regulator ready to approve first successful vaccine this year)
It was pointed out that China National Pharmaceutical Group (Sinopharm) and the US-listed Sinovac Biotech SVA.O, are developing the three vaccines under the state's emergency use program just as a fourth COVID-19 vaccine is being developed by CanSino Biologics 6185 HK, was approved for use by the Chinese military in June.
The WHO chief scientist Soumya Swaminathan, while describing it as a temporary solution, said earlier this month in Geneva that national regulatory authorities could approve use of medical products within their own jurisdictions in the current emergency situation.
He emphasized that the long-term solution in the successful development of a Covid-19 vaccine, lay in completion of Phase 3 trials, this is as China has not publicly released full details of its emergency use programme.
Zheng disclosed that China's annual production capacity of COVID-19 vaccines is expected to reach 610 million doses by end-2020 and 1 billion doses by 2021. He said that the price of the vaccine will be affordable for the general public.