COVID-19: WHO reports highest global daily cases
The death rate had been an average of 5,000 per day in July.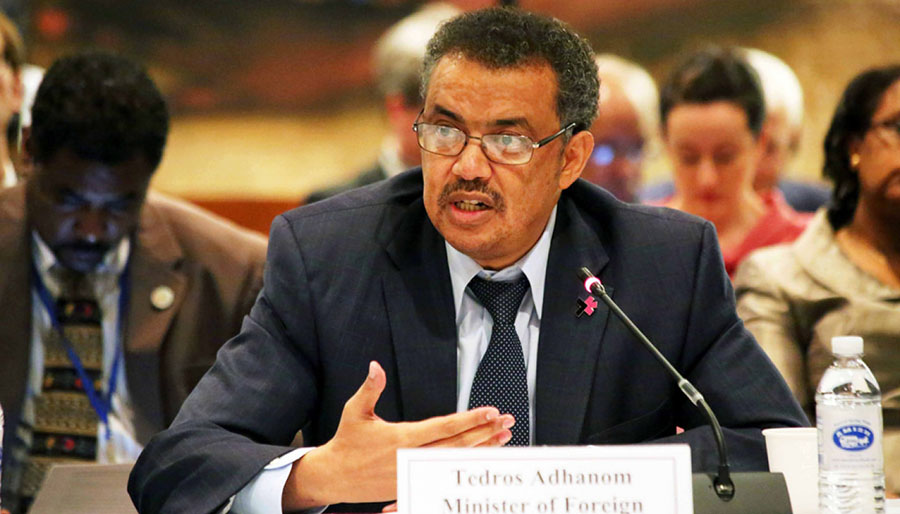 The World Health Organization (WHO), reported a record increase in the global coronavirus cases with the total rising by 284,196 within 24 hours on Friday. 
WHO reports that deaths rose by 9,753, which is the biggest single-day increase since a record high of 9,797 deaths was recorded on April 30. The previous WHO record for daily new cases was 259,848 on July 18. 
The death rate had been an average of 5,000 per day in July, up from an average of 4,600 per day in the month of June. 
READ: How to access the N50 billion CBN Covid-19 intervention fund for SMEs
According to the WHO, this is the first time the number of new daily infections has surpassed a quarter of a million. The biggest increases were recorded in the United States, Brazil, India and South Africa. 
The UN health agency reported 69,641 new cases in US, 67,860 cases in Brazil, 49,310 cases in India and 13,104 cases in South Africa.  
READ ALSO: COVID-19: WHO presents disturbing report as global cases surge
The global death toll from the coronavirus disease rose by 7,360, the largest daily increase in May with the biggest increases of 3,876 deaths in Peru, 1,284 deaths in Brazil, 1,074 in the United States, 790 in Mexico and 740 in India. 
The cases are surging in several states in the US, particularly in southern states that were initially reluctant to enforce lockdowns or mandate wearing of face masks. States like Texas, Florida and Arizona have seen high surges in cases. Florida is currently the epicenter of the pandemic in the US with more than 10,000 new infections. This brings the total number of cases to 337,000 with a death toll of over 5,000. 
Peru recently reviewed its COVID-19 data and in a single day increased its total death toll by 3,000 to a total of over 17,000 fatalities.  
READ ALSO: Why this is the best time to buy Bitcoins
India on July 17, became the third country in the world to record more than 1 million cases of the coronavirus disease, behind only to the United States and Brazil. Epidemiologists revealed that India is most likely months away from hitting its peak. 
South Africa, which had one of the largest single-day increase in cases, has the highest number of confirmed cases in Africa. 
READ: CBN waives guarantor requirement for N50 billion COVID-19 loan applications
The Western European countries, which have managed to largely contain the spread of the virus, are now beginning to reopen their borders and businesses. 
Covid-19: Africa records higher death rate than the global rate
Africa's coronavirus death rate is now higher than the global average according to Africa CDC.
Africa's coronavirus death rate has been reported to be higher than the global average as the continent struggle with a shortage of oxygen and other resources during this second wave of the coronavirus pandemic.
The continent's fatality rate currently stands at 2.5%, which is higher than the global rate of 2.2%, a departure from earlier in the pandemic, when the death rate in Africa was lower than that at the global level.
READ: African Union secures 270 million Covid-19 vaccine doses from drugmakers
According to a report from Reuters, this disclosure was made by the Director of Africa Centres for Disease Control and Prevention (CDC), John Nkengasong, on Thursday, January 21, 2021, during a press conference.
While describing the trend as alarming experts, the continent's CDC boss pointed out that earlier in the pandemic, Africa's death rate had been below the global average.
READ: FG alerts that Nigerian hospitals are running out of facilities as Covid-19 spreads fast
He said, "The case fatality rate is beginning to be very worrying and concerning for all of us.''
Nkengasong also said that 21 African countries are now recording Covid-19 death rate of above 3% as the number of countries in the continent with a higher fatality rate than the global average continues to grow.
Some of the countries include Egypt, the Democratic Republic of Congo, Liberia, Mali, Sudan and a host of others.
READ: Covid-19: WHO warns the world faces catastrophic moral failure due to vaccine nationalism
What you should know
Africa has so far recorded 3.3 million cases of the coronavirus infections with 82,000 fatalities as at Thursday.
These figures represent a small fraction of the global total, but cases have been reported to have increased by 14% each week in the last 1 month.
According to data from Africa CDC, over the past week, cases decreased by nearly 7% compared to the previous week while deaths increased by 10%.
The continent reported 207,000 new cases in the past week, with South Africa alone reporting 100,000 of those new cases.
AMSP, AVATT to facilitate COVID-19 vaccines pre-orders for AU member states
The African Union has secured a provisional 270 million COVID-19 vaccine doses for African union members.
African Vaccine Acquisition Task Team (AVATT), the Africa Medical Supplies Platform (AMSP) have commenced the COVID-19 vaccines pre-order programme for all African Union Member States.
It would be recalled that the chairperson of the African Union, President Cyril Ramaphosa, had secured a provisional 270 million COVID-19 vaccine doses for Africa through AVATT, AMSP, on behalf of the Africa Centres for Disease Control and Prevention (Africa CDC).
It is expected that Afreximbank will facilitate payments by providing advance procurement commitment guarantees of up to US$2 billion to the manufacturers on behalf of the member states.
What they are saying
According to African Union Special Envoy, Strive Masiyiwa:
"These are historical times. For the first time in history, Africa has secured access to millions of vaccine doses in the middle of a pandemic as most of Western countries.
"There is still a huge shortage of vaccine doses and that is why this continental collaboration has designed a fair allocation coupled with timely and equitable access of COVID-19 vaccines across the continent."
According to Prof. Benedict Oramah, President and Chairman of the Board of Directors of the African Export-Import Bank (Afreximbank):
"Afreximbank is proud to expand its support to African economies in their bid to contain the pandemic.
" Our vaccine financing facility builds on the success of our Pandemic Trade Impact Mitigation Facility (PATIMFA) to open access to COVID 19 vaccines to African states based on a whole-of-Africa approach favoured by the African Union.
"By providing advance procurement commitment guarantees of up to US$2 billion to candidate vaccine manufacturers, Afreximbank will ensure that African States are able to rapidly access COVID-19 vaccines, at competitive prices and in a timely manner thereby contributing to saving lives and livelihoods."
According to Dr John Nkengasong, Director of Africa Centres for Disease Control and Prevention (Africa CDC):
"The biggest challenges to COVID-19 vaccine access in Africa have been financing of the vaccines and the logistics of vaccinating at scale, but we are glad that this gap is being filled by the Afreximbank financing facility.
"The critical decision now is how to get started so that once we start there will be no disruptions and this is where AMSP will play a very big role"
According to Fatoumata Bâ, Founder & Executive Chair of Janngo and Managing Partner of Janngo Capital:
"From today onwards African Union Member States will be able to start placing online pre-orders for their vaccines allocation through the Africa Medical Supplies Platform.
"We are proud to participate in giving direct access to cutting edge COVID-19 vaccines through Africa; This is essential to protect our people and reopen our economies"
What you should know
AVATT has secured a provisional 270 million COVID-19 vaccines doses from Pfizer, Johnson & Johnson and AstraZeneca,
AMSP – the single-source platform enabling faster, more transparent and cost-effective access to COVID-19 supplies – has opened today pre-orders, offering equitable access of COVID-19 vaccines doses for 55 African Union member states.
The Africa Medical Supplies Platform (AMSP) is supporting the vaccination operations by launching a new category on vaccine accessories that will help the member states to procure products such as ultra-low temperature freezers, personal protection equipment, cotton wool rolls, syringes and needles.
The Africa Medical Supplies Platform (AMSP) is a non-profit initiative launched by the African Union as an immediate, integrated and practical response to the Covid-19 pandemic.
African Vaccine Acquisition Task Team (AVATT) was established by the African Union chairperson, President Cyril Ramaphosa as a component in support of the Africa Vaccine Strategy and was endorsed by the AU Bureau of Heads of State and Government on 20th of August, 2020.
Governor Sanwo-Olu says 24,000 students yet to resume in public schools
24,000 students in public schools are yet to return back after the reopening of schools, according to Governor Sanwo-Olu.
The Lagos State Governor, Babajide Sanwo-Olu, has revealed that about 24,000 students in public schools are yet to come back after the reopening of schools following last year's lockdown necessitated by the first wave of Covid-19 across the country.
This is as the governor said that resumption of school activities Monday, January 20, 2021, was a difficult decision to make in light of the second wave of Covid-19.
This disclosure was made by the governor while peaking during a press conference on Covid-19 update at the Lagos House, Ikeja on Tuesday.
Sanwo-Olu assured that it was the best decision for the children's safety and long-term development, especially the most vulnerable ones.
What the Lagos State Governor is saying
Sanwo-Olu in his statement said, "Last year after the first lockdown and kids have to come back to school, we are still looking for about 24,000 of them that have not come back to school. So, there is a challenge if you keep them out for that long and their parents or guardians now turn them to other things instead of ensuring that they have time to come back for learning even if it is twice or thrice a week.
"At least they have been registered since the beginning of a session and they can be monitored. If not, they will just be roaming the streets and become endangered. We have seen incidents of child abuse and all unprintable things that are being done to these children. So, we believe to a large extent that schools sometimes happen to be the safe haven for them. We have done the roster in which we ensure they keep social distance and we are monitoring," he said.
What you should know
It can be recalled that public and private schools below the tertiary level in Lagos State, On Monday, January 18, 2021, reopened for academic activities despite opposition from some stakeholders due to the second wave of coronavirus pandemic in the state.
Following the surge in the number of infections in the state, which is the epicentre of the disease in the country, there were complaints about the state of preparedness of the schools, especially the public ones, in adhering to the strict Covid-19 protocols and guidelines.