African Union begins COVID-19 vaccine trial group
CONCVACT plans to capture more than ten late-stage vaccine trials at the earliest.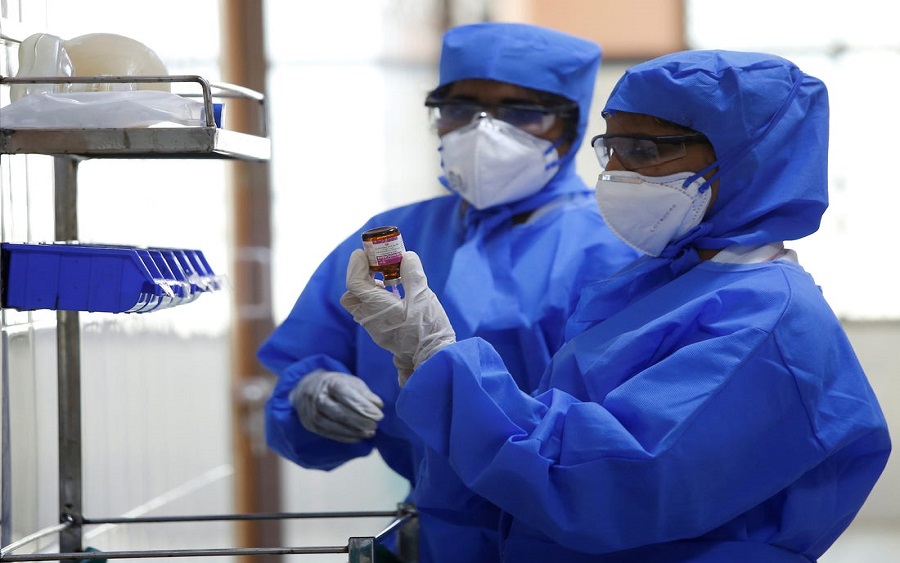 The African Union Commission just recently facilitated a program called the new Africa Centres for Disease Control and Prevention (Africa CDC) Consortium for COVID-19 Vaccine Clinical Trial (CONCVACT).
The program is part of the Africa Joint Continental Strategy for stopping the deadly COVID-19 onslaught that has disrupted human activities. The goal is to prevent severe COVID-19 infections and deaths in African countries, reduce the economic damage caused by the pandemic, and help minimize the general disruption to everyday life.
READ MORE: Covid-19: Pfizer, BioNTech's vaccine ready before end of the year
Quick fact about COVID-19: Although for some individuals, the COVID-19 virus causes only mild illness, it can make other individuals seriously ill. The disease can be very fatal, especially among older individuals, and those with compromised immunities (such as diabetes, high blood pressure, or heart problems) appear to be more susceptible.
South Africa's leader, Cyril Ramaphosa, said, "Success in developing and providing access to a safe vaccine requires an innovative and collaborative approach, with significant local manufacturing in Africa.
"We need to support the contribution of African scientists and healthcare professionals. We need to act with urgency."
CONCVACT plans to capture more than ten late-stage vaccine trials at the earliest, via collaborations with global vaccine developers, sponsors, and African businesses that enable clinical studies.
Explore Economic Research Data From Nairametrics on Nairalytics
The African group also hopes to secure the safety and efficacy data of promising vaccine candidates for the African population in order to validate their launch after approval.
COVID-19 Update in Nigeria
On the 3rd of March 2021, 464 new confirmed cases and 16 deaths were recorded in Nigeria
The spread of novel Corona Virus Disease (COVID-19) in Nigeria continues to record significant increases as the latest statistics provided by the Nigeria Centre for Disease Control reveal Nigeria now has 156,963 confirmed cases.
On the 3rd of March 2021, 464 new confirmed cases and 16 deaths were recorded in Nigeria.
To date, 156,963 cases have been confirmed, 135,831 cases have been discharged and 1,939 deaths have been recorded in 36 states and the Federal Capital Territory.
A total of 1.54 million tests have been carried out as of March 2nd, 2021 compared to 1.49 million tests a day earlier.
COVID-19 Case Updates- 3rd March 2021,
Total Number of Cases – 156,963
Total Number Discharged – 135,812
Total Deaths – 1,939
Total Tests Carried out – 1,544,008
According to the NCDC, the 479 new cases are reported from 22 states- Lagos (153), Enugu (75), Rivers (50), FCT (40), Kaduna (18), Ebonyi (17), Plateau (17), Edo (17), Borno (16), Oyo (12) Kano (11), Abia (10), Cross River (10), Taraba (9), Nasarawa (7), Bauchi (4), Bayelsa (3), Delta (3), Ekiti (2), Niger (2), Ogun (2) and Akwa Ibom (1).
Meanwhile, the latest numbers bring Lagos state total confirmed cases to 56,132, followed by Abuja (19,292), Plateau (8,916), Kaduna (8,600),  Oyo (6,752), Rivers (6,556), Edo (4,611), Ogun (4,411), Kano (3,790), Ondo (3,006), Kwara (2,931), Delta (2,582), Osun (2,439), Nasarawa (2,237), Enugu (2,078), Katsina (2,060), Gombe (2,056), Ebonyi (1,881), Anambra (1,726), Akwa Ibom (1,552), and Abia (1,552).
Imo State has recorded 1,528 cases, Borno (1,297), Bauchi (1,232), Benue (1,188), Niger (917), Ekiti (813), Taraba (813), Bayelsa (772), Sokoto (769), Adamawa (762), Jigawa (496), Kebbi (388), Cross River (334), Yobe (288), Zamfara (220), while Kogi state has recorded 5 cases only.
READ ALSO: COVID-19: Western diplomats warn of disease explosion, poor handling by government
Lock Down and Curfew
In a move to combat the spread of the pandemic disease, President Muhammadu Buhari directed the cessation of all movements in Lagos and the FCT for an initial period of 14 days, which took effect from 11 pm on Monday, 30th March 2020.
The movement restriction, which was extended by another two weeks period, has been partially put on hold with some businesses commencing operations from May 4. On April 27th, 2020, Nigeria's President, Muhammadu Buhari declared an overnight curfew from 8 pm to 6 am across the country, as part of new measures to contain the spread of the COVID-19. This comes along with the phased and gradual easing of lockdown measures in FCT, Lagos, and Ogun States, which took effect from Saturday, 2nd May 2020, at 9 am.
On Monday, 29th June 2020 the federal government extended the second phase of the eased lockdown by 4 weeks and approved interstate movement outside curfew hours with effect from July 1, 2020. Also, on Monday 27th July 2020, the federal government extended the second phase of eased lockdown by an additional one week.
On Thursday, 6th August 2020 the federal government through the secretary to the Government of the Federation (SGF) and Chairman of the Presidential Task Force (PTF) on COVID-19 announced the extension of the second phase of eased lockdown by another four (4) weeks.
Governor Babajide Sanwo-Olu of Lagos State announced the closed down of the Eti-Osa Isolation Centre, with effect from Friday, 31st July 2020. He also mentioned that the Agidingbi Isolation Centre would also be closed and the patients relocated to a large capacity centre.
Due to the increased number of covid-19 cases in Nigeria, the Nigerian government ordered the reopening of Isolation and treatment centres in the country on Thursday, 10th December 2020.
On 26th January 2021, the Federal Government announced the extension of the guidelines of phase 3 of the eased lockdown by one month following the rising cases of the coronavirus disease in the country and the expiration of phase 3 of the eased lockdown.
On 28th February 2021, the federal government confirmed that the first tranche of Covid-19 vaccines will arrive in Nigeria on Tuesday, March 2nd, 2021.
READ ALSO: Bill Gates says Trump's WHO funding suspension is dangerous
Peter Obi urges FG to beg manufacturers, rich nations for COVID-19 vaccines
Obi urged the FG to consider appealing to rich nations, drug manufacturers for vaccines instead of spending billions of nairas to procure them.
Former governor of Anambra State, Peter Obi has appealed to the Federal Government to take a second look at their stipulated Covid-19 budget and rather, consider begging drug manufacturers and rich nations for the vaccines.
The former Vice Presidential candidate while speaking in an interview on Channels Television, lamented on what he felt was an over-the-top and ludicrous budget for the Covid-19 vaccines and advised that the FG should instead, appeal to manufacturers for the vaccine.
Obi, speaking on the FG Procurement Budget for the Covid-19 vaccine explained that it makes little sense for Nigeria to apportion 80% of its health budget for the procurement of Covid-19 only. He also stated that sufficient Covid-19 vaccine for the country can be purchased for a price way below the figure being put forward by the FG.
"They said they need N400bn. Our Budget for health this year is N547bn and you are saying that you need 80% of that for vaccine procurement. Assuming that's what we are going to use the money for. I have checked the vaccine we need to have 70% which WHO has stipulated that if they receive it is okay. The quantity we need cannot cost us more than N150bn. It might be less because there are people who are willing to give vaccines for free," Obi said.
Mr. Obi took it a step further by advising the FG on how to go about the quest to get Covid-19 vaccines at a much cheaper rate. He believes the country should own up to its poor status and demand for help unashamedly. This, he said, will reduce the amount the FG will pay for the Covid-19 vaccines.
"Why don't we beg manufacturers to donate, saying to them that we don't have anything. We can go kneel and beg them saying please give us the vaccines. We are from a poor country. Give us a discount. There is nothing wrong with saying that you are poor. It is not a crime. Because you are poor," Obi added.
Since pharmaceutical companies and drug manufacturers began discovering and manufacturing vaccines against the novel Covid-19, there have been concerns that the poorer nations might be left far behind in the race to acquire the vaccines.
In case you missed it
Nigeria received its first batch of Covid 19 vaccines from India today. The first batch of Oxford AstraZeneca COVID-19 vaccines from India landed in the Nigerian capital Abuja on Tuesday.
About 3.94 million doses of the vaccines arrived at Nnamdi Azikiwe International Airport Abuja via an Emirates flight.
Nairametrics | Company Earnings