IMF advises banks to suspend dividend payment
However, halting dividend payments may not go down well for many retail and institutional investors, who rely on bank dividends for regular income.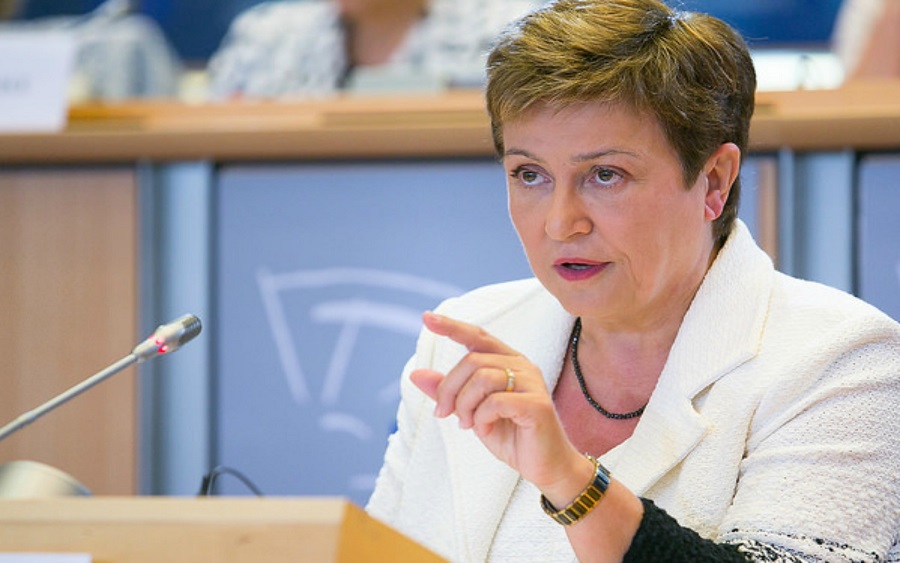 In an article published on its website, International Monetary Fund (IMF) Managing Director, Kristalina Georgieva, advised banks to halt dividend payment for now. According to her, with the expectation of a deep recession in 2020 and partial recovery in 2021, banks' resilience will be tested. Therefore, having in place strong capital and liquidity positions to support fresh credit will be essential.
According to the article, one of the steps needed to reinforce bank buffers is retaining earnings from ongoing operations which are not insignificant.
IMF staff calculate that the 30 global systemically important banks distributed about US$250bn in dividends and share buybacks last year.
READ MORE: State Governments: Another cycle of non-payment of salaries to begin soon
In a circular dated January 31, 2018, the Central Bank of Nigeria (CBN) stipulated new conditions for eligibility of Nigerian banks to pay dividend and the quantum of dividend to be paid out by banks who are eligible. Prior to the release of the circular, dividend payout policy for Nigerian banks had been spelt out in Section 16(1) of BOFIA 2004 (as amended) and Prudential Guidelines for DMBs of 2010. The circular provided guidelines and restrictions around divdidend payout for banks based on NPL ratio, CRR levels, and Capital Adequacy Ratio (CAR).
However, there were no regulatory restriction on dividend payout for banks that meet the minimum capital adequacy ratio, have a CRR of "low" or "moderate" and an NPL ratio of not more than 5%. However, it is expected that the Board of such institutions will recommend payouts based on effective risk assessment and economic realities. Indeed, current economic realities demand caution.
Current economic realities mean that banks face asset quality threats, further devaluation threat which may impact capital in some cases, and lower profits which in turn affects the quantum of capital retained. Ideally, these should reflect in NPL ratio and CAR ratio and should immediately restrict banks' ability to pay dividend. However, there is usually a time lag before these ratios begin to reflect the new economic realities. Therefore, IMF's advise may come in handy for many banks.
(READ MORE: Software security limitations cited as major reason for Covid-19 bank rush)
That said, halting dividend payments may not go down well for many retail and institutional investors, who rely on bank dividends for regular income. Banks like Zenith and Guaranty Trust have a good history of consistent dividend payment with attractive yields which is a major attraction for many shareholders.
---
CSL STOCKBROKERS LIMITED CSL Stockbrokers,
Member of the Nigerian Stock Exchange,
First City Plaza, 44 Marina,
PO Box 9117,
Lagos State,
NIGERIA.
Access Bank in advanced discussions with Zambian Bank regarding merger
The bank noted that there are no guarantees to whether the transaction pans out or not.
Access Bank Zambia Limited announced that it is now in advanced discussions with Cavmont Capital Holdings Zambia Plc. regarding possible merger of Cavmont Bank Limited. The announcement was disclosed by Nigerian Stock Exchange (NSE) in a corporate disclosure which was duly signed by the Company Secretary, Mr. Sunday Ekwochi. 
The disclosure by the bank read, "Access Bank Plc ("Access Bank") announces today that its wholly-owned subsidiary in Zambia, Access Bank Zambia Limited ("Access Bank Zambia") has entered into exclusive discussions with Cavmont Holdings Zambia Plc ("Cavmont Capital") regarding a potential transaction between Access bank Zambia and Cacmont Bank Limited ("Cavmont Bank"), a wholly-owned subsidiary of Cavmont Capital. The potential transaction relates to the sale of 100% of Cavmont Capital interest in Cavmont Bank to Access Bank Zambia." 
The bank has, however, noted that there are no guarantees as to whether the transaction pans out or not. "There can be no certainty that a transaction will be agreed, nor as to the terms of any such agreement. The completion of a transaction would be subject to formal regulatory approvals. Access Bank will update the market as appropriate and in accordance with its disclosure obligations." It also advised shareholders accordingly, to exercise caution when dealing in Access Bank's securities until a full announcement is made. 
Nairametrics had reported in October 2019 that Access Bank from the first quarter of 2020, would expand its footprint across Africa. After its merger with Diamond Bank, it acquired 100% of Kenya's Transnational Bank Plc and its 28 branches, as the Central Bank of Kenya (CBK). Three months later, it also notified the Nigerian Stock Exchange of its intention to establish a subsidiary in Cameroon. 
Access Bank Plc. recorded a profit after tax of N40.9 billion in the first quarter period ended March 31st, 2020. This was bolstered by an increase in Net interest income which stood at N72.2 billion, indicating a 27% increase compared to N56.8 billion that was recorded in Q1 2019. 
Its shares at market open today stood at N6.40, on the lower end of its 52-week range of N5.30 and N12.00. It's price to earnings ratio was 2.24 and price to book, 0.3566.  
CITN issues rejoinder to ICAN's claim over court case
The rebuttal claims that there are some 'critical misinterpretations' contained in ICAN's claims concerning the judgment.
The Chartered Institute of Taxation of Nigeria (CITN) has issued a rebuttal to the "critical misrepresentations" that are supposedly contained in a notice to members sent out by the Institute of Chartered Accountants of Nigeria (ICAN) over a court case, as reported by Nairametrics.
Recall that ICAN had informed its members that Justice S. A. Onigbanjo of the High Court of Lagos State ruled in their favour by striking out "Suit No. LD/3288GCM/19 – CITN VS ICAN" which was filed by CITN. In the suit, CITN had, among other things, prayed the court to restrain ICAN members from filing tax returns with the Federal Inland Revenue Service (FIRS) unless they have a CITN license.
CITN's position: Now, in its rebuttal to ICAN's claims concerning the court case, a copy of which was sent to Nairametrics, CITN clarified the following points:
The Ruling of the Hon. Justice S. A. Onigbanjo of the 2/7/2020 in LD/3288GCM/19 did not invalidate the MOU and TOS because it did NOT address the issues in the substantive suit, itself. However, since ICAN has resiled from the MoU and ToS it freely entered with CITN, the CITN will not stop ICAN from walking away.
The Judge only struck out the suit based on the Preliminary Objection of ICAN to the effect that the suit was an abuse of court process because the issues in it were the same as the issues in FHC/L/CS/125/2019 – ICAN VS FIRS & 1 OTHER which was earlier decided in favour of CITN.  However, the issues in the two suits are completely different and distinct as has now been explicitly admitted by ICAN in its Notice under reference when it said: "The earlier ruling at the Federal High Court in Suit No. FHC/L/CS/125/2019 did not make pronouncement on the memorandum and terms of settlement between ICAN and CITN."ICAN having admitted  that the judgment in FHC/L/CS/125/2019 did not make any pronouncement on the MOU and TOS (and this is a fact), how then could issues in that suit be the same as those in LD/3288GCM/2019 (decided by Justice Onigbanjo) which only asked for judicial pronouncement on the MOU and TOS?
Regulation 5 of the Tax Administration (Self-Assessment) Regulations, 2011, was categorically annulled by the Hon. Justice Liman in the judgment delivered in FHC/L/CS/125/2019 on 21/11/2019.  None of the lawyers to the parties (including ICAN) can deny hearing the annulment of Regulation 5 during delivery of the judgment. It is unfortunate that ICAN is jumping the gun in a case with a pending post-judgment application.
In the judgment delivered in FHC/L/CS/1480/2018 – CHIEF IGBAROOLA & OTHERS VS FIRS & OTHERS on 21/5/2019, the Hon. Justice A. O. Faji, declared: "CITN Act is thus superior to ICAN Act on the issue of tax practice.  The Self-Assessment Regulations being in conflict with the CITN Act is null and void.  The Plaintiffs cannot practice as tax agents without first being members of the 2nd Defendant."
In the Court of Appeal judgement of 2013 between ICAN v. CITN, it was held that the power to regulate and control the tax profession, to the exclusion of any other body, in Nigeria lies with CITN.
It is, therefore, now firmly settled from all the relevant judgements at the Lagos High Court, Federal High Court and the Court of Appeal, which have all upheld the primacy of the CITN Charter, that no member of ICAN can practice taxation without first being a member of CITN.
For the avoidance of doubt, no ICAN member, who is not registered with CITN, has been permitted by any law or court decision to practice taxation. The law has made it clear about the professional body that can regulate tax profession in Nigeria and CITN reserves the right to invoke the relevant provisions against any person that violates the provisions of its charter.
The backstory: The disagreement between ICAN and CITN dates back to 2015 following a misinterpretation of a Memorandum of Understanding (MoU) and Terms of Settlement (ToS) between the two organisations. Due to the disagreement, CITN took legal actions in a bid to basically make the MoU and ToS binding on ICAN members.
---
You may read CITN's full rejoinder by clicking here and follow up on ICAN's notice to its members here.
EU in deals with Roche, Merck for supply of potential COVID-19 vaccine
The agreements with the 2 drug firms follow requests by EU countries in May.
As the race for the development of a vaccine for the coronavirus disease heats up, the European Commission has made deals with two drugmakers, Roche (ROG.S) and Merck KGaA (MRCG.DE), to secure supplies of experimental treatments for COVID-19.
Reports from Reuters suggest that the deals cover Roche's arthritis medicine, RoActemra, and Merck's multiple sclerosis drug, Rebif, both seen as potential treatments for COVID-19, and will secure supplies to any of the 27 EU member states willing to buy them.
READ ALSO: UNICEF in negotiations to buy COVID-19 drug for 4.5 million patients in poor countries
Merck had also been asked by the European Commission to be prepared to supply Rebif to European Union (EU) states upon request, if and when the c2 drug for COVID-19 treatment is confirmed.
The agreements with the 2 drug firms follow requests by EU countries in May to purchase the 2 drugs and as governments compete to have access to potential treatment and vaccines against the coronavirus disease, even before the efficacy is proven.
Roche is presently at the late stage of a 330 patient trial of Actemra, also known as RoActemra in some markets, on COVID-19 patients, after the anti-inflammatory drug used against rheumatoid arthritis was deployed in China on patients that suffered from a severe immune system reaction.
This particular drug in combination with Gilead's GILD.O antiviral remdesivir, has also been tested on COVID-19 patients. The Gilead's antiviral remdesivir is the only drug authorized so far by the EU for use against COVID-19.
Rebif was developed by Serono, a Swiss biotech firm, before Merck acquired the company. Both Rebif and Actemra target proteins in the body associated with inflammation, and there is some hope that they may help severely ill COVID-19 patients suffering from cytokine storm, an immune system reaction that can lead to organ failure.
Roche and Merck have agreed that they could meet the demand of the EU countries, in letters to the commission. The EU countries will now have to agree with the drug companies on the volume of supplies that will be needed.
Explore economic research data from Nairametrics on Nairalytics
It can be recalled that just a few days ago, Nairametrics reported that the British government and 2 pharmaceutical giants, GlaxoSmithKline and Sanofi, were on the verge of agreeing on a $624 million deal for the supply of 600 million doses of coronavirus vaccine. The UK government is considering taking up an option to buy the vaccine once the human trials turn out successful.