Spacefinish is redesigning the future of training academies for banks 
In designing the Purple Academy, Spacefinish infused copious inspiration touchpoints.
Training academies are an important part of the corporate world. These academies provide access to a rich pool of talent and also equip professionals with the necessary resources to transition into various careers and build their professional networks.
In Nigeria, commercial banks have a considerably high number of training academies. In fact, out of the 22 registered commercial banks in the country, 17 have accredited academies. As the demands for better career experience increase, banks are beginning to focus on the learning experience of their people by investing in learning spaces that provide students and instructors with what they want and expect. A very good example of this is Wema Bank's Purple Academy designed by Spacefinish.
For a long time, banks' training institutes have typically functioned around rigidity. From their spatial architecture, learning modes, to furnishings, these spaces hardly allow for flexibility which is a core requirement for the learning space of the future. 
In designing the Purple Academy, Spacefinish set out to create a state-of-the-art corporate learning space that is future relevant and user-centred by focusing on the following shifts:
A Flexible Space That Supports Active Learning
Recent research has shown that learning spaces that are flexible enough to allow users learn how, where and when they want will deliver more impact to professionals. By introducing elements like dynamic modular furniture into the design of the Purple Academy, Spacefinish ensures that users can enjoy endless configuration that accommodate peer-to-peer collaboration or focus work as their various learning situations demands.
Multi-functionality and Blended Learning
Corporate institutions need to reimagine their learning space to allow for blended learning which allows for physical and online learning experiences to take place at the same time. This will produce improved outcomes in the experience of students. The Purple Academy boasts of audio visual features like screens on the wall and ceiling mounted microphones to optimize the experience for remote learners. Also, the lecture theatre spots a collapsible wall that not only inspires users but also enhances the multi-functionality of the space. 
Engendering Innovation Through Inspiration
Students and instructors want to be a part of something creative and inspiring. However, traditional learning space comes with a lot of inhibition in this regard by being bland and uninspiring. In designing the Purple Academy, Spacefinish infused copious inspiration touchpoints. The library in the Purple Academy reflects the influence of technology on libraries. To portray this, Spacefinish installed tablet-like bookshelves to show how educational materials can now be accessed through digital devices. 
Wema Bank's Purple Academy has shown that at a time like this, it has become paramount for corporate institutions like banks to reimagine their learning spaces. Through the intentional design of learning spaces that are flexible enough to promote collaboration and innovation easily, corporate institutions can be assured that professionals can become the best version of themselves.
JustLiquidity; The best place for easy and decentralized Crypto
JustLiquidity aims to be the leading top decentralized exchange on the Binance SmartChain, with revolutionary developments and product's
Introduction of Julwallet feature (NFTs minting and NFTs shop)
NFTs and NFT artists have been trending a lot in the African art space
NFTs or NonFungibleTokens as it stands, are redefining the very outlook of various forms of creative work like art, video, music, characters in a game etc. NFTs by their very definition represents unique data on the digital ledger or blockchain. Unlike Fungible tokens on the blockchain, these tokens are not interchangeable as they represent something unique in themselves.
Justliquidity has introduced a few products to the general public that makes creating, storing, selling and sending NFTs all on the Binance SmartChain as BEP1155 token, the Julwallet is one of its revolutionary products that has all these features in it and more in development currently.
Our Telegram group and Twitter handles are:
CHI Limited celebrates its maiden Hollandia Dairy Day
The Hollandia Dairy Day Conference is a public interest initiative created to highlight the importance of dairy in everyday nutrition and healthy living in Nigeria.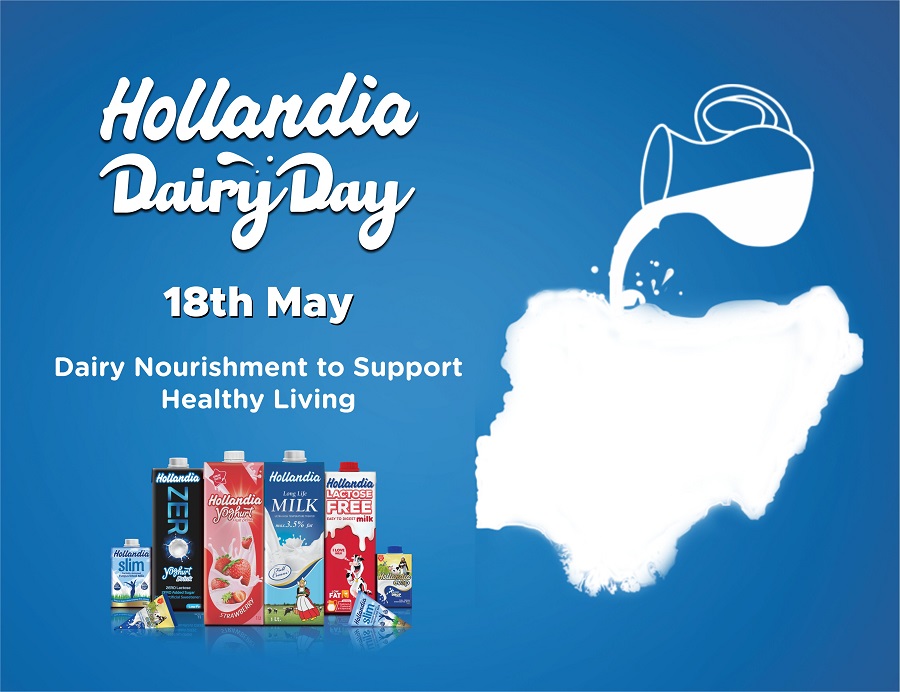 Nigeria's leading dairy brand, Hollandia, is set to hold the maiden edition of its Hollandia Dairy Day. The event which will be celebrated on the 18th of May 2021 will provide a veritable platform to drive national discourse on the unrivaled health and nutrition benefits of dairy consumption to people of all ages.
Set to be hosted as a conference, the theme of this year's event is "Dairy Nourishment to Support Healthy Living", and it focuses on the vital role dairy consumption plays in our everyday nourishment, its benefit to our overall health, and why dairy products should be included in our diets every day.
This conference, which is designed as a hybrid of physical and virtual event, will feature presentations, interviews and panel discussions from health experts and nutritionists as they provide insights and share perspectives to guide informed decisions about dairy consumption as part of a daily balanced diet. The event is opened to the public through the brand's multiple social media platforms.
According to a report by the Food and Agriculture Organization of the United Nations, 2019, Nigeria has low dairy consumption levels per head – 15 to 20 liters' per capita consumption. This is partly attributable to low purchasing power of the average Nigerian household, who rank milk and dairy products as non-essential luxuries and prioritize other staple foods such as rice, beans, and yam.
By provoking the conversations and stimulating public action/intervention, Hollandia aims to drive consciousness for dairy consumption and its importance to achieving optimum health, and to get many more Nigerians drinking, using, and consuming dairy products.
The past year has presented unprecedented shocks and disruptions, including a global COVID-19 pandemic. As communities throughout the world look for ways to minimize the risk of COVID-19, maintaining and boosting good health is top of mind for many. Dairy foods such as milk and yogurt contain essential nutrients, including Vitamins A and D, Zinc and Protein, which support immune function.
The Hollandia Dairy Day Conference is a public interest initiative created to highlight the importance of dairy in everyday nutrition and healthy living in Nigeria.
Nairametrics | Company Earnings
Access our Live Feed portal for the latest company earnings as they drop.