FIFA declares net loss of $683 million for 2020
The world soccer's governing body suffered a net loss of in 2020 as a result of Covid-19.
The Fédération Internationale de Football Association (FIFA), the world's governing soccer body, has posted its financial report as it suffered a net loss of $683 million in 2020 as a result of the COVID-19 pandemic which brought about lockdown measures across the globe.
According to Fifa, their revenue for the year totalled $266.5m, a significant decrease of $499.1 (65%) compared to the revenue of 2019 which was $765.6m.
FIFA recorded a total expense of up to $1.04 billion. It recorded football-related expenses of $564.2m and administration expenses of $209.8m, while the rest was FIFA's Covid-19 relief plan which is a new addition to their expenses column due to the pandemic.
READ: CAF President banned for 5 years for breaching FIFA Code of Ethics
READ: Cristiano Ronaldo: The billionaire businessman you probably don't know about
The Covid-19 relief plan included solidarity grants ($186m), confederation grants ($12m) and women's soccer grants ($72.5m) which makes up $270.5m in total.
The solidarity grants relate to a universal solidarity grant of $1m that has been made available to each of the 211 member associations at a total of $211m. As at 31 December 2020, a total of $186m in grants had been expensed, of which $89.8 was paid out.
The confederation grants concern a basic solidarity fund of $2m to each of the six confederations which are Asian Football Confederation (AFC), Confederation of African Football (CAF), Confederation of North, Central America and Caribbean Association Football (CONCACAF), Confederación Sudamericana de Fútbol (CONMEBOL), Oceania Football Confederation (OFC), Union of European Football Associations (UEFA) to make up a total of $12m, all of which was paid out.
READ: Understanding FIFA's business model
In order to protect women's football and to ensure its healthy resumption, dedicated funds were also made available under COVID-19 Relief Plan – women's football grants, with $0.5m being paid to each member association. The total amount available is $105.5m, with a release of $72.5m reported for 2020.
Fifa recorded a net loss of $683m for 2020, a $497.7m increase compared to last year's loss of $185.3m.
The largest source of revenue for Fifa is for the first time the licensing right which brought in $158.8m, due to a downturn in revenue from soccer.
Chairman of the Fifa Finance Committee, Alejandro Domínguez said: "At year-end, Fifa's financial position remained healthy and robust with sufficient reserves, maintaining Fifa's ability to react quickly to unexpected circumstances alongside its regular commitments.
READ: Top 5 businesses that may be affected by Super Eagles' loss
"By way of example, Fifa was able to set up the Fifa Covid-19 Relief Plan without dropping its commitment to invest $1bn in women's football over the current four-year cycle. As far as planned investment was concerned, Fifa's total investments in 2020 amounted to $774m.
"Fifa's revenue in 2020 was in line with its revised budget. At the end of the year, contracted revenue amounted to $5.125bn, representing 80 per cent of the total budgeted revenue for the 2019-2022 cycle. Fifa is well on track to achieve its revenue target."
On the health of its balance sheet, Fifa said that "total assets amounted to $4.535bn, of which 77 per cent or $3.494bn was in the form of cash and cash equivalents and financial assets".
READ: Chiliz, football-based crypto on a hat trick, surges by 380% in a week
Fifa actively increased its liquidity, which can also be seen in the proportion of cash and cash equivalents to total assets, which increased from 17 per cent in 2019 to 25 per cent in 2020. This high level of liquidity enabled Fifa to respond with great flexibility to the impact of the Covid-19 pandemic on the global football community.
Current assets and current liabilities stood at $3.312bn and $913m respectively. This ratio shows that Fifa is in good financial health and can adequately meet its short-term obligations.
Here is the exciting 2021 list of the richest football clubs on earth
Here's Forbes 2021 list of the most valuable clubs in the world.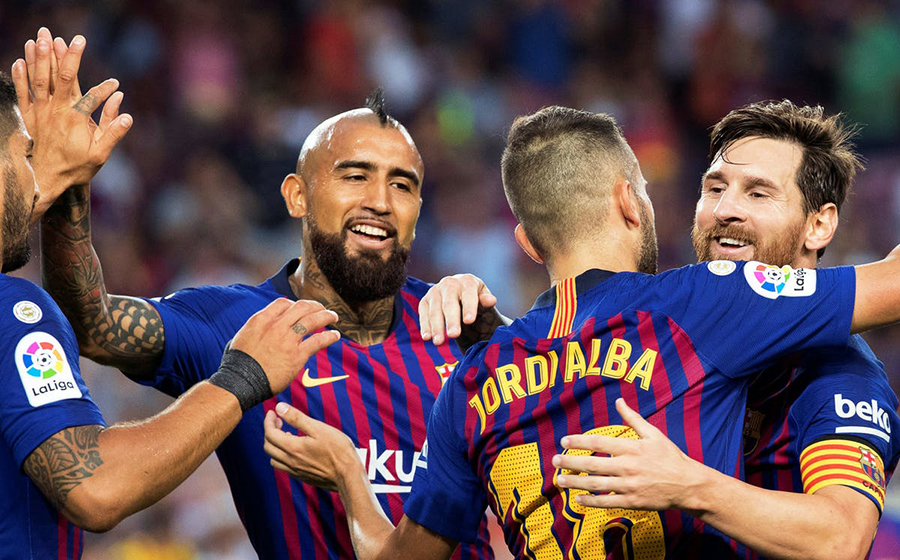 Billionaires are fond of investing in sports franchises. This is because there is a lot of money in it and the income stream is pretty consistent. Authoritative wealth watch magazine, Forbes yesterday released its official list of the most valuable clubs in the world.
It also gave a summary of the business side of the football world which we found quite interesting.
Nairametrics did a thorough review of the list and highlighted the parts which we believe will resonate well with our readers. Let's get to it!
READ: Cristiano Ronaldo becomes first footballer to earn Crypto
Top 10 richest clubs in 2021 by value 
---
Tottenham (2.3bn) 
Tottenham hotspur comes in at the 10th position with a valuation of $2.3bn. The English club is owned by Joseph Lewis and Daniel Levy. They generated $494m last year.
---
PSG (2.5bn) 
Paris St Germaine comes in at 9th position with a valuation of $2.5bn. The French league 1 giants generated more money than arsenal last year. They generated $599m. PSG is owned by an investment group, Qatar Sports Investments.
READ: Football fans cashing out with Crypto as Juventus' fan token rises by 596.98%
---
Arsenal (2.8bn) 
Arsenal football club, another London side club comes in at 8th position with a valuation of $2.8bn. The club is solely owned by Stan Kroenke, an American Businessman who invests in sports and media. Arsenal generated $430m in 2020 making it the 8th most valuable club.
---
Chelsea (3.2bn) 
Chelsea football club comes in 7th on the list with a valuation of $3.2bn. The London side club has retained its longstanding owner Roman Abramovich, a Russian Oligarch. Chelsea generated $520m last year.
READ: Ex-Real Madrid Striker, David Barral becomes first-ever footballer to be bought with Bitcoin
---
Manchester City (4bn) 
Manchester City, an English club with a long history of billionaire owners comes in at 6th position. The very successful English club generated total revenue of $609m last year. The club is valued at $4bn and is owned by Sheikh Mansour bin Zayed Al Nahyan.
---
Liverpool (4.1bn) 
Liverpool comes in 5th at a $4.1bn valuation. The English club is the second wealthiest in England with a generated revenue of $619m. The club is owned by a joint partnership between Billionaire, John Henry and Tom Werner.
READ: Ighalo to earn N1.4 billion in six months at Manchester United 
---
Manchester United (4.2bn) 
Manchester United is the wealthiest English club on the list. The club is valued at $4.2bn, taking up the 4th position on the list. The club has been owned by a Jewish business family, the Glaziers for years. They are the largest shareholders and practically own the club. They generated $643m last year.
---
Bayern Munchen (4.215bn)
Bayern Munchen comes in at the third position with a value of $4.215bn. The German giants have bossed the German league for years. They generated $703m last year, coming in at the 3rd position.
---
Real Madrid (4.75bn)
Real Madrid Fc comes in at the second position. The football club which had previously dominated this list was edged out by bitter rivals, Barcelona. Real Madrid is valued at $4.75bn and the club is also owned by the club members. Real Madrid generated $729m, the same amount of revenue as Barcelona last year.
---
FC Barcelona (4.76bn) 
Fc Barcelona is the most valuable football club in 2021 with a market value of $4.7bn. The club sits gallantly in the first position.
The Spanish giants generated a massive $792m in revenue last year and succeeded in holding on to their key player Lionel Messi. They also edged out Real Madrid and Man Utd who have dominated this list for 16 years. FC Barcelona is owned by the club supporters. It has no major shareholder or billionaire financier. The club has over 160,000 members forming its governing body.
---
What you should know 
6 of the 10 richest clubs in the world are owned by billionaires; the rest are owned by club members and an investment group.
In the last 16 years, the world's richest football clubs list has been topped by only two clubs – Real Madrid and Manchester United.
Football clubs generate revenues through advertisements, sponsorship deals, jersey deals and ticket sales. These are the 4 major revenue streams of a football club.
The top 3 teams on the list – Fc Barcelona, Real Madrid and Bayern Munchen generated a combined revenue of $2.3bn in 2020.
How we source funds to develop handball in Nigeria – Handball Federation
The Handball Federation of Nigeria discusses sponsorships, strides and progress made.
Handball is one of the lesser-known sports in Nigeria, but that doesn't mean it's not making strides. Cosmos Chukwuemeka, the media assistant to the President of the Handball Federation of Nigeria, Samuel Ocheho, spoke to Ademola Kadiri in a revealing interview about several issues.
The excerpts are below:
Could you please introduce yourself?
My name is Cosmos Chukwuemeka and I am the media assistant to the president of the Nigerian Handball Federation. I am also a broadcast journalist with LASU Radio where I head the Sports Unit.
We normally don't hear a lot about the Handball Federation. What could be responsible for this?
Basically, that has to do with the sporting culture of the country. Football is the king of all sports. Everybody loves football. That has to do with the systemic disparity that keeps football ahead of other sports.
The disparity is like the sun and moon; that's how far they are from each other. It also has to do with structure, talents and inadequacy of facilities; funding is also a big elephant in the room. Football gets 80% of the chunk while the other federations share the remaining 20%.
It's not only about publicity. Funding also fuels publicity. All of these are the big issues. Policy defects have affected sports, in general. It is not because other sports are not trying, it is because of the defective policy and the challenges that come with it. It is basically systemic.
How does the Federation source for funds?
When the present president came on board, the sport was almost in comatose. They were not attending competitions and grassroots competitions were not being organized. In the 80s, Nigeria used to be the king of handball, but in the 90s, everything fell like a pack of cards because of a whole lot of issues, mainly maladministration.
But then, Samuel Ocheho came in. He's someone that played the sport, and as a corporate person, he understood how to drive the sport. The first thing he did was to secure the sponsorship for the league, and that was how Prudent Energy came on board. Prudent Energy and Services Limited is an energy company that sponsors the league for about 4 years now. The first phase of the league will come up in May while the second phase comes up in October.
He also ensured that there is level playing ground for individuals that want to put in their money to develop handball. Since 2018, since he became president, there have been many national and international competitions. Apart from the fact that he puts in his own money, which shows his passion, he and the Board have been able to bring a lot of attraction to the sport, so much that handball can now compete with basketball for relevance.
Do the sponsors get value for money to expand the scope of their sponsorship?
Prudent Energy has expanded the scope of its sponsorship twice in 4 years. They are getting the dividends of their investment in the league. When they started in 2018, they got bigger and bigger. Like most energy companies, people might not know about them. They came in and a lot of people started knowing about them and started understanding what they really do.
They came into the league, and it was a big gain for handball to be able to get Prudent Energy, and the dividends for them has been massive. They have leveraged it and everyone now knows that the National Premier Handball League is sponsored by them.
At the point of the lockdown last season caused by Covid-19, they gave out palliatives to all the teams in the league, the players, and even the referees. If they were not getting Return on Investment, they wouldn't do that at all.
What will you recommend for improving the perception of handball in Nigeria?
It's a world of technology, and we are trying our best in that regard. We are on YouTube, Facebook, Instagram, and Twitter. We churn out content every other time, giving updates about the league, and other competitions we participate in. We stream matches live, so we are trying our best to improve the perception and publicity. We also have some media partners that have been with us from day 1.
They help in propagating the good work that the Handball Federation of Nigeria is doing for the growth and development of the sport in the country. Interviews like this also help, but ultimately, what we seek is for handball to go back to the grassroots, which is the fastest possible way to grow the sport.
Nairametrics | Company Earnings
Access our Live Feed portal for the latest company earnings as they drop.