Raedial Farms Limited: Mining the new oil well of 21st century Agriculture
Raedial Farms Limited strikes gold in the relatively untapped oil wealth of palm oil farming, backed by over N5B in investor funding.
Raedial Farms Limited, Raedial Foods Limited, Conceptive services Limited, Magnificent Multiservice Limited, and Raedial Energy Services Limited, is through Raedial Farms, spearheading major advancements in the overly untapped Palm oil sector in the agricultural industry in Nigeria.
It is a well-known fact that palm oil is used in the production of more than half of the products sold in supermarkets globally. But of strategic importance is Raedial Farms Limited's role in supporting the growth of the deeply fragmented palm oil industry in Nigeria, which is dominated mostly by small scale farm holders. This dominance by small scale farm holders in the palm oil market has resulted in low output compared to the country's production potential.
From being the largest producer of palm oil in the 1960s, Nigeria is now today the 5th largest producer, and according to the Central Bank of Nigeria (CBN), if Nigeria had maintained it's market dominance in the palm oil industry, the country would have been earning approximately $20 Billion from the cultivation and processing of palm oil yearly. But Raedial Farms Limited is poised to change the narrative.
With over a decade of experience that cuts across different sectors of agriculture including livestock farming, fisheries, snail farming, crop cultivation, food processing with a major focus on sustainable palm plantation management. Raedial Farms Limited was quick to recognize the gap that needed to be filled and has successfully done so over the years with billions in investor funding to prove it.
Its current acquisition of N5billion in capital market funding facilitated by the expert advice of the skillful team at Boston Advisory Limited; an Investment Banking firm with a wealth of experience and a deep understanding of the Nigerian Debt Capital Market, is driving Raedial Farm's expansion plans: as it looks to acquire new farms and increase its current share of over 1500 hectares dedicated to the seedling, planting and processing of Fresh Fruit Bunches of palm to produce sustainable Crude Palm Oil (CPO) and Palm Kernel Oil (PKO).
Raedial Farms Limited is fast growing into an agricultural giant, promising and delivering high returns to its investors and stakeholders, in an industry where the current demand for palm oil exceeds supply with a heavy reliance on importation. These feats made achievable by the strategic employment of efficient crop management practices and collaborating with an efficient and dedicated workforce.
For Raedial Farms Limited, the 2021 business year is chock-full of numerous activities that will have its investors smiling to the bank; among which include plans of completing the installation of the CPO (Crude Palm Oil) and PKO (Palm Kernel Oil) mill which is positioned to process at least 120-150 MT (Metric Tonnes) per day of FFB (Fresh Fruit Bunches).
Backed by the latest state-of-the-art technology, Raedial Farms Limited promises to deliver 100% profitability without any form of waste, achievable by investment in technologically advanced machinery that not only produces CPO and PKO as primary products but goes ahead to make Palm Kernel Cake PKC out of the expelled waste products of the processed palm. Palm Kernel Cake is a nutrient-dense formulation that is used to produce most animal feed, therefore delivering on the farm's promise of zero waste and 100% profitability.
Other activities that investors can expect to look out for include:
Even more plans for expansion and increased production, as 1200 hectares of land is currently being planted with hybrid seedlings with a gestation period of 24 months.
Concluding plans to acquire two existing palm plantations; 5,000 hectares and 10,000 hectares respectively, located in southern Nigeria.
Ongoing building project for a 20,000 laying capacity poultry in Port Harcourt.
More investment in new innovations and technology as plans are underway to complete and install the CPO and PKO mill.
Championing outstanding growth in the agricultural sector.
"The Oil Palm industry is severely undermined and untapped; with billions in revenue that can be generated yearly, we need to put Nigeria back on track to being the largest producers and exporters of Oil Palm in Africa and the world. Raedial Farms limited has plans to finish the year 2021 as a 20,000 hectares operating company. There's no stopping us". – MD Raedial Farms
As Raedial Farms keeps making a marked difference providing innovative result-driven solutions and services to agriculture, commercial enterprise, and the food processing sector, we encourage you to follow us on our social media handles to keep up to date with our activities.
Facebook: @raedialfarmslimited
Instagram: @ raedialfarmslimited
Website: http://www.raedialfarms.com/
Tell: +234 906 2834 201; +234 906 2834 202
Spacefinish is redesigning the future of training academies for banks 
In designing the Purple Academy, Spacefinish infused copious inspiration touchpoints.
Training academies are an important part of the corporate world. These academies provide access to a rich pool of talent and also equip professionals with the necessary resources to transition into various careers and build their professional networks.
In Nigeria, commercial banks have a considerably high number of training academies. In fact, out of the 22 registered commercial banks in the country, 17 have accredited academies. As the demands for better career experience increase, banks are beginning to focus on the learning experience of their people by investing in learning spaces that provide students and instructors with what they want and expect. A very good example of this is Wema Bank's Purple Academy designed by Spacefinish.
For a long time, banks' training institutes have typically functioned around rigidity. From their spatial architecture, learning modes, to furnishings, these spaces hardly allow for flexibility which is a core requirement for the learning space of the future. 
In designing the Purple Academy, Spacefinish set out to create a state-of-the-art corporate learning space that is future relevant and user-centred by focusing on the following shifts:
A Flexible Space That Supports Active Learning
Recent research has shown that learning spaces that are flexible enough to allow users learn how, where and when they want will deliver more impact to professionals. By introducing elements like dynamic modular furniture into the design of the Purple Academy, Spacefinish ensures that users can enjoy endless configuration that accommodate peer-to-peer collaboration or focus work as their various learning situations demands.
Multi-functionality and Blended Learning
Corporate institutions need to reimagine their learning space to allow for blended learning which allows for physical and online learning experiences to take place at the same time. This will produce improved outcomes in the experience of students. The Purple Academy boasts of audio visual features like screens on the wall and ceiling mounted microphones to optimize the experience for remote learners. Also, the lecture theatre spots a collapsible wall that not only inspires users but also enhances the multi-functionality of the space. 
Engendering Innovation Through Inspiration
Students and instructors want to be a part of something creative and inspiring. However, traditional learning space comes with a lot of inhibition in this regard by being bland and uninspiring. In designing the Purple Academy, Spacefinish infused copious inspiration touchpoints. The library in the Purple Academy reflects the influence of technology on libraries. To portray this, Spacefinish installed tablet-like bookshelves to show how educational materials can now be accessed through digital devices. 
Wema Bank's Purple Academy has shown that at a time like this, it has become paramount for corporate institutions like banks to reimagine their learning spaces. Through the intentional design of learning spaces that are flexible enough to promote collaboration and innovation easily, corporate institutions can be assured that professionals can become the best version of themselves.
Upcoming Flare Network launch and lawsuit win may propel XRP to ATH – PrimeXBT Lead Analyst, Kim Chua
The Flare Network is expected to go live in 2Q2021, which could be anytime between now and June.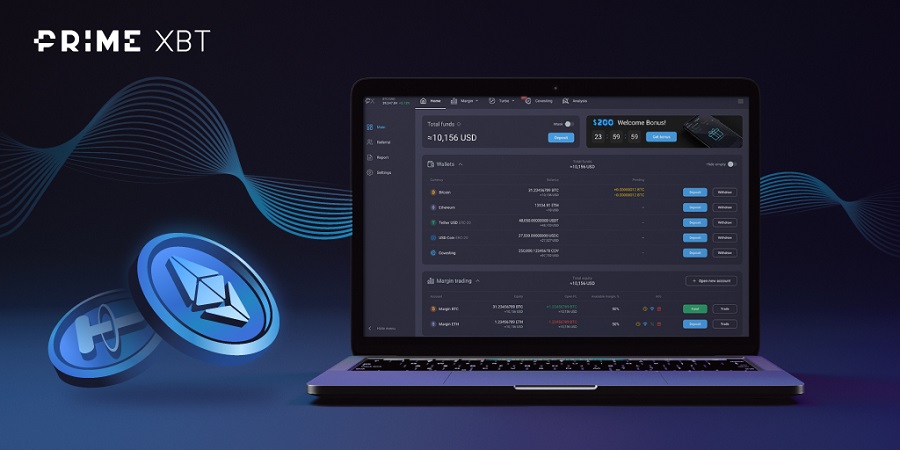 The price of XRP has tripled in value over 2 weeks and subsequently pulled back sharply. Can we expect more upside for XRP, or is the XRP run up over? 
With more positive news and developments in store over the next few months, this run may not be over yet. Other than the edge Ripple has over the SEC in the lawsuit, another reason may send the price of XRP soaring.  
This is related to the Flare Network. Recall that in December last year, before news of the SEC lawsuit broke, investors were getting excited over the Spark (FLR) token airdrop that will be the native token on the Flare Network. That airdrop incited a huge surge in the price of XRP before the SEC lawsuit news sent its price reeling. 
The Flare Network is expected to go live in 2Q2021, which could be anytime between now and June. The launch of Flare Network, with the airdropped FLR tokens to be finally distributed to qualified holders of XRP (those who owned XRP during the snapshot in December), couldn't have come at a better time to hype up XRP again. 
Not only will FLR tokens be distributed into the accounts of XRP holders, another airdrop will occur around one month after the launch of Flare Network. 
Flare Finance, which is built on the Flare blockchain and designed to power swaps, stable currency, yield farming, asset-backed loans, insurance, and yield mining, plans to offer those same participants another airdrop. The company says it will airdrop DAOFlare token (DFLR) to users who receive Spark. DFLR holders can then swap those tokens for YieldFlare, Flare Finance's official token. This means additional free money and tools for the same XRP community who have benefitted from the Spark airdrop – certainly reason for die-hard XRP community to be very excited and pleased about and re-hype XRP all over again.
Flare Network's launch provides another utility for the XRP token since XRP holders are able to buy FLR using XRP, or use their airdropped FLR tokens to mint FXRP that is interoperable with the ETH blockchain. This gives holders of XRP opportunity to participate in ETH-based DeFi and NFT projects to do yield-farming, trade on DEX, and join the NFT mania, which it otherwise was not able to do. This is very exciting news indeed for one more use case for the XRP token.  
Other than the Flare Network launch, another important news that may impact the price of XRP greatly is definitely the result of the SEC lawsuit. Ripple has filed a motion to dismiss the SEC lawsuit, and the SEC will have up to 14 May to contest it. Should the SEC not contest, or should the judge rule in Ripple's favour, the lawsuit will be dropped. Dropping of the lawsuit will definitely cause the price of XRP to spike again.
Furthermore, with it becoming clear that people outside Ripple that sell XRP cannot be charged for selling illegal securities, exchanges are beginning to relist the XRP token. A swiss exchange has since announced that is has relisted XRP. Should more prominent exchanges begin to relist XRP again, it could bring the price of XRP up further. Chatters are already in overdrive after a Twitter user speculated that Coinbase was planning to relist XRP. Coinbase however, has not confirmed nor denied the rumour. Should a Coinbase relisting happen, the price of XRP is expected to spike again, regardless of the outcome of the lawsuit. 
On the technical charts, after extending a solid run from $0.635 to a high of $1.99, XRP has retraced its first up thrust to its 61.8% Fibonacci retracement level at $1.14 and bounced. Its RSI is no longer in the overbought territory. After letting out much froth, XRP can now resume its uptrend in a more steady and sustainable manner towards its ATH of $3.30. The area around $1.00 provides a very solid support that is not likely to be broken. A break above $1.50 could mean that the retracement is over and price will resume on its uptrend again. 
The only risk now, other than a bad surprise in the SEC lawsuit result, is Jed McCaleb, the co-founder and former CTO of Ripple Labs. As one of Ripple's main contributors, Jed acquired more than 9 billion XRP as part of the compensation plan for his role, and has been regularly selling his stash. However, he is left with only around 2 billion XRP and he is allowed to sell a percentage of XRP's daily traded volume tabulated in the 2 weeks prior. With the higher trading volume in the last 2 weeks, Jed will be allowed to sell around 40 million XRP per day beginning 18 April. Whether or not he sells is unknown, but it is something traders need to take note of as a potential pressure on price should buyers not be able to absorb his selling. However, Jed's selling has been well-absorbed all this while without any impact to price and his stash will finish by May if he were to keep selling. This will then remove a huge supply overhang and be good for the price of XRP moving forward. 
As we move closer to the month of May, both the fundamental and technical picture bodes well for XRP. Perhaps the month of May could be the period when XRP tests its ATH of $3.30. If the momentum remains strong, it is possible XRP may even test $3.30 before May arrives.
About Kim Chua, PrimeXBT Market Analyst:
Kim Chua is an institutional trading specialist with a track record of success that extends across leading banks including Deutsche Bank, China Merchants Bank, and more. Chua later launched a hedge fund that consistently achieved triple-digit returns for seven years. Chua is also an educator at heart who developed her own proprietary trading curriculum to pass her knowledge down to a new generation of analysts. Kim Chua actively follows both traditional and currency markets closely and is eager to find future investment and trading opportunities as the two vastly different asset classes begin to converge.
Nairametrics | Company Earnings
Access our Live Feed portal for the latest company earnings as they drop.