Productivity-enhancing reforms are required for quick economic recovery – World Bank
Productivity-enhancing structural reforms key to quick economic recovery.
The World Bank has revealed that a slow recovery of the global economy is not an inevitability and can be avoided through productivity-enhancing structural reforms.
This is contained in the Bank's flagship report – Global Economic Prospects.
The Bank believes structural reforms are capable of offsetting the pandemic's scarring effects and lay the foundations for higher long-run growth. It agrees that the global economy appears to be emerging from one of its deepest recessions and beginning a subdued recovery, beyond the short term economic outlook, following the devastating health and economic crisis caused by COVID-19.
According to the report, policymakers face formidable challenges — in public health, debt management, budget policies, central banking, and structural reforms, as they try to ensure that this still-fragile global recovery gains traction and sets a foundation for robust growth and development.
Highlights
Growth in Nigeria is expected to resume at 1.1% in 2021 – markedly weaker than previous projections – and edge up to 1.8% in 2022, as the economy faces severe challenges.
Investment is projected to shrink again this year in more than a quarter of economies – primarily in Sub-Saharan Africa (SSA), where investment gaps were already large prior to the pandemic.
Growth in Sub-Saharan Africa is expected to rebound only moderately to 2.7% in 2021 – 0.4% point weaker than previously projected, before firming to 3.3% in 2022.
Relative to advanced economies, disruptions to schooling have, on average, been more prolonged in emerging market and developing economies (EMDEs), including in low-income countries.
What the World Bank is saying
"In the longer run, a concerted push toward productivity-enhancing structural reforms will be required to offset the pandemic's scarring effects.
"The intended productivity-enhancing structural reforms encompass promoting education, effective public investment, sectoral reallocation, and improved governance. Investment in green infrastructure projects can provide further support to sustainable long-run growth while also contributing to climate change mitigation."
Are we ready to adjust structurally?
The World Bank has identified key areas that could trigger quick economic recovery. A close look at events in the country appears to suggest that we may be far from ready in terms of adjusting structurally.
A cursory look at the structural adjustment areas suggested by the Bank indicates that in Nigeria, for example, and maybe elsewhere, the single most important factor is improved governance.
All other factors appear to be contingent on this, as the Bank admits that improved governance and reduced corruption can lay the foundations for higher long-run growth. Policymakers and politicians in the country are therefore advised to pay close attention to activities geared towards reduced corruption and improved governance.
Another key area is public investment. Even though most public enterprises and related establishments are usually plagued with corporate governance problems, there are several ways by which the problems could be curtailed.
The issue of education, especially tertiary education, has been problematic with governments failing to meet the demands of university unions, resulting in strikes, almost on a yearly basis. It is hoped that a lasting solution to this springs forth soon.
CBN extends Covid-19 forbearance for intervention loans by another 12 months
CBN will continue to charge an interest rate of 5% for its intervention loans for another 1 year.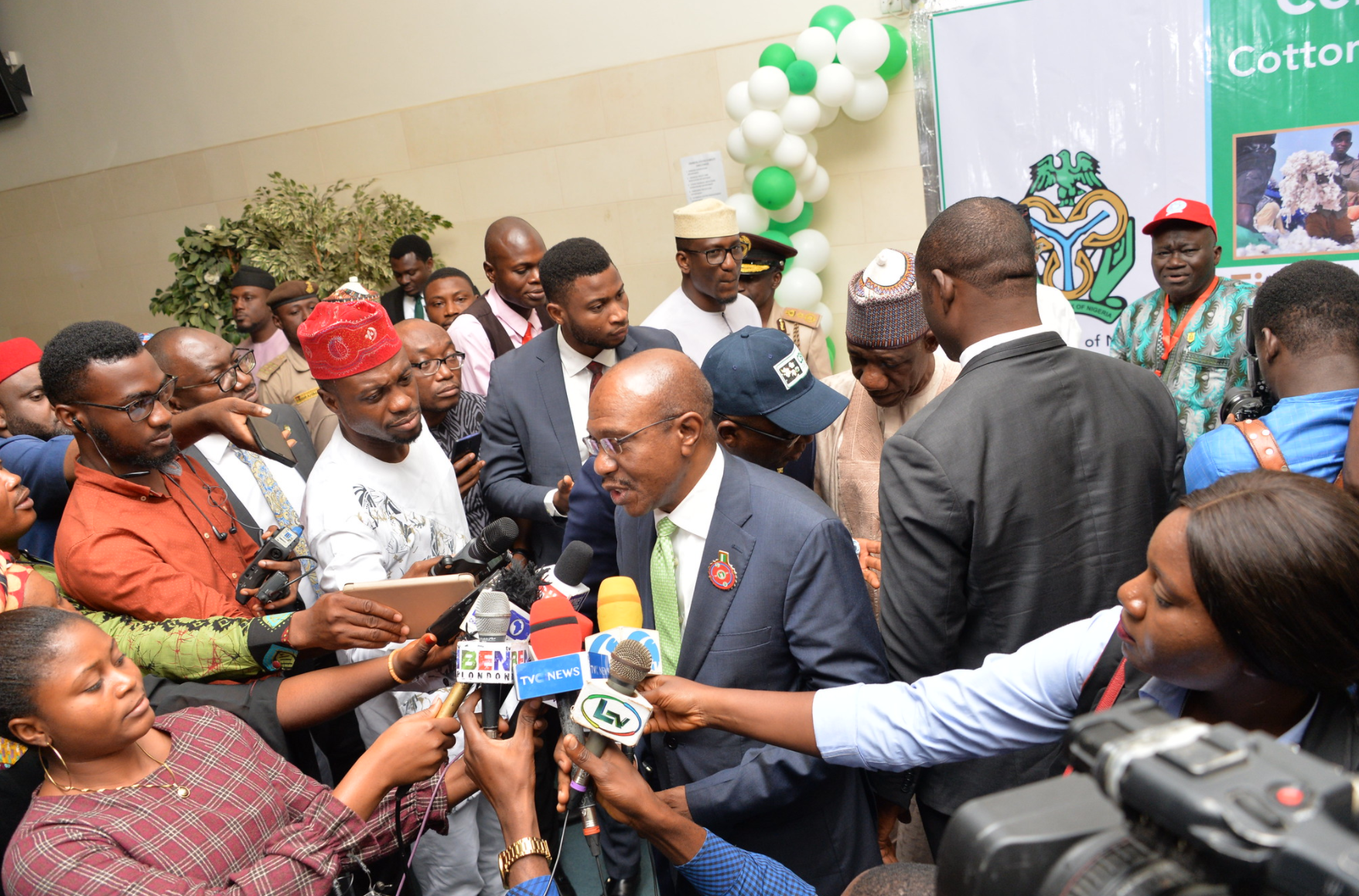 The Central Bank of Nigeria has announced an extension of its regulatory forbearance for the restructuring of its intervention facilities by another 12 months.
In a circular signed by Dr. Kevin Amugo, the Director of Financial Policy and Regulatory. the apex bank said it will continue to charge its borrowers an interest rate of 5% per annum as against the 9% originally offered. The CBN had on March 20th reduced the interest rates on its intervention loans from 9% to 5% as part of its response to the economic crunch brought on by Covid-19 induced lockdowns.
The CBN also offered to rollover moratorium granted on all principal payments on a case by case basis. All credit facilities had been granted a one-year moratorium starting from march 1, 2020 when the pandemic first gripped Nigeria.
READ: Analysing the Central Bank of Nigeria's Dollar Remittance Policy
See excerpt from Circular
"The Central Bank of Nigeria reduced the interest rates on the CBN intervention facilities from 9% to 5% per annum for one-year effective March 1, 2020, as part of measures to mitigate the negative impact of COVID-19 Pandemic on the Nigerian economy."
Credit facilities, availed through participating banks and OFIs, were also granted a one-year moratorium on all principal payments with effect from March 1, 2020.
Following the expiration of the above timelines, the CBN hereby approves as follows:
1) The extension by another twelve (12) months to February 28, 2022 of the discounted interest rate for the CBN intervention facilities;
2) The roll-over of the moratorium on the above facilities shall be considered on a case by case basis.
READ: Nigeria attracts more FDI than FPI for the first time in 4 years
What this means
Companies who secured intervention funds from the CBN or through any of its on-lending banks will continue to service the loans at an interest rate of 5% per annum instead of 9%.
They can also get another year of not needing to pay back the principal sum collection. However, they will need to apply.
Whilst this move helps the small businesses continue to manage their cash flow, it means the CBN will record a reduction in its income extended under such facility.
Regulatory forbearance is a widely adopted concept during an economic crunch and it is meant to help stimulate businesses. These pronouncements if implemented will only affect those who borrow from the CBN or BOI but those who do not will miss out.
Download the circular here.
READ: CBN discloses conditions for assessing N100 billion credit facility, addresses 'process problems'
Senate endorses ex-Service Chiefs as Non-career Ambassadors
The Senate has confirmed President Buhari's nomination of the immediate past service chiefs as non-career ambassadors.
The Nigerian Senate has endorsed the nomination of the past serving Military Service Chiefs as Non-career Ambassadors.
This was confirmed during Tuesday's plenary session and announced in a social media statement by the Nigerian Senate.
Their confirmation follows the consideration of the report of the Senate Committee on Foreign Affairs, Chaired by Senator Adamu Bulkachuwa.
According to reports, the Senate Minority Leader Enyinaya Abaribe, however, questioned the nomination and confirmation of the ex-service chiefs when the Senate had on 3 different occasions called for their sack.
Senator Abaribe also raised issues on the petitions against the former service chiefs and questioned why they were dismissed without explanations.
But Senate President Ahmad Lawan dismissed Senator Abaribe's concerns, ruling that the nomination of the former service chiefs cannot be nullified simply because the upper chamber had called for their sack, noting that this is totally a different assignment.
In his concluding statement, the Senate President, Senator Lawan added that these nominees that have just been confirmed have served this country to the best of their abilities. He appealed to the executive to make sure they use their experience as military men to the best.
"These nominees that we have just confirmed are nominees that have served this country to the best of their ability. Our appeal to the Executive is to make sure they use their experiences as military men to the best," Lawan said.
Lawan, on behalf of the senate, wished them a very successful career in their capacity as Non-Career Ambassadors.
What you should know 
Recall Nairametrics reported earlier this month that President Muhammadu Buhari nominated ex-Service Chiefs for Senate approval as non-career Ambassadors-Designate.
Their appointment came barely a week after their retirement as service chiefs and their replacement with new ones.
This led to a spate of criticisms from some Nigerians who felt that the nation's security situation got worse under their watch.
They were reported to have tendered their resignation from their positions amid heightened calls that they should be sacked due to the increasing rate of insecurity across the country.
Nairametrics | Company Earnings
Access our Live Feed portal for the latest company earnings as they drop.