FIRS rakes in N4.178 trillion revenue, achieves 98.6% of revenue target
FIRS has raked in the total sum of N4.178 trillion as revenue out of the personal target of N4.239 trillion.
The Federal Inland Revenue Service(FIRS) has raked in the total sum of N4.178 trillion as revenue out of the personal target of N4.239 trillion – 98.6% of the revenue goal for the year.
This is according to a tweet by an aide to President Buhari, Lauretta Onochie, via her verified Twitter handle, as seen by Nairametrics.
READ: World's biggest asset manager, BlackRock says Bitcoin will overtake gold
Executive Chairman, FIRS, Muhammad Mamman  Nami says the agency has raked in ₦4.178T revenue out of d ₦4.239T target it set for itself -News

Meanwhile, @MBuhari exempted those on minimum wages & those who run small businesses from paying tax
That's more money in their pockets pic.twitter.com/2HtW5bTkEr

— Lauretta Onochie (@Laurestar) November 24, 2020
READ: Tesla up 500% in 2020, near $500 billion market value
Commenting on the recent development, Lauretta Onochie said: "Executive Chairman, FIRS, Muhammad Mamman Nami says the agency has raked in ₦4.178T revenue out of the ₦4.239T target it set for itself -News.
"Meanwhile, @MBuhari exempted those on minimum wages & those who run small businesses from paying tax. That's more money in their pockets."
READ: FBN Holdings Plc posts Profit of N21.9 billion in Q3 2020
Why it matters
Following the instability in the oil market and the recession that the country has found itself in, due to the impact of the COVID-19 pandemic, it is pertinent to explore other alternative sources of income, like taxation. This sort of news is also a cheering one, especially as it is in line with the present administration's goal of creating viable alternative sources of revenue for the country.
What this means
With some weeks to go before the year ends, the result so far indicates that the agency has been proactive and worked assiduously well to achieve its objective. Attaining 98.6% of its target is no mere feat.
Court suspends Mareva injunction, orders opening of Seplat's corporate offices
The Court of Appeal has suspended the interim order issued by a Federal High Court sealing the corporate Offices of Seplat Petroleum Development Company.
A Lagos Court of Appeal has ordered the suspension of an interim order issued by a Federal High Court sealing the corporate offices of Seplat Petroleum Development Company.
The closure of Seplat's office was ordered over loan facilities Cardinal Drilling Services Limited allegedly owes Access Bank Plc.
The court lifts the interim order on the stance that Access Bank had nothing to lose if Seplat continued to discharge its obligation to its numerous customers.
While delivering a ruling on an application by the petroleum company for an order of the Court suspending the interim order pending the determination of the appeal filed by Seplat, Justice Joseph Ikyegh held that the balance of convenience favoured the petroleum company.
Justice Ikyegh, however, ordered the company to issue a bond of $20 million in the name of the Court's Chief Registrar, an order the company's counsel Etigwe Uwa, SAN said had been complied with.
The Court rejected Access Bank's argument that suspending the interim order would amount to dabbling into the substantive issues that ought to be determined while hearing the main appeal. The Court noted that Seplat supplied gas to three power plants that generate almost 40 per cent of power supply in Nigeria and that it would not be able to deliver this service if the order was not suspended.
What they are saying
Justice Joseph Ikyegh said:
"The fear and anxiety expressed by the 1st Respondent (Access Bank) appeared unfounded. It would also not amount to hearing the substantive suit.
"The Supreme Court has held that where machines and workers would be rendered useless, the court would intervene.
"Disruption of business should be considered in the issue of balance of convenience. The court will exercise its discretion in suspending the injunction.
"Practical approach should be adopted and not do injustice to any of the parties.
"Where considerable hardship will be done to a party, the court will intervene by suspending the injunction or stay it.
"I found substance in the argument. The injunction restraining the appellant from operating is hereby suspended.
"Order on its accounts are also lifted pending the determination of the appeal."
What you should know
Recall that Nairametrics reported some months ago that Access Bank obtained an Ex-Parte Order dated November 13th, 2020, to seal the assets of Seplat.
The bank also obtained a Mareva injunction freezing the accounts of Seplat in Nigeria and abroad.
The Federal High Court had earlier turned down an application by Seplat to access its accounts and offices which were earlier shut down by a Mareva injunction obtained by Access Bank against it.
Access Bank is understood to be grappling with a string of bad loans issued under the defunct Diamond Bank, and is now stepping up efforts to go after some of the debtors by obtaining several court orders to seize properties.
Seplat has continued to maintain that the loan agreements evidenced by letters of offer of credit facility were all between Diamond Bank Plc. (now Access Bank Plc.) and Cardinal Drilling Services Limited, while the three Deeds of Debenture to the loan were over specific and fixed assets of Cardinal Drilling viz four Drilling Rigs set out in the schedules of the three Deeds of Debenture.
Buhari directs FIRS, others to ensure strict compliance of tax payment by foreign firms
President Buhari has directed the FIRS and other related government agencies to ensure strict compliance of tax payments by foreign companies.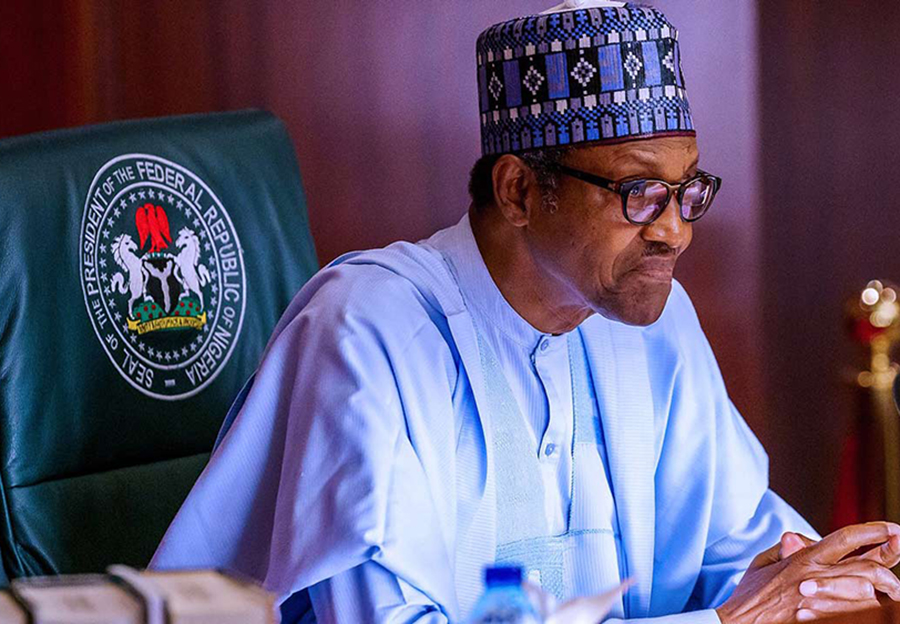 President Muhammadu Buhari has directed the Federal Inland Revenue Services (FIRS) and other related government agencies to ensure strict compliance of tax payments by foreign companies operating in Nigeria by plugging all revenue leakages.
This is as the president has ordered all government agencies to automate their operations and ensure more synergy in advancing the interest of the country in revenue generation.
According to a report from the News Agency of Nigeria (NAN), this directive was given by the president at the virtual First National Tax Dialogue held at the Conference Hall of the State House, Abuja, where he also stressed the need for deployment of more digital platforms and seamless connections.
What President Buhari is saying
President Buhari in his statement said, "It is not enough that our citizens and local businesses pay their fair share of taxes. Equally, foreign businesses must also not be allowed to continue to exploit our markets and economy without paying appropriate taxes.
" Accordingly, the FIRS has my mandate to speedily put all measures in place to fully implement programmes to stamp out Base Erosion and Profit Shifting in all their ramifications and generally automate its tax processes.
"In line with this, I have directed all government agencies and business enterprises to grant FIRS access to their systems for seamless connection.
"FIRS must ensure that its deployment of technology for automation is done in line with international best practices.  In particular, FIRS can borrow a leaf from other countries which have successfully automated their tax processes,'' Buhari said.
President Buhari said that Nigeria will continue to work with the Inclusive Framework (on equal footing) to develop internationally acceptable rules for taxation of the digital economy, which he is optimistic would have evolved into an acceptable multilateral solution that will comprehensively address the tax challenges of the digitalised economy by the middle of 2021.
He said his administration was strategically restructuring the tax revenue mix in favour of indirect taxes in accordance with the national tax policy document.
The president said, "To this end, FIRS is mandated to do all that is required in order to efficiently collect tax revenue due from transactions carried out using local and foreign online platforms. The government has made relevant statutory amendment to tax laws in the Finance Act 2020.''
"The administration is, however, not seeking to increase the tax burden upon the citizens but to plug the existing tax loopholes or leakages and to ensure even and equitable application of the tax laws."
"This was clearly demonstrated by the provisions in the Finance Act 2019, whereby government exempted small companies from tax and reduced the income tax rate for medium companies from 30% to 20%.
"In the Finance Act 2020, which I signed into law at the tail end of 2020, we went further to cushion the burden of tax on the low-wage workers by exempting minimum wage from personal income tax," he added.
What you should know
It can be recalled that in the new Finance Act 2020 which was signed into law by President Buhari and took effect from January 1, 2021, necessary amendments were made to the FIRS Establishment Act to provide the legislative framework for the adoption of technology in tax administration.
The Federal Government has devised several strategies and policies to boost tax collections in the face of dwindling revenue due to the outbreak of the coronavirus pandemic.
The new Finance Act also includes provision for the exemption of low-income earners on N30,000 and below per month from income tax payment.
Renewable energy critical driver of Africa's post-COVID-19 recovery and prosperity
Renewable energy will be a critical driver of Africa's post-COVID-19 growth recovery and economic prosperity.
Panelists in a 2021 UK Africa Investment Summit event have said that renewable energy will be a critical driver of Africa's post-COVID-19 growth recovery and economic prosperity – calling for a stronger partnership between the United Kingdom and Africa.
The panel was themed, "UK & Africa: Partnering in Sustainable and Resilient Infrastructure Development."
Discussions at the event covered British innovation and experience in the context of partnering with Africa to advance its economic development. Panel members said investment in large-scale electrification projects would be key.
What they are saying
Louis Taylor, CEO, UK Export Finance said, "African countries are building back better from the coronavirus,   adding that this presents an "unalloyed opportunity for UK investors to be part of the African success story and for African countries to access the UK's support for projects.
"The UK is still the ultimate one-stop-shop. The UK government is still the largest G7 investor in Africa. For instance, UK Export Finance is providing a £ 1.7 billion guarantee to support the development of Cairo monorail in Egypt – the UK's biggest ever overseas infrastructure guarantee." 
Wale Shonibare, the AfDB Director for Energy Financial Solutions, Policy and Regulation, while calling for a structured approach to sustainable infrastructure development and the implementation of large-scale electrification programs, citing the Bank's Desert to Power initiative as an example of a project likely to attract interest from UK businesses; stated that:
"Building on the City of London's deep expertise in innovative financial solutions, the African Development Bank sees promising opportunities to further expand its program to securitize receipts from solar home systems providers."
Nicholas Oliver, Business Development Director of UK-based NMS Infrastructure Ltd, urged that: "We need to create partnerships with governments and local businesses. It is a great time to invest in Africa. The African Development Bank estimates that climate change presents a $3 trillion investment by 2030. What an opportunity.
Olusola Lawson, Co-Managing Director of African Infrastructure Investment Managers, an infrastructure investment management firm, noted that: "In Africa, you can't have transition without electrification. In this context, what we see is the trend from centralized large-scale power plants to a more distributive system."
What you should know
According to International Energy Agency data, scaling up Africa's capacity to achieve universal access to energy by 2030 would require over $100 billion per year, of which 40% would be dedicated to solar, wind, and other low-carbon power generation projects.
The African Development Bank has taken the lead in accelerating the electrification of the continent through its New Deal on Energy for Africa, a transformative partnership-based strategy that aims to increase access to energy for all Africans.
The UK Africa Investment Conference, hosted by the UK Department for International Trade, brings together the UK and African businesses to explore the opportunities for partnership and investment.
The UK has been a strong partner to the African Development Bank in the institution's drive to attract greater private sector participation in African infrastructure investment. The Bank is currently working with a number of UK institutions to improve the enabling environment for infrastructure development in Africa.