BUA Cement Plc posts impressive unaudited Q3, 2020 financial results as revenue hits N156.6billion
… Profit After Tax (PAT) Rises By 24% To N53.57Billion
BUA Cement, one of Africa's largest cement producers, has declared revenues of N156.6billion in its 2020 third quarter (Q3) financial results for the 9-months ended, September 2020 – an increase of 21% from N129.4billion in the corresponding period of 2019. This was announced in a filing to the Nigerian Stock Exchange (NSE). According to the filing, BUA Cement's Profit After Tax (PAT) also grew by 24% to N53.57billion from the corresponding period in 2019, due to a growing appreciation of BUA Cement's product offerings.
READ: BUA Cement set to establish ultramodern 3million cement plant, 50mw power plant in Adamawa
Speaking on the result, alongside other activities undertaken during the quarter, Engr. Yusuf Binji, Managing Director/CEO of BUA Cement, acknowledged the positive impact of a less than anticipated COVID-19 pandemic shock on the populace and economy; the expected resilience of the private sector and a short rainy season.  According to him, "this has been a very heartwarming and resilient performance, underpinned by the continued quality that characterizes the BUA Cement product offerings as we see more end-users able to differentiate the attendant benefits of using our products. Expectedly, we witnessed a resurging demand from a resilient private sector – within and outside Nigeria, as the lockdown was eased, coupled with a short rainy season: despite flooding in some parts of Nigeria and Niger".
READ: 2020 Q2 Analysis: Conoil Plc, hanging by the thread
"During the period, we fulfilled our commitment to build sustainable communities by successfully relocating community members from Gidam Bailu and Gidam Datti to Girabshi, a close-by settlement purchased and developed by BUA Cement in Sokoto State. Subsequently, we have been involved in the electrification of the settlement, provision of clean water and the construction and equipping of a school, a healthcare centre etc. Bags of cement alongside cash donations were made to each of the 387 households, as we pursue an inclusive, safe, resilient and sustainable environment. Apart from this, electricity transformers were donated to the Okpella community in Edo State, including patrol vehicles to reinforce existing security measures".
READ: BUA Cement Plc records 39.72% increase in 2020 Q3 revenues
"In view of our ongoing expansion activities alongside working capital requirements, we have concluded on plans to approach the bond market. This decision to approach the market form part of the considerations put before shareholders at our last Annual General Meeting (AGM) in October; thus, enabling us take advantage of the low interest rate environment, in addition to the discontinuance of funding sources through related-parties transactions".
READ: Flour Mills reports N9.9 billion profit in HY 2020/21
"Despite 2020 being a challenging year, we have been buoyed by a growing customer base aided by our deliberate decision to focus on quality. Understandably, the year ahead is fraught with challenges, as global and domestic economies, individuals and businesses make adjustment to disruptions from the pandemic, yet, we are excited because of the continued resilience from the private sector, particularly with the increased appreciation of our product offerings; upgrades and development of the infrastructure stock by governments; the possible commencement of the African Continental Free Trade Agreement (ACFTA); the commissioning of our third line at Kalambaina, alongside the first phase of the energy diversification project, which would see the introduction of Liquefied Natural Gas to our operations".
READ: Arbico Plc records N430.15million loss in nine months 
BUA Cement Plc is Nigeria's second largest cement company and the largest producer in its North-West, South-South and South-East regions; with a combined installed capacity of 8million metric tonnes per annum and with plans underway to increase existing capacity to 11million mtpa, through the commissioning of a new 3million mtpa plant by the first half of 2021 in Sokoto State, Nigeria. With its Headquarters in Lagos, Nigeria, BUA Cement operates strategically from Okpella, Edo State and Kalambaina, Sokoto State.
READ: BUA Cement Plc records 39.72% increase in 2020 Q3 revenues
i. Financial Highlights
Revenue increases by 21% from N4 billion in Q3'2019 to N156.6 billion, as at Q3'2020.
EBITDA increases by 13.1% from N3 billion in Q3'2019 to N72.7 billion, as at Q3'2020 (Quarter-on Quarter (q/q), EBITDA margin remained resilient to 46%, as at Q3'2020.
Operating profit up 15.7%, from N9 billion in Q3''2019 to N62.4 billion in Q3'2020.
Profit after Tax (PAT) up by 23.9%, from N3 billion in Q3'2019 to N53.57billion, as at Q3'2020.
Earnings per Share (EPS) increases by 23.9% from N28 kobo in Q3'2019 to N1.58 Kobo, as at Q3'2020.
READ: Unity Bank posts N44.5 billion as gross earnings in 2019
ii. Operational Highlight
Cement volume dispatched up 16.0% from 3,291 kt in Q3'2019 to 3,816 kt, as at Q3'2020.
Increased push to 'new markets' aided by a growing customer followership.
 More information can be found at www.buacement.com
JustLiquidity; The best place for easy and decentralized Crypto
JustLiquidity aims to be the leading top decentralized exchange on the Binance SmartChain, with revolutionary developments and product's
Introduction of Julwallet feature (NFTs minting and NFTs shop)
NFTs and NFT artists have been trending a lot in the African art space
NFTs or NonFungibleTokens as it stands, are redefining the very outlook of various forms of creative work like art, video, music, characters in a game etc. NFTs by their very definition represents unique data on the digital ledger or blockchain. Unlike Fungible tokens on the blockchain, these tokens are not interchangeable as they represent something unique in themselves.
Justliquidity has introduced a few products to the general public that makes creating, storing, selling and sending NFTs all on the Binance SmartChain as BEP1155 token, the Julwallet is one of its revolutionary products that has all these features in it and more in development currently.
Our Telegram group and Twitter handles are:
CHI Limited celebrates its maiden Hollandia Dairy Day
The Hollandia Dairy Day Conference is a public interest initiative created to highlight the importance of dairy in everyday nutrition and healthy living in Nigeria.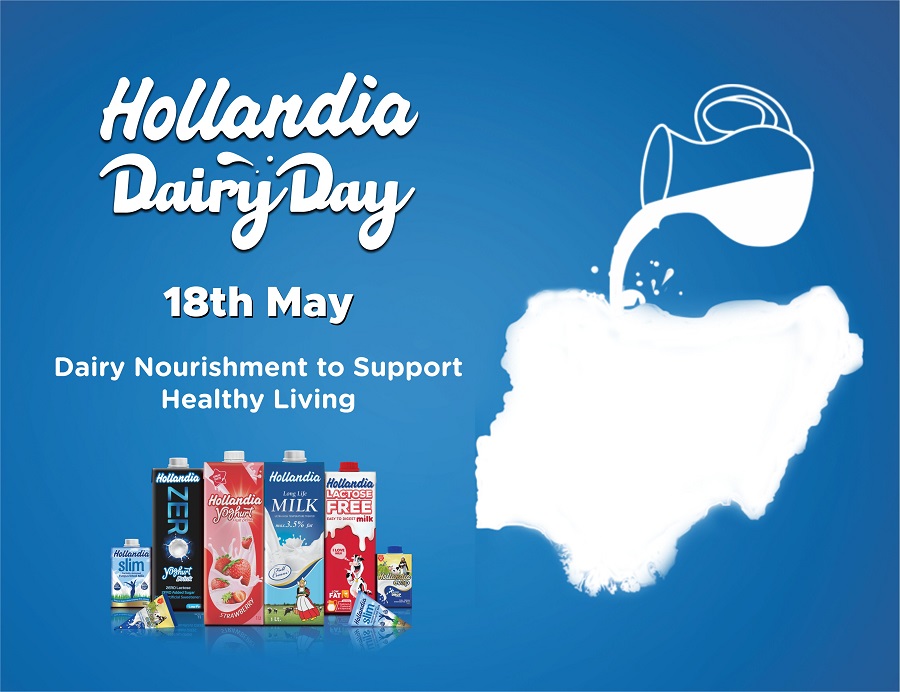 Nigeria's leading dairy brand, Hollandia, is set to hold the maiden edition of its Hollandia Dairy Day. The event which will be celebrated on the 18th of May 2021 will provide a veritable platform to drive national discourse on the unrivaled health and nutrition benefits of dairy consumption to people of all ages.
Set to be hosted as a conference, the theme of this year's event is "Dairy Nourishment to Support Healthy Living", and it focuses on the vital role dairy consumption plays in our everyday nourishment, its benefit to our overall health, and why dairy products should be included in our diets every day.
This conference, which is designed as a hybrid of physical and virtual event, will feature presentations, interviews and panel discussions from health experts and nutritionists as they provide insights and share perspectives to guide informed decisions about dairy consumption as part of a daily balanced diet. The event is opened to the public through the brand's multiple social media platforms.
According to a report by the Food and Agriculture Organization of the United Nations, 2019, Nigeria has low dairy consumption levels per head – 15 to 20 liters' per capita consumption. This is partly attributable to low purchasing power of the average Nigerian household, who rank milk and dairy products as non-essential luxuries and prioritize other staple foods such as rice, beans, and yam.
By provoking the conversations and stimulating public action/intervention, Hollandia aims to drive consciousness for dairy consumption and its importance to achieving optimum health, and to get many more Nigerians drinking, using, and consuming dairy products.
The past year has presented unprecedented shocks and disruptions, including a global COVID-19 pandemic. As communities throughout the world look for ways to minimize the risk of COVID-19, maintaining and boosting good health is top of mind for many. Dairy foods such as milk and yogurt contain essential nutrients, including Vitamins A and D, Zinc and Protein, which support immune function.
The Hollandia Dairy Day Conference is a public interest initiative created to highlight the importance of dairy in everyday nutrition and healthy living in Nigeria.
Nairametrics | Company Earnings
Access our Live Feed portal for the latest company earnings as they drop.