President Trump was given supplemental oxygen – White House Physician
Donald Trump's doctor, Sean Cornley has admitted that the President was given supplementary oxygen.
White House Physician, Doctor Sean Conley said Donald Trump was given supplementary oxygen on Friday after the US President announced he was diagnosed with COVID-19. This contradicts an earlier statement by Dr. Conley on Saturday, after he disclosed Trump wasn't given oxygen.
This was announced by the White House Doctor in a press briefing on Sunday, October 4, 2020.
Recall Nairametrics earlier reported on Sunday that Conley said President Trump has not had breathing issues, has a high blood saturation level of 96%, and also not on supplemental oxygen.
READ: US Elections: Chaos, as Trump and Biden hold first Presidential debate
In Sunday's press briefing, Conley said that Trump received supplemental oxygen on Friday. He added that he gave different information to the Press to reflect the upbeat attitude of Trump.
"I was trying to reflect the upbeat attitude that the team, the president, that his course of illness had had," Conley said.
READ: Power: Nigeria's deal with Siemens – the birth of a new era?
"I didn't want to give any information that might steer the course of illness in another direction, and in doing so it came off that we were trying to hide something, which wasn't necessarily true,"
"The fact of the matter is he's doing really well."
READ: Tweets wishing Trump dies of COVID-19 will be removed – Twitter
Trump's Doctors added that he has been given a new drug called Dexamethasone, and also refused to admit if there has been any damage to Trump's lungs.
"Since we spoke last, the President has continued to improve. As with any illness, there are frequent ups and downs over the course." Cornley said.
READ: Stanbic IBTC Pension Managers reveals breakdown of its massive N2.53 trillion AUM.
Dexamethasone is administered to patients to calm inflammatory response to COVID-19, especially when the virus has been present in the human body for a while.
Breaking: Joe Biden sworn-in as the 46th President of the United States
The whole world watched in awe as Joe Biden was sworn in as the new President of the United States.
Joe Biden has been sworn in as the 46th President of the United States.
The 78-year-old Democrat and former Vice president to Barack Obama is being sworn in after emerging the winner of last year's Presidential elections.
Biden's running mate, Kamala Devi Harris was sworn in as vice president by Justice Sonia Sotomayor, becoming the first woman and the first black and Asian-American person elevated to serve in a role a heartbeat from the presidency.
The inauguration took place at the US Capitol, the same building that was stormed on January 6, by Donald Trump's violent supporters.
Trump who for months refused to conceded to Biden's victory at the polls left the White House for the final time hours earlier and flew to Florida after making it clear weeks ago that he will not be attending the inauguration.
Trump's Vice, Mike Pence attended the ceremony, as he skipped Trump's farewell military salute event at Andrews base.
The ceremony includes musical performances by Lady Gaga – who sang the national anthem – as well as Jennifer Lopez and Garth Brooks.
Former Presidents; Barack Obama, George W. Bush and Bill Clinton were all present at the inuaguration
What you should know
At 78, Biden is the oldest president ever to take the oath of office.
In his speech, Biden swore to defend the constitution and the country "against all enemies, foreign and domestic".
History was made as Kamala Harris became America's first female, first Black and first Asian American vice-president.
Donald Trump skipped the ceremony, becoming the first president not to attend his successor's inauguration since 1869.
Joe Biden to return United States to WHO on first day as President
In-coming US President, Joe Biden has resolved to immediately return the country back to the WHO after his inauguration.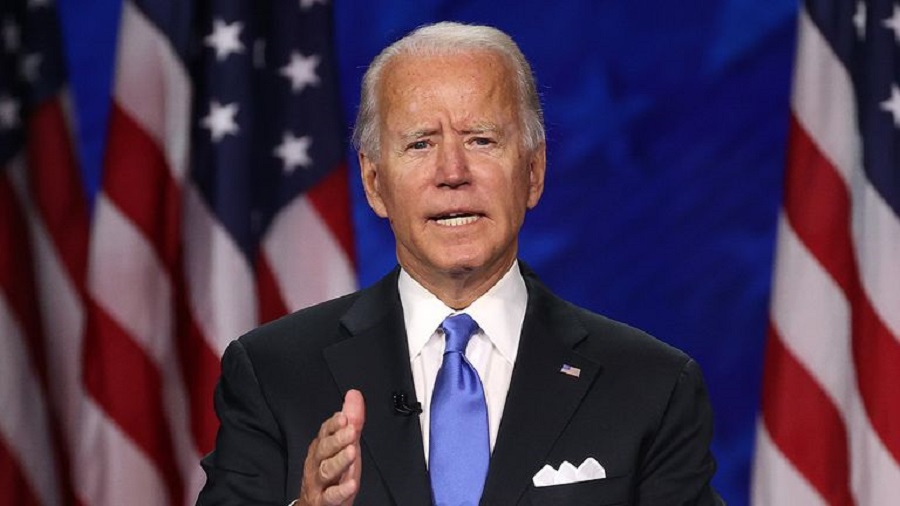 The US President-elect Joe Biden plans to immediately return back the country to the World Health Organization (WHO) on the first day after his inauguration as he intends to make a sweeping review of the policies of outgoing President, Donald Trump.
This is as he intends to send top US medical expert Anthony Fauci to speak to the group in a strong rejection of Donald Trump's snubs and criticisms during the coronavirus pandemic.
This disclosure is contained in a fact sheet released by President-elect Joe Biden's transition team.
READ: Joe Biden gains additional 4.6 million Twitter followers in less than 12 hours
According to a report by Bloomberg, the incoming administration plans to take part in the WHO executive board meeting this week, with Fauci, the top U.S. infectious disease expert, heading the delegation and speaking.
The statement says that as soon as the United States resumes its engagement with the WHO, the new administration will work with the body to strengthen and reform the UN health agency.
READ: Banking giant, Deutsch Bank to cut ties with President Trump
What this means
With these announced plans, the Joe Biden administration is showing that it intends to set a new science-based tone in seeking to reverse Donald Trump's dismissal of strategies to mitigate the virus as well as seek international cooperation in addressing the pandemic.
It also further reinforces the incoming President's earlier criticism of Trump's handling of the pandemic especially in the early days rather than laying blames.
READ: U.S dollar stays firm, Joe Biden to unveil COVID-19 support programs
What you should know
It can be recalled that President Donald Trump in May 2020, announced that the US would exit the WHO because of what he said was its undue deference to China and failure to provide accurate information about the coronavirus.
He often referred to the UN health agency as being controlled by China and criticized their handling of the coronavirus pandemic.
The US had been the WHO's largest contributor, providing $400 million to $500 million in mandatory and voluntary contributions annually, with Trump's last year decision drawing sharp criticism in Congress, as well as from allies in Europe.
Donald Trump and Joe Biden clash over plans to lift travel ban on UK, EU, Brazil
Joe Biden's incoming administration has dismissed plans by President Donald Trump to lift the coronavirus-related travel bans for non-American citizens.
The incoming administration of President-elect Joe Biden has dismissed plans by the outgoing President, Donald Trump to lift the coronavirus-related travel bans for non-American citizens arriving from the European Union, the U.K. and Brazil, which means the curbs will stay in effect.
This follows the announcement from Trump in the White House on Monday that the bans could be lifted because of the administration's last week's decision to require international travellers to present either the results of a negative recent coronavirus test or evidence that they had already recovered from the disease. The change would go into effect starting Jan. 26, six days after Biden takes office.
However, the announcement by Donald Trump was rejected as Joe Biden's Spokeswoman, Jen Psaki, in a tweet post, disclosed that the incoming administration plans to block the outgoing US President's move according to a report from Bloomberg.
READ: Twitter drops 8.5% in early trading over President Trump ban
What Joe Biden's spokeswoman is saying
Psaki in her statement, tweeted, "On the advice of our medical team, the Administration does not intend to lift these restrictions on 1/26. In fact, we plan to strengthen public health measures around international travel in order to further mitigate the spread of COVID-19.''
She said that with the worsening pandemic and more contagious variant emerging globally, this is not the time to be lifting restrictions on international travel.
READ: Suspending Trump was the right decision but sets dangerous precedent – Twitter CEO
What President Donald Trump has said
Trump, in a White House announcement, had pointed out that the international travel restrictions could be eased safely.
Trump in a proclamation said, "This action is the best way to continue protecting Americans from Covid-19 while enabling travel to resume safely. Under his plan, travel bans would remain in place for China and Iran, the White House said, citing their "lack of cooperation" with the U.S. in fighting the virus.''
The recent decision by the Centers for Disease Control and Prevention to require a negative Covid-19 test for people arriving in the U.S. from other countries was not directly linked to the travel ban but was seen as a way to impose safety restrictions that would allow for a resumption of travel.
Despite the surge in Covid-19 infections, experts conclude that allowing people into this country from other nations wouldn't pose a significant risk, especially with new testing requirements.
READ: US Capitol complex temporarily shut down
What you should know
It can be recalled that President Donald Trump had initially announced the restrictions on March 11 in the early days of the pandemic on nearly all non-US citizens who had travelled to 28 EU countries, China and Iran, as part of the bid to curb the spread of the virus.
Brazil was later included in the travel ban on May 25 and applies to any foreign nationals who had been in any of those nations within the previous 14 days.