FG to seek international cooperation to curb illicit financial flows
FG hopes to strengthen international cooperation in curtailing the menace of illicit financial flows.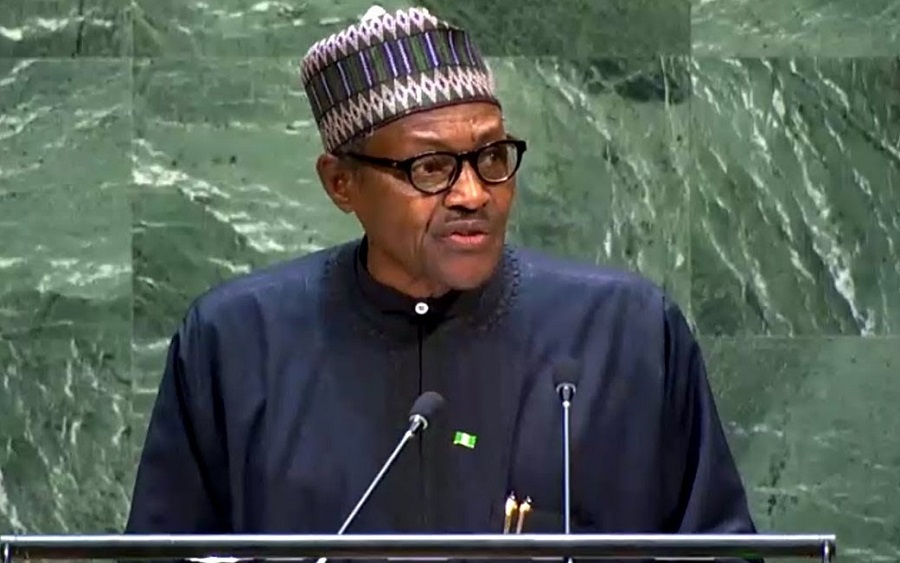 The Federal Government has said that there is a compelling need to strengthen international cooperation in the global effort to curtail the menace of illicit financial flows, as current international mechanisms are not strong enough.
This was disclosed by President Muhammadu Buhari in a speech delivered on his behalf by Vice President Yemi Osinbajo on Thursday at the Financial Accountability, Transparency and Integrity (FACTI) Panel Video Conference.
Osinbajo's spokesman, Laolu Akande, in a statement in Abuja, explained that the event was held at the sidelines of the ongoing United Nations General Assembly (UNGA).
READ: EFCC and CBN intensifies fight against financial fraudsters
The session also featured presentations by the immediate past President of the United Nations General Assembly, Prof. Tijjani Muhammad-Bande, and Amb. Mona Jul of the Economic and Social Council (ECOSOC).
He said, "The current international mechanisms for asset recovery are not good enough as can be seen in the amount lost to illicit financial flows and the length of time taken before the repatriation of just a small fraction is made.
READ: Nigeria received $96 billion diaspora remittances inflow in 6-years
"The FACTI Panel report can play an important role in bridging the expectations of source and destination countries as well as in harmonising the process of assets recovery and return. We agree with the Panel on the importance of having a balanced approach that reflects the situation in different regions and the priorities of different stakeholders. I believe that for the global aspiration to recover better from the impact of the pandemics and to yield any inclusive result, we must comprehensively address existing structures that make it impossible for countries to generate and retain a sizeable chunk of their resources. The success of the FACTI panel's final report will be measured by the clarity of its recommendations in support of global governance reforms."
READ: UK Prime Minister diagnosed of Coronavirus
According to the President, evidence suggested that the contemporary international tax system used a taxing rights regime that was not fit for purpose.
He added that the system makes combating tax abuses, especially by multinational corporations, difficult for most developing countries.
READ: Nigeria, Ethiopia sign visa waiver agreement
"It is my hope that the final report of the FACTI Panel would introduce proposals that would lead us towards a fairer international tax regime .I also hope that the report would contain proposals that would address the continuing advocacy for country-by-country reporting, open disclosure and automatic exchange of information on beneficial ownership, as well as eliminate financial secrecy jurisdictions and tax havens that facilitate base erosion and profit shifting. Profit shifting, harmful tax competition–the so-called "race to the bottom–and the taxation of the digital economy should also receive adequate attention and focus in the report of the Panel. FACTI Panel's report should assess how effectively we are meeting our commitments to combating the scourge and strengthening cooperation in dispute settlement and peer learning, particularly in assets recovery and return," he said.
Explore the Nairametrics Research Website for Economic and Financial Data
Other leaders who spoke at the forum included the Prime Minister of Norway, Erna Solberg, the Prime Minister of Pakistan, Imran Niazi and Former President of Lithuania, and FACTI Panel Co-Chair, Dalia Grybauskaite.
Ibrahim Mayaki, former Prime Minister of Niger and FACTI Panel Co-Chair, also spoke at the event.
Cost of Ivermectin soars after research suggest 75% chance of cutting Covid-19 deaths
Ivermectin prices have risen after Research published by the International Ivermectin Project Team shows drug can reduce Covid-19 deaths
As Azuka lay down in bed feverish, he had resigned to his fate believing he was not going to make it to the next day.
Just 3 days into the new year and all the fun he had attending weddings and burial ceremonies in the east all seemed like a big mistake. He must have caught covid-19 at one of those events, he thought.
Since attending the last event, he fell sick and has been exhibiting the symptoms of Covid-19 and just waiting to die until someone recommended Ivermectin, a little known drug as a potential medicine that could help save his life.
READ: Only 68.8% of Nigerians believe Covid-19 is real – SBM Intel
A few days later he recovered and spread the news to friends and family- he believes Ivermectin cured him.
The rush to purchase Ivermectin in Lagos has increased of late after stories similar to that of Azuka (not his real name) spread. As Nigeria's caseloads rise past 120k cases, some Nigerians are increasingly worried about contracting Covid-19, rushing to pharmacies to purchase a drug that they all believe is the most portent to fight Covid-19.
READ: Hepatitis C drugs may be effective against COVID-19, virus may spread through high-rise buildings
What is Ivermectin?
According to the World Health Organisation, Ivermectin was originally produced in the 1980s as a veterinary drug used largely for nematode control in cattle, horses, pigs, and dogs and became the standard for control of the ectoparasitic disease, scabies. It soon became the world's most profitable veterinary drug.
Since then, Ivermectin has been used on humans for controlling strongyloidiasis, a human pathogenic parasitic roundworm causing the disease strongyloidiasis. According to medical sources, it is also known in the US as threadworm, UK, and Australia as pinworms.
In Nigeria, it has been used to treat worms, according to a pharmacist who spoke to Nairametrics.
READ: Nigeria, others to receive first-ever HIV generic drug for babies in the first half of 2021
"Originally it's a worm expeller (Antihelminthic) used in the elimination of parasitic worms from the body. They use it in combination with doxycycline. They also use Vitamin C in combination with Axrthromycin."
However, more recently, the drug is now being used for the treatment of Covid-19 pushing demands for the drug high across pharmacies in Lagos. A Nairametrics survey suggests the drug cost as high as N100,000.
Another pharmacist who craved anonymity explains.
"It was one of the available free drugs dispensed to patients at clinics in Nigeria – for eliminating different types of worms from the body. People usually don't buy it from pharmacies because of the low price, thinking it's not good quality tabled for expelling worms. It was not expensive and almost cost next to nothing, but now it sells for as high as N200 per tablet"
At N200 per tablet, a pack of 500 tablets could go for as high as N100,000. From all indications, the prices are unstable and could be purchased from as little as N20,000 per pack of 500 tablets to as high as N100,000. It all depends on demand and supply and who is under pressure to get a "cure".
READ: COVID-19: WHO warns against Gilead's remdesivir drug approved by US FDA
Is the drug credible?
Several social media posts and videos allude to the efficacy of the drug in "preventing and curing" Covid-19 but this is yet to be certified by the WHO.
The drug however came into the limelight after a Financial Times article claimed the drug had a chance of cutting covid-19 deaths by up to 75%.
The article was based on research published by the International Ivermectin Project Team led by the University of Liverpool lecturer Andrew Hill. A Nigerian Olufemi Emmanual Babalola, from Bingham University/Lagos University, Nigeria is also part of the group.
READ: WHO study reveals new discovery about remdesivir drug's effect on Covid-19 patients
Here is an excerpt of the result of the research conducted by the group
"Ivermectin was associated with reduced inflammatory markers (C-Reactive Protein, d-dimer, and ferritin) and faster viral clearance by PCR. Viral clearance was treatment dose- and duration-dependent. Ivermectin showed significantly shorter duration of hospitalization compared to control. In six RCTs of moderate or severe infection, there was a 75% reduction in mortality (Relative Risk=0.25 [95%CI 0.12- 0.52]; p=0.0002); 14/650 (2.1%) deaths on ivermectin; 57/597 (9.5%) deaths in controls) with favorable clinical recovery and reduced hospitalization. "
Currently, the only other drug with the same level of worldwide unofficial approval for treatment of Covid-19 is Remdesivir, after it also showed an effect on improving recovery rate for Covid-19 patients.
READ: US Mission recognises Nigerian doctor who helped develop COVID-19 vaccine
The choice between waiting for a vaccine or self-medication
More recently, the search for cures for Covid-19 has been overshadowed by vaccine breakthroughs across the world. For most governments, preventing covid-19 is better than curing it which is why more effort is geared towards vaccine distributions and other preventive measures such as insisting on facemasks and introducing new lockdowns.
But for developing economies like Nigeria, where self-medication is prevalent, drugs like Ivermectin are easier to purchase over the counter as well as administer. Just like the demand for chloroquine, zinc, and vitamin C soared in the first wave of Covid-19, demand for Ivermectin is rising along with its price.
Fortunately, Ivermectin is backed by research even though the researchers expressed caution as more trials need to be conducted.
READ: Nigeria records 1,964 new cases of Covid-19, highest daily surge
"Despite the encouraging trend this existing data base demonstrates, it is not yet a sufficiently robust evidence base to justify the use or regulatory approval of ivermectin. However, the current paucity of high-quality evidence only highlights the clear need for additional, higher-quality and larger-scale clinical trials, warranted to investigate the use of ivermectin further.
"The maximum effective dose of ivermectin needs to be clarified and new clinical trials should use a consistent multi-day dosing regime, with at least 0.4mg/kg/day. The appropriate dose and schedule of ivermectin still requires evaluation and the current randomized clinical trials of ivermectin need to be continued until ready for rigorous review by regulatory agencies." International Ivermectin Project Team 
Asides Ivermectin, Nigerians have also resorted to traditional medicine such as a beverage of lemongrass, dogonyaro leaves, garlic, ginger, and bitter kola to prevent and cure Covid-19, despite orthodox vaccines proven to be effective.
Perhaps it is because no one is sure when the vaccine will get to Nigeria after it was initially meant to arrive in January and since pushed to February 2021. And even if it does arrive in Nigeria, most people do not believe it will get to ordinary Nigerians on time especially when they cite the way the Covid-19 palliatives was handled.
For now, the need for self-reliance is driving people towards any drug they believe can cure covid-19.
Niger Insurance Plc gets shareholders nod to restructure business
Niger Insurance Plc has announced plans to restructure its insurance business into distinct but mutually dependent business entities.
Niger Insurance Plc has obtained shareholders' approval to restructure its insurance business into general, life and business insurance, with each segment to be structured as a separate legal entity.
This is part of the resolutions passed at the 50th Annual General Meeting of Niger Insurance Plc., held on 20th of January, 2021 at Peninsula Hotel in Lekki, Lagos.
The decision to restructure the company is in a bid to make it more efficient and profitable to stakeholders, especially as efforts are geared towards overturning a loss of about 1,1723.2% Year-on-Year, earlier made by the company in its last reported financial statement, Q2, 2020, as reported by Nairametrics.
Other key decisions reached at the 50th AGM include;
The re-appointment of Mr Ebi Enaholo and Mrs. Olufemi Owopetu as Directors of the company.
Acceptance of the presented financial statement for the year ended December 31, 2019 and the report of the audit committee, directors and auditors.
Directors were authorized to fix the remuneration of the auditors.
Directors were authorized to appoint external auditors to replace retiring auditors of the company.
The appointment of four individuals as members of the audit committee.
A decision to restructure the company's business capital was also reached.
In case you missed it: The shareholders of Niger Insurance Plc in the 49th Annual General Meeting approved the decision by the company's board to raise additional capital to the tune of N15 billion, in a bid to meet the revised recapitalization targets for general and life insurance companies.
What you should know: The House of Representatives had in December 2020 directed NAICOM to suspend the mandatory deadline for the first phase of 50%-60% of the minimum paid-up share capital for insurance and reinsurance firms.
Nigeria's Qua Iboe crude exports resume as ExxonMobil lifts force majeure
ExxonMobil has lifted a force majeure on Nigeria's Qua Iboe crude oil exports as production resumes.
ExxonMobil has lifted a force majeure on Nigeria's Qua Iboe crude oil export terminal, as crude exports resume for the first time in almost six weeks after a fire at the terminal halted operations.
This is according to a company spokesman yesterday, who confirmed the company had lifted force majeure on Qua Iboe crude loadings.
Qua Iboe production started to ramp up to normal levels of 200,000 b/d in the past week, according to sources, with the release of both the February and March loading programs.
READ: Shell declares force majeure, to stop Bonny Light crude oil export 
The VLCC Dalia was also in the process of loading a 1-million-barrel stem at the Qua terminal since January 21, 2021, according to data intelligence firm Kpler. This will be the first export of Qua Iboe since December 15, 2020, after a fire hit the facility and injured two workers.
The company has been under pressure since the closure and prices have taken a hit as a result of the disruption. S&P Global Platts last assessed the grade at a discount to Dated Brent of 50 cents/b, down from a premium against the benchmark in December.
Bonny Light, a mainstay Nigerian crude which typically trades at roughly the same level as Qua Iboe, was last assessed 30 cents/b higher.
READ: Nigeria's crude oil export suffers due to force majeure declared by Shell, others
What they are saying
One trader said: "If you get a cargo of Qua now it could be 50 cents to a dollar below Bonny even – a January cargo is completely out of cycle and the reliability issues mean people won't touch it."
Another trader stated that: "[The return of Qua Iboe] is not what West African crude assessments (WAF) differentials needed."
READ: Nigeria faces breaking point as India's global crude oil demand drops by 70%
What you should know
Qua Iboe is one of Nigeria's largest export grades, and is very popular among global refiners, with India, the US, Canada, Italy, Spain, Indonesia, and the Netherlands being key buyers.
Qua Iboe is light sweet crude, which has a gravity of 36 API and sulfur content of 0.13%. The crude, produced from fields 20-40 miles off the coast of southeast Nigeria, is brought to shore at the Qua Iboe terminal via a seabed pipeline system.
Indian demand has steadied following a buying spree late last year, and European demand has been hit by renewed coronavirus lockdowns in the region.
Prices for Nigerian crude have suffered in recent weeks, even with lower supply due to the outage.
February and March loading programs have been issued for Qua Iboe averaging 169,643 b/d and 153,226 b/d respectively.
Production of this key grade ranged between 180,000-220,000 b/d in 2020, according to S&P Global Platts estimates.
READ: GenCos to halt supply if NBET insists on new service charge