Tether expected to surpass Ethereum, based on strength of the U.S dollar
The organic growth of Tether's market capitalization is one of the major reasons for the gain Bitcoin (BTC) is presently having in the mid-term.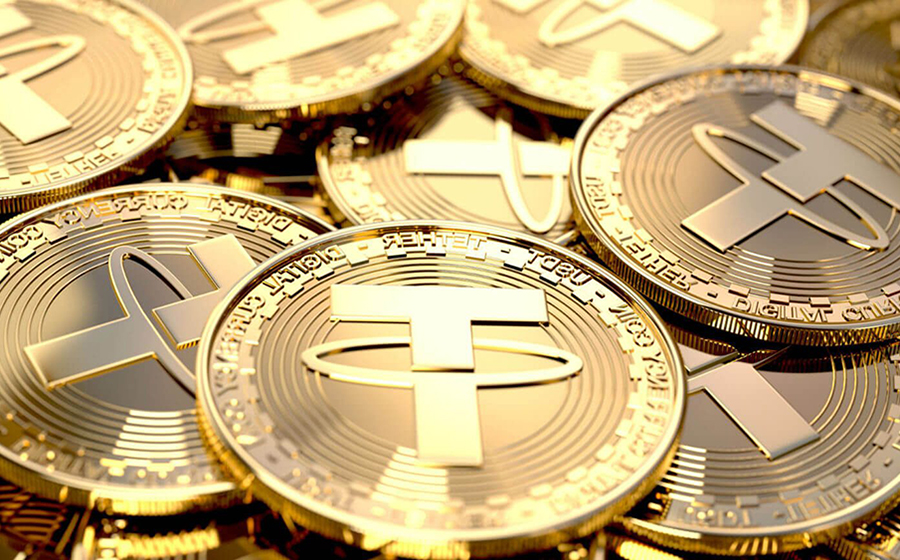 Tether, the third most valuable cryptocurrency with a market capitalization of about $9.1 billion, is expected to pass Ethereum ($27 billion)) as the number two cryptocurrency, on the strength of the dollar.
Bloomberg News reported recently that there is a high probability that it expects Tether (USDT) to outsize Ethereum (ETH) in market capitalization.
The report outlines the organic growth of Tether's market capitalization as one of the major reasons for the gain Bitcoin (BTC) is presently having in the mid-term.
"Interest in digital links to the dollar represents the need to handle and store value in the world's reserve currency without an intermediary." 
(READ MORE:Bitcoin loses $1500 in 3 mins, pigs get slaughtered in BTC market)
What you need to know: Tether is designed as a blockchain-based cryptocurrency whose digital coins in circulation are backed by the same value of traditional fiat currencies, like the U.S dollar, Japanese Yen, or the Euro. It trades under the ticker symbol USDT.
Recall that Nairametrics earlier reported how Tether had overtaken XRP (XRP) as the number three most valuable cryptocurrency by market capitalization. Bloomberg reports added that the momentum with the help of the U.S dollar is expected to make Tether gain and move to the second spot:
"Absent an unlikely reversal in predominant crypto trends, it should be a matter of time until Tether passes Ethereum to take the No. 2 spot in total assets behind Bitcoin. Receiving help from widespread adoption with a workable case as a proxy for the world's reserve currency, there seems little to stop the increasing adoption of the dollar-linked stable coin." 
READ MORE: Did Satoshi Nakamoto cause the panic sell-off in Bitcoin market
Also, Bloomberg's report expects Tether to rise based on Ethereum's limited upside. 
"We see little upside in the ETH price absent a rising tide from Bitcoin. The pre-eminent crypto is breaking away from the pack in terms of adoption and is supported by almost-ideal macroeconomic conditions for stores-of-value amid quantitative easing.  
"Tether is in a similar position. Strengthening Dollar Supports Stable Coins. The advancing dollar will fuel demand for the Tether stable coin, in our view. In terms of gold and Bitcoin, the dollar is depreciating, but it is going in the other direction vs. most other currencies.  
READ ALSO: Nigeria and China finalize currency swap deal; The low down explained
"The greenback appears best positioned as global currency values retreat, with all facing unlimited supply.  
"Tether and stable coins are gaining traction as vehicles for dollar exposure without intermediaries and for transferring value among the numerous highly speculative and volatile crypto assets." 
Technology now a great tool to drive desired growth in Nigeria, amid COVID – FITC
FITC is passionate about empowering the youths with the right skills and knowledge needed to excel in todays' tech-driven world.
The Financial Institutions Training Centre has stated that technology has become a great tool for driving the desired changes in Nigeria, altering ways of life, individual engagements and interactions, especially amid Coronavirus pandemic.
During a webinar organised by the Centre and attended by Nairametrics, Managing Director/ CEO, FITC, Chizor Malize, explained that the 20th century has recorded major breakthroughs in technology through innovation in health, energy production, disease control, business engagement, financial services, and other enterprise solutions.
She lauded the event partners and sponsors – Bank of Industry, Stanbic IBTC, International Business Machines Corporation (IBM) and media partners; Nairametrics, Regtech, BBbuzz, The Nation and Financial Nigeria for making the event a huge success.
One of the speakers, the Managing Director of Zercom Systems, a software technology company, Tayo Awosanya, noted that digitization, creativity, and resourcefulness are key elements in achieving personal and organizational success in today's world. He noted that one of the very bright spots on COVID-19 pandemic is the acceleration in digital learning being witnessed across the different sector of the economy.
For Tayo, aside from turning to technology for effective and smart learning outside the classrooms, the pandemic has triggered rapid online product advertisements which is a formidable space for everyone to explore in growing their businesses and acquiring knowledge, which in turn can also become a huge source of livelihood for implementors.
In her submissions, Chief of Staff/ Co-Founder, Future of Africa, Adenike Sheriff, urged youths to consider ways of designing and implementing solutions amid challenges. She disclosed that while Africa has a plethora of problems, the problems invariably presents opportunities for the people of the continent to explore and deploy solutions for the benefits of mankind.
According to Sheriff, leveraging and finding investible ideas opens doors for organizations that will provide the needed take-off grants. Still, the promoter of such idea, she said, must have a clear understanding of how it works and what to do to turn it to reality.
Musty Mustapha, Co-Founder & CTO of Kuda, who spoke on the "Rise of Bedroom Coders" among others, stated that more Africans, many of whom are women, are learning software development with free resources online. He noted that as the continent produces coders, potentially disruptive start-ups are being founded in sectors ranging from fintech to transportation.
According to Musty, while digitization is spreading across the African continent, it is not quite a revolution yet. "Only about 20% of the people living in sub-Saharan Africa have internet subscriptions. In the same region, the average subscriber uses 300MB of internet data in a month," Musty noted.
While listing the gains of affordable banking services to the people, economy, and businesses, Musty noted that smart technology is leading and bringing people to take advantage of the global digitization that is taking place.
"There are lots of start-ups springing up around Nigeria, and people have to take advantage of the industry that is exploding. What we need currently, is the democratization of knowledge to enable more people take advantage of technology to drive their businesses and promote connectivity" Musty stated.
Also at the event, FITC announced the top three winners in the maiden edition of its Youth Connect Essay Challenge 2020.
The winners were announced during the FITC's virtual Pan African Technology Summit which held on Tuesday, December 1, 2020, in Lagos, with the theme: "Accelerating Growth and Development in Africa: The Role of Technology and Innovation".
Oke Donatus Chibuzor, an undergraduate from the National Open University, Lagos, Nigeria was announced the star prize winner for the essay competition. He was rewarded with $1,000 cash prize, a laptop, a Leadership Certification programme and a one-year mentorship programme.
The second prize went to Abdul Pelumi Ganiyu, a 20-year old undergraduate at the University of Ilorin, Kwara State, who received $500, a laptop and one-year mentorship programme while Ololade Oshodi, a 23-year old undergraduate at the University of Lagos, emerged as the third-place winner and was awarded a laptop and one-year Mentorship programme.
In their comments, the judges said submissions by the finalists were judged on originality, expression, creativity, and appropriateness to the theme.
Speakers at the summit and awards event – Managing Director/ CEO, FITC, Chizor Malize, as the key note speaker, Tayo Awosanya, Managing Director, Zercom Systems; Greg Malize, Founder, IMPACTGEN; Adenike Sheriff, Chief of Staff/Co-founder, Future of Africa and Musty Mustapha, Co-Founder, Kuda- discussed extensively on the growth and development Africa can achieve by leveraging on technology.
Malize, stated that FITC is passionate about empowering the youths with the right skills and knowledge needed to excel in todays' tech-driven world. She noted that the star prize winner went the extra mile in his report to give depth and showed mastery of the subject, which gave him an edge over others.
"Africa is filled with very intelligent people and we are proud of all the contestants for the zeal and knowledge displayed in the course of the exercise. FITC will be adopting all winners from across Africa and exposing them to fantastic programmes in the next one year.
"This is definitely not a winner takes it all programme as there is something significant for everyone that has shown interest and commitment in this maiden edition," she assured.
COVID-19: Over 70% of jobs lost in aviation, tourism industries in 2020 – AfDB
The AfDB has stated that about 5 million jobs have been lost in the aviation and tourism industries in Africa due to the COVID-19 pandemic.
About 5 million out of Africa's 7 million aviation and tourism industry-related jobs have been lost in 2020. Also, as much as $15 billion in revenue, half of this to African airlines.
This was disclosed by the African Development Bank (AfDB) in a statement issued and seen by Nairametrics on Friday.
Vice President for Infrastructure, Industrialization and Private Sector, AfDB, Solomon Quaynor explained that the pandemic's effect was felt more in Africa, a claim that was backed up by numerous panelists at the just concluded AfDB's webinar themed 'African Aviation Recovery Conference: coordinating an efficient response to the COVID-19 crisis's effects on the Aviation sector in Africa.'
He said, "The air transport system is really at the forefront of all our collective objectives to realize Africa as a single economic bloc. The centrality of the aviation sector to Africa's long-term goals by referencing three flagship projects of the AU's Agenda 2063 that aim to advance open skies and closer connectivity: SAATM, The African Continental Free Trade Area, and the African Passport-Free movement of people.
"The air transport system is really at the forefront of all our collective objectives to realize Africa as a single economic bloc of 1.3 billion people with a GDP of almost 3 trillion dollars, for which we want to begin to really focus and increase trade among ourselves, as well as investment."
Also at the event, Minister of Aviation, Hadi Sirika called on African governments to embrace full liberalisation of the aviation sector, invoking the Yamoussoukro Decision, which established an arrangement for the gradual liberalization of intra-Africa air transport services.
He said, "Nigeria today has all its bilateral air service agreements with the YD and was also among the first ten countries that signed a commitment to implement the Single African Air Transport Market."
Dr. Amani Abou Zeid, African Union Commission for Infrastructure and Energy, explained that Africa's aviation industry represents a huge market that the continent's airlines need to exploit more fully, with technology and AI offering the way forward for expansion, regional development experts.
"Technology and smart technologies are offering this fantastic opportunity, so let's make use of AI, let's make use of the Internet of Things, let's capacitate our people to revamp and to rethink our industry, to make sure that both our airports and our airlines cater for the very near future," said Zeid.
What they are saying
A key takeaway was the urgent need for coordinated action among the sector's actors, including governments, aviation authorities and multilateral stakeholders such as the Bank.
"The time is now. All of us who have really been working on upstream issues such as SAATM, the World Bank, ourselves, the AU and others, now is the time to really pool our advocacy and resources to make this happen once and for all because if we continue to operate as a federation of 54 states as opposed to an integrated market, our economies will continue to be sub-optimal," said Quaynor
Autogas: Nigerians will not pay N250,000 for conversion, it is free – FG
The FG has clarified an earlier statement about Nigerians having to pay N250,000 to have their vehicles converted from diesel/fuel use to autogas.
The Federal Government has said that news reports of Nigerians having to pay N250,000 to convert their cars from diesel/petrol engines to gas is false and incorrect.
This was disclosed by Justice Derefaka, the Technical Adviser on Gas Business and Policy Implementation to Minister of State for Petroleum, Timipre Sylva, to newsmen on Friday.
CLARIFICATION BY TECHNICAL ADVISER, @FMPRng ON FG'S AUTOGAS CONVERSION OF VEHICLES: "I granted an interview where I stated that the auto conversion of vehicles to run on gas will amount to N250,000 & Nigerians will need to pay for that. That statement is not correct, it's wrong." pic.twitter.com/yQDfZyxhll

— Government of Nigeria (@NigeriaGov) December 4, 2020
On Friday, Derefaka clarified his position as wrong and said the FG plans make the conversion for free. He added that the FG plans to convert 1 million vehicles for free by the end of 2021.
"I granted an interview on Channels Television, where I stated the auto conversion of vehicles to gas will amount to N250k and Nigerians will need to pay for that. That statement is not correct, it is wrong.
"On that note, I will like to state the position that has been made by my boss, Timipre Sylva, that FG will convert those vehicles for free for Nigerians, and we are looking at 1 million vehicles by the end of 2021," he said.
What you should know 
Nairametrics reported earlier this week that  Justice Derefaka had said vehicle owners in the country would have to pay N250,000 to have their cars converted to autogas from petrol.