Insurance: NAICOM revises recapitalisation guidelines
In our view, we think the decision to extend the deadline is reasonable under current circumstances. The coronavirus pandemic has ravaged global economic and financial systems thus making it more difficult for an already unattractive insurance sector to raise much-needed capital.
In a circular communicated to insurance providers in Nigeria, National Insurance Commission (NAICOM) has announced an extension to the deadline for insurance providers to meet up with the regulator's new minimum capital requirement. In addition, NAICOM has broken the recapitalisation exercise into two phases. The first phase must be complied with by 31 December 2020.
To comply, insurance providers must meet 50% of the new minimum capital requirements while reinsurance providers are required to meet up to 60% of the new minimum capital requirement. The second phase which will end on the final deadline of 30 September 2021 would require 100% compliance with the minimum capital requirement from all insurance and reinsurance providers.
READ ALSO: Again, NAICOM shifts insurance recapitalisation deadline
The revised guidelines requires Life insurance providers to have minimum capital of N4bn (existing minimum – N2bn) by 31 December 2020 and paid up capital of N8bn by 30 September 2021. General insurers are required to meet a minimum paid-up capital of N5bn (existing minimum – N3bn) and N10bn by 31 December 2020 and 30 September 2021 respectively. Composite insurers are expected to have a minimum of N9bn in paid up capital (existing minimum – N5bn) by 31 December 2020 and N18bn by 30 September 2021 while reinsurers should have N12bn (existing minimum – N10bn) in minimum paid up capital by 31 December 2020 and N20bn by 30 September 2021.
In our view, we think the decision to extend the deadline is reasonable under current circumstances. The coronavirus pandemic has ravaged global economic and financial systems thus making it more difficult for an already unattractive insurance sector to raise much-needed capital. We note that several players have initiated the process of raising the needed funds from their existing shareholder base via the right issues. However, we highlight that some of the players currently have a negative book value of equity and are trading below their par values. Hence, raising equity capital does not appear feasible. That said, we expect to see a flurry of mergers and acquisitions in the industry once conditions become more favorable.
---
CSL Stockbrokers Limited, Lagos (CSLS) is a wholly-owned subsidiary of FCMB Group Plc and is regulated by the Securities and Exchange Commission, Nigeria. CSLS is a member of the Nigerian Stock Exchange.
NPF Microfinance Bank: Providing 'friendly' financial services for almost 3 decades
NPF microfinance bank has shown resilience over the years, and this is reflected in its consistent positive performance.
The 'Police is your friend' is a cliché many are familiar with, but most do not know that this friendship extends to financial services. Incorporated as a community bank in 1993, with License No. FC 00200, the Nigerian Police Force (NPF) Microfinance bank has been providing banking services to the Nigerian banking public for almost three decades.  
However, it is one of those stocks that hardly make the headlines, except for landmark events. This friendly microfinance bank is the pick for Nairametrics corporate profile this week.  
Incorporation 
NPF Microfinance Bank Plc (Formerly NPF Community Bank Ltd), was incorporated on 19th May, 1993, to provide services such as retail banking, loans and advances, and other allied services to both serving and retired officers and men of Nigeria Police Force, its ancillary institutions, and later on, the general banking public.  
The Bank mission says it is targeted at providing "banking and other permissible financial services to poor and low-income households and micro enterprises," with emphasis on members of the NPF Community. 
It commenced operations on 20th August, 1993 with a single branch in Ikoyi, having obtained a CBN provisional license to operate as a community bank. The bank obtained its full license to operate as a Community Bank on 24th January 2002. Five years later, it converted from its Community Bank status to a Microfinance Bank, following a CBN directive which allowed it to open branches in all the states. It was registered as a Public Limited Company on 13 July, 2006, and received an approval-in-principle to operate as a Microfinance Bank on 10 May 2007. 
NPF microfinance bank obtained the final license on December 4, 2007, but its stocks did not get listed on the main board of the NSE, until December 2010, after 17 years of operations. 
Its stock price is considered quite stable, trading within a narrow band, with its price-earnings ratio estimated to be about 9.45 times earnings, slightly higher than the 9.3 times earnings, which is the average PE ratio on the NSE. 
The bank's authorized capital at inception was N500,000.00, made up of 500,000 ordinary shares of N1.00 each. This has grown over the years to its current level of N2 billion, made up of N4 billion ordinary shares of 50k each, of which 2,286,637,766 ordinary shares of 50k each, are issued and fully paid up. 
At a share price of N1.22, the current Market Cap is put at N2.789 billion.  
Branch network has increased to about 35 branches across several states in the country. In August 2019, the bank reaffirmed an earlier decision to embark on another public offer to raise funds for the purpose of incorporating Information Technology to meet customers' needs and branch improvement, and to fund a three-year strategy from 2019 to 2021. 
Management 
Mr. Akinwunmi M. Lawal has been Managing Director since June 2014, while the Board of Directors has been chaired by Azubuko Joel Udah (Esq.) since 2015. 
Mr. John Kwabe Tizhe and Mr. Francis C. Nelson are Executive Directors; while Mr. Usman Isa Baba, Mr Aminu Saleh Pai, Mr Jibrin G. Gane, Mr. Salihu Argungu Hashimu, Mr. Abdulrahman Satumari, Mr. Dasuki Danbappa Galadanchi, Mrs. Rakiya Edota Shehu, and Mr. Mohammed D. Saeed are Non-Executive Directors. 
Recent financials
Although the NPF microfinance bank may not boast of a large customer base like most of the popular commercial and microfinance banks in the country, the bank has consistently shown favorable financials over the decades. The bank stocks is highly illiquid, but it has consistently and successfully paid dividends for the last 21 years, paying as much as N114.3 million in dividends for 2018.  
The audited results for FY 2018, shows a N300 million growth in gross earnings from N3.6 billion in 2017 to N3.9 billion in 2018, while there was a decline in profit. This decline is partly traceable to the 128.6% increase in marketing expenses from N63 million in 2017 to N144 million in 2018, while Directors' remuneration rose 63%, from N65 million in 2017 to N106 million in 2018. 
Profit before tax fell sharply from N819 million in 2017 to N287 million in 2018, and Profit after tax also dropped from N631 million in 2017 to N195 million in 2018.  For 2019, the Profit Before tax shot up to over N1 billion, while Profit after tax grew to N796.4 million.  
Within the 2018 financial year, customer deposit grew by 14.67% from N9.126 billion to N10.465 billion, while total asset increased from N15.952 billion in 2017 to N17.597 billion in 2018. In comparison, 2019 customer deposits grew further to N11.32 billion, and total assets increased further to N19.58 billion.  
The bank attributed the poor performance in 2018 to the adoption of the IFRS 9, which caused a rise in net impairments, a N700 million growth in operating expenses, as well as a N266.48 million fraud committed by one of its middle management staff in the Sokoto branch. Although N35 million was recovered of the sum, shareholders bore the brunt of the loss, as dividend per share dropped from 17 kobo in 2017 to 5 kobo in 2018.   
Whatever steps the company took to prevent a repeat of frauds, it was not effective; because 2019 saw an increase in frauds committed by members of its staff. The bank recorded frauds amounting to N2.1 million in four separate incidences, and another N12.26 million ATM electronic fraud. Though some of the money was recovered, over N12 million remained unrecovered at the end of the financial year.   
Conclusion
NPF microfinance bank has shown resilience over the years, and this is reflected in its consistent positive performance. However, it will have to work more on tightening lose ends to prevent cases of fraud and forgeries, which dips into its yearly profits and takes a chunk from shareholders dividends. 
Lagos State government seals warehouse repackaging expired curry powder
Following an anonymous tip, LASCOPA has sealed off a warehouse where expired curry powder was being packaged.
The Lagos State Consumer Protection Agency (LASCOPA), under the aegis of the Lagos State Government, has sealed a warehouse for repackaging unwholesome and expired curry powder.
This disclosure was made this morning in a press release to the general public, which was seen by Nairametrics, via the official website of Lagos State Government.
Acting on an anonymous tip-off from a member of the public, the Special Monitoring Team of LASCOPA, led by its General Manager, Mrs. Kemi Olugbode, paid an unscheduled assessment visit to the warehouse, to verify the claim. The tip turned out to be genuine.
This decision is in line with the State Government's core mandate of protecting consumers from unwholesome products. The warehouse which was sealed by LASCOPA, for repackaging unwholesome and expired curry powder with the name Chinchilli and Ducross for sale, was said to be owned by Canvest Nigeria Limited. The warehouse is located at Plot 4, Cocoa Industrial Road, Ogba, Ikeja.
The General Manager, speaking after the exercise, said the enforcement team discovered thousands of expired products stored in cartons, while some were found in sacks that were ready to be repackaged for sale in the market.
(READ MORE: Lagos to remove illegal structures obstructing Lekki Regional Road project)
The Head of LASCOPA, emphasized that the staffs of the company involved in the fraudulent operation have been arrested. Olugbode disclosed that the property will remain sealed until the government commences prosecution of the owners of the warehouse, and all those involved in the illicit activity are apprehended.
Mrs. Olugbode, also encouraged members of the public to support the present administration's determination to rid Lagos of all illegal activities, by reporting those who are engaged in unwholesome activities that are detrimental to the health of residents.
FG to seek international cooperation to curb illicit financial flows
FG hopes to strengthen international cooperation in curtailing the menace of illicit financial flows.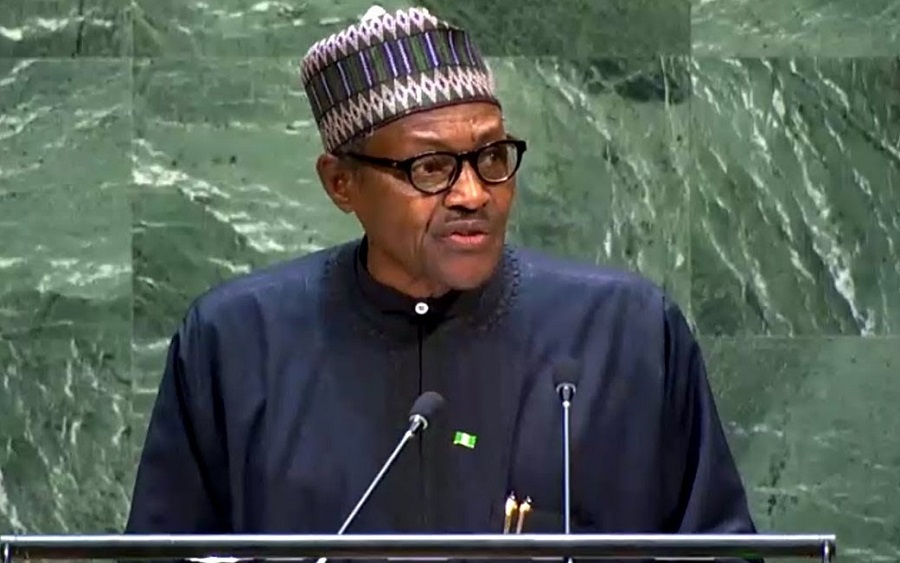 The Federal Government has said that there is a compelling need to strengthen international cooperation in the global effort to curtail the menace of illicit financial flows, as current international mechanisms are not strong enough.
This was disclosed by President Muhammadu Buhari in a speech delivered on his behalf by Vice President Yemi Osinbajo on Thursday at the Financial Accountability, Transparency and Integrity (FACTI) Panel Video Conference.
Osinbajo's spokesman, Laolu Akande, in a statement in Abuja, explained that the event was held at the sidelines of the ongoing United Nations General Assembly (UNGA).
READ: EFCC and CBN intensifies fight against financial fraudsters
The session also featured presentations by the immediate past President of the United Nations General Assembly, Prof. Tijjani Muhammad-Bande, and Amb. Mona Jul of the Economic and Social Council (ECOSOC).
He said, "The current international mechanisms for asset recovery are not good enough as can be seen in the amount lost to illicit financial flows and the length of time taken before the repatriation of just a small fraction is made.
READ: Nigeria received $96 billion diaspora remittances inflow in 6-years
"The FACTI Panel report can play an important role in bridging the expectations of source and destination countries as well as in harmonising the process of assets recovery and return. We agree with the Panel on the importance of having a balanced approach that reflects the situation in different regions and the priorities of different stakeholders. I believe that for the global aspiration to recover better from the impact of the pandemics and to yield any inclusive result, we must comprehensively address existing structures that make it impossible for countries to generate and retain a sizeable chunk of their resources. The success of the FACTI panel's final report will be measured by the clarity of its recommendations in support of global governance reforms."
READ: UK Prime Minister diagnosed of Coronavirus
According to the President, evidence suggested that the contemporary international tax system used a taxing rights regime that was not fit for purpose.
He added that the system makes combating tax abuses, especially by multinational corporations, difficult for most developing countries.
READ: Nigeria, Ethiopia sign visa waiver agreement
"It is my hope that the final report of the FACTI Panel would introduce proposals that would lead us towards a fairer international tax regime .I also hope that the report would contain proposals that would address the continuing advocacy for country-by-country reporting, open disclosure and automatic exchange of information on beneficial ownership, as well as eliminate financial secrecy jurisdictions and tax havens that facilitate base erosion and profit shifting. Profit shifting, harmful tax competition–the so-called "race to the bottom–and the taxation of the digital economy should also receive adequate attention and focus in the report of the Panel. FACTI Panel's report should assess how effectively we are meeting our commitments to combating the scourge and strengthening cooperation in dispute settlement and peer learning, particularly in assets recovery and return," he said.
Explore the Nairametrics Research Website for Economic and Financial Data
Other leaders who spoke at the forum included the Prime Minister of Norway, Erna Solberg, the Prime Minister of Pakistan, Imran Niazi and Former President of Lithuania, and FACTI Panel Co-Chair, Dalia Grybauskaite.
Ibrahim Mayaki, former Prime Minister of Niger and FACTI Panel Co-Chair, also spoke at the event.