Analysis: Is this a Lafarge rebirth?
Lafarge Africa Plc, one of the biggest building and concrete solutions companies in the world's three biggest Achilles' heels.
Lafarge Africa Plc, a unit of LafargecHolcim Group – one of the biggest building and concrete solutions companies in the world, has had a pretty long run in the construction sector. With projected growth in urbanization and inevitable population expansion, the leading producer of building materials and construction solutions has its stake in the huge Nigerian housing market. The company had served customers in Nigeria and South Africa (now discontinued) for decades, their customer base cutting across individuals requiring small building projects to major construction and infrastructure projects. All of these do well to place the company as an active participant in the economic growth of Africa.
Yet, so much has plagued the company in the past few years, curtailing its success with avoidable losses and below-par profits. While it, no doubt, has a series of challenges to worry about – like most organizations – three of its biggest Achilles' heels had been its failing South African operations, its incessant changes in its corporate leadership, and of course, the one pandemic threatening to rip the global economy to shreds – COVID-19.
Lafarge South Africa
The company's experience with its South African subsidiary gives credence to the phrase, "If anything is not serving you well, cut it off." After years of dragging the African cement-maker down, the subsidiary was eventually spun off in July last year – not before it incurred a final loss of N3.2 billion in the first quarter of 2019. It was only after, when Lafarge restated its accounts by adjusting figures from the discontinued operations from its books, that the company set off on a positive growth trajectory.
Following the sale of Lafarge South Africa Holdings (LSAH) in Q3, there was a remarkable improvement in gross and operating margins, clearly showing that the sale of LSAH was valued accretive to shareholders. For one, the total debt reduced drastically. Short term loans and long term loans also had a drop of 79% and 75% respectively in comparison with the first quarter of last year. Other financial assets increased significantly from N1.7 billion in 2019 to N4.8 billion in Q1 2020. Also resulting from the sale was the increase in EPS from Q1 2019 of 0.36 to Q1 2020 of 0.93.
(READ MORE: Analysis: Total Nigeria needs a financial overhaul)
Khaled El Dokani, CCEO of Lafarge Africa had stated, "Our turnaround and cost-reduction strategy in FY 2019 and the divestment of the South African business, have delivered strong results. The decrease in net debt has significantly strengthened our balance sheet and has placed us in a vantage position to face the future."
Its Changing Leadership
In 2018 alone, the firm appointed four directors in the space of three months. 9 months ago, in September, former CFO of Lafarge Africa Plc., Bruno Bayet, resigned.  Just a month later, the board had announced the appointment of Lolu Alade Akinyemi as the new CFO. Next, the group CEO, Michel Puchercos, also resigned leaving Khaled Abdelaziz El Dokani in charge. Even amidst the challenges of 2020, Jean-Philippe Benard resigned from being a Non-Executive Director in January 2020 and by April, the retirement of two Non-Executive Directors was announced, as well as the appointment of three new directors. The high turnover of its leadership means one (or both) of two things. The first is the possibility that there could be more than meets the eyes within the company and the second is the truth that the newer leadership will need time to adjust to the company's operations before the wins.
COVID-19
Just when things started looking up, COVID-19 came with all its challenges and it didn't help that the first carrier of the virus – an Italian man, had been visiting Lafarge Africa's factory in Ogun State. The loss in the demand for cement with the stalled construction activities will pose an additional challenge for the organization. In the performance summary released alongside the financials, the company had noted that the pandemic "will adversely affect the company's results in Q2, 2020." This is also coupled with the burgeoning competitive landscape with bigger brands like BUA and Dangote owning larger market shares.
While the company seems to be moving in the right direction, it might take a while for things to pick up. At its current price of N11.65 juxtaposed with its indicative dividend yield of 8.58%, the company could serve as an easy buy capable of yielding dividend income while investors wait patiently and hopefully for its wins to come.
Conoil Plc declares dividend payment for FY 2019, announces AGM soon
The current share price of the oil marketing firm as of July 9, 2020, is N18.90 per share.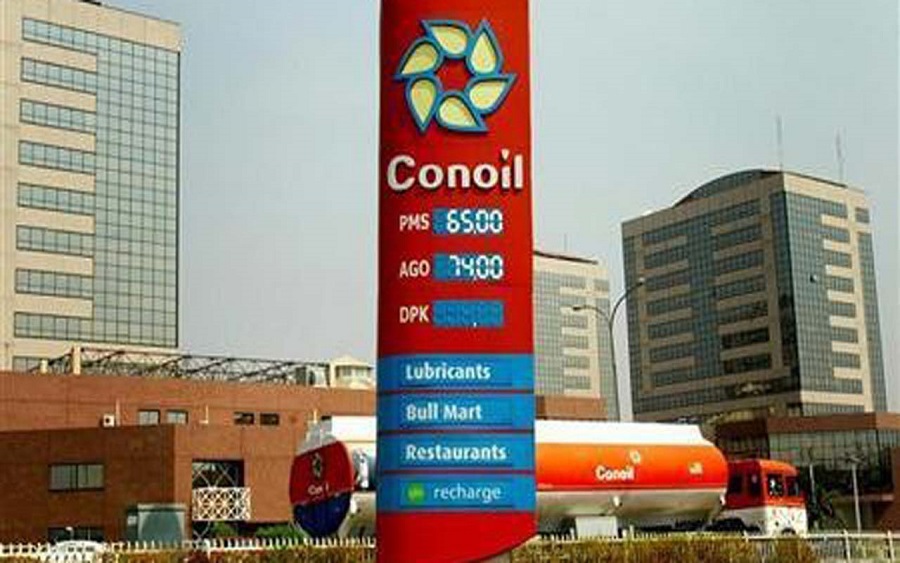 Oil marketing giant, Conoil Plc, has announced a final dividend payment of N2.00 per ordinary share of 50 kobo each for the period ended December 31, 2019.
The final dividend payment which will be paid to shareholders whose names appear in the Register of Members as at close of business on Monday, July 13, 2020, is, however, subject to the appropriate withholding tax deduction and the approval of the shareholders.
This information was contained in a notification that was sent by Conoil Plc to the Nigerian Stock Exchange (NSE) on Thursday, July 9, 2020, and signed by its Company Secretary/Legal Adviser, Conrad Eberemu after the release of the full-year audited financial statement for the year ended 2019.
The statement from Conoil says, ''A final dividend of 200 kobo per 50 kobo ordinary share, subject to appropriate withholding tax and approval will be paid to shareholders whose names appear in the Register of Members as at the close of business on the Monday, 13th day of July 2020.''
''The Register of Shareholders will be closed from Tuesday, 14th to Friday, 17th July 2020.''
(READ MORE: Conoil Plc releases FY financial result for 2019, profit up by 11% )
The corporate actions announcement by the oil firm also states that while the payment date will be on a date to be announced shortly, the dividends will be paid electronically to shareholders whose names appear on the Register of Members as at Monday, July 13, 2020, and who have completed the e-dividend registration with a mandate to the Registrar to pay their dividends directly into their bank accounts.
The oil marketing company also noted that shareholders with dividend warrants and share certificates that have remained unclaimed, or yet to be presented for payment or returned for validation are advised to complete the e-dividend registration or contact the Registrar (Meristem Registrars and Probate Services Limited).
The company's Annual General Meeting (AGM) will be held at a venue and date to be announced shortly.
Conoil PLC, in its recently released audited financial statement for full-year 2019 announced a Profit after tax of N1.99 billion as of December 31, 2019. This represented an increase of 11% when compared to the N1.8 billion that was recorded for the corresponding period in 2018.
The profit after tax was recorded on a Revenue of N139.76 billion as of December 31, 2019. This also represents an increase of 14% when compared to the N122.21 billion that was achieved for December 31, 2018.
The Profit before tax as of December 31, 2019, was N2.78 billion as against the N2.57 billion achieved for the corresponding period in 2018.
The current share price of the oil marketing firm as of July 9, 2020, is N18.90 per share and the earnings per share is N2.77.
NSIA records total comprehensive income of N36.15 billion in 2019
The NSIA recorded an increase in total assets to N649.84 billion at the end of the financial year.
The Executive Director, Nigeria Sovereign Investment Authority (NSIA), Stella Ojekwe-Onyejeli, announced in a virtual briefing to newsmen on Friday that the NSIA recorded a Total Comprehensive Income (TCI) of N36.1 5 billion in 2019.
She revealed that the 2019 income was less than the TCI for 2018, which was N44.34 billion. However, the NSIA recorded an increase in total assets to N649.84 billion at the end of the financial year, as opposed to that of 2018 which closed at N617.70 billion.
Ms Ojekwe-Onyejeli said that TCI income for 2019 included foreign exchange gains at N1.26 billion compared to N18.05 billion in 2018, noting that the gain in forex was due to changes in Nigeria's official exchange rate from N305 to a dollar to N325.
READ MORE: IMF expects Nigeria's GDP to shrink by 5.4% in 2020
"As of year-end 2019, NSIA's core capital remained at 1.5 billion dollars." She said. "The Authority continues to manage 3rd party funds on behalf of some government institutions. We currently manage funds for the Debt Management Office (DMO) and the Ministry of Finance.
"For DMO, the current value of Assets under Management (AuM) is 124.03 million dollars. For 2018, this fund stood at 122.60 million dollars in AuM.
"For the Nigeria Stabilisation Fund, managed on behalf of the Ministry of Finance, the Fund Balance was N33.365 billion. As of 2018, this balance increased to N20.814 billion."
"However, the National Economic Council voted for an additional capital contribution of 250 million dollars in 2019, which was received on April 8," she explained.
READ ALSO: NSIA completes payment of $417 million to NBET Plc
She added that the group's strategy to invest in diversified products across the yield curve provided returns and that the Stabilisation Fund (SF), which had been fully invested by the end of 2019, returned 5.81%, outperforming its benchmark by 381 basis points.
She also stated that the Future Generations Fund (FGF), deployed by the NSIA across multiple global equities, hedge funds and other diversifiers, returned 6.45% at the end of 2019, outperforming its benchmark of 6.43%.
"As of year-end 2019, we had deployed over 90 percent of the capital in the Future Generations Fund," she said.
Sterling Bank's earnings to remain pressured but valuations still attractive
We project Pre-tax Profit of N9.0bn (down 15% y/y) and we estimate ROAE of 6.9% in 2020e (FY 2019; 9.8%).
Sterling Bank's Q1 2020 numbers were largely impacted by the regulatory-induced fee cut on e-banking transactions resulting in a decline in Net Fee and Commission (down 16% y/y) and weak operating efficiency given the higher growth in OPEX (up 8% y/y) compared with the increase in operating income (up 3% y/y). Net Interest Margin (NIM) however improved to 7.7% in Q1 2020 (Q1 2019; 7.4%) on the back of lower funding cost (5.1% in Q1 2020 compared with 6.6% in Q1 2019).
READ MORE: How Quidax is Building Africa's Next Billion-Dollar Crypto Startup
Sterling bank's NPL ratio declined to 2.0% in Q1 2020 from 8.9% in Q1 2019 following the declassification of exposures in stressed sectors. We do not expect asset quality issues to crystallise in the short term, as we expect the bulk of the loans in the Oil and gas upstream/midstream (c.27% of gross loan) to be restructured. We however expect earnings to weaken in 2020, due to low asset yields amidst weak loan creation and the downward adjustment in fees on e-banking transactions. We Project Pre-tax Profit of N9.0bn (down 15% y/y) and we estimate ROAE of 6.9% in 2020e (FY 2019; 9.8%).
Following the downward revision to our 2020 earnings forecast, we have revised our target price downwards to N1.67/s from N2.84/s previously. We however maintain our BUY recommendation due to attractive valuations (P/E; 3.7x and P/B; 0.3x) and the 34% upside from the last closing price of N1.25/s. We note that the steep decline in the stock price (down c.37% since the start of the year) presents an attractive entry point.
Download the Nairametrics News App
---
@Copyright CSL STOCKBROKERS LIMITED, 2020. All rights reserved.