UPDC reaps benefits of NSE's resilience with listing of N16 billion Rights Issue
"We congratulate the Management and Team at UACN Property Development Company Plc, as well as the professional parties to the issue for the successful completion of the transaction." – Oscar Onyema, CEO of the NSE.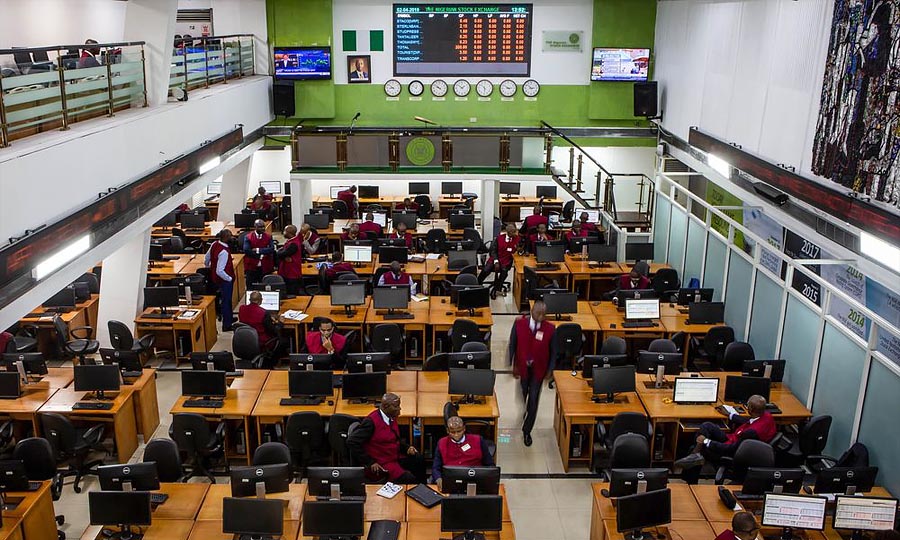 UACN Property Development Company Plc (UPDC) has become yet another beneficiary of The Nigerian Stock Exchange's (NSE or The Exchange) commitment to provide continued access to capital even in the face of COVID-19.
The company successfully listed its N16 billion Rights Issue of 15,961,574,145 Ordinary Shares of 50 kobo each at N=1.00 per Share on the NSE platform on Tuesday, 2 June 2020 shares of 50 kobo each at N=1.00 per Share on the NSE platform on Tuesday, 2 June 2020.
Speaking at the virtual Closing Gong ceremony to commemorate the listing, the Chief Executive Officer, NSE, Mr. Oscar N. Onyema, OON commented, "We congratulate the Management and Team at UACN Property Development Company Plc, as well as the professional parties to the issue for the successful completion of the transaction. At the NSE, we prioritize our responsibility to support the development of Issuers, Dealing Member Firms and the investing public, and we continue to work assiduously to respond to the needs of our stakeholders at every time. We are, therefore, pleased to provide support to UPDC on this successful capital raise, and we remain committed to providing opportunities for trading activities across multiple asset classes – equities, bonds, ETFs."
READ ALSO: Seplat denies swindling FG of N600 billion despite co-conspirator's guilty plea
Commenting on the transaction, the Group Managing Director, UPDC, Mr. Folasope Aiyesimoji said, "I am deeply honoured to virtually sound the Closing Gong at the NSE today. The innovation and forward-thinking displayed by The Exchange in harnessing technology to make this possible is truly commendable. We at UPDC are excited about the milestone we have achieved today, and we are confident that the funds raised will further strengthen our capital structure and position us for growth. We count ourselves fortunate to be listed on the NSE which exposes us to a wide pool of investors and funding options. We must also commend the NSE for its efforts in building investor confidence which has made it possible for us to access this capital. We are grateful for the trust reposed in us by investors and we are keen to get on with the invaluable projects this capital will support."
The Exchange remains focused on leveraging technology and business innovation to sustain full operations during this pandemic. Since the activation of its Business Continuity Plan which saw the transition to remote trading and working in March, the NSE has enjoyed seamless operations on the back of electronic platforms such as FIX Protocol, X-NET, and the newly implemented Virtual Private Network (VPN). The NSE digital Closing Gong ceremony also attests to the resilience of the NSE's technology platforms with UPDC being the third company to feature in the series following Sterling Bank and FBNQuest Merchant Bank.
Comercio Partners emerges Best Boutique Investment Bank of the year
Comercio Partners Limited has been conferred with the award for the Best Boutique Investment Bank of the year at BAFI awards.
Comercio Partners Limited, a leading investment bank in Lagos, Nigeria was conferred with an award for the best boutique investment bank of the year over the weekend at the BusinessDay banks' and other financial institutions (BAFI)awards, held at the Lagos continental hotel, Victoria Island.
The firm recently concluded a rebranding exercise in September to redefine her philosophy, essence, and identity.
The respective honors came despite some stiff competition from other formidable nominees.  Tosin Osunkoya, Co-managing Partner at Comercio Partners humbled by the win remarked: "The business started a few years ago during an economic recession in the country, and despite the uncertainties my co-managing partners Steve Osho, Nnamdi Nwizu and I forged on because we believed in the potentials that we have. Since inception, we set out to build a unique investment bank in Africa that supports our strategic agenda to develop an investment ecosystem of choice with the intent to empower minds. This win is a realization that we are on the right path and I am elated to see those efforts get the external recognition they deserve."
Our strategic business focus areas remain Trading, Investment Management, Financial Advisory and Real Estate.
Comercio Partners…We are set to lead into the future.
Kimpton Kawana Bay Resort – Beyond real estate investing
Owning a piece of this luxury resort will allow Nigerians visa-free travel to 160 countries- including the US, China and EU Schengen Zone.
Overlooking the white sands and eternal blue waters of Grande Anse beach- voted by CNN and Conde Nast Traveller as one of the best beaches in the world, will stand the new 5-star Kimpton Kawana Bay Resort in all of its majesty.
Heralded by Forbes as one of the most anticipated luxury openings in 2021, the resort will feature an infinity-edge pool, state-of-the-art gym and spa facilities, exquisite fine dining restaurant, roof-top bar, beach bar, lounge with terrace and water sports facilities. The resort will be operated by an internationally recognised hotel brand – Kimpton Hotels & Restaurants, part of IHG (InterContinental Hotels Group), one of the largest hotel groups in the world.
A Once in a Lifetime Opportunity
Now selling with title deeded studios and suites for a minimum investment of USD220,000, this luxury 5-star resort offers more than just real estate investing. Kimpton Kawana Bay, endorsed by the Prime Minister of Grenada, is Grenada's most popular government-approved Citizenship by Investment Project. And as a result, owning a unit of what promises to be a spectacular work of art, provides the investor a Grenadian Passport, which in turn will allow you visa-free travel to 163 countries- including the US, China, Russia, Singapore and the EU Schengen zone.
With a projected rental income of 3-5% through a transparent revenue-sharing model, personal accommodation usage of up to 2 weeks each year with zero annual out of pocket fees, the fast-selling but limitedly available Kimpton Kawana Bay resort is a financially sound investment. It operates a hassle-free ownership model for potential buyers who can choose to disinvest and recoup their initial investment after 5 years should they require whilst retaining their Grenadian citizenship.
But why choose Grenada? There's so much to love about the famous "Isle of Spice'. The Caribbean country is rich with culture laced with a strong West-African influence. Its gorgeous beaches, fantastic scenery and amazing local cuisines make it a paradise on earth. But its economic and political stability, low crime rate, tax benefits, citizenship that can be passed on to future generations and the ability to live and work in the United States via the E-2 Visa category make it most alluring. And as other Nigerians have experienced, owning a unit of this magnificent resort allows the investor to include up to 4 dependents across 4 generations in one citizenship application.
Its also very interesting to note that Grenada does not require holders of its passport to live in the country- meaning you can live wherever you desire as your business and personal life dictates.
Getting Started
Acquiring a unit at Kimpton Kawana Bay Resort is a simple process that commences with the appointment of an international marketing agent. La Vida Golden Visas is a London-based Investment Migration firm and a leading facilitator of the Grenadian Citizenship by investment programme who has advised over 30,000 potential investors and currently serves clients from over 80 countries, including many Nigerians.
Interested buyers can reach out to La Vida Golden Visas for more information and advice on how to get started.
Website: www.goldenvisas.com
Phone: +44 207 060 1475
Email: [email protected]
Ikeja Electric bags Most Philanthropic Disco award
Ikeja Electric Plc (IE), Nigeria's biggest Electricity Distribution Company has been adjudged the 2020 Philanthropic Electricity Distribution Company of the Year, at an Award Ceremony organized by CSR Reporters, a specialized news publication with concentration on how organizations and well-meaning individuals are giving back to the society.
According to the organizers, the award was given in recognition of IE efforts to give back to the society in which it operates. The citation read that Ikeja Electric was selected because it demonstrated integrity and transparency while engaging in several corporate social responsibility interventions in 2020.
"As you may know, many other companies were also nominated and because of the high caliber of the nominees, the Selection Committee deliberated long hours and gave careful consideration to all of them. Ikeja Electric stood out as a leader who exemplifies dedication to CSR," the organizers said.
While thanking the organizers for the recognition, IE's Head of Corporate Communications Felix Ofulue reiterated the company's commitment to continue giving back to host communities through its Personal-Corporate Social Responsibility (P-CSR) interventions.
According to him: "We will continue to intensify efforts to make meaningful in the lives of the people and the society. Our P-CSR platform enables the company and employees to carry out charitable activities aimed at making considerable impact on the different levels of the society. Under the P-CSR programme, we also have a Volunteer Scheme (EVS) which enables our employees to voluntarily contribute their time and resources towards the wellbeing of the communities in which we operate. These goodwill activities further corroborate our commitment to touching lives in the environment where the company operates. No doubt, this will further strengthen the trust and mutual relationship between the company and communities."
He also urged the CSR Reporters to increase awareness in CSR activities as it will encourage other companies to recognize and contribute immensely to the development of communities where they operate.
In the recent past, Ikeja Electric has been carry out sustainable CSR initiatives, aimed at enhancing the quality of lives, in the key areas of Youth Empowerment, Healy and Primary Education