UPDC reaps benefits of NSE's resilience with listing of N16 billion Rights Issue
"We congratulate the Management and Team at UACN Property Development Company Plc, as well as the professional parties to the issue for the successful completion of the transaction." – Oscar Onyema, CEO of the NSE.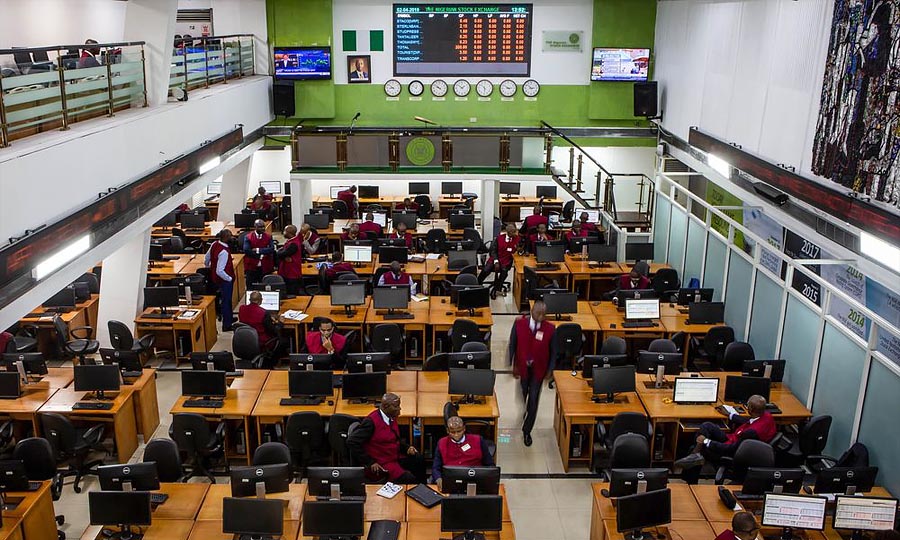 UACN Property Development Company Plc (UPDC) has become yet another beneficiary of The Nigerian Stock Exchange's (NSE or The Exchange) commitment to provide continued access to capital even in the face of COVID-19.
The company successfully listed its N16 billion Rights Issue of 15,961,574,145 Ordinary Shares of 50 kobo each at N=1.00 per Share on the NSE platform on Tuesday, 2 June 2020 shares of 50 kobo each at N=1.00 per Share on the NSE platform on Tuesday, 2 June 2020.
Speaking at the virtual Closing Gong ceremony to commemorate the listing, the Chief Executive Officer, NSE, Mr. Oscar N. Onyema, OON commented, "We congratulate the Management and Team at UACN Property Development Company Plc, as well as the professional parties to the issue for the successful completion of the transaction. At the NSE, we prioritize our responsibility to support the development of Issuers, Dealing Member Firms and the investing public, and we continue to work assiduously to respond to the needs of our stakeholders at every time. We are, therefore, pleased to provide support to UPDC on this successful capital raise, and we remain committed to providing opportunities for trading activities across multiple asset classes – equities, bonds, ETFs."
READ ALSO: Seplat denies swindling FG of N600 billion despite co-conspirator's guilty plea
Commenting on the transaction, the Group Managing Director, UPDC, Mr. Folasope Aiyesimoji said, "I am deeply honoured to virtually sound the Closing Gong at the NSE today. The innovation and forward-thinking displayed by The Exchange in harnessing technology to make this possible is truly commendable. We at UPDC are excited about the milestone we have achieved today, and we are confident that the funds raised will further strengthen our capital structure and position us for growth. We count ourselves fortunate to be listed on the NSE which exposes us to a wide pool of investors and funding options. We must also commend the NSE for its efforts in building investor confidence which has made it possible for us to access this capital. We are grateful for the trust reposed in us by investors and we are keen to get on with the invaluable projects this capital will support."
The Exchange remains focused on leveraging technology and business innovation to sustain full operations during this pandemic. Since the activation of its Business Continuity Plan which saw the transition to remote trading and working in March, the NSE has enjoyed seamless operations on the back of electronic platforms such as FIX Protocol, X-NET, and the newly implemented Virtual Private Network (VPN). The NSE digital Closing Gong ceremony also attests to the resilience of the NSE's technology platforms with UPDC being the third company to feature in the series following Sterling Bank and FBNQuest Merchant Bank.
Key learnings from the Fintech Rising webinar with SEC
The main benefit of being regulated has to do with investor confidence, security, and scale.
Last week, Nairametrics hosted a webinar tagged "Fintech Rising: Creating synergy between fintech players and regulators" to discuss the regulatory environment within which the wealth-tech ecosystem operates and how it is transforming the sector.
The recent announcement by the SEC about its first license for Fintechs – Digital Sub-broker license – has led to several questions being asked about what this type of registration would mean for players within the space. Tosin Osibodu of Chaka, a digital trading platform for local and foreign stocks, who was present on the panel, provided insights into what being regulated by SEC means, and the benefits to the sector.
Being regulated does not limit your business:
He highlighted that from the start, Chaka has been extremely focused on being regulator friendly, explaining that being regulated does not mean that one's business would be limited. Regulators are committed to ensuring development and innovation within the ecosystem but will first make sure that businesses are aligned with their goals and are beneficial to the public.
SEC's intention for creating this new license:
The regulators' intention is to make sure that everyone participating is registered and structured in line with set guidelines, and it is incumbent for players to engage SEC to do that. The right approach to take is to engage regulators, show the benefits of your business to the economy as being an enabler of digital investing, making sure it is easier for people to tap into the markets, and so on; then get requisite registration.
The importance of regulation:
Tosin further highlighted that the main benefit of being regulated has to do with investor confidence, security, and scale. When a wealth-tech company just starts out, it is exciting both for the operators and the customers, but as it grows, it is necessary to scale, and that would require business and regulatory compliance according to set guidelines that obtain within the sector. Customers would want to know that in the long-term their money is safe, which the SEC is trying to ensure.  The disadvantage of not having regulation in this sector is the uncertainty for the investing public, which the SEC is guarding against.
With this new license, which Chaka is in line to receive, the SEC is ensuring that only compliant platforms would be allowed to operate so that investors will be more confident knowing that their assets are safe and stable. It would further encourage more people to invest, and encourage more players to enter the market, therefore spurring innovation.
SalesRuby to gather over 300 revenue leaders from Nigeria, Kenya, South Africa, Ghana at the Africa Revenue Summit (AFRES2021)
The event which holds at The Campbell Centre, Marina, Lagos will feature 25+ Speakers, 25+ Sessions across several distinct tracks.
The Africa Revenue Summit formerly known as Sales Leadership Conference (SLC) has evolved over the past four years as the largest convergence for revenue leaders across corporate Africa. The first, second and third editions hosted by SalesRuby held in Lagos, Nigeria in 2018, 2019 and 2020 respectively welcoming over 400 participants each year.
This year's edition intends to gather over 500 participants from across Africa including Kenya, Ghana, Nigeria and South Africa to discuss modern strategies, processes and techniques for driving the growth of companies and organizations. This year's event; up from just focusing on sales; would be taking a deep-dive review of themes across the entire revenue value chain which would include sales, marketing, culture, people leadership etc.
The event which holds on Friday & Saturday, June 4th & 5th, 2021 at The Campbell Centre, Marina, Lagos will feature 25+ Speakers, 25+ Sessions across several distinct tracks. The theme of the summit is "Scaling Growth, Optimizing Margins"
Some of the speakers at AFRES 2021 include:
Motayo Latunji – Sales Director, Hayat Kimya

Bunmi Jembola – CEO, SaleRuby

Olutayo Latunji – Head of Sales Operation, Nestle Nigeria

Winston Nolan – CEO, Sales Machine (South Africa)

Sam Kariuki – Sales Trainer, Growth Partners (Kenya, East Africa)

Mawuli Ocloo – Chief Sales Partner, Salesmark Services (Ghana)

Yewande Akomolafe-Kalu – Head, Branding & Storytelling, Flutterwave

Ose Osundeko – Group Head, Digital Marketing, Fidelity Bank

Kenechi Eneh – Divisional CEO, ipNX 

Adenike Lucas – VP, Sales & General Manager – West Africa, Upstream

Fikayo Akeredolu – Head of Growth, Stears

Ibiyinka Dada – Digital Marketing Manager, Airtel

and 13+ more industry leaders
What to expect at the Africa Revenue Summit:
The speakers and leaders, which were selected from across four countries in Africa and across multiple fields related to the theme, will offer invaluable insights and actionable strategies to CEOs, Executive Directors, Head of Sales, Marketing Directors and associated stakeholders on such topics as:
Designing a modern sales process for growth

How to shorten deal cycles

Telling brand stories that cut through the noise

Strategic interventions for growing key accounts

Culture as a force for growth

Best class content strategies for today's buyers

Understanding the core principles and practice of sales enablement

Designing a winning inside sales strategy

Go to market strategies fit for these times

Leading a product-led growth strategy

Recruiting, onboarding & retaining exceptional sales talents

and many more sessions
Interested in participating in this event, visit https://afres.africa/get-ticket/
Call 09070047684, 09070048214. You can also send an email to [email protected]
Follow on LinkedIn
https://www.linkedin.com/showcase/afres/?viewAsMember=true
Follow on Instagram
https://www.instagram.com/afresummit/
Nairametrics | Company Earnings
Access our Live Feed portal for the latest company earnings as they drop.