NSE, IFC Highlight Gender Implications of COVID-19 in Inaugural Seminar Under the Nigeria2Equal Program
"The COVID-19 pandemic has brought about unprecedented changes in our lives and businesses. There is a valid concern that the current economic challenges will exacerbate gender inequality."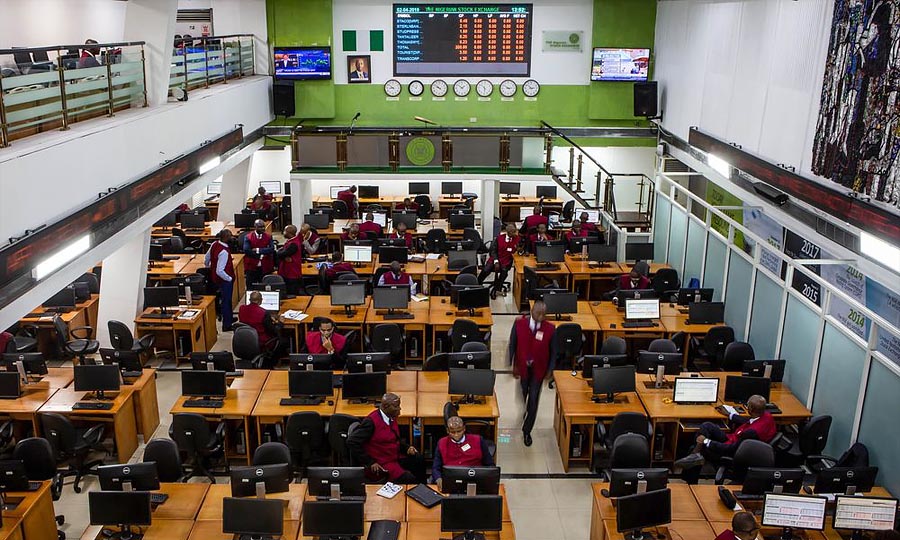 The Nigerian Stock Exchange ("NSE" or "The Exchange") in collaboration with the International Finance Corporation (IFC), has launched the Nigeria2Equal Programme with an inaugural seminar on Monday, 25 May 2020. The webinar, themed, "Gender Implications of COVID-19: Supporting Women as Employees in the New Normal" highlighted the differential socioeconomic impacts of the Coronavirus (COVID-19) on men and women, with women predicted to face more negative impacts.
In addressing concerns around women at home and in the workplace during this crisis, the Head, Shared Services Division, NSE, Bola Adeeko said, "The COVID-19 pandemic has brought about unprecedented changes in our lives and businesses. There is, however, the valid concern that the current economic challenges will exacerbate gender inequality, especially because women are inappropriately represented in the informal sector and they are equally under-represented in more senior levels of management in the corporate world. This seminar, therefore, features a panel of seasoned and experienced experts to discuss best practices on how companies can develop the appropriate actions during and after this pandemic while re-aligning their business structures to the new realities."
READ ALSO: Should Ecommerce and Logistic efforts be the exemption to the Nationwide Lockdown? 
Speaking to the critical need to advance gender equality today, the Country Manager, IFC Nigeria, Eme Lore Essien said "In times of crisis, gender issues can sometimes be relegated to the backseat. The insights shared today bring to the fore to the urgent need for us to think outside the box for more gender-sensitive responses to the needs of the business, particularly in a post-COVID economy. The IFC is committed to providing a platform for knowledge sharing especially for female entrepreneurs who are successfully navigating the world of professionalism whilst balancing home life. We are particularly thankful to the NSE for supporting us in providing one of such platforms today."
The event featured a panel discussants of thought leaders across business, academic and the civil society spaces including: Head, Trading Business Division, NSE, Jude Chiemeka; Director, Sustainable Business Initiative, University of Edingburgh, Professor Kenneth Amaeshi; Country Head, Human Capital, Stanbic IBTC, Funke Amobi; and Chief Executive, CSR-in-Action, Bekeme Masade-Olowola.
READ ALSO: FCMB deepens empowerment of SMEs in Ogun State, as First Lady commends bank
Speakers were in agreement that more women are experiencing increased burden of being traditional caregivers even as families spend more time at home. This to them will inadvertently lead to a decrease in productivity, further reinforcing gender segregation at this time, therefore, leading to heavy job attrition. They emphasized the need for Corporates to be proactive in creating support systems for female employees through frequent engagements, executive coaching, access to professional support, to name a few.
Rivers, Kwara, receive 6 ambulances, food supplies and N100million each from BUA for COVID-19 intervention
BUA Foundation said the donations are intended to assist both governments in fighting the pandemic.
The Rivers and Kwara State governments have commended BUA Group through its philanthropic arm, BUA Foundation for its support to both states in assisting in their fight against COVID-19. This came as BUA donated 6 ambulances, food supplies and 100million Naira each to both states.
Speaking while presenting the ambulances to Nyesome Wike, the Rivers State governor in Port Harcourt and his Kwara State counterpart, AbdulRahman AbdulRazaq in Ilorin, representatives of BUA Foundation said the donations are intended to assist both governments in fighting the pandemic to a standstill as number of cases continue to rise in Nigeria.
READ ALSO: COVID19 UPDATE: Jigawa, Sokoto states receive ambulance from BUA Foundation
On his part, Governor Wike praised the sustained support from BUA Foundation to the Rivers State government. He also revealed that the company has made a donation of 100million as well as 4,000 cartons of pasta for which the State remained grateful
READ ALSO: Caverton Helicopters Ltd explains incidents that led to shutdown of its Rivers' offices
Also, Governor AbdulRahman thanked Abdul Samad Rabiu, the Executive Chairman of the Group for the ambulances and the 100million Naira donations to Kwara state which will further strengthen the state's fight against the pandemic. He also added that the donations will be used judiciously.
Since the start of the pandemic, BUA has committed about 20million dollars to various efforts to tackle the virus within Nigeria.
Download the Nairametrics News App
---
EDITOR'S NOTE: This is a sponsored content.
Propertymart boosts affordable housing, allocates plots at Fairmont Hilltop Estate  
Allottees were full of commendations for the Company as they took possession of their plots.
Leading real estate company, Propertymart Real Estate Investment Limited, has intensified its effort to provide affordable housing to Nigerians with the allocation of plots of land to subscribers at Scheme Two of its Fairmont Hilltop Estate, Alagbado, Lagos.
Subscribers to the residential scheme, an affordable housing initiative, were full of commendations for the Company as they took possession of their plots at the weekend.
The subscribers, who praised both the scenic hilltop estate and infrastructure already provided by the Company, also hailed the speedy and transparent allocation process.
One of the allottees, Gibson Eze, praised the Company, saying "I'm impressed with Propertymart. I like their customer service in particular and I will be recommending this Estate to others because my experience so far has been excellent. Every one of their activities is documented, and since it's documented, it gives you the room to have trust. Once there is documentation, trust can easily flow."
Another allottee, Biodun Koleosho, also praised Propertymart for the excellent layout of the Estate and not using the COVID-19 lockdown to delay allocation of plots.
He said, "They have done an excellent job of following up on keeping to their word and that is being able to deliver plots to customers. In terms of documentation, despite the COVID-19 lockdown, they got in touch with me and sent me an e-copy of the contract pending when I could come to the office and sign the hard copy. So, despite the challenges of COVID-19, they are still able to deliver as promised."
An elated Mrs Abiola Oni also said, "I like the speedy nature of the sale and documentation process. We paid around early February, and here we are in June with our plot. The environment is nice and cool. I am impressed with Propertymart."
Mrs Lynda Esohe Ugbesi, who stood in for her brother, Lucky Anthony, couldn't contain her excitement with the serene Estate. She explained that "The environment is conducive and accessible. The terrain is excellent. I can see flooding won't be an issue. The allocation process is transparent. I'm happy with the way everything has been done. I was even asking if they have more plots available so that I can tell others about the Estate."
While commending the beautiful location, another allottee, Timothy Oyeniyi, said he had been on the lookout for a beautiful estate to invest in and that Fairmont Hilltop fit the bill perfectly.
He said, "It is secure from the hustle and bustle of the main Ota; it is close to Lagos. You can jump in and out without having to go through the potholes that many people experience in Ota. It's a serene environment. That's what I like about the location itself. And the fact that it's a border town between Ogun and Lagos States."
Speaking about the Estate and Propertymart's resolve to provide affordable housing to Nigerians, General Manager, Sales and Marketing, Propertymart, Oluwasegun Damiro said, "We are committed to helping many Nigerians own their homes in a safe and secure environment and at pocket-friendly prices."
He said, "we are for the grassroots and what we want to sell to people, particularly first-time homeowners, is affordability. Inside this Estate, we have some two-bedroom bungalows that we are constructing for people who won't have time to build and want to save themselves the hassles of buying land and clearing. This is apart from the common land grabbers issue."
Damiro added that though plots in Schemes One and Two in the Estate have been fully taken, prospective homeowners can take up the exciting promo offers in Scheme Three which run till the end of June.
"Ordinarily, our plot size is 500 Sqm, but we have 400 Sqm, 324 Sqm and 240 Sqm so that you could pay as low as N5 million. It's all to encourage people. The promo price for 500sqm in Scheme Three is N7.8 million. That's a discount of about N2 million from what you have in Schemes One and Two," he said.
Damiro further added that Propertymart, which has been in the real estate business for over 12 years doesn't just sell land, but a lifestyle to its customer.
He said, "We have allocated over 6,000 homes and serviced plots since inception and we are glad that our customers have faith in us. We don't just sell land. What we sell is a lifestyle. Before people move in, infrastructure is ready. Street light, roads, electrification, which means that even before you start building, you have a planned Estate where you can start dreaming of where to keep a home—your children, where they are going to play. Where you can get your groceries. What we sell every day is a lifestyle, not just the normal Omo Onile."
Fairmont Hilltop Estate, Alagbado, is part of the 'The Fairmont' serviced plots strategically located in Arepo and Lekki-Ajah. They are not only affordable but also allow clients to live in safe, beautiful environments with well-defined perimeters.
WAeY provides income opportunities for Nigerians amidst and beyond COVID-19
WAeY guarantees that you get your deliveries in the shortest possible time.
The logistics industry has been one of the unsung heroes in the fight against the Coronavirus (COVID-19). This industry has been instrumental in the continuous movement of the wheels of online commerce. In fact, without the logistics companies, e-commerce would not be nearly as successful as it currently is. Since the outbreak of COVID-19, demand for last-mile logistics has increased significantly as people are more dependent on online stores and e-commerce sites to meet their urgent need for food, clothes, and other home essentials.
The importance of this industry is further evident in the numbers. According to the Global Logistics Market Report, global logistics reached a value of $4,730 billion in 2018 and is projected to reach an impressive value of $6,300 billion by 2024. Bringing it home to Nigeria, the industry has enjoyed steady growth and development and was valued at N250 billion in the 2018 Logistics and Supply Chain industry report. Early on, the sector was dominated by international courier companies until the influx of top e-commerce players who created the need for same-day delivery services at affordable rates, thereby strengthening the growth of the sector.
In recent years, the logistics industry has benefitted from advancements in technology, integration and globalisation. Some of the notable advancements we have seen include GPS tracking, automated material handling, drones, internet of things, and smart logistics technology. All of these have improved efficiencies along trucking transportation, international transportation, supply chain management and shipment tracking. While not all of these technological innovations are available in Nigeria, several logistic companies have sprung up and are capitalizing on these utilities to enable them deliver superior services such as on-demand delivery.
One of the companies doing this, and expertly so, is WAeY. This platform is leading the pack in making instant deliveries of any type of parcel more convenient and accessible. What WAeY does is to match riders to requests closes to them on an app, ensuring that the often frustrating hurdles you experience with more traditional logistics companies is eliminated completely. Essentially, WAeY guarantees that you get your deliveries in the shortest possible time, a feat that would not be achievable without heavy reliance on technology.
It is also worthy of mention that the WAeY methodology has a ripple economic effect on players within the sector again through its dependency on technology. By giving the customer and business owner the ability to track orders in real-time, it becomes easier to build and renew trust between users and delivery service providers. With trust being a major currency in service delivery, this will inadvertently yield positive results with a promise of up to 80% returns for partners or bike owners according to information available on their social media accounts.
What is most interesting to note at this time is that WAeY Technology – in partnership with HOR Logistics – is at the moment offering business opportunities for entrepreneurs and those who need a source of income in a time like this. With the growing demand for logistics occasioned by the new normal that the COVID-19 pandemic has introduced, on-demand logistic services are set to thrive. In response to the increased demand, WAeY is offering interested partners an opportunity to come on board. With as low as N600,000, anyone can become a business partner and enjoy access to a bike, medical insurance, training, and more.
As questions continue to swirl around opportunities for economic gain in a post-COVID era, one of the sectors that will surely experience a boom is the logistics sector. Furthermore, its low-cost entry and ability to deliver quick returns makes it a sweet spot for any interested participant. Will you consider this business opportunity with WAeY? You can reach them via email at [email protected].