Exploring branchless, other digital forms of banking in a crisis
Banks these days have the digital options that allow their customers to manage the vast majority of banking needs without leaving their homes.
We are certainly living in unprecedented times. An indicator, which calls for concern, is how the number of Coronavirus cases has increased from 2 to 81 in the span of some weeks in Nigeria and unfortunately, this continues to rise with each passing hour. Many countries are reaching a rather critical infection juncture where things may likely get out of control.
The Nigerian government, especially in Lagos, has begun to implement the "self-quarantine" rule for its residents. Over this past week, churches, mosques and even banks have begun taking precautions against the spread of the virus.
Union Bank announced that it had instructed its employees who can work from home to do just that during this period. Ecobank sent a circular to all vendors not to come to its locations except for essential services and pre-approval.
Even more recently, Access Bank Plc announced that an individual, who visited one of their branches in Lagos on the 16th of March, 2020 was tested positive for the virus, and so the bank urged its customers to take full advantage of their digital platforms instead for all their banking needs.
The chaotic effects of the pandemic make it rather unclear what the Nigerian financial services industry will look like after the crisis is over, especially in banking. Fortunately, banks these days have the digital options that allow their customers to manage the vast majority of banking needs without leaving their homes. Now more than ever, the importance of exploring digital platforms and tools in banking or the lack thereof is increasingly highlighted.
[READ MORE: Digital payments sustains surge, affirms growth prospects)
Therefore these questions arise:
Are Nigerian Fintechs prepared for the worst possible outcome in a global crisis?
Giving that with any significant market pullback, opportunities will eventually arise amid the disruptions, are they ready to employ all tactics needed to milk these opportunities?
Is this an opportunity to strive for a future where digital and branchless banking solely driven by technology could change the way we bank?
Globally, there is an indication that the pandemic could hasten all forms of digital banking trends, and bankers are reporting that digital usage is rising alongside the proliferation of the virus. In many cases, it is surging.
Nigeria records a rather significant number of people with a preference for online and mobile banking, however, there is still is a large number of people who depend solely on brick and mortar banks to manage their finances. Could bank agents be the solution for these categories of customers?
To keep up with safety precautions, more Nigerian banks may need to encourage the use of online and mobile platforms and increase their assistance with customers to execute work outside the branch and as well as encourage the activities of their various agents with branchless banking.
It is undeniable that in the past few years, branchless banking, which has relatively become a mantra for Nigeria, has been impactful in facilitating financial inclusion. Inclusion has always been a concern in most countries of the world and even more so in Nigeria due to certain geographic conditions of the country. Over and again, we discuss the challenges to reach out to the underbanked rural areas within the country.
The increasing fear and quarantine measures are bound to keep customers away from bank branches at this time, so the opportunities abound in branchless banking can now be fully explored. The outbreak also makes this a great time to make a move toward a germ- free banking experience. This will facilitate the process of financial inclusion as it allows access to people in remote areas and is preferential to younger generations and most importantly is much more cost-effective.
[READ ALSO: COVID-19 Pandemic: Ecobank encourages customers to adopt digital self-service solutions)
The truth with everything happening, we might not have much of a choice than to fully adopt technology and digital banking seeing as for the foreseeable future, movements will be limited to its barest possible minimum and rightly so.
There are many upsides to fully adopting digital and branchless banking, and Nigeria has successfully adopted agency banking in this sector but more importantly, these suggestions will help permit the full transformation of our financial services industry especially at a time like this:
Retail outlets: Remote or not, every neighbourhood has a number of retail stores offering a variety of products but not financial services. There is no time or money for banks to spend on building their own retail presence right now. Exploring these existing retail outlets offers the opportunity to create a familiar service environment for less educated people helping them feel safe rather than intimidated or overwhelmed.
Trust through technology: In the adoption of branchless banking, as bank-customer interface shifts to a third-party retail environment ensuring trust is paramount. Even in fear, customers need to have confidence in the activities carried out by both bank agents and non-bank agents.
Mobile phones: Nigerians already have implemented the culture of USSD codes, we, however, need to explore that even more. Ensuring that mobile phone users can enjoy financial services with speed and ease could change the entire user experience.
The barriers to customer adoption have less to do with attitudes about technology (fear of change, unfamiliar user interfaces, security concerns, etc. although that is valid as well) than with communicating precise customer benefits and financial incentives for various business providers.
When you consider the hundred thousand bank agents operating in all forms of mobile money platforms for receiving and making payments in the city of Lagos alone, it shows that the electronic value transfer system can go even further if only experts can be deliberate in their inclusion efforts and that users have a real incentive to use them, now is perfect as there is an urgent need for social distancing and a limit to physical contact that cannot be achieved with the regular banks.
CBN extends Covid-19 forbearance for intervention loans by another 12 months
CBN will continue to charge an interest rate of 5% for its intervention loans for another 1 year.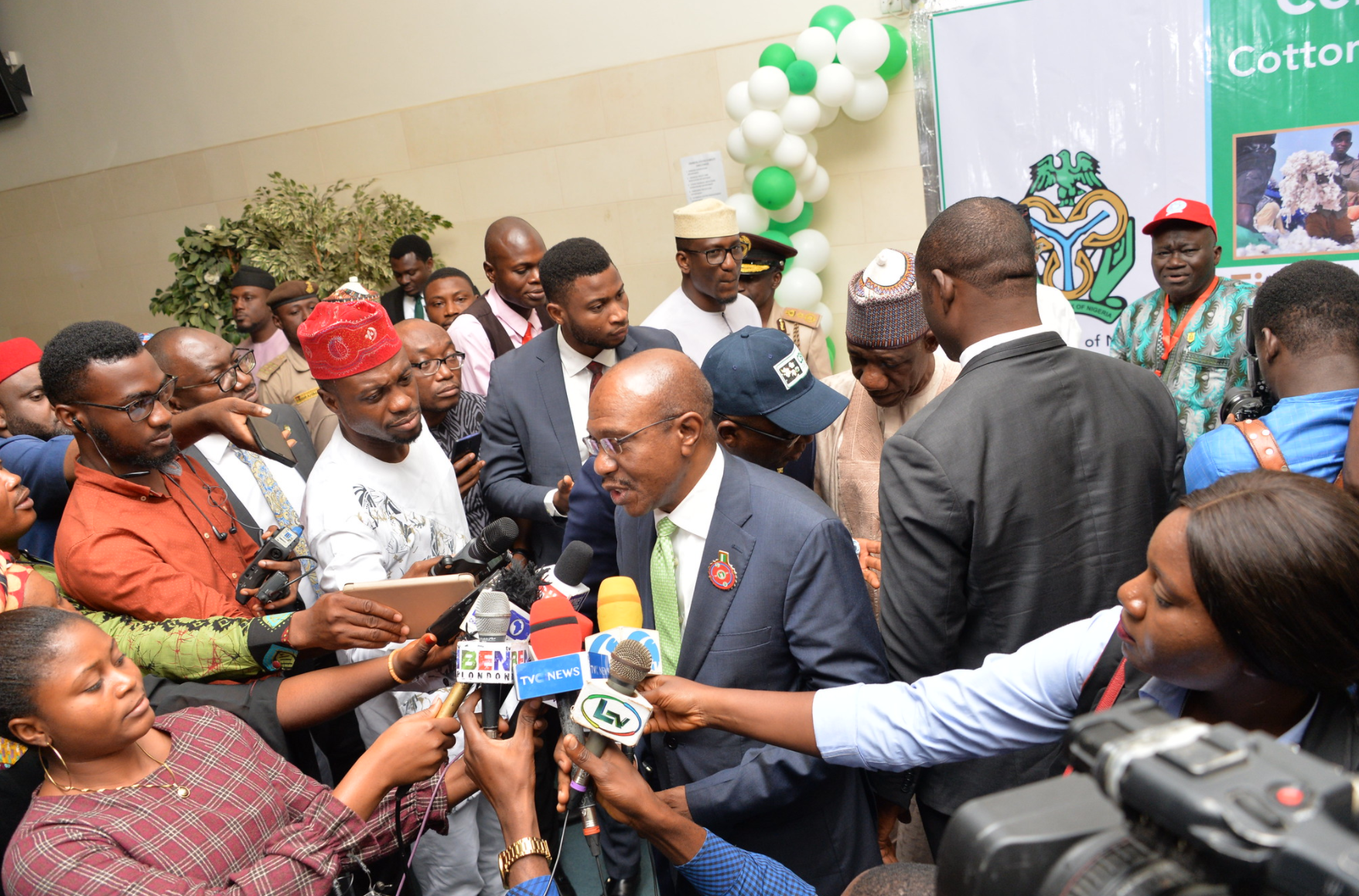 The Central Bank of Nigeria has announced an extension of its regulatory forbearance for the restructuring of its intervention facilities by another 12 months.
In a circular signed by Dr. Kevin Amugo, the Director of Financial Policy and Regulatory. the apex bank said it will continue to charge its borrowers an interest rate of 5% per annum as against the 9% originally offered. The CBN had on March 20th reduced the interest rates on its intervention loans from 9% to 5% as part of its response to the economic crunch brought on by Covid-19 induced lockdowns.
The CBN also offered to rollover moratorium granted on all principal payments on a case by case basis. All credit facilities had been granted a one-year moratorium starting from march 1, 2020 when the pandemic first gripped Nigeria.
See excerpt from Circular
"The Central Bank of Nigeria reduced the interest rates on the CBN intervention facilities from 9% to 5% per annum for one-year effective March 1, 2020, as part of measures to mitigate the negative impact of COVID-19 Pandemic on the Nigerian economy."
Credit facilities, availed through participating banks and OFIs, were also granted a one-year moratorium on all principal payments with effect from March 1, 2020.
Following the expiration of the above timelines, the CBN hereby approves as follows:
1) The extension by another twelve (12) months to February 28, 2022 of the discounted interest rate for the CBN intervention facilities;
2) The roll-over of the moratorium on the above facilities shall be considered on a case by case basis.
What this means
Companies who secured intervention funds from the CBN or through any of its on-lending banks will continue to service the loans at an interest rate of 5% per annum instead of 9%.
They can also get another year of not needing to pay back the principal sum collection. However, they will need to apply.
Whilst this move helps the small businesses continue to manage their cash flow, it means the CBN will record a reduction in its income extended under such facility.
Regulatory forbearance is a widely adopted concept during an economic crunch and it is meant to help stimulate businesses. These pronouncements if implemented will only affect those who borrow from the CBN or BOI but those who do not will miss out.
Download the circular here.
LNG boss tasks FG to begin the monetization of Nigeria's gas
Mr Attah has urged the FG to take the gas sector more seriously as the future of Nigeria's energy lies with it.
The MD and CEO of Nigeria LNG Limited Mr. Tony Attah has tasked the Federal Government to begin the revamping and monetization of the Gas sector in Nigeria.
He made this statement while making his presentation at the 2nd virtual Nigerian Gas Association (NGA) Industry Multilogues, with the theme: "Powering Forward, Enabling Nigeria's Industrialization via Gas."
Mr. Tony Attah drew the attention of the audience to the hidden treasure in the Nigerian Gas industry which he believes is not getting enough attention from the government.
On the future of gas as an alternative energy source, Mr. Attah stated that the developed world is already keying into gas as an alternative to crude oil. Gas has proven to be a cleaner and more sustainable alternative.
He exclaimed that Nigeria is very rich in gas and yet poor in energy. Nigeria is the 9th country with the largest gas reserves in the world but makes very little use of it.
Mr. Attah went further to paint a clear picture of the promise of investing in gas using the success achieved by Qatar. Qatar is currently the largest LNG exporter in the world.
"We just touched on a quick case study of Qatar. Someone mentioned Qatar already from a poor fishing country to a gas giant and it took just 10 years, which is why we, as Nigeria LNG, firmly believe in the conversation and the narrative about the declaration of the decade of gas.
"We believe it is possible. If you look at Qatar from 1995, when they really went into gas development, we were just two years behind Qatar. So, Qatar's first LNG was in 1997.
"Nigeria's first LNG was in 1999, just two years behind. But then, within 10 years, because of the deliberateness of the government and focus on gas, they have gone to 77 million tonnes and we are at best, 22 million tonnes," Attah said.
Mr. Attah stressed further the importance of the gas sector in Nigeria's future. He recalled that the Nigerian Government declared 2021-2030 as the decade of gas. He pleaded with the government to take the sector more seriously as the future of Nigeria's energy lies with it.
"Gas is the future. That future is now, and just as the Minister of State has made us to realize, gas is food in fertilizer. Gas is transport as you saw in the Auto gas project that was declared.
"Gas is life, as a matter of fact, for cooking, for heating, for existence. Gas is development in manufacturing, gas is power. Gas is everything. "We think it's time for gas. It's time for Nigeria to diversify and that is why we fully support the decade of gas," he said.
What you should know
Early last year, the director of the Department of Petroleum Resources (DPR) Mr Sarki Auwalu confirmed that Nigeria's proven gas reserve stood at 203.16 trillion cubic feet.
Nigeria has the 9th largest gas reserves in the world. It is also the 6th largest exporter of gas.
The Federal Government declared the year 2021–2030 as the "Year of the Gas". It pledged to finally kick start the development and commercialization of Nigeria's huge gas reserves.
Nairametrics | Company Earnings