COVID-19: Western diplomats warn of disease explosion, poor handling by government
Some of the Western diplomats on Friday expressed fears over the abysmal way the Federal Government was handling the Coronavirus outbreak.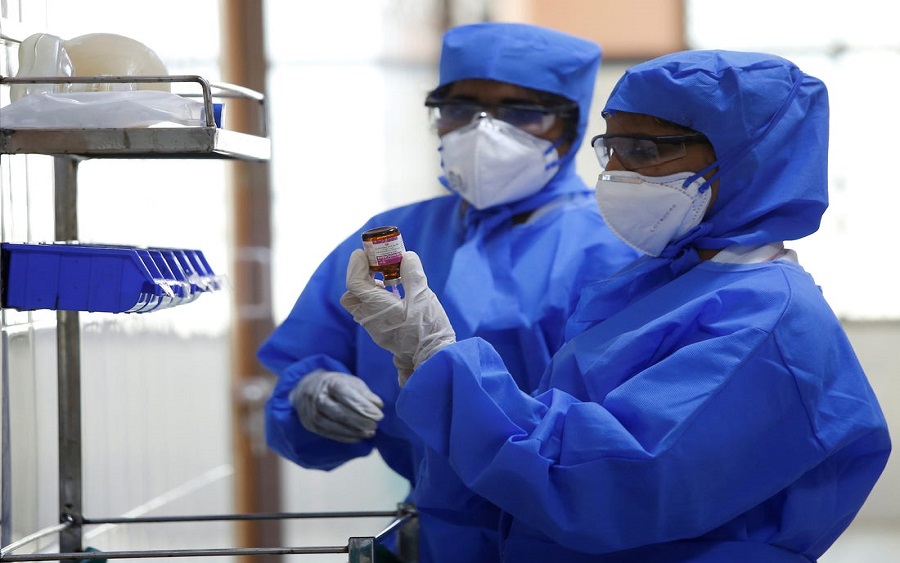 Some Western diplomats expressed fears over the abysmal way the Federal Government was handling the Coronavirus outbreak. They warned that the number of infections could witness a sharp increase in the coming weeks if the Nigerian Government does not review its strategy and the poor way it's been handling the pandemic.
The country as at late Friday had 81 confirmed cases, recorded 1 death of the pandemic and 3 who have been released after being treated of the disease.
A monitored report by Nairametrics suggests that diplomats are predicting that the Covid-19 infections could rise to more than 10,000 in the coming weeks, as there are at least 5,000 persons, who had come in contact with infected persons in Nigeria already.
These set of people, it was gathered, had also subsequently come in contact with thousands of others in society without realizing that they might have the virus.
[READ MORE: COVID-19: Lagos State to begin curfew on Sunday to disinfect metropolis)
The monitored report disclosed that a senior diplomat attached to one of the European high commissions in Nigeria on Friday said, "This is the real danger. A lot of people who have had contacts with original carriers of the virus don't even know they have the ailment and have in fact gone ahead to mingle with hundreds and thousands of others in the society, spreading the virus further.
"From the information we have in the diplomatic community, there could be an explosion of confirmed infections in the coming weeks. It is going to disrupt a lot of things."
Another diplomat, who is from a country that has provided technical support to African countries trying to curtail the spread of the disease said that the country was in a desperate and extremely serious situation.
This is partly because of the suspicion that the untested infection cases far outnumber those who have been tested by government agencies due to the unavailability of testing kits.
There is also palpable fear amongst Nigerians over the rate at which the coronavirus is spreading and lack of medical facilities and preparedness by both the federal and state governments.
Although as part of their philanthropic gesture, some wealthy Nigerians, Non-Governmental Organizations (NGOs) and Chinese billionaire, Jack Ma, have been donating testing kits and protective items to Nigeria to help combat the virus, a huge number of potentially infected persons are yet to be tested, increasing the risk of an epidemic in the West African state.
According to the diplomat on Friday, "We could be having tens of thousands of confirmed cases across Nigeria in a few days from now. 
"There are thousands of people with the virus already on the loose in the country and many of these people cannot be traced. They have taken this pandemic into every nook and cranny of this country. 
"I think Nigeria must act fast to avert a full-blown war."
[READ ALSO: COVID-19: NCDC, NPA clarify controversy over cases)
Already, there have been reported cases of people being asked to self-isolate after reporting to health agencies of having symptoms of the Covid-19 virus.
Without proper monitoring and stringent measures to ensure such persons do not expose others to infection in case they have the virus, thousands of individuals in this category have gone on with their daily activities and opened up the chance of an epidemic in the country.
As a result of this lacklustre and unsatisfactory approach to the pandemic by the Nigerian government, some European countries have started evacuating their citizens from Nigeria.
Nairametrics had reported that An Air France flight on Thursday, airlifted 260 Europeans from Nigeria to France to prevent them from being infected with the virus.
Also on Thursday, British High Commissioner to Nigeria, Ms Catriona Laing CB, said the mission was exploring available options to send staff and their families back to the United Kingdom.
Exxon Mobil to cut 14,000 jobs as pandemic hit oil demand, prices
Exxon Mobil announced it will slash its global workforce by 15% over the next two years, as it struggles to preserve dividends.
Exxon Mobil Corp on Thursday, October 30, 2020, announced that it will reduce its global workforce by 15% by the end of 2022 – an unprecedented culling by North America's biggest oil explorer, as the coronavirus pandemic hits energy demand, prices, and struggles to preserve dividends.
The job cuts are expected to include 1,900 U.S. jobs – mostly in Houston, the headquarters for its US oil and gas businesses – as well as layoffs previously announced in Europe and Australia and reductions in the number of contractors, some of which have already taken place.
This was disclosed in a statement that was released by the energy giant on Thursday, October 30, 2020.
The staff reduction is part of the latest effort by the Chief Executive Officer, Darren Woods, to curtail spending and halt the worst string of quarterly losses since Exxon assumed its modern form with the 1999 takeover of Mobil Corp.
What you should know
Exxon and other oil producers have been slashing costs due to a collapse in oil demand and prices, as well as ill-timed bets on new projects. The Big Oil rivals of Exxon are also cutting thousands of jobs in response to the pandemic-induced demand slump. BP Plc plans to slash 10,000 jobs, Royal Dutch Shell Plc will cut as many as 9,000 roles, and Chevron Corp. has announced around 6,000 reductions.
Norton said that Exxon's workforce stood at about 88,000 people, including 75,000 in-house employees and about 13,000 contractors as of year-end 2019.
Exxon's job cut is a sign of its weakened financial position compared to its former status as the S&P 500 Index's biggest company less than a decade ago, and a profit powerhouse used to ride out oil-price cycles.
This year's downturn has been particularly damaging because it also affected refining, usually a cushion in times of low oil prices. Also, it came at a time when Exxon was already increasing borrowing to fund a large expansion program. The company was forced to retreat on these plans in April, reducing capital spending by $10 billion and delaying or scaling back most of the major projects.
The stock has plunged more than 50% this year. Its dividend yield is now more than 10%, indicating that investors are anticipating a cut. Exxon maintained the quarterly payout on Wednesday and is expected to post its third consecutive quarterly loss when it reports earnings tomorrow.
What they are saying
The Company in its statement said, "These actions will improve the company's long-term cost competitiveness and ensure the company manages through the current unprecedented market conditions.''
Exxon's spokesman, Casey Norton, through an email said that the total reduction means the company will reduce its workforce by about 14,000 people, split between employees and contractors from year-end 2019 levels. The cuts will come through attrition, targeted redundancy programs in 2021, and scaled-back hiring in some countries.
What this means
Another set of job losses in the oil sector in Nigeria is looming. Nigeria is one of Exxon's biggest operational bases in oil and gas exploration and production globally. Also, this is another setback after Shell announced 9,000 job cuts globally, which includes Nigeria, and the announcement by Chevron that it plans to reduce its staff strength in Nigeria by 25%.
WTO: US opposing consensus to declare Okonjo-Iweala as DG – Foreign Affairs Ministry
The Ministry announced Okonjo-Iweala has secured the support of the majority of the member nations but is being opposed by the US.
The Ministry of Foreign Affairs announced in a statement that Nigeria's candidate for Director-General of the World Trade Organization, Dr. Ngozi Okonjo-Iweala, has secured the support of the majority of the member-nations – but is yet to be declared and returned as the winner, as the United States is opposing the consensus.
This was announced in a statement by the Ministry on Thursday evening to inform the nation that the third and final round of the selection process of the WTO DG position was formally announced on Wednesday 28th October 2020.
Ministry of Foreign Affairs, Abuja __________________________________
PRESS RELEASE pic.twitter.com/K557KyJQzO

— Ministry of Foreign Affairs, Nigeria 🇳🇬 (@NigeriaMFA) October 29, 2020
What you should know
Nairametrics reported this week that Dr. Ngozi Okonjo-Iweala is close to being appointed as the new Director-General of the World Trade Organisation (WTO).
A group of ambassadors also known as "troika" had proposed Okonjo-Iweala to lead the WTO giving her a clear path to becoming the first woman to head the WTO since it started 25 years ago. The three ambassadors are thought to wield significant powers in determining what is a very "intricate and opaque" process.
The U.S President, Donald Trump blocked the appointment of Ngozi Okonjo-Iweala as the WTO's next DG on Wednesday, citing support for South Korea's Yoo Myung-hee.
Dr. Okonjo-Iweala stated that she is positive despite hiccups in her bid to emerge as the next DG of the organization. She said, "Happy for the success & continued progress of our WTO DG bid. Very humbled to be declared the candidate with the largest, broadest support among members and most likely to attract consensus. We move on to the next step on Nov 9, despite hiccups. We're keeping the positivity going."
The Ministry of Foreign Affairs said in its statement that, "Dr. Ngozi Okonjo-Iweala has secured the support of the majority of the member countries, but is yet to be declared and returned the winner. This is because apart from winning the election, all 164 Member States of WTO were expected to adopt the winner by consensus. In accordance with the rile of the procedure of the WTO."
It is important to highlight that Dr. Okonjo-Iweala has secured cross-regional backing with only the United States opposing the consensus.
The Ministry added that a meeting would be held by the General Council of the WTO on the 9th of November 2020 to declare a final decision on the election process.
COVID-19 Update in Nigeria
On the 29th of October 2020, 150 new confirmed cases and 2 deaths were recorded in Nigeria
The spread of novel Corona Virus Disease (COVID-19) in Nigeria continues to record significant increases as the latest statistics provided by the Nigeria Centre for Disease Control reveal Nigeria now has 62,521 confirmed cases.
On the 29th of October 2020, 150 new confirmed cases and 2 deaths were recorded in Nigeria, having carried out a total daily test of 3,008 samples across the country.
To date, 62,521 cases have been confirmed, 58,249 cases have been discharged and 1,141 deaths have been recorded in 36 states and the Federal Capital Territory. A total of 620,758 tests have been carried out as of October 29th, 2020 compared to 617,750 tests a day earlier.
COVID-19 Case Updates- 29th October 2020,
Total Number of Cases – 62,571
Total Number Discharged – 58,249
Total Deaths – 1,1141
Total Tests Carried out – 620,758
According to the NCDC, the 150 new cases are reported from 9 states- Lagos (89), Rivers (19), Ogun (11), Bayelsa (9), Kaduna (8), Plateau (8), Taraba (3), Osun (2), Delta (1).
Meanwhile, the latest numbers bring Lagos state total confirmed cases to 21,106, followed by Abuja (6,028), Plateau (3,630), Oyo (3,433), Rivers (2,809), Edo (2,657), Kaduna (2,641), Ogun (2,027), Delta (1,814), Kano (1,746), Ondo (1,666), Enugu (1,314),  Kwara (1,069), Ebonyi (1,049), Katsina (952), Osun (925), Abia (898), Gombe (883).  Borno (745), and Bauchi (711).
Imo State has recorded 616 cases, Benue (491), Nasarawa (482), Bayelsa (412),  Ekiti (332), Jigawa (325), Akwa Ibom (295), Anambra (277), Niger (274), Adamawa (257), Sokoto (165), Taraba (146), Kebbi (93), Cross River (87), Yobe (82), Zamfara (79), while Kogi state has recorded 5 cases only.
READ ALSO: COVID-19: Western diplomats warn of disease explosion, poor handling by government
Lock Down and Curfew
In a move to combat the spread of the pandemic disease, President Muhammadu Buhari directed the cessation of all movements in Lagos and the FCT for an initial period of 14 days, which took effect from 11 pm on Monday, 30th March 2020.
The movement restriction, which was extended by another two-weeks period, has been partially put on hold with some businesses commencing operations from May 4. On April 27th, 2020, Nigeria's President, Muhammadu Buhari declared an overnight curfew from 8 pm to 6 am across the country, as part of new measures to contain the spread of the COVID-19. This comes along with the phased and gradual easing of lockdown measures in FCT, Lagos, and Ogun States, which took effect from Saturday, 2nd May 2020, at 9 am.
On Monday, 29th June 2020 the federal government extended the second phase of the eased lockdown by 4 weeks and approved interstate movement outside curfew hours with effect from July 1, 2020. Also, on Monday 27th July 2020, the federal government extended the second phase of eased lockdown by an additional one week.
On Thursday, 6th August 2020 the federal government through the secretary to the Government of the Federation (SGF) and Chairman of the Presidential Task Force (PTF) on COVID-19 announced the extension of the second phase of eased lockdown by another four (4) weeks.
READ ALSO: Bill Gates says Trump's WHO funding suspension is dangerous