UPDATED: Nigeria Inflation rate hits 12.2% as food index rises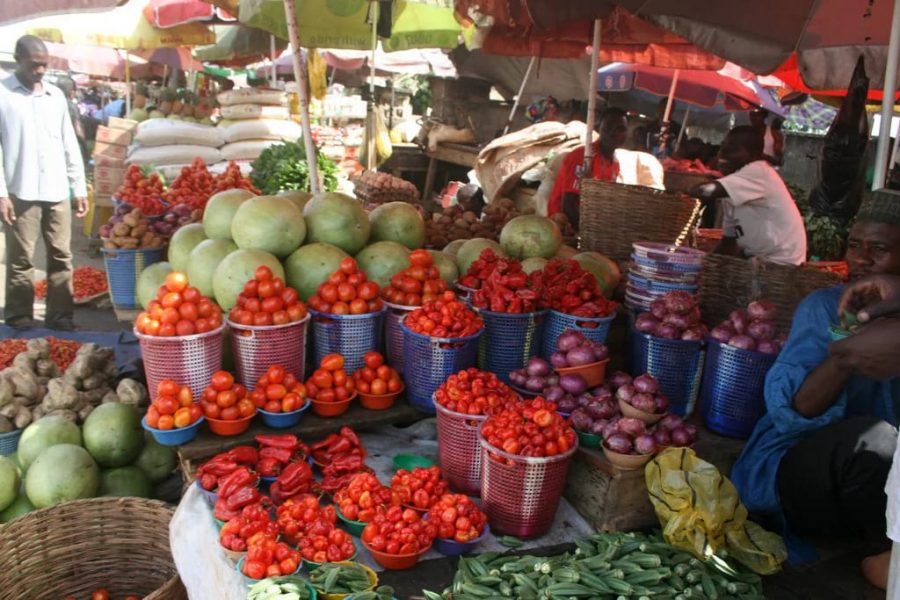 Data from the National Bureau of Statistics (NBS) reveal that Nigeria's inflation rate increased by 12.20% (year-on-year) in February 2020. This is 0.07% higher than the rate of 12.13% recorded in January 2020 and the highest rise since April 2018.
According to the report, the food index rose from 14.85% recorded in January to 14.9% in February 2020 while core inflation increased by 0.08% to stand at 9.43% compared to 9.35% recorded in the preceding month.
Increments were recorded in all subsets of the consumer price indexes as Urban and rural inflation rate increased year-on-year by 12.85% and 11.61% in February from 12.78% and 11.54% recorded in January respectively.
Food inflation
The composite food index increased by 14.9% in the month under consideration compared to 14.85% recorded in the month of January. A rise that is attributed to increase in prices of major household commodities such as; Bread and Cereals, Fish, Meat, Vegetables and Fats & Oils.
However, on month-on-month basis, the food sub-index declined by 0.12% points compared 0.99% recorded in January to stand at 0.87%.
READ ALSO: BOOM: Inflation rate slides to 13.3%, lowest in 2 years
All items
The "All items less farm produce" also known as Core inflation which excludes the prices of volatile agricultural produce increased by 9.43% in February 2020. A figure that is 0.08% higher when compared to 9.35% recorded in the previous month.
Inflation drivers: The highest increases were recorded in prices of Pharmaceutical products, Catering services, Air transport, Furniture repair, Repair and maintenance of personal transport equipment, Water supply, Major household appliances, Dental services, carpet and other floor coverings, Vehicle spare parts and Non-durable household goods.
Worst hit states
Food inflation was highest in Sokoto State with 17.12% (year-on-year), followed by Plateau State (16.99%), Gombe State (16.96%), Edo State (16.71%) and Kano State with food index of 16.45%.
Also, Bauchi State recorded the worst hit in terms of All items inflation with 14.47% rate followed by Niger State, which recorded 14.06% inflation rate. Other states include Plateau (13.98%), Sokoto (13.96%) and Kano (13.86%).
Meanwhile, Bayelsa, Katsina, Bauchi states led the list of states with lowest food inflation rate with 11.89%, 13.04% and 13.04% respectively while Nasarawa and Ondo States followed with 13.5% and 13.53%.
What this latest inflation rate means is that the purchasing power of consumers has worsen and their ability to afford the same quantity of goods or services has reduced despite income level maintaining status quo.
With the virus (COVID 19) scaring off Investors and oil price reducing globally, inflation rate is feared to still rise above 12.3%. As noted by Bismarck Rewane in a recent article published by Nairametrics that the implementation of new VAT rate of 7.5% in February 2020 contributed to the upward trend of the inflation rate and so would the increase in electricity tariff in April.
Nigeria signs African Trade Insurance Agency agreement
The African Trade Insurance Agency was launched to provide risk solutions for investors.
President Muhammadu Buhari has signed the instrument of accession agreement for Nigeria for the establishment of the African Trade Insurance Agency. This was announced by the Federal Government on Monday night.
READ ALSO: Kenyan Candidate emerges as strong contender to Iweala for WTO
President @MBuhari has signed the instrument of accession of the agreement for the establishment of the African Trade Insurance Agency; sequel to the directive of the Federal Executive Council (FEC), that the instrument be prepared and forwarded for execution.

— Presidency Nigeria (@NGRPresident) August 10, 2020
READ MORE: Brent crude records minor gain as growing concerns over COVID-19 limit upside
The agreement is coming after the Federal Executive Council ordered that an instrument be prepared and forwarded for execution.
The African Trade Insurance Agency was launched in 2001, to provide risk solutions for investors, after the East African economic Union (COMESA) executed a World bank funded study to discover why Africa does not attract more Foreign Direct Investments.
READ ALSO: GEEP provides COVID-19 palliative microloans to 87,614 traders
The organization said it added credit insurance to its portfolio in 2006 after its members identified global trade as a major pillar of growth in the continent which has seen it grow as a market leader for risk mitigation in Africa.  The ATI also attracts funding from the African Development Bank and World Bank
Nigeria joining the agreement would provide Nigeria with the necessary insurance financing to increase investment inflows into the country and improve economic productivity.
BEWARE: Harmful products are on your local store shelves!
Consumers are to look out for the manufacture and expiry date before consuming a product.
Time was when the seal on a product bearing a NAFDAC registration number was considered the ultimate seal of authentication. Nowadays, not only are substandard and adulterated products dragging the market share with genuine products, some of them now falsify the NAFDAC seal of approval – registration number.
The National Agency for Food and Drug Administration and Control (NAFDAC) recently advised consumers to beware of some products with fake registration numbers being sold in stores and outlets. The agency advised Nigerians to always examine a product thoroughly (particularly food, drugs, medical devices, or packaged water) before purchasing. Consumers are to look out for the manufacture and expiry date before consuming.
READ MORE: Unilever could be living out its lifecycle to a rebound
The agency's Director of Public Affairs, Dr Jimoh Abubakar, while speaking during a recent interview said: "examine the content of the product, the seal of authority or the approved registration number from NAFDAC which is sacrosanct; NAFDAC registration number is not just a number, it is not plate number of a vehicle.
"The number is a rigorous scientific elaboration of a product through our laboratory analysis and through certain compendium references, and after all these by NAFDAC, a product will then be certified for safety, efficacy and wholesomeness".
In summary, the registration number from NAFDAC is a confirmation to consumers that the product (content and processes) has been examined and is now certified fit for human consumption. The certification process ensures first that good manufacturing practice has been followed, in the right location and environment, and with the right contents, before the product can be labelled.
READ ALSO: IPMAN orders fuel marketers to sell fuel at old rate until new directive from PPPRA
A recent experience
I purchased a multi-vitamin from an online store recently, and the product was delivered four days later. I was about to break the seal and consume when I noticed there was a slight difference in the name.
I  examined the packet closely and discovered that even though the product had been packaged in exactly the same orange-coloured package, the name was different and the details showed that it was manufactured somewhere in Lagos state (the expected product was supposed to be manufactured in the USA).
I wanted to return it outright but then I convinced myself on the need to patronise locally made brands as well if it could give me the same results. I typed the registration number into the NAFDAC verify page and this was the result; "Warning! This product is fake. – report product".
READ ALSO: Sniper makers should be worried about NAFDAC's "ban" on the product 
The scourge of fake registration numbers
In as much as registration numbers are a key differentiator between approved and uncertified products, NAFDAC has admitted that there are fake registration numbers out in the market.
According to Abubakar, the agency is also on the lookout for perpetrators of this deceptive act, even as consumers have been urged to take an extra step in examining a product before consuming it.
He added that technology had made most things easier now and urged Nigerians to visit NAFDAC's website to get more information about products.
He noted that some products are listed on the website, especially sachet water, as the agency's staff strength is not enough to be everywhere or to police the country's population.
"Public awareness and information are very cardinal for people to help themselves; NAFDAC leverages so much on public sensitisation. So, people must help themselves on the consumption of these products," he said.
READ ALSO: What You Need To Know About Value Added Tax (VAT) In Nigeria
Harmful products alert!
Sometime in July, the agency sent out a public alert notifying consumers that the "Pure Tassie Organic Apple and Blackcurrant Juice originating from Australia" had been examined and considered unsafe for consumption, due to unacceptable level of patulin (a mycotoxin) which had exceeded the maximum limit in fruit juice.
The agency's verdict had also been confirmed by the Centre for Food Safety (CFS) of Hong Kong's Food and Environmental Hygiene Department, before the alert was sent out.
According to the notice, the level of patulin content in the juice is high enough to "induce liver, spleen and kidney damage", and also toxic to the human immune system, causing nausea, gastrointestinal disturbance and vomiting.
In the alert, NAFDAC implored importers, distributors, retailers and consumers to immediately stop the importation, distribution, sale and consumption of the affected fruit juice, urging them to turn in all current stock of the product to the NAFDAC office, although no mention is made as to compensations for their losses.
A month before this, there was a similar alert from the agency about three cosmetic products namely "Sifu Kunyit Day Cream, Sifu Kunyit Night Cream and JJ Skincare Glowhite Night Cream".
The products were confirmed by the agency to contain hydroquinone, tretinoin, betamethasone valerate and mercury, all of which are targeted at lightening the skin and changing the pigmentation.
Given the quantity used in these products, NAFDAC confirmed that they can cause damage to the kidney, get absorbed into the blood circulatory system and increase the risk of skin cancer along with other ailments.
Apart from harm caused to the user of products containing mercury, NAFDAC confirmed that mercury can disrupt the brain development of unborn children when consumed by nursing mothers, and also inhibit brain development of young children.
This time around, the products originated from Malaysia and had been imported into Nigeria. Deducing from the notice, one can see that the product had already been banned by the Malaysian Ministry of Health before ever it was imported to Nigeria.
In April, it was a World Health Organisation (WHO) alert on falsified Chloroquine products in circulation in Africa, all originating from three African Countries are Cameroon, Democratic Republic of Congo and Niger.
Why would people buy banned products?
A trader who spoke to Nairametrics confirmed that it is possible for such products to still be imported despite being banned. Tolani, who manages a warehouse where she sells consumables (snacks and drinks ) in wholesale quantities affirmed that when supplies are being made, the suppliers sometimes introduce new products at ridiculously lower prices.
"Some of these brand names that we know are very expensive and their price continues to increase without regulation. So, sometimes when we make to buy new stocks, the supplier can show us a new and similar product that is even less than half the price of the popular brands we know, so we buy them as well.
"They are all imported products, and people like to try out foreign products so we know for sure that they will buy it from us," she explained.
She added that there was no way to confirm at such times whether or not the product was original, imitated, safe or harmful since the traders are no experts.
"They are foreign products, and I believe that if they passed through customs officers and entered the market, then they should have been checked there" she added for emphasis.
Any synergy between NCS and NAFDAC
Consuming harmful products is bad enough, but exchanging hard-earned money for things that could be detrimental to one's health is even worse.
NAFDAC already has to combat imitated or harmful drugs produced locally. Doing same for imported products means they have even more on their plate to deal with. The Nigerian Customs Service (NCS) is responsible for manning the borders of the country and monitoring what goes in or out, and if unsafe products still find their way into the country, it means that there are gaps that need to be sealed.
Tweets on the NCS twitter handle shows that much of the organisation's activities have been centred around the impounding of smuggled bags of rice, kegs of vegetable oil, cartons of spaghetti/macaroni, bags of foreign sugar, cartons of soap, bales of textile materials, parcels of India hemp, NPK fertilisers and vehicles among others.
There is a striking absence of activities around the importation of fake or harmful drugs or other consumables, and all the focus has been on the more lucrative items contained in the import prohibition list such as frozen or live poultry, refined vegetable oils, cocoa butter, bagged cement, etc.
Even though pharmaceutical and consumable items make up 5 out of the 25 item list, it would appear that the list has not been updated recently in line with the recent public alerts from NAFDAC.
Download the Nairametrics News App
Clearly, consumers will have to take precautions themselves as NAFDAC has advised because the agencies appear to be overwhelmed with the amount of criminal work going on in the space. Thankfully, some products now include a sealed number on the packet which the consumer is meant to text to the unique code and confirm the authenticity. Unfortunately, consumers are often in a hurry and not many are patient enough to wait for the confirmation message.
From creams to drinks, foods, drugs and other things that are used in or on the body, an extra minute for verification might just be the deciding factor at the end of the day.
How the newly amended CAMA affects your business
Some of the provisions of the amended bill and how it will affect businesses are explained below.
The Companies and Allied Matters Act, 2020 ("the Act"), repeals and replaces the extant Companies and Allied Matters Act of 1990. The new CAMA, now seen as Nigeria's most significant business legislation in three decades, introduces new provisions that promote the ease of doing business whilst reducing regulatory hurdles and also bringing the provisions in tangent with the technological realities of the 21st century. This is expected to ultimately promote investments, create more jobs, and promote a friendly business climate in Nigeria.
Some of the provisions of the amended bill and how it will affect businesses are explained below:
Provision of single-member/shareholder companies
S.18 (2) of the new CAMA now makes it possible to establish a private company with only one (1) member or shareholder. This is good news for growing startups and young entrepreneurs because it has totally resolved business registration bottlenecks.  A lot of businesses have been forced into unnecessary partnerships because prior to the new CAMA, to legally own a business in Nigeria, you needed to provide at least two or more people as co-owners of the business.
READ ALSO: FMDQ says newly signed CAMA bill will make Nigeria a powerful destination of capital
Introduction of Statement of Compliance
Section 40 (1): There is the introduction of Statement of Compliance (SOC) signed by an Applicant (or agent), without the need for a Lawyer or Notary Public to attest to Declaration of Compliance (DOC). SOC is a requirement of the law that indicates that the applicant has complied with the registration and requirements.
Replacement of Authorized Share Capital with Minimum Share Capital
Section 27: This section replaces 'Authorized Share Capital' with 'Minimum Share Capital'. This implies that the promoter(s) of a business is not required to pay for or allocate shares that are not needed at the specific time of incorporation.
Procurement of a Common Seal is no longer a mandatory requirement
The procurement of a Common Seal is no longer a mandatory requirement according to S.98 of the new CAMA. With the amended bill, companies can now authenticate documents by other means other than a common seal. This means you don't need to stamp seals on documents anymore. The world is digital so who needs those seals.
READ ALSO: How new CAMA 2020 will enhance SMEs' ease of doing business
Provision for electronic filing, electronic share transfer and e-meetings for private companies
The new CAMA makes provision for electronic filing, electronic share transfer and e-meetings for private companies. You can now register your business from anywhere in the country via the e-registration portal. The new CAMA also provides for remote or virtual general meetings, provided that such meetings are conducted in accordance with the Articles of Association of the company. This will facilitate participation at such meetings from any location within and outside the shores of the country, at minimal costs.
Exemption from appointing Auditors
Small companies or any company having a single shareholder are no longer mandated to appoint auditors at the annual general meeting to audit the financial records of the company. S. 402 of the new CAMA provides for the exemption in relation to the audit of accounts in respect of a financial year.
Exemption from the appointment of company secretary
The appointment of a Company Secretary is now optional for private companies. According to S. 330 (1) of the new CAMA, the appointment of a company secretary is only mandatory for public companies.
Creation of Limited Liability Partnerships (LLPs) and Limited Partnerships (LPs)
The new Act, introduces Limited Liability Partnerships and Limited Partnerships, which combines flexibility and tax status of a partnership with the status of limited liability for members of a company. This implies that Startups are not stuck with the option of setting up a Company, but also enjoy the benefits of partnership which a partnership agreement (including vesting agreement, and founders agreements) beyond the regular Articles and Memorandum of Association, whilst still protecting their personal assets from being sold in claims for debts, liability, or creditors.
Reduction of Filing Fees for Registration of Charges
Under Section 223 (12) of the new Act, filing fees for Registration of Charges payable to the CAC (Corporate Affairs Commission) has been reduced to 0.35% of the value of the charge. This is expected to lead to up to 65% reduction in the associated cost payable under the regime
Merger of Incorporated Trustees
The new Act extends merger beyond LLCs to Incorporated Trustees. Section 849 implies that two or more NGOs, social entrepreneurs with different registered organizations, with similar goals can merge to form one (1) single organization.
READ: CAC may reduce Business registration fee
Disclosure of persons with significant control in companies
Section 119 emphasizes transparency in terms of control in a company. It requires that persons with significant control in a company disclose its shareholding to other shareholders. For example, anyone who has person(s) holding shares on their behalf as trustees or proxies, whilst being shareholders themselves in same company, are expected to disclose such relationship for transparency.
Restriction on Multiple Directorship in Public Companies
S.307 (1) of the Act prohibits a person from being a director in more than five (5) public companies at a time.
Business Rescue provisions for Insolvent Companies
The new Act introduces a framework for rescuing a company in distress and to keep it alive as against allowing such entity to become insolvent. Provisions were made with respect to Company Voluntary Arrangements (S.434 to S.442), Administration (S.443 to S.549) and Netting (S.718 to S.721).
Enhancement of Minority Shareholder Protection and Engagement
265 (6) restricts firms from appointing a director to hold the office of the Chairman and Chief Executive Officer of a private company.
Download the Nairametrics News App
The Act certainly, is one of the biggest business reform bills which impacts the Nigerian business sphere. The amendments to the Act would have the overall effect of making Nigeria's metrics of doing business more fit for today's technological realities, encourage young investors to register companies, increase the influx of foreign investment and re-energize the private sector as the engine of growth in Nigeria.