Dangote discloses what drives his business 
Alhaji Aliko Dangote is no doubt known for his many philanthropic acts among other things and this he revealed is one of the things that drives his business.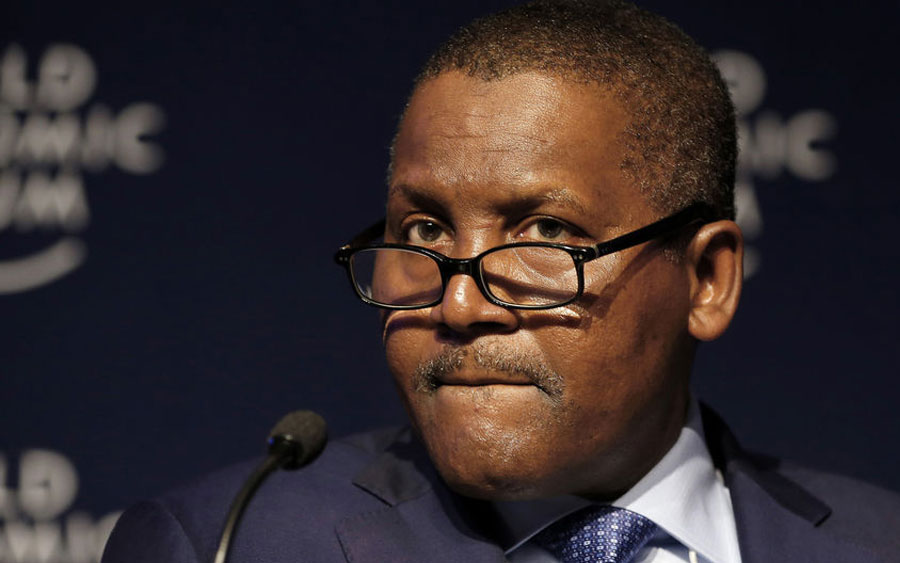 Alhaji Aliko Dangote is no doubt known for his philanthropic acts and these he disclosed are the things that drive his business. He made known that most of his businesses were driven by the desire to touch lives and improve the standard of living of Nigerians.
The billionaire, whose businesses usually come up with promos as a form of reward to its loyal customers and distributors, said that his joy was to touch as many lives as he could.
[READ MORE: Dangote Refinery affirms commitment to youth development]
He said this in a statement delivered by the Dangote Cement National Sales Director, Yemi Fajobi during the presentation of prizes to winners in the Dangote Cement bag of Goodies National Consumer Promotion in Akure, Ondo State.
Dangote urged Nigerians not to lose hope in the country as he stated that he would continue to help in alleviating poverty and spread wealth through his investments.
"The 'bag of Goodies promo' is not just a promo. The uniqueness of it is in the choice of items being won by the people. Our company is intentionally empowering its customers through the promo. The cars, tricycles and motorcycles are items that economically lift the customers by creating additional means of livelihood and improve their economy." He said. 
Dangote's passion for citizens' lives: In recent times, Dangote's passion for improving the economy with his philanthropic acts has been commended by the popular billionaire, Bill Gates.
Gates reportedly hailed Dangote and commended him for the progress he has made with his works in Nigeria through his businesses and foundation – the Dangote Foundation.
[READ ALSO: Dangote Flour Mills shareholders unanimously approve company acquisition]
Nairametrics had reported when Gates talked about his first meeting with Dangote and how they both clicked. He said he knew there was something they both had in common which is their keen interest in improving the health and education sectors.
He noted that the very first meeting with Dangote sparked the beginning of a fruitful friendship as their foundations later went on to announce a joint five-year $100 million commitment to reduce malnutrition in Nigeria.
Burial date for late Prince Philips announced
The Duke of Edinburgh will be laid to rest on Saturday, April 17, 2021, in a colourful but lowkey ceremony.
Prince Philip, the late husband of Britain's Queen Elizabeth, and the Duke of Edinburgh will be laid to rest on Saturday, April 17, 2021, in a colourful but lowkey ceremony by royal standards.
The Buckingham palace in making the announcement stressed that the funeral service will be held according to the Covid-19 restrictions guideline with the number of mourners to be limited to 30. This means that members of the royal family including the Queen would be expected to put on face masks.
The College of Arms, which handles most of the ceremonial aspects of the royal family's work, had earlier confirmed that the late Prince Philip would not lie in state anywhere accessible to the public, which could have seen thousands of people lining up to view his coffin.
The funeral service for Philip, who died aged 99 on Friday, will be held at St George's Chapel in Windsor Castle, and a national minute's silence would be observed ahead of the ceremony. There will be no public access nor public procession beforehand with the royal family and UK government asking the public not to gather or leave flowers at the royal residences due to Covid-19 restrictions.
A Buckingham Palace spokesman also confirmed that Prince Harry, the Duke of Sussex, who had moved to Los Angeles after giving up royal duties, was planning to attend his grandfather's funeral, but his pregnant wife Meghan won't be present as she had been advised not to travel by her physician.
In case you missed it
It can be recalled that the death of Prince Philip, the husband of Queen Elizabeth II and the longest-serving consort of any British monarch before retiring from his public duties in 2017, was announced on Friday, April 9, 2021.
He died peacefully in Windsor Castle on Friday morning and had been married to the Queen for 73 years.
Since his death, tributes have been flooding in from the UK and all around the world for the duke, who had recently spent a month in two London hospitals, undergoing heart surgery and treatment for an infection, before returning in mid-March to Windsor Castle.
How we source funds to develop handball in Nigeria – Handball Federation
The Handball Federation of Nigeria discusses sponsorships, strides and progress made.
Handball is one of the lesser-known sports in Nigeria, but that doesn't mean it's not making strides. Cosmos Chukwuemeka, the media assistant to the President of the Handball Federation of Nigeria, Samuel Ocheho, spoke to Ademola Kadiri in a revealing interview about several issues.
The excerpts are below:
Could you please introduce yourself?
My name is Cosmos Chukwuemeka and I am the media assistant to the president of the Nigerian Handball Federation. I am also a broadcast journalist with LASU Radio where I head the Sports Unit.
We normally don't hear a lot about the Handball Federation. What could be responsible for this?
Basically, that has to do with the sporting culture of the country. Football is the king of all sports. Everybody loves football. That has to do with the systemic disparity that keeps football ahead of other sports.
The disparity is like the sun and moon; that's how far they are from each other. It also has to do with structure, talents and inadequacy of facilities; funding is also a big elephant in the room. Football gets 80% of the chunk while the other federations share the remaining 20%.
It's not only about publicity. Funding also fuels publicity. All of these are the big issues. Policy defects have affected sports, in general. It is not because other sports are not trying, it is because of the defective policy and the challenges that come with it. It is basically systemic.
How does the Federation source for funds?
When the present president came on board, the sport was almost in comatose. They were not attending competitions and grassroots competitions were not being organized. In the 80s, Nigeria used to be the king of handball, but in the 90s, everything fell like a pack of cards because of a whole lot of issues, mainly maladministration.
But then, Samuel Ocheho came in. He's someone that played the sport, and as a corporate person, he understood how to drive the sport. The first thing he did was to secure the sponsorship for the league, and that was how Prudent Energy came on board. Prudent Energy and Services Limited is an energy company that sponsors the league for about 4 years now. The first phase of the league will come up in May while the second phase comes up in October.
He also ensured that there is level playing ground for individuals that want to put in their money to develop handball. Since 2018, since he became president, there have been many national and international competitions. Apart from the fact that he puts in his own money, which shows his passion, he and the Board have been able to bring a lot of attraction to the sport, so much that handball can now compete with basketball for relevance.
Do the sponsors get value for money to expand the scope of their sponsorship?
Prudent Energy has expanded the scope of its sponsorship twice in 4 years. They are getting the dividends of their investment in the league. When they started in 2018, they got bigger and bigger. Like most energy companies, people might not know about them. They came in and a lot of people started knowing about them and started understanding what they really do.
They came into the league, and it was a big gain for handball to be able to get Prudent Energy, and the dividends for them has been massive. They have leveraged it and everyone now knows that the National Premier Handball League is sponsored by them.
At the point of the lockdown last season caused by Covid-19, they gave out palliatives to all the teams in the league, the players, and even the referees. If they were not getting Return on Investment, they wouldn't do that at all.
What will you recommend for improving the perception of handball in Nigeria?
It's a world of technology, and we are trying our best in that regard. We are on YouTube, Facebook, Instagram, and Twitter. We churn out content every other time, giving updates about the league, and other competitions we participate in. We stream matches live, so we are trying our best to improve the perception and publicity. We also have some media partners that have been with us from day 1.
They help in propagating the good work that the Handball Federation of Nigeria is doing for the growth and development of the sport in the country. Interviews like this also help, but ultimately, what we seek is for handball to go back to the grassroots, which is the fastest possible way to grow the sport.
Nairametrics | Company Earnings
Access our Live Feed portal for the latest company earnings as they drop.