Samsung Galaxy A30 and A50 series are a delight
Meet the all new Samsung Galaxy A30 and A50.
The world of smartphones is constantly moving forward, with a never-ending and almost scary parade of improvements and upgrades which have continued to fascinate us. Two of which have particularly caught our attention recently are the Samsung Galaxy A30 and A50.
If there's one thing clear about Samsung's strategy in 2019, it is that the company is going aggressive to reclaim market share. The Galaxy M series showcased that Samsung knew how to make a great budget phone if it set its mind to the task, and it definitely went on the offensive once again with the 2019 Galaxy A series.
Samsung Galaxy A30 design, optics and display
The Samsung Galaxy A30 is a rather solid phone. It is very light to hold and really sleek, at only 7.7mm thickness. The look of the A30 fits 2019 standards, with a bezel reduced display, it looks more than convincing. The Galaxy A30 runs on Samsung's new One UI, which is based on Android 9 Pie.
The Super AMOLED display is a definite highlight. Being a Super AMOLED panel, the contrast ratio is obviously top-notch. The display looks fantastic even at extreme angles and I would rank it as among the best in the category. Brightness levels go sufficiently high and the phone is easily visible outdoors.
The large screen is separated by a small notch cutout at the top, popularly called a 'teardrop notch', and it's used to house the selfie-cam. At the bottom of the device is a 3.5mm headphone jack and comes with a USB-C connection.
The power and volume buttons on the side of the device felt a little too high up to use comfortably, as did the rear fingerprint sensor, which is an issue that comes with the size of the device but depending on how you hold your device this may not be a problem.
By default, the icons on the home screen are comically large but this can be fixed easily by choosing a denser grid for the home screen and app drawer. You can even enable a one-finger swipe-down gesture on the home screen to pull down the notifications shade.
This is immensely helpful as it's nearly impossible to reach the very top of the screen comfortably with one hand. You also have the option to use face recognition instead of — or in addition to — using the fingerprint scanner.
Samsung Galaxy A30 camera
The Samsung Galaxy A30 is quite an impressive budget phone for photography. It has a rear dual-lens camera consisting of a 16MP main sensor with an f/1.7 aperture and 5MP ultra-wide lens with a f/2.2 aperture. The ultra-wide lens has the same encompassing 123-degree field of view as the Galaxy S10 series.
The front of the phone has a 16MP selfie cam. Landscapes had fairly good detail, and with the wide-angle sensor, you can get a lot more of any scene in the frame. As will all Samsung phones, the camera's user interface was very easy to use, with all effects and options easy to find and a very quick shutter speed capturing moments quickly.
Like the Galaxy S10, the A30 has a scene optimizer to bump up saturation and contrast a bit to make the image more striking and visually appealing. It might not be to everyone's taste, but if you like to mess around with filters before sharing your shots, you'll probably like it.
Samsung Galaxy A30 battery
The 4000mAh battery is one of the Galaxy A30's strong suits. With a sizable battery capacity of 4,000mAh, the Samsung Galaxy A30 will easily last you a day and it's almost as big as the 4,100mAh battery in the more expensive Samsung Galaxy S10 Plus. The bundled fast charger is able to take the battery to about 70 per cent in an hour, which is not bad at all.
The Samsung Galaxy A30's Android 9 operating system is smooth to use, opening apps and navigating menus with ease. It also supports microSD cards, in case you need more storage.
Key Specifications
Size: 158.5 x 74.7 x 7.7mm
Screen: 6.4-inch FHD+ (2340×1080) Super AMOLED
Rear camera 1: 16-megapixel AF f/1.7
Rear camera 2: 5-megapixel FF f/2.2
Front camera: 16-megapixel FF f/2.0
Memory: 3GB + 32GB / 4GB + 64GB – microSD up to 512GB
Battery capacity: 4000mAh
Processor: Octa-core processor (2 x 1.8GHz, 6 x 1.6GHz)
What's in the box?
5V/2A charger with adaptive fast charging
USB-C charging cable
Earphones
SIM ejector tool
Transparent TPU case
Samsung Galaxy A30 Review Verdict: Should You Buy One?
In 2019, Samsung has radically changed its mid-range gameplay. The company is working hard to please young consumers and the Galaxy A30 is mostly a step in the right direction. It makes a compelling case for itself with its gorgeous screen, appealing design, Android Pie based clean software and a massive battery.
Overall, the Samsung Galaxy A30 is a well-built phone, which looks decent even with its plastic body. It's available in multiple colours.
Samsung Galaxy A50 – A feature-rich budget phone!
The first thing you notice when you pick up the A50 is its sleek and lean physique. Second is its rear panel, which has a reflective coating that scatters light through the plastic panel and makes for some beautiful hues. All said and done, the build quality of the A50 looks solid, feels light in hand and pocket.
Design, optics and display
The Galaxy A50 is the embodiment of a great budget phone: it has an evocative design with a gradient pattern at the back, the hardware is rock-solid, it comes with the latest version of Android, an in-display fingerprint sensor, and there are three cameras at the back.
In short, Samsung has managed to completely overhaul its budget strategy, and the result is a device that the Galaxy A50 easily holds its own against the best that this segment has to offer.
If there's one area where Samsung improved the most with its 2019 budget lineup, it's the design. With the Galaxy M and now the Galaxy A series, it is easy to see that Samsung put a lot of thought into the overall design aesthetic.
The Galaxy A50, in particular, looks stunning thanks to a gradient finish that creates a rainbow effect as light bounces off its surface. Another highlight of this new Prism design language is smooth flowing curves — the back curves seamlessly to meet the metal mid-frame, and all four corners are rounded.
The material at the back isn't glass, however, with Samsung relying on a plastic chassis for the A50. The gradient pattern is just a reflective coating on a plastic back, and this allows the A50 to save considerable weight.
That said, the phone is just as prone to fingerprint smudges as glass-backed devices. And although the A50 doesn't have premium materials, the fit and finish is excellent and the phone feels just as durable as the best that Samsung has to offer.
There's also some very handy and quick face recognition – you can choose to activate the front camera as soon as you raise the phone – it's fluid and you don't have to wait for visual confirmation that it has worked. There are of course tons of customization options like text size, icon size, gesture shortcuts, gesture navigation, lock-screen widgets, message bubbles, etc.
Google's Digital Wellbeing feature for Android 9 is also supported so you can see detailed app usage statistics, have the Galaxy A50 prompt you when it's time to wind down for the night, and impose time constraints on individual apps to help yourself focus.
Camera
One of the key features of the Galaxy A50 is the camera arrangement. There are three cameras at the back, with a 25MP primary lens joined by an 8MP wide-angle shooter and a 5MP depth sensor. The back has gradient colouring, and our black review unit gets rainbow-like patterns that make it look absolutely stunning. The back also holds a triple rear camera setup with the three sensors stacked vertically.
There are also lots of add-ons like Live Focus mode for portraits, a 480fps 720p slow-motion video mode, Hyper-Lapse mode for timelapse videos, AR emojis, and intelligent scene optimization. Overall image quality is good, especially in daylight – photos come out looking nice with quite a lot of detail.
The wide-angle camera gives you a lot of flexibility and it's actually quite surprising how much more you can fit into a frame when standing in exactly the same spot. You can change the type of background blur in portrait shots and there's a fake dolly-zoom effect that you can make GIFs out of – edge detection is quite good too.
On the software front, the Galaxy A50 is running One UI based on Android 9.0 Pie. The software is near-identical to what you get on the Galaxy S10, with the same interface elements.
Battery life
Battery life is excellent thanks to a generous 4000mAh battery that ensures you easily get over a day's worth of use. With light to moderate usage, you can easily make it into the next afternoon before you need to charge the phone. The phone has fast charging support and comes with a fast charger bundled in the box.
What's in the package?
Inside the box, Samsung has bundled almost everything that is essential for a new buyer. The Galaxy A50 box contents are as follows:
Samsung A50 mobile phone unit
Travel Adapter
USB Type-C Data cable
Earphones
Ejection Pin
TPU Soft Case Cover
User Manual and documentation
Verdict: Should You Buy One?
With the re-imaged A-series, Samsung is really showing that it knows how to bring the fight back, and seen on its own, the Galaxy A50 is a solid mid-range device. The Galaxy A50 seems to be a well thought out mid-range offering.
The phone seems to be ticking a lot of right boxes. The design is cool, the AMOLED display is good quality. Overall, the Galaxy A50 practical experience is much better than what its spec-sheet implies.
Should you buy one? Absolutely
UPDC reaps benefits of NSE's resilience with listing of N16 billion Rights Issue
"We congratulate the Management and Team at UACN Property Development Company Plc, as well as the professional parties to the issue for the successful completion of the transaction." – Oscar Onyema, CEO of the NSE.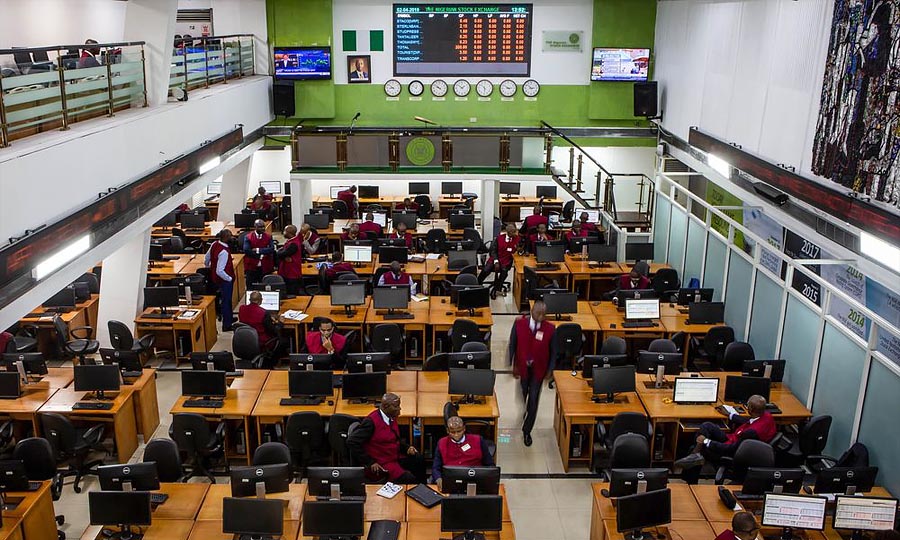 UACN Property Development Company Plc (UPDC) has become yet another beneficiary of The Nigerian Stock Exchange's (NSE or The Exchange) commitment to provide continued access to capital even in the face of COVID-19.
The company successfully listed its N16 billion Rights Issue of 15,961,574,145 Ordinary Shares of 50 kobo each at N=1.00 per Share on the NSE platform on Tuesday, 2 June 2020 shares of 50 kobo each at N=1.00 per Share on the NSE platform on Tuesday, 2 June 2020.
Speaking at the virtual Closing Gong ceremony to commemorate the listing, the Chief Executive Officer, NSE, Mr. Oscar N. Onyema, OON commented, "We congratulate the Management and Team at UACN Property Development Company Plc, as well as the professional parties to the issue for the successful completion of the transaction. At the NSE, we prioritize our responsibility to support the development of Issuers, Dealing Member Firms and the investing public, and we continue to work assiduously to respond to the needs of our stakeholders at every time. We are, therefore, pleased to provide support to UPDC on this successful capital raise, and we remain committed to providing opportunities for trading activities across multiple asset classes – equities, bonds, ETFs."
READ ALSO: Seplat denies swindling FG of N600 billion despite co-conspirator's guilty plea
Commenting on the transaction, the Group Managing Director, UPDC, Mr. Folasope Aiyesimoji said, "I am deeply honoured to virtually sound the Closing Gong at the NSE today. The innovation and forward-thinking displayed by The Exchange in harnessing technology to make this possible is truly commendable. We at UPDC are excited about the milestone we have achieved today, and we are confident that the funds raised will further strengthen our capital structure and position us for growth. We count ourselves fortunate to be listed on the NSE which exposes us to a wide pool of investors and funding options. We must also commend the NSE for its efforts in building investor confidence which has made it possible for us to access this capital. We are grateful for the trust reposed in us by investors and we are keen to get on with the invaluable projects this capital will support."
The Exchange remains focused on leveraging technology and business innovation to sustain full operations during this pandemic. Since the activation of its Business Continuity Plan which saw the transition to remote trading and working in March, the NSE has enjoyed seamless operations on the back of electronic platforms such as FIX Protocol, X-NET, and the newly implemented Virtual Private Network (VPN). The NSE digital Closing Gong ceremony also attests to the resilience of the NSE's technology platforms with UPDC being the third company to feature in the series following Sterling Bank and FBNQuest Merchant Bank.
COVID-19: Lagos receives N200 Million, 5 ambulances from BUA Foundation
"As a responsible corporate citizen, we felt a responsibility to support the state government and the people during these times." – Chimaobi Madukwe, COO of BUA Group
JUNE 1, 2020, LAGOS – The Lagos State COVID-19 response has received 5 ambulances in addition to a cash sum of N200 million earlier received from BUA Foundation, the philanthropic arm of BUA Group, one of Africa's leading foods and infrastructure conglomerate.
The Group Chief Operating Officer, BUA Group, Chimaobi Madukwe, while presenting the COVID-19 response ambulances and cheque to the First Lady of Lagos state, Ibijoke Sanwo-Olu commended the effort of the Lagos State Government in curbing the effects of the virus. Madukwe also added that BUA will continue to support various effort across Nigeria to stop the virus.
READ ALSO: LIRS further extends deadline for filing annual tax returns by one month
"As a responsible corporate citizen, we felt a responsibility to support the state government and the people during these times.
"We are proud to be associated with the Lagos State government in this fight against the coronavirus. We are keen in contributing our quota where needed to end the pandemic and these ambulances are to ensure the people of Lagos state get the best medical attention.
"We are working tirelessly with various stakeholders to further identify places where help is needed and had since set aside a grant in addition to this cash donation and 5 ambulances from which some projects are being carried out."
Receiving the donations on behalf of the Governor, Babajide Sanwo-Olu, the First Lady of Lagos state, Ibijoke Sanwo-Olu who described the donation as critical to the COVID-19 fight thanked the foundation and the BUA Chairman, Abdul Samad Rabiu for the gesture which will strengthen the state's response to the pandemic.
---
EDITOR'S NOTE: This is a sponsored content. 
'Invest N5b and get N10b in 3 years, Guaranteed!' – Sijibomi Ogundele, MD/CEO Sujimoto
Crises are opportunities disguised as problems! We have developed a highly viable and profitable strategy and found an opportunity for savvy investors to invest N5 billion into Sujimoto and get N10 billion back in 3 years.
EDITOR'S NOTE: Please, be informed that this is a sponsored content by SujiMoto, a luxury real estate company based in Lagos.
---
What has been the impact of COVID-19 on your business?
In every adversity, there is a blessing. Covid-19 has indeed been a blessing for me. I have come up with more ideas than ever and even had time to study my past and also re-assess the opportunities in real estate. Many have said that the real estate industry is one of the worst hit by the Covid-19 Pandemic, but we have been here before during the last recession and we didn't sink! Just like other times, we shall learn from it, rise and re-strategise.
How do you intend take advantage of the opportunities in your industry post COVID-19?
To take advantage of the opportunities ahead of us, there are 3 fundamental Ps we are already implementing: People, Prudence and Projects.
Projects: We have 3 major projects we have in the pipeline that will bring a minimum of 200% ROI to Sujimoto. Most projects will last a minimum of 1 year, so while other organisations are in limbo, folding their hands and waiting for the Pandemic to be over before they take any meaningful action, we have already started. By the time the world is ready to restart, we will be done!
Prudence: We have instituted a diligent spending culture by putting an Opportunity Per Cost (OPC) strategy to every penny spent. We shall only spend what is necessary NOW!
People: The Job market is saturated with lots of experienced hands who had been let off as a result of the COVID-19 pandemic and it is our intention to work ONLY with the best. Therefore, we will be employing ONLY the best and the essential.
Get the Nairametrics App
Are there any opportunities for savvy investors in your company post COVID-19?
Crises are opportunities disguised as problems! We have developed a highly viable and profitable strategy and found an opportunity for savvy investors to invest N5 billion into Sujimoto and get N10 billion back in 3 years. This is guaranteed!
Treasury bills and other money market instruments will give you 5 – 10% ROI on your investment but this is 100% ROI and it is guaranteed!
This investment is NOT for everyone, it is ONLY for the vital few, who can identify opportunities, when they see one. Please contact me directly via my email suji@sujimotonig.com, and I will be available to meet ONLY the vital serious few.
It's simple, we are looking for the Warren Buffets who are able to discern opportunities and grab them! We will not quickly forget Ronald Wayne who sold his Apple shares in 1976 for $800. Today, that share is worth 90 billion dollars!
In all my projects, I always try to invite few friends to invest early. Many invest with me and make 200% ROI, while others simply take it for granted!
Some people say that there are more than 2,000 empty apartments in Banana Island, Ikoyi and VI, but how does that affect you?
When you negotiate the price of greatness, you pay the full price for mediocrity. For us at Sujimoto, we do not know what 'empty apartment' means because in the heat of 2016/17 recession, we sold out projects in Ikoyi. Our just concluded Giuliano project in Banana Island was sold-out 6 months before completion! Not only did we sell out, we have also witness about 3 other resale, where a lady bought at N350 million and she sold for N480 million, making N130 million in 11months.
At Sujimoto, we have only two things going for us, Quality and Integrity. I have no sponsors; no rich Father or powerful Aunt, all I have is my Word and an addiction to Quality.
Will there be any major changes to the way you do business post COVID-19?
Change is the only thing that is permanent. We will be doing a lot more of commercial real estate than residential. As a matter of fact, we don't want to do a lot of off-plan sales anymore except for special residential off-plans.
We will also focus on building private projects for people. We are also interested in lands in Ikoyi or Banana Island for outright sale or JVs. Anyone who has a good land in a great location can contact me directly, OWNERS ONLY please.
---
EDITOR'S NOTE: This is a sponsored content.