CORPORATE ACTIONS: 'Deap' Changes and Sweet Tales
@mtnng and @zenithbank amongst other firms will hold board meetings this week to consider H1 2019 results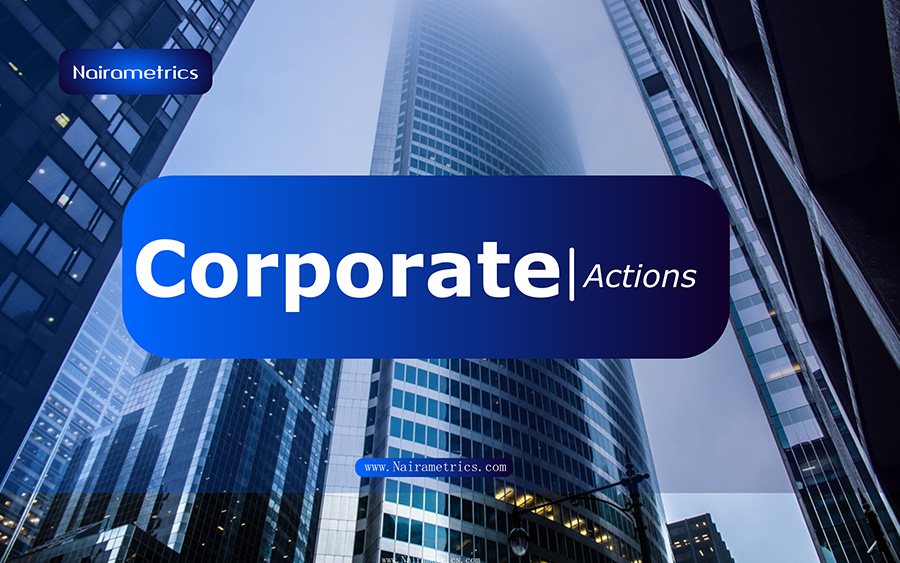 Corporate actions are decisions taken by companies' boards of directors or management teams, that could have impacts on the firms themselves or shareholders.  
Examples of corporate actions include the release of quarterly and full year results,  payment of dividends, closing of shareholders' registers, and announcing qualification dates and Annual General Meeting (AGM) dates.  
Here is a review of corporate actions that took place last week, and those expected this week. 
Corporate Actions 
from last 
week
Markdowns  
C and I Leasing Plc was marked down by 7.5 kobo last week. Ex dividend price was N5.45.  
Red Star Express Plc was marked down by 43 kobo. Ex dividend price was N5.28. 
A mark down means that a proposed dividend is subtracted from a company's share price.  
Sins
 forgiven 
Following the release of its results, a technical suspension placed on LASACO Assurance Plc was lifted. 
 A full suspension placed on Continental Reinsurance was lifted, as the firm will hold another court ordered meeting. The suspension was placed in December last year at the instance of the company's broker, Chapel Hill Denham Securities. The Securities and Exchange Commission had cancelled the previous meeting following a few irregularities.  
Appointments and Resignations 
May and Baker Plc announced the appointment of Senator Daisy Danjuma as a Non Executive Director. The appointment was part of the resolutions following the AGM, which was held in May. No word on if she would serve as alternate director to her husband, TY Danjuma, or both of them will serve on the board. 
 Meyer Plc has appointed Rotimi Alashe as the Chief Financial Officer, effective 1st of July, 2019. 
Transcorp Hotels Plc announced the appointment of Alexander Adeyemi as a non Executive Director effective 15th of July, 2019. Dr Wadinga Bakari also retired from the board effective same date. 
Major moves 
Fidson Healthcare Plc announced a strategic alliance with Ohara Pharmaceutical Co. Ltd, a Japanese Healthcare company. Following Fidson's recent rights issue, Ohara's shareholding in the company has increased to 21.75%. 
Shareholders of Abbey Mortgage Bank have given the company's board of directors approval to issue 2,261,538,462 ordinary shares at the rate of N1.05 to VFD Group Plc. The private placement is however subject to regulatory approval. Following the announcement, the bank's shares were on full bid and the stock was one of the best performing last week.  
A buy in 
Royal Exchange Plc announced that InsurResilience Investment Fund had acquired a 39.25% stake in Royal Exchange General Insurance Limited. InsurResilience was set up by Kfw on behalf of the German government and is managed by BlueOrchard Finance, a Swiss-based impact investment manager. 
A merger in the works 
Lafarge Africa Plc's Facts Behind the Figures session, which was to hold on Thursday, was postponed. The company's Extraordinary General Meeting (EGM) is also scheduled to hold on Monday July 22, 2019. The firm will seek approval from shareholders for the merger of Lafarge Ready Mix Plc with Lafarge Africa Plc 
Numbers 
o
n the way 
Seplat Petroleum Development Company will release its H1 2019 results on July 30, 2019, and hold a conference call immediately after.  
Omatek Ventures Plc held  a board meeting on the 18th of July, 2019, at the Muson Centre, Onikan, Lagos.  
The board has approved the company's audited financial statements for the year ended 31st December, 2017 and 31st December, 2018.  
Cutix Plc and Unilever Plc have indicated their intentions to release H1 2019 results on or before the 28th and 29th of July 2019 respectively. 
Results released 
United Capital H1 2019
United Capital released its half year results for the 2018 financial year. Gross earnings declined slightly by 15.7% from N3.8 billion in 2018 to N3.2 billion in 2019. 
Profit before tax fell from N2.3 billion in 2018 to N1.9 billion in 2019, down 17.3% year on year. Profit after tax also dropped from N2 billion in 2018, to N1.6 billion in 2019, down 20%.  
Earnings per share also fell by 17.6% from 34 kobo in 2018 to 28 kobo in 2019.  
Africa Prudential H1 2019 
Africa Prudential Plc released its results for the half year ended June 2019. Gross earnings fell by 4.7% from N2.1 billion in 2018 to N2 billion in 2019.  
Profit before tax rose slightly from N1.1 billion in 2018 to N1.2 billion in 2019. This was largely due a sharp fall in finance costs, which fell by 76.3% from N427 million in 2018 to N101 million in 2019.  
Profit after tax also rose marginally by 4.3% from N985 million in 2018 to N1 billion in 2019.  
Earnings per share rose marginally by 4% from 49 kobo in 2018 to 51 kobo in 2019. For most investors, that's the koko of the matter. Financial service firms have had it a bit tough this year.  
Transcorp Plc H1 2019 
Transcorp Plc released its results for the half year ended June 2019. 
Revenue fell from N54 billion in 2018 to N37.7 billion in 2019, down 30.1% year on year. Profit before tax dropped sharply by 57.9% from N11.9 billion in 2018 to N5 billion in 2019. Profit after tax also declined from N10.8 billion in 2018 to N4.6 billion in 2019.  
Sweet tales at Cadbury 
Cadbury Nigeria H1 2019 Cadbury Nigeria Plc released its results for the 2018 financial year. Revenue increased by 11% from N17.5 billion in 2018 to N19.4 billion in 2019. The firm made a N957 million profit in 2019, as against a N423 million loss before tax recorded in 2018. Profit after tax stood at N669 million in 2019, as against a N423 million loss after tax in 2019. 
 '
Deap'
 changes
Deap Capital Management and Trust Plc released its overdue results after trading hours on Friday. The firm has just completed a 5–year suspension from the capital market and is repositioning to resume normal operations. 
Under the special items contained in its AGM notice, are the following resolutions:  
That the directors be authorized to convert N1.6 billion owed to creditors of the company into 1.5 billion ordinary shares. 

 

That the name of the company be changed from 

Deap

 Capital Management and Trust Plc to 

Deap

 Plc. 

 

The firm also intends to sign a 5

–

year agreement with Collaboration and Consulting Company (management consultants) to undertake the turn-around of the firm. 

 
The duration of the proposed agreement will be from October 2019 to September 2024. 

 
The AGM is scheduled for the 22nd of August, 2019.  
The company also announced a series of board changes, following a board meeting held on the 7th of June, 2019.  
Mr Joe 

Idudu

 and Mr Emmanuel 

Ugboh

 re-joined the board after a 5-year suspension placed on the firm came to an end on the 27th of March, 2019.

 

 Dr. Kenneth 

Olise

, Edmond Ani, and Joel Omole were appointed to the board as part of the turnaround team that had made a proposal to the board to manage the firm for 5 years. 

Elder Williams 

Odudu

 resigned from the board

,

 due to the new structure which comprises 2 persons from the current board, 2 from the old board which was suspended 

by

 SEC, and 3 from the turn

–

around team. 

 
Corporate Actions taking place this week 
AGMs and a Court Ordered Meeting 
A number of firms will be holding their Annual General Meetings this week. 
 Ikeja Hotels will be holding its AGM on the 22nd of July, 2019. Lafarge Africa has a Court Ordered Meeting on the same date. 
 Presco Plc will hold its AGM on the 24th of July, 2019.  
CCNN, Studio Press Nigeria, Sovereign Trust Insurance and NPF Microfinance Bank will hold their Annual General Meetings on the 25th of July, 2019. 
Nigerian Aviation Handling Company Plc and John Holt Plc, will hold their Annual General Meetings on the 26th of July, 2019.  
Board meetings 
A number of firms will also hold board meetings to consider their H1 2019 results and other matters.  
MTN Nigeria, LASACO Assurance Plc, Chemical and Allied Products (CAP) Plc and Royal Exchange Plc will hold board meetings on the 24th of July.  
Regency Alliance Plc and AXA Mansard Insurance Plc will hold a board meeting on the 25th of July.  
Access Bank Plc,  Nestle Nigeria Plc, Dangote Cement Plc and The Initiates Plc  will hold board meetings on the 26th of July 2019.  
The Initiates and UPDC will hold board meetings to consider H1 2019 results. For UPDC, the results could be released shortly after the meeting. 
SEC vs JAT and Mofe continues 
Further hearing on the suit between the Securities and Exchange Commission (SEC) and the duo of Wale Tinubu and Mofe Boyo continues this week. 
Court suspends Mareva injunction, orders opening of Seplat's corporate offices
The Court of Appeal has suspended the interim order issued by a Federal High Court sealing the corporate Offices of Seplat Petroleum Development Company.
A Lagos Court of Appeal has ordered the suspension of an interim order issued by a Federal High Court sealing the corporate offices of Seplat Petroleum Development Company.
The closure of Seplat's office was ordered over loan facilities Cardinal Drilling Services Limited allegedly owes Access Bank Plc.
The court lifts the interim order on the stance that Access Bank had nothing to lose if Seplat continued to discharge its obligation to its numerous customers.
While delivering a ruling on an application by the petroleum company for an order of the Court suspending the interim order pending the determination of the appeal filed by Seplat, Justice Joseph Ikyegh held that the balance of convenience favoured the petroleum company.
Justice Ikyegh, however, ordered the company to issue a bond of $20 million in the name of the Court's Chief Registrar, an order the company's counsel Etigwe Uwa, SAN said had been complied with.
The Court rejected Access Bank's argument that suspending the interim order would amount to dabbling into the substantive issues that ought to be determined while hearing the main appeal. The Court noted that Seplat supplied gas to three power plants that generate almost 40 per cent of power supply in Nigeria and that it would not be able to deliver this service if the order was not suspended.
What they are saying
Justice Joseph Ikyegh said:
"The fear and anxiety expressed by the 1st Respondent (Access Bank) appeared unfounded. It would also not amount to hearing the substantive suit.
"The Supreme Court has held that where machines and workers would be rendered useless, the court would intervene.
"Disruption of business should be considered in the issue of balance of convenience. The court will exercise its discretion in suspending the injunction.
"Practical approach should be adopted and not do injustice to any of the parties.
"Where considerable hardship will be done to a party, the court will intervene by suspending the injunction or stay it.
"I found substance in the argument. The injunction restraining the appellant from operating is hereby suspended.
"Order on its accounts are also lifted pending the determination of the appeal."
What you should know
Recall that Nairametrics reported some months ago that Access Bank obtained an Ex-Parte Order dated November 13th, 2020, to seal the assets of Seplat.
The bank also obtained a Mareva injunction freezing the accounts of Seplat in Nigeria and abroad.

Seplat had appealed the December 24, 2020 decision of the Federal High Court granting injunctions that, among others, resulted in the sealing of its corporate offices in Lagos.

The Federal High Court had earlier turned down an application by Seplat to access its accounts and offices which were earlier shut down by a Mareva injunction obtained by Access Bank against it.
Access Bank is understood to be grappling with a string of bad loans issued under the defunct Diamond Bank, and is now stepping up efforts to go after some of the debtors by obtaining several court orders to seize properties.
Seplat has continued to maintain that the loan agreements evidenced by letters of offer of credit facility were all between Diamond Bank Plc. (now Access Bank Plc.) and Cardinal Drilling Services Limited, while the three Deeds of Debenture to the loan were over specific and fixed assets of Cardinal Drilling viz four Drilling Rigs set out in the schedules of the three Deeds of Debenture.
Google threatens to remove its search engine from Australia due to media code
Google has threatened to remove its search engine from Australia due to the media code introduced by the government.
Google said that it will disable its search engine in Australia if the government proceeds with a media code that would force it and Facebook Inc to pay local media companies for sharing their content.
The code requires Google and Facebook to enter mandatory arbitration with media companies if they cannot reach an agreement over the value of their content within three months.
It also requires the platforms to give the news businesses 14 days' notice of algorithm changes, and non-discrimination provisions have been put in place to stop the tech giants from taking retaliatory action such as removing content or punishing organisations that participate in the code.
READ: Satoshi Nakamoto's unspent BTCs worth $10.9 billion
Mel Silva, Google Australia and New Zealand VP told Australia's Senate Economics Legislation Committee today that Google would shut off the search in Australia if the government's proposed media bargaining code becomes law. According to her, "The code's arbitration model with bias criteria presents an unmanageable financial and operational risk for Google"
Australia announced the legislation last month after an investigation found Alphabet Inc-owned Google and social media giant Facebook held too much market power in the media industry, a situation it said posed a potential threat to a well-functioning democracy.
READ: Facebook Oversight Board to review decision to suspend Trump's account
Prime Minister of Australia, Scott Morrison said Australia would not respond to the threats as news media companies fired back at suggestions their content did not add value to the platforms. "Australia makes our rules for things you can do in Australia. That's done in our Parliament. It's done by our government, and that's how things work here in Australia," he said. "People who want to work with that, in Australia, you're very welcome. But we don't respond to threats."
READ: Betting on Bitcoin is better than investing in PayPal, Google, Facebook, Amazon
What you should know
Google's threats follow similar remarks made by Facebook Australia's managing director, Will Easton in September, who announced plans to remove news articles from the social media's main app if the media code is passed by Parliament.
To avoid the operation of the code, Google and Facebook have no option but to cease linking to news altogether. If Google can't reliably separate news results from other search results, then logically it may have to pull its entire search service from Australia.
Google's threat to limit its services in Australia came just hours after the internet giant reached a content-payment deal with some French news publishers.
This new media code will affect millions of Australians who use Google Search and Facebook every month.
COVID-19: Evidence suggests that new variants could pose challenge for vaccines
The research findings show that the new COVID variants may likely not respond well to the vaccines.
Recent research findings suggest that the new coronavirus variants would likely pose a big challenge for the vaccines, as revealed by studies by several medical researchers.
The new variant was first discovered in South Africa in October but has now been spread to more than a dozen countries all over the world.
According to the most recent findings, as reported by CNN, researchers took antibodies from six people who were hospitalized with Covid-19 before the new variant was discovered. They found to varying degrees, that the antibodies for all six of the survivors were unable to fully fight off the virus.
According to Alex Sigal, a virologist at the Africa Health Research Institute and the Max Planck Institute for Infection Biology, "I think the evidence is building that these mutations — and I think other mutations — will emerge across the globe — and are emerging already — that are escaping antibodies from previous infection. It's concerning."
According to Jesse Bloom, a virologist at the Fred Hutchinson Cancer Research Center, "When you see two groups independently arriving at same basic answer, that good — there's more consonance that they are correct"
What you should know
Sigal's findings were very similar to those of a recent study by the National Institute for Communicable Diseases in South Africa.
A research study has revealed that mutations in the new variant allowed them to evade some of the immunity induced by vaccination, but it was far from a complete escape.
One thing that is critically safe for everyone is to get vaccinated, while the researchers are working to confirm whether these variants are dangerous or not to contain with the vaccines.
According to Alex Sigal, "I would for sure get it if I could. My father-in-law had the opportunity to fly to Israel and get it, and I was shooing him out of the house because you can't get it here in South Africa."
In a research study done at Rockefeller University, from a sample of 20 people who had received either the Moderna or the Pfizer vaccine, it was found that different mutations in the viruses did allow some escape from some types of antibodies, but the volunteers' immune systems threw an army of different types of antibodies at the viruses.
According to the research conducted in South Africa, blood was drawn from 44 people who had Covid-19 but the antibodies of about half of the 44 people were powerless against the new variant, while the other half, their antibody responses were weakened, but not totally knocked out.