Once a pacesetter, this media company is now a shadow of itself
There was a time when every discourse about independent radio and TV broadcasting in Nigeria revolved around this company.
There was a time when every discourse about independent radio and TV broadcasting in Nigeria revolved around DAAR Communications Plc. Back then, the company was setting the pace and holding the ace in the country's media industry. It owned the first independent TV and radio stations in Nigeria (Africa Independent Television (AIT) and RayPower FM). Without question, it revolutionised the broadcasting industry.
But things have changed since those glorious days. Today, DAAR Communications Plc is only but a shadow of its former self. Its problems are many, due to many factors which are mostly of its own making. For instance, its failure to keep abreast with changing trends, hence the inability to stay ahead of the competition.
On that note, welcome once again to Nairametrics' company focus for this week. As you already know, this is a column where we profile little-known companies with shares listed on the Nigerian Stock Exchange (NSE). Today, we are looking at DAAR Communications Plc.
It is interesting that though millions of Nigerians are familiar with AIT and RayPower FM, not a lot of them know that the media outlets are owned by DAAR Communications Plc. In the same vein, not many Nigerians know that the media company is also listed on the Nigerian bourse. Well, just in case you never knew, now you do. You will also get to know more about the company's history, its operations, services, recent financial performance and more.
DAAR Communications Plc: A corporate overview
Incorporated in 1998 as a limited liability company, DAAR Communications is the foremost private broadcasting company in Nigeria. It is specifically engaged in the production of news, current affairs and entertainment programmes for both radio and television audiences. Following years of relatively steady growth, it became quoted on the Nigerian Stock Exchange in April 2007.
DAAR Communications Plc revolutionised the broadcasting industry in Nigeria, shifting focus from state-owned media organisations such as NTA and Radio Nigeria. As part of its shakeup of the media industry, it also pioneered 24-hour broadcast service in the country.
The company's first radio station, RayPower 100.5FM, began commercial operation earlier in 1994, shortly after the Federal Government had deregularised the sector. Soon afterwards, it started its TV broadcasting arm, Africa Independent Television, which is also simply known as AIT. This was the first satellite broadcasting service in Nigeria and a thrill to many people who, until then, were only used to the Nigeria Television Authority (NTA).
In 1999, DAAR Communications Plc launched a second radio station (RayPower FM 2), which was later followed by a third station called (Faaji 106.5 FM), launched in 2012. The company also established a multi-channel direct-to-home subscription TV known as Daarsat.
A breakdown of the company's segments and how much they contribute to revenue
AIT 'Sharing the African Experience': When one thinks about DAAR Communications Plc, the first thing that comes to mind is its television arm, AIT. The TV station offers various types of news shows, talk shows, political programmes, reality shows, music programmes, etc. All of these are designed to cater to various audiences, often interspersed with loads of advertising. It is, therefore, not surprising that AIT generates about 90% of the company's total revenue.  Information available in its 2017 financial report shows that the TV arm generated about N3.1 billion out of the overall total revenue of N3.7 billion.
Radio: The company's first radio station, RayPower FM, started out with a distinct type of radio programming that was unique and exciting to many Nigerians. But a lot of new radio stations have since caught up and even surpassed RayPower, thereby leaving nothing really desirable about it. But it continues to operate, and along with the likes of recently-established Faaji FM, generates about N430 million in annual revenue.
DAAR News: This segment of the company generates an average of N140 million in annual revenue, according to the company's 2017 financial report.
DAAR UK Operation/AIT International: This segment is concerned with the responsibility of marketing the company's channels in the United Kingdom. It has not been successful with this venture, generating only N21 million in full-year 2017 and then zero revenue in half-year 2018.
Daarsat: Just like DAAR Communications' UK operation, the Pay TV segment has not been successful. It generated zero revenue in half-year 2018.
About the company's market audience
The company makes money through the provision of media services. In this sense, it caters to the needs of TV viewers and radio listeners, airing interesting programmes of assorted kinds. Related to this is the slew of advertising services which the company provides for major brands in the country.
Some key members of the company's Board of Directors 
The most famous member of the company's Board is Dr Raymond Aleogho Dokpesi. He founded the company and currently serves as a Non-Executive Director. Dr Dopkesi is one of Nigeria's most popular businessmen and politicians. In 2016 he contested but failed to become the Chairman of Nigeria's opposition party, the People's Democratic Party (PDP).
Other notable Board members are:
Tony A. Akiotu: Group Managing Director
Chief Raymond Paul Dokpesi Jnr: Chairman
Chief Stanley Sagboje: Executive Director
(Mrs) Oluwatosin Dokpesi: Executive Director, etc.
A look at the competition
Gone are the days when it was just DAAR Communications Plc playing in the independent broadcasting space. These days, the competition in the sector is fierce. As you may well know, so many new radio and TV stations spring up every now and then, the most notable of which include: Channels TV, TVC, Ebony Live TV, The Beat FM, Cool FM, Classic FM, etc. The effect of the competition on DAAR Communications Plc is reflected in its declining revenue and profitability. Unfortunately, the company is not doing enough to curtail this.
A look at the company's financial performance
DAAR Communications Plc has been struggling to maintain profitability in recent years. In 2017, it reported its worst financial result yet, with profit declining to N481 million from N2.1 billion in 2016. The losing streak continued this year, according to its recently released half-year 2018 result (N412 million in June 2018 compared to N1.2 billion in June 2017). However, revenue increased to N1.9 billion in half-year 2018, compared to N1.7 billion in the comparable period.
So why is the company struggling?
It is easy to say that the company's financial trouble is due to the growing competition; after all, it is an obvious fact. But there are other factors besides the competition, one of them being that DAAR Communications has failed to maintain its leadership position. Like many other companies which were pioneers in their respective industries, its disposition to change and restructuring has been lackadaisical.
This is such that while the likes of Channels TV and TVC are improving their service delivery, AIT continues to bask in the glory of its former days. For instance, there are so many technical glitches one would experience while watching AIT, which would seldom be experienced when watching TVC. Hence, it has become imperative for the company to improve the quality of its service delivery.
The company may also consider concentrating its focus, resources and efforts only on business ventures that are profitable. In view of this, divesting from Daarsat and AIT International would not be a bad idea. Those two ventures have failed to ensure profitability, so there is no justification for continued investment in them.
In conclusion, DAAR Communications Plc still has a lot of potentials. All it needs is a slight refocusing in business strategy, some improvements in its corporate governance, and a reinvigoration of the initial drive which instigated a transformation of Nigeria's broadcast media space in the 1990s.
Flour Mills moves to diversify funding sources with N29.8 billion bond listing
Flour Mills Nigeria Plc lists N29.8 billion bonds to diversify funding sources from the Nigerian capital market.
Flour Mills Nigeria Plc's fresh N29.8 bond listing will help the nation's leading food business company to explore diversified funding sources from the Nigerian capital market, with the hope of enhancing growth and the development of the company.
This statement was made by the Group Managing Director of FMN, Mr. Omoboyede Olusanya, at the listing of the Tranche A and Tranche B bonds valued at N29.8 billion on the Nigerian Stock Exchange (NSE).
The food and the agro-allied company which has remained Nigeria's largest and oldest integrated agro-allied business with a broad profile and robust Pan-Africa distribution issued these bonds under its N70 billion Bond Issuance Programme.
Olusanya said that the company would continue to explore funding opportunities inherent in the capital market to ensure business growth and continuity.
While speaking about the Credit Rating of the Programme, he disclosed that FMN's credit rating, as well as the operational financing of the Group, have improved considerably.
According to him, the bonds floated by Flour Mill will help to strengthen the company's capital base and provide the needed working capital required by the Company. He added that Flour Mills Group will continue to deleverage and replace short term financing with longer-tenured and lower price funding to optimize capital structure and reduce financing cost.
He noted that Flour Mills will continue to explore opportunities to raise fundings via the capital market as this enables the company to diversify its funding sources and continue to play a role in the capital market as a significant player in it.
What they are saying
The Group Managing Director of FMN, Mr. Omoboyede Olusanya, at the virtual event, said;
"We are delighted with the response from the market, we are happy to be listed.
"We are introducing an N29.9 billion listing under an N70 billion bond issuance cover; we will continue to raise funding to diversify our funding sources.
"The company remains passionate about feeding the nation to improve the quality of living for Nigerians through increased production and investments in backward integration."
What you should know
With the successful issuance of the new N29.8bn Tranche A and Bonds, FMN has utilized its bond issuance program registered in 2018.
It is important to note that the Senior Unsecured bond listing includes an N4.89bn under Series 4 Tranche A of the bond issuance programme, at a 5.5% rate for 5 years, due by 2025, and a 25bn under Series 4 Tranche B of the same program at a 6.25% rate for a tenure of 7 years, due by 2027.
The bond proceeds will be used to refinance existing debt obligations. It will also help the company take collaborative actions to diversify the company's financing options beyond expensive short term debt.
Lafarge moves to divest 35% shareholding in CBI Ghana
Lafarge Africa Plc has resolved to sell off its 35% shareholding in Continental Blue Investment Ghana Limited.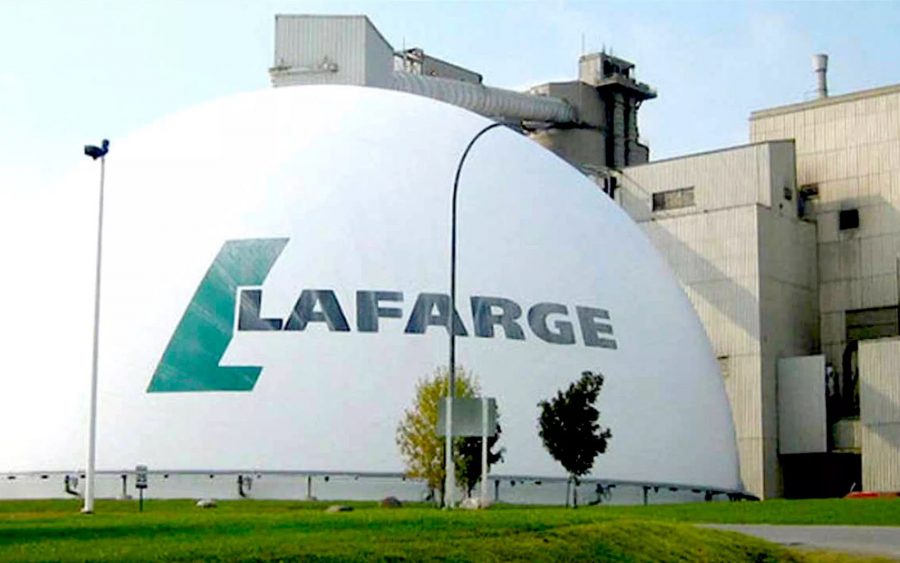 The Board of Lafarge Africa Plc has resolved to sell off its 35% shareholding in Continental Blue Investment Ghana Limited, in order to cut down on costs impacting the Group's profit.
This disclosure was made in a notification tagged- "Notice of Divestment in Continental Blue Investment Ghana Limited", which was issued by the Company Secretary, Mrs. Adewunmi Alode.
According to the statement, the Board of Directors of the Group made the decision to divest its 35% shareholding in Continental Blue Investment Ghana Limited ("CBI Ghana"), in line with the resolutions made at the emergency board meeting which held yesterday 20th, January 2020.
This move was made to set off the cement manufacturer on the path of sustainable growth and profitability, as Lafarge's investment in CBI Ghana has depleted significantly over the years.
What you should know
This is not the first time the company has had to sell off an unproductive investment in an effort to cut down on deadweight cost, as key players in the Cement industry like BUA and Dangote Cement continue to show strength and resilience through their effective cost minimization strategy which worked well in 2020.
Recall that in August 2019, Lafarge Africa sold off all its stakes in Lafarge South Africa Holdings (LSAH). This move helped the company to cut down costs coming from its South African subsidiary, which had been making billions of naira worth of losses for years.
Multiverse forecasts N39.5 million profit in Q1 2021
The management of Multiverse Plc has projected a revenue of N76 million and a profit of N39.5 million in Q1 2021.
Multiverse Mining and Exploration Plc has projected that in the first quarter of 2021, the mining and exploration company will generate N76 million in revenue, and post a profit of N39.5 million.
These projections were made by the company in a recent earnings forecast issued by the Management, and signed by the Corporate Secretaries of the company.
Key highlights of the earnings forecast for Q1 2021
Total revenue is projected at N76 million.
Turnover from agency sale is projected at N1 million.
Agency cost is s projected at N850 thousand.
Total expenses are projected at N7.8 million.
Operating Profit is projected at N67.3 million.
EBIT (Earnings Before Interest and Taxation) is projected at N67.3 million.
Interest Expense is projected at N27.8 million.
Profit after tax is projected at N39.5 million.
Key assumptions made to support the earnings forecast and projection of the company
The earnings forecast was made on the ground that there won't be any significant change in the economic policies of the Federal Government, while the monetary policies of the CBN would not be altered significantly.
The company also maintained that there would not be any industrial unrest that would affect its production and sales volume, while the profit of the company would not be pressured by rising costs of inputs, as prices of materials used in production shall be stable in the period under review.