Report: Instagram dominates as 22 million Nigerians use internet for social media
More Nigerians are using the internet for personal purposes.
A new report by Terragon Group has shown that more Nigerians are using the internet, with about 63% of them using it for personal purposes.
According to the report Digital Trends for Nigeria in 2018, the total number of internet users currently stands at 100.5 million people, with some 22 million of them actively using social media for a whole lot of activities.
As such, social media is one of the areas with the highest growth rate, even as more Nigerians are adapting to it for digital marketing purposes while also increasing opportunities for brand-consumer interactions across all business verticals.
The exponential growth of social media is followed only by "search", which is the second most engaging activity on the internet by Nigerians.
Out of all the social media platforms that are available, Facebook maintains the widest reach, with a total of 22 million Nigerians actively using it on a monthly basis. However, in a rather surprising disclosure, Instagram posted higher engagements with 10x higher than Facebook and 84% more than Twitter.
Nigerians have increasingly relied on Instagram for sharing images and short videos, news, fashion and even e-commerce. Small Business have also relied heavily on Instagram for their social media marketing and brand building. The report, however, leaves out WhatsApp, a very popular social media application in Nigeria.
More Nigerian males are accessing the internet, albeit through mobile devices
The report revealed that male internet users dominate the internet space by 58%, with the female folk at 42%. Interestingly, Nigerian men are also more active on all the major social media platforms. For instance, Facebook has 64% male active users, Twitter has 68% male users, YouTube has 69% active male users, and even Instagram has 60%, male users.
Meanwhile, most of the active users access the internet with their mobile devices, so much so that Nigeria ranks as the country with the highest number of mobile users in the world. This, therefore, indicates that one of the best ways to target Nigerians on the internet is through a mobile-first approach.
A changing marketing paradigm
The report also shows that Nigerians are increasingly using the internet for commercial activities more than ever before. This is fueled by digital advertising, which targets millions of Nigerians that are online.
The advertisements come in various forms, even as Nigerians are particularly receptive to ads that come in video forms. Interestingly, internet users in Nigeria are said to purposely look out for video reviews that are related to the products and services that they wish to buy. Consequently, more brands are making use of such social media platforms to reach more people with such ads; leveraging social media influencers in this regard.
Online marketing is also becoming increasingly personalised by "offering consumers
personalised content in order to connect with them on an individual level."
"The days of mass marketing are dead. It is necessary to incorporate personalisation into marketing strategies by offering consumers content that is tailored to them in order to connect with the audience on an individual level. Businesses also need to exploit analytics for predictive intelligence to anticipate consumer needs and achieve business success." – Terragon Group
You can read more on this report by clicking here.
FAAC disburses N682.06 billion to 3 tiers of govt in September [Full-List]
FAAC disbursed the sum of N682.06bn to the three tiers of government in September 2020.
The Federation Account Allocation Committee (FAAC) disbursed the sum of N682.06bn to the three tiers of government in September 2020. This is contained in the latest monthly FAAC report released by the National Bureau of Statistics.
According to the report, the federal allocation of N682.06bn disbursed to the three tiers (FG, States and LGAs) indicates a 1% marginal increase when compared to N676.4 billion disbursed in August 2020.
The Breakdown
A cursory look at the report showed that in September, the Federal Government received a total of N272.90bn (40%), States received a total of N197.65bn (21.6%) and Local Governments received N147.42bn (21.6%). The sum of N30.88bn (4.5%) was shared among the oil producing states as 13% derivation fund.
In addition, revenue generating agencies such as Nigeria Customs Service (NCS), Federal Inland Revenue Service (FIRS) and Department of Petroleum Resources (DPR) received N6.66bn (1%), N13.48bn (2%) and N5.70bn (0.8%) respectively as cost of revenue collections.
Further breakdown of revenue allocation distribution to the Federal Government of Nigeria (FGN) revealed that the sum of N196.56bn was disbursed to the FGN consolidated revenue account; N4.78bn was disbursed as share of derivation and ecology; N2.39bn as stabilization fund; N8.03bn was for the development of natural resources; and N6.12bn to the Federal Capital Territory (FCT) Abuja.
States federal allocation rose marginally
In September 2020, allocation to states rose by 3.4% to N197.65 billion compared to N198.8 billion recorded in the previous month.
The top five states with the largest share of monthly allocation in September are Delta (N13.8 Billion), Lagos (N11.44 billion), Rivers (N11.04 billion), Akwa Ibom (10.33 billion) and Bayelsa (N8.33billion). On the other hand, the top five states at the bottom of the ranking are Ekiti (N3.8 billion), Ogun (N3.7 billion), Plateau (N3.6 billion), Osun (N3.24 billion), and Cross River (N3.23 billion).
Key Takeaway
The federal allocation disbursed to the three tiers in September showed consistent improvement, when compared the previous months. However, this is still a short fall when compared to N740.87bn disbursed to the three tiers in the corresponding period of 2019.
The marginal growth recorded in the disbursed federal allocation may be due to the rise in revenue generation, on the back of earlier improvement in both domestic and cross border economic activities.
For states in Nigeria that largely depend on federal allocation to meet recurrent obligations, this may represent some sort of boost. However, the outbreak of the Covid-19 pandemic (second wave) currently emerging in some developed economies may threaten oil price (the country's main revenue source), as industrial activities may collapse globally for the second time in the year.
WTO: Nigeria to persuade the US to join the consensus on Okonjo-Iweala – Trade Ministry
Nigeria is making moves to reach out to the US to agreed to appoint Okonjo-Iweala as Director-General of the WTO.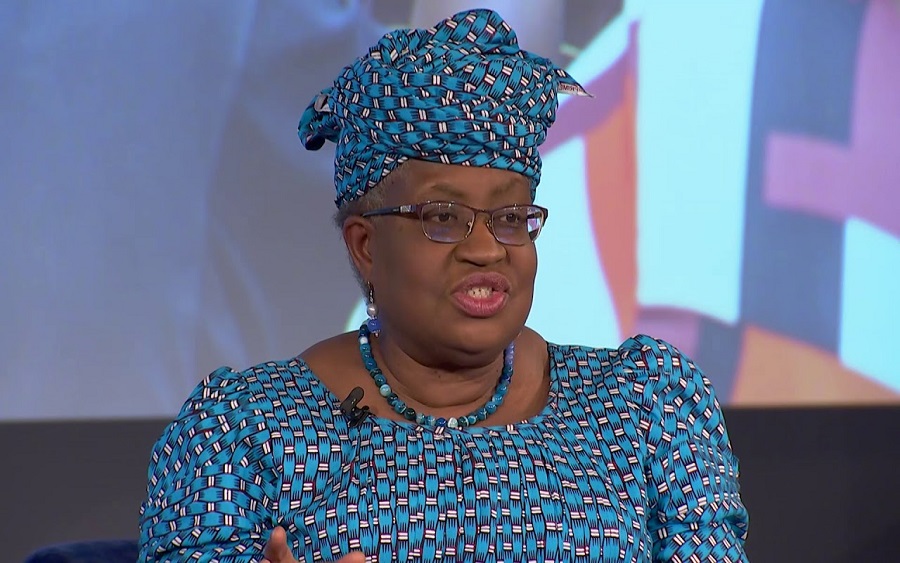 The Federal Ministry of Industry, Trade & Investment has said that Nigeria is currently reaching out to the United States and South Korea to back the WTO preferred candidate, Dr. Ngozi Okonjo-Iweala, for the role of DG of WTO.
This was disclosed in a statement by the Ministry and reported by Reuters on Saturday morning.
Recall that Nairametrics reported this week that the Ministry of Foreign Affairs announced in a statement that Nigeria's candidate for Director-General of the World Trade Organization (WTO), Dr. Ngozi Okonjo-Iweala, had secured the support of the majority of the member-nations – but was yet to be declared and returned as the winner, as the United States opposed the consensus.
Nairametrics also reported this week that Dr. Ngozi Okonjo-Iweala was close to being appointed as the new Director-General of the World Trade Organisation (WTO). A group of ambassadors also known as "troika" had proposed Okonjo-Iweala to lead the WTO, giving her a clear path to becoming the first woman to head the WTO since it started 25 years ago.
The U.S President, Donald Trump, blocked the appointment of Ngozi Okonjo-Iweala as the WTO's next DG on Wednesday, declaring support for South Korea's Yoo Myung-hee instead.
The Ministry said that the FG would try to persuade the United States to join the consensus, as most of the WTO's members had agreed to appoint Okonjo-Iweala as DG.
"Nigeria is currently reaching out to all members of the WTO including the United States and South Korea to overcome the impasse as well as persuade the United States to join the consensus," the trade ministry said.
Dangote Sugar appoints Ravindra Singhvi as GMD/Chief Executive Officer
Mr. Ravindra Singhvi has been appointed as the substantive Group Managing Director/Chief Executive Officer of Dangote Sugar Refinery Plc.
The Board of Directors of Dangote Sugar has appointed Mr. Ravindra Singhvi as substantive Group Managing Director/Chief Executive Officer of Dangote Sugar Refinery Plc, effective October 30, 2020.
This disclosure was made by the company in a notification of the resolution of its board meeting, to the Nigerian Stock Exchange.
The statement partly reads:
"Dangote Sugar Refinery Plc. wishes to notify the Exchange and the investing public that at the Board of Directors Meeting of the Company held today, Friday October 30, 2020, the Board approved (a) the Unaudited Financial Statement for the Quarter Ended September 30, 2020, and (b) the appointment of the current Ag. Managing Director, Mr. Ravindra Singhvi as substantive Group Managing Director/Chief Executive Officer of Dangote Sugar Refinery Plc. effective October 30, 2020."
What you should know
Prior to his new appointment, Mr Singhvi had been the ag. Managing Director of Dangote Sugar Refinery Plc since 18th June, 2019, after serving as the company's Chief Operating Officer.
The Board's stance on the appointment
The Board has stated that it is "confident that he is a great asset to the Company, particularly at this time when it is on a rapid growth trajectory, in view of its recent acquisition and it's several backward integration projects (BIP) to position itself for further job creation in local plantations and factories, import substitution and deeper contribution to national economic development."
Mr. Singhvi is wished the very best in his endeavors.
About Mr. Ravindra Singhvi
He has over 39 years of proven experience in leadership positions in Manufacturing and Processes in Sugar, Petrochemicals, Cement, and Textiles products industries in India.
He is a Chartered Accountant with background in Company Secretarial Practice, Corporate Governance and Management, and holds a Bachelor's Degree in B.Com (Hons) and Law(I) from the University of Jodhpur, India.
Prior to joining Dangote Sugar Refinery Plc, Mr. Singhvi had served as the Managing Director & CEO of NSL Sugar Limited, Hyderabad, India, and Managing Director, EID Parry (1) Limited, Chennai, India, one of top three sugar producing companies in India.