The digital lending space in Nigeria continues to boom despite the issues around unethical practices by some of the lenders and even the untoward attitudes of some borrowers who obtain loans without the intention of paying them back.
The latest figure from the Federal Competition and Consumer Protection Commission (FCCPC) shows that 161 companies have been given full approval to operate as digital lenders in Nigeria, while 40 others have been given conditional approval.
This brings the total number of approved loan apps in the country to 201, aside from hundreds of others that are operating without registering with the regulator.
Take away from the modus operandi of some of these digital lenders in pushing out loans and recovering the same, The loan app companies are daring the odds to provide collateral-free loans, which traditional banks dare not venture into.
The speed at which the loans are disbursed, customized repayment plans, and less documentation make the loan apps the quickest bet for Nigerians in need of urgent cash.
With many apps currently providing loan services in Nigeria, both the registered and the unregistered ones, a look at the download figures of these apps, especially on Google Play Store shows their popularity among the Nigerian folks.
While there are several loan apps with as low as 10,000 downloads, here are the top 5 loan apps in Nigeria that have crossed 5 million downloads on Google Play Store as of August 2023:
---
5. Palmcredit (5 million plus downloads)
Palmcredit is one of the few loan apps that have crossed 5 million downloads and is one of the most patronized in Nigeria. The lending platform says it can provide a quick loan of up to N300,000 in less than 3 minutes without any form of collateral. You can borrow between N2,000 to N300,000 quick loan and if your documentation is complete and accurate, you can get your disbursement within a business day, the platform claims. The app has been downloaded over 5 million times on the Google Play Store as of August this year. The app is rated 4.3 by 165,000 users.
---
4. Okash (5 million plus downloads)
Okash is a convenient quick online loan platform for Nigeria mobile users managed by Blue Ridge Microfinance Bank Limited. OKash fulfils customers' financial needs completely online 24/7. The application process takes just a few steps with minimal documentation and the approved loan amount is transferred to the applicant's bank account. The app offers loans ranging from N3,000 to N500,000 and repayment plan ranges from 91 days to 365 days.
This app has seen significant growth in downloads in the last year as it jumped from 1 million downloads in June last year to over 5 million downloads as of August this year. OKash app is rated 4.3 out of 5 by 170,000 users.
---
3. FairMoney (10 million plus downloads)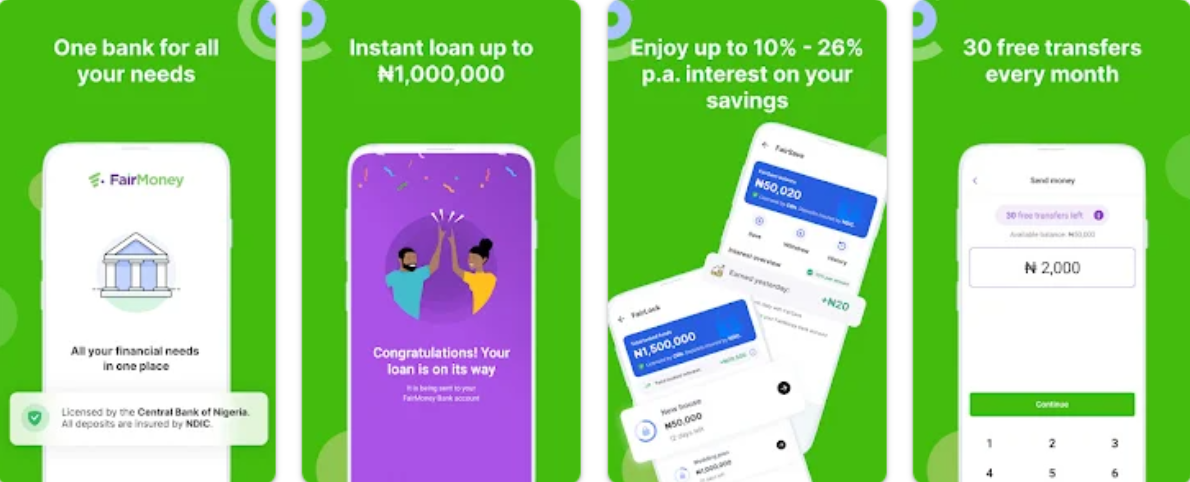 FairMoney says it offers fast loans within 5 minutes with no documentation or collateral required. The loan amounts vary based on your smartphone data and repayment history. Loan amounts range between N1,500 to N500,000 with repayment periods from 61 days to 180 days at monthly interest rates that range from 10% to 30%. The app is, no doubt, one of the most used by Nigerians as it has also been downloaded more than 10 million times and still counting.
The Fairmoney app is rated 4.3 out of 5 by 587,000 users.
---
2. PalmPay (10 million plus downloads)
Palmpay is an automated lending service focused on increasing access to credit to financially under-served/excluded individuals around Africa. Launched in Nigeria in 2019, the company says it has provided over 5,000,000 customers with convenient and affordable digital payments.
The company also claims that loan decisions on its app are provided within 15 seconds and if approved, the applicant receives funds within 5 minutes, 24 hours a day, 7 days a week. On the app, the usual amount for new borrowers is N10,000.
This app is one of the most downloaded loan apps in Nigeria as of August 2023 with over 10 million downloads. The Palmpay app is rated 4.6 by 566,000 users.
---
1). Branch (10 million plus downloads)
The branch is a platform that offers quick online loans in Nigeria. The app determines loan eligibility and personalized loan offers using the users' smartphone data.
Their interest rates range from 15% – 34%. You can get access to loans from N1,000 to N200,000 within 24 hours, depending on your repayment history, with a period of 4 to 40 weeks to pay back.
All you need to apply is your phone number or Facebook account, bank verification number (BVN), and bank account number. They will also request access to the data on your phone to build your credit score.
The Branch app crossed 10 million downloads since last year and the number is still growing. The app is also highly rated at 4.5 by 1.1 million users.