Nasdaq takes the lead as DOW and S&P plunge  
Nasdaq started the day bearish before making a bullish return on the back of Apple with an Increase of (+1.27%) to close $125.57.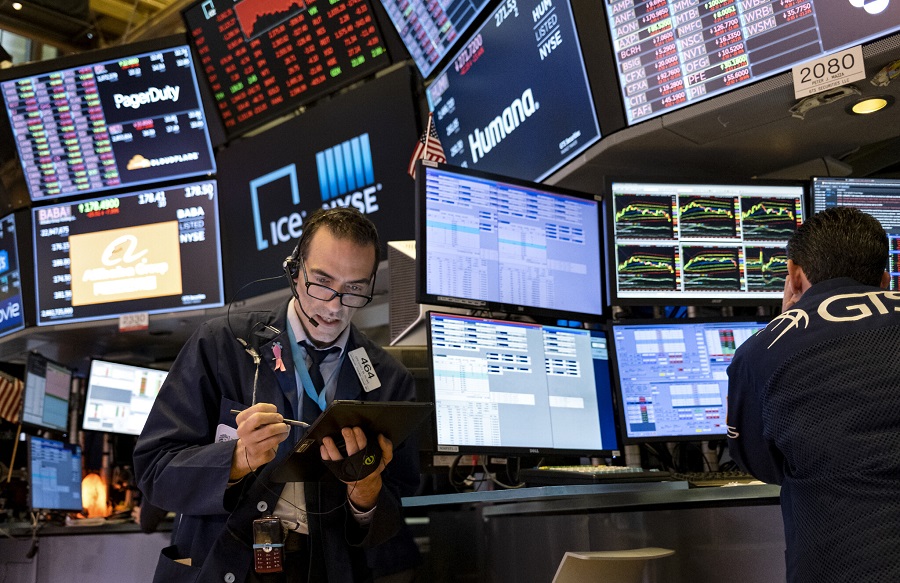 Dow Jones broke its 7-day winning streak by plunging ( -0.39%), closing at 32,825.95 index points. The S&P 500 dropped from its record high after taking a loss (-0.16%) to settle at 3,962.71 index points. However, Apple ended the trading section bullish as the Nasdaq led with a (+ 0.09%) to close at 13,471.51 index points.
The S&P 500 and Dow are still near their record highs, but there's rising anxiety among investors that interest rates may continue to climb, reducing the chance of a bullish return for equities. The market price fall can be linked to the benchmark 10-year Treasury yield which briefly rose above 1.62% in the afternoon trading session.
READ: Tesla hit a lifetime high, market value now $659 billion
The US may be greatly affected by the outcome of the Fed's meeting on Wednesday, investors await the outcome of the spotlight meeting, when Fed Chairman, Jerome Powell speaks to the press after the Fed's two-day meeting.
Subsequently, Nasdaq started the day bearish before making a bullish return on the back of Apple with an Increase of (+1.27%) to close $125.57.
In the S&P 500, Ford Motors and General Electric dropped by (-5.38%) and (-1.5%) respectively.
Telsa took a hit of (-4.39%) and closed at $676.88
Alphabet is up 1.3% and 1.4% and Amazon is up 0.3%.
READ: DEAL: Flutterwave raises $170 million Series C Round, now valued at $1 billion
Nasdaq Top Gainers
      Fintech Acquisition up (+42.58%) closed at $15.27.
      Lizhi up (+29.13%) closed at $13.61.
      New Fortress Energy up by (+26.31%) closed at $54.08.
      aTyr Pharma up by (+26.34%) closed at $6.14.
      Cyclo Therapeutics up by (+21.71%) closed at $12.39.
Nasdaq Top losers
      Oriental Culture down by (-35.81%) close at $5.97
      Solid Biosciences down by (-32.23%) close at $6.45
      Sigma Labs down by (-29.97%) close at $5.35
      Kaspien Holdings down by (-29.66%) close at $29.65
      Zynerba Pharma down by (-27.43%) close at $5.10.
READ: U.S stocks futures rebound strongly amid high hopes on COVID-19 vaccines
S&P 500 Top Gainers
  Ford Corp A up (+3.44%) closed at $44.17.
      Ford Corp B up (+3.29%) closed at $41.42.
      Applied Materials up by (+3.19%) closed at $118.54.
      Allegion PLC up by (+3.04%) closed at $121.35.
      Discovery A up by (+2.90%) closed at $75.81.
      Nov down by (-10.34%) close at $15.18.
      Macerich down by (-5.61%) close at $13.45.
      Ford Motor down by (-5.38%) close at $12.49.
      Freeport McMorran Cruises down by (-5.33%) close at $34.99.
      Royal Caribbean down by (-5.33 %) close at $89.52.
Outlook
        Despite the loss, market sentiments remain bullish across indexes.
        Growth stocks may be affected by Treasury bonds uptick.
        Investors awaiting the outcome of FED meeting this week.
        Increase in yield to 2.5% would make the bond more attractive than stocks.
With rising bond yields and foreign reserves, will the CBN finally tackle inflation?
A flurry of large corporate debt sales is also underway led by MTN and Dangote Cement which could take out NGN200billion.
Bond yields revved up over the last one week driven by sell-offs on auction bonds (in particular the 25-year) where yields crossed 13%. Though the Q2 2021 bond auction calendar points to a modest increase in borrowings by the DMO, the underlying driver of the sell-off appears to be forced liquidations of excess short-money positions from the March 2021 bond auction, amid another short-lived strain in the banking sector liquidity.
Liquidity squeeze across money markets drive money market rates higher: The step-down in OMO maturities over April implied that money markets were heading into a tight liquidity period. Unlike the usual NGN200-300billion weekly maturities, April opened to only NGN49billion in OMO maturities which implied tight funding positions across. Accordingly, interbank lending rates spiked to 30%, and though this subsequently receded, it remained in double digits. Placement rates for large institutions have moved to 7-8% from 0-1% levels at the start of 2021.
READ: OPEC, NSE, MTN, other developments and how they affect your pocket
'Margin calls' trigger sell-offs on the 25-year, resets curve to December 2019 levels:  The steepening along the Naira yield curve resumed last week with an average increase of 41bps (YTD: +439bps) driven by over 120bps jump in the 25-year bond (2045). As I noted in my review following the bond auction, the DMO overallotment meant that everyone who needed a bond got on including speculative bids from short-money accounts (brokers). The overallotment resulted in these short-money winners having more bonds than their leverage financed positions could have permitted implying these excess positions needed to be sold off. Unfortunately, the over-allotment meant limited secondary market demand at current yield levels. Compounding the situation was the funding squeeze across the banks, who now applied pressure on these short-money positions to exit these auction bond positions (a sort of margin call). As consequence, these 2045 bond auction winners soon turned into desperate sellers and flooded the market with offers seeking to hit the bids. Above 13%, demand predictably returned and helped calm markets. Beyond the 2045, there were limited desperate offers on the other tenors which has resulted in a mispricing that should adjust in the coming days. The lesson here is in a tight liquidity environment as we are moving towards, bond auction over-allotments hold the risk of sell-offs by short-money traders.
READ: Stock Market end first quarter in deep red
Figure 2: NGN Yield Curve
Source: FMDQ, NBS
Q2 2021 Bond calendar: The Debt Management Office (DMO) released the Q2 issuance calendar wherein it will seek to borrow between NGN450-540billion with the upper end pointing to an extra NGN90billion worth of sales. In my opinion, the bond calendars are not indicative of the evolution of actual borrowings as the DMO has shown a pattern of being highly sensitive to market liquidity conditions (with overallotments in coupon heavy months and under allotments during tight spells) while making maximum use of non-competitive bids. For evidence look no further than in Q1 2021 when the DMO sold bonds with face value of NGN637billion well above target of NGN450billion. Perhaps surprising is the planned re-opening of the 2049s at the May auction which looks odd but could indicate the existence of a large non-competitive bidder who wants the tenor.
READ: NSE-30 companies lose N1.13 trillion in market capitalisation year-to-date
FX reserves continue to track higher, Eurobond conversations get underway: Foreign reserves continued to rise, up 0.6% w/w to USD34.9billion which suggests the impact of higher oil prices is starting to feed through. This comes just as news of parties being appointed for a Eurobond sale gathers steam. Depending on the size, and I expect a record sale, near term foreign reserve outlook appears positive. Throw in the upward adjustments in interest rates and moves to cultivate remittance inflows, Naira outlook appears on less shaky footing than in recent times. On this wise, the currency continues to hold around the NGN410/$ handle in the NAFEX window (Friday: NGN409/$) and NGN482/$ at the parallel market.
The Week ahead (April 12-April 16, 2021)
In the week ahead, system inflows are thin comprising OMO bills (NGN10billion) and NTB maturities (NGN70billion). As such there will be an NTB auction on Wednesday and possibly an OMO sale on Thursday. In keeping with the trend in recent auctions, the 1yr will likely take another step closer to parity with the OMO bill with a potential stop rate of 8.5-9%. A flurry of large corporate debt sales is also underway led by MTN and Dangote Cement which could take out NGN200billion. Funding pressures will continue to force banks to reduce trading positions but on a lesser scale than in the prior week. In terms of data releases, the NBS should announce the March inflation numbers.
READ: Naira gains at NAFEX window despite 26.2% drop in dollar supply
Inflation likely accelerated in March to over 18%:  The National Bureau of Statistics (NBS) looks set to publish the March 2021 inflation numbers. Though fuel prices have stabilized after Nigerian authorities elected to continue working out a resolution with labour unions, food prices have continued to accelerate over the lean season. Though monthly trends likely remained sticky, the year-on-year comparison still points to over 20% increases in food prices which cover over half of the CPI basket. With this in my mind, my expectation is for the headline print to come in at 18-18.2% with the monthly print at 1.55-1.58%.
Term premiums have started to moderate reflecting the NTB re-pricing but the next big move on interest rates is the May 2021 MPC with the key data point of Q1 2021 GDP. In the event, Nigeria consolidates on the exit from recession with a positive growth read, then I expect the CBN to hike monetary policy rates by 200bps accompanied by an upward adjustment in the 1-year OMO and May 2021 SPEB maturities to at least over 12-13% levels as a first step towards managing inflation expectations.
Seplat incurs N41.1 billion loss from OML 55, blames fall in oil prices
Seplat Petroleum reported it took an impairment loss of N41.1 billion ($114.4 million) from its interest in OML 55.
Nigeria's leading upstream oil company, Seplat Petroleum reported it took an impairment loss of N41.1 billion ($114.4 million) from its interest in OML 55, a contentious Oil block it currently shares with Belemaoil under a management contract signed in 2017.
The losses contributed significantly to the company's full-year loss of N30.7 billion in 2020, one of its highest on record and only topped in the last 5 years by the N45.3 billion incurred in 2016.
The company explained the impairment loss was "primarily as a result of re-assessment of future cash flows from the Group's oil and gas properties due to significant fall in oil prices" during the year. This was contained in notes 12.2 of its 2020 audited accounts which it recently released.
Seplat received total proceeds of $4.8 million under the "revised OML55 commercial arrangement with Belemaoil for the monetization of 67.5 kbbls" part of the agreement it reached with the Rivers State-based Belemaoil. It claimed the recovery was "impacted by OPEC+ production cuts and low oil prices" leading to an impairment of $114.4 million.
READ: Seplat: Why the buzz around Nigeria's foremost oil exploration company?
OML 55
In 2015, Seplat announced it had entered an agreement with Balemaoil to acquire about 56.25% of the share capital of Belemaoil Producing Limited. This was after Belemaoil completed the acquisition of a 40 percent interest in OML 55 from Chevron Nigeria Limited. NNPC holds the remaining 60 percent interest in OML 55.
Seplat at the time claimed its "effective working interest in OML 55 as a result of the Acquisition is 22.5 percent" a claim that will be disputed years later by Belemaoil.
Seplat also claimed it paid $132.2 million to acquire the 22.5% "effective working interest in OML 55" and also revealed it "advanced certain loans of $132.9 million to the other shareholders of Belemaoil to meet their share of investments and costs associated with Belemaoil" bringing the total up-front cash outlay after adjustments to about $265.1 million.
READ: Access Bank vs. Seplat: Of subterfuge and corporate brutality
Seplat also announced the following when it acquired the asset:
"The adjustments to the up-front acquisition cost include a deferred payment of $20.6 million contingent on oil prices averaging $90 a barrel or above for 12 consecutive months over the next five years. Under the agreed terms Seplat will recover the loaned amounts, together with an uplift premium of $20.6 million and annual interest of 10 percent, from 80 percent of the other shareholders' oil lifting entitlements.
The Company estimates net recoverable hydrocarbon volumes attributable to its 22.5 percent effective working interest to be approximately 20 million barrels of oil and condensate and 156 Bscf of gas (total 46 MMboe). Current gross production at OML 55 is approximately 8,000 bopd (1,800 bopd on a 22.5 percent working interest basis). Pursuant to the Joint Operating Model approved by the Honorable Nigerian Minister of Petroleum Resources, Seplat has been designated operator of OML 55. The Company will also act as technical services provider to Belemaoil."
These claims ended up being disputed by Belemaoil until the NNPC/NAPIMS waded in to reach a truce in 2017. Before the truce, Belamaoil claimed Seplat did not meet its commitment by not completing "certain agreed payment" which was required to purchase 40% stake in OML 55 then owned by Chevron.
READ: Will the recovery in the oil market be shortlived?
Losses mount despite the agreement
Despite the agreement reached with Balema, Seplat had no choice but to make provisions for the N41 billion losses in its 2020 financial year. They provided the following explanation;
"In accordance with the revised commercial arrangement that was agreed in July 2016, which provides for a discharge sum of $330 million to be paid to Seplat over a six-year period through allocation of crude oil volumes produced from OML 55, Seplat received payments amounting to $4.8 million in 2020. Total payments received from inception to the end of 2020 stood at $124.8 million and the outstanding discharge sum to be paid to Seplat is $205.2 million. Recovery during the year was impacted by OPEC+ production cuts and low oil prices."
Seplat also explained that it has put plans in motion to address other issues affecting production from the oil block.
"In a bid to sustain production from this block, Seplat's Asset Management Team has received the field data for technical evaluation to resolve production challenges that have delayed target recovery of the investment. In 2021, Seplat will continue to monetize liftings towards full recovery of the $330 million discharge sum."
Why this matters
An operating OML 55 will be strategic to Seplat in 2021 and could determine how well it recovers from the losses of 2020. Their share price could skyrocket by the end of the year if the asset produces as expected.
Nairametrics | Company Earnings
Access our Live Feed portal for the latest company earnings as they drop.