Battle of Titans: Elon Musk, Jeff Bezos share world's richest title
Stiff competition prevails as both Jeff Bezos and Elon Musk share the world's richest title.
The battle for the worlds richest has suddenly become so intense that both Elon Musk and Jeff Bezos both share the world's richest man title on the account they both have a net worth of $184 billion.
Bezos, the man behind the world's most valuable retail company, Amazon, has steadily been seeing his wealth valuation appreciate amid high market volatility currently prevailing at global financial markets.
The 49-year-old self-made billionaire, Elon Musk is sharing, the world's richest when recent data revealed Tesla recorded impressive gains of about $9.75 at the end of Monday's trading session.
Investors are currently increasing their buying pressure on Tesla as they weigh reports that the electric vehicle industry is expected to grow into a $5 trillion market over the next decade, thereby giving the world's most valuable car company room for more upside.
READ: China's richest man worth $94.1 billion earned a fortune from selling bottled water
It's important to note that both mega billionaires have in recent times focused their considerable brainpower on space technology as Bezos recently accelerated his space-travel efforts through his firm popularly known as Blue Origin.
Recent reports suggest SpaceX founded by Musk raised another $850 million this month from a group of leading institutional investors led by Sequoia Capital.
Such investment now puts SpaceX's valuation at $74 billion, a 60% jump from August, and helped boost Musk's net worth by about $11 billion, according to the index.
Bezos who is now the Chairman of the $1.58 trillion valued company, Amazon has about $9.63 billion cash in the bank.
READ: Apple's market value cross $ 2 trillion
The online retail giant returns have under his tenure as the chief executive officer of the e-commerce giant actually ranked second among all S&P stocks since the IPO in May 1997.
The 57-year-old billionaire is the founder of Amazon, the world's biggest online retailer company on earth. The American-based company sells books, household goods, and other retail products through its flagship platform.
His company also controls the Whole Foods grocery chain and offers video streaming services and remains the biggest cloud computing provider worldwide.
READ: Billionaires worth over $100 billion made $270 billion in 2020
That being said, both Elon Musk and Jeff Bezos's wealth valuation would currently buy 107 million troy ounces of gold or 2.91 billion barrels of crude oil.
Here is the exciting 2021 list of the richest football clubs in the world  
Here's Forbes 2021 list of the most valuable clubs in the world.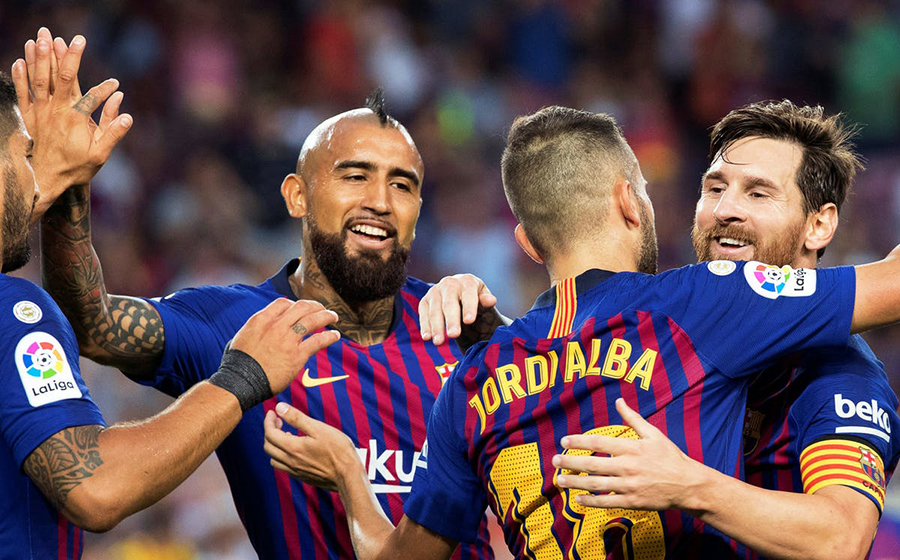 Billionaires are fond of investing in sports franchises. This is because there is a lot of money in it and the income stream is pretty consistent. Authoritative wealth watch magazine, Forbes yesterday released its official list of the most valuable clubs in the world.
It also gave a summary of the business side of the football world which we found quite interesting.
Nairametrics did a thorough review of the list and highlighted the parts which we believe will resonate well with our readers. Let's get to it!
Top 10 richest clubs in 2021 by value 
---
Tottenham (2.3bn) 
Tottenham hotspur comes in at the 10th position with a valuation of $2.3bn. The English club is owned by Joseph Lewis and Daniel Levy. They generated $494m last year.
---
PSG (2.5bn) 
Paris St Germaine comes in at 9th position with a valuation of $2.5bn. The French league 1 giants generated more money than arsenal last year. They generated $599m. PSG is owned by an investment group, Qatar Sports Investments.
---
Arsenal (2.8bn) 
Arsenal football club, another London side club comes in at 8th position with a valuation of $2.8bn. The club is solely owned by Stan Kroenke, an American Businessman who invests in sports and media. Arsenal generated $430m in 2020 making it the 8th most valuable club.
---
Chelsea (3.2bn) 
Chelsea football club comes in 7th on the list with a valuation of $3.2bn. The London side club has retained its longstanding owner Roman Abramovich, a Russian Oligarch. Chelsea generated $520m last year.
---
Manchester City (4bn) 
Manchester City, an English club with a long history of billionaire owners comes in at 6th position. The very successful English club generated total revenue of $609m last year. The club is valued at $4bn and is owned by Sheikh Mansour bin Zayed Al Nahyan.
---
Liverpool (4.1bn) 
Liverpool comes in 5th at a $4.1bn valuation. The English club is the second wealthiest in England with a generated revenue of $619m. The club is owned by a joint partnership between Billionaire, John Henry and Tom Werner.
---
Manchester United (4.2bn) 
Manchester United is the wealthiest English club on the list. The club is valued at $4.2bn, taking up the 4th position on the list. The club has been owned by a Jewish business family, the Glaziers for years. They are the largest shareholders and practically own the club. They generated $643m last year.
---
Bayern Munchen (4.215bn)
Bayern Munchen comes in at the third position with a value of $4.215bn. The German giants have bossed the German league for years. They generated $703m last year, coming in at the 3rd position.
---
Real Madrid (4.75bn)
Real Madrid Fc comes in at the second position. The football club which had previously dominated this list was edged out by bitter rivals, Barcelona. Real Madrid is valued at $4.75bn and the club is also owned by the club members. Real Madrid generated $729m, the same amount of revenue as Barcelona last year.
---
FC Barcelona (4.76bn) 
Fc Barcelona is the most valuable football club in 2021 with a market value of $4.7bn. The club sits gallantly in the first position.
The Spanish giants generated a massive $792m in revenue last year and succeeded in holding on to their key player Lionel Messi. They also edged out Real Madrid and Man Utd who have dominated this list for 16 years. FC Barcelona is owned by the club supporters. It has no major shareholder or billionaire financier. The club has over 160,000 members forming its governing body.
---
What you should know 
6 of the 10 richest clubs in the world are owned by billionaires; the rest are owned by club members and an investment group.
In the last 16 years, the world's richest football clubs list has been topped by only two clubs – Real Madrid and Manchester United.
Football clubs generate revenues through advertisements, sponsorship deals, jersey deals and ticket sales. These are the 4 major revenue streams of a football club.
The top 3 teams on the list – Fc Barcelona, Real Madrid and Bayern Munchen generated a combined revenue of $2.3bn in 2020.
How young Elon Musk started and sold 3 businesses for $1.9bn before Tesla
We look at the 3 successful businesses Elon Musk founded and sold for a collective $1.9bn before starting Tesla.
Success is never an accident. It is most times the result of many years of hard work and consistent effort. Elon Musk is popular today for his electric car company Tesla and his space project SPACE X. But long before these, he was already a multi-millionaire and had founded 3 successful companies which he sold for a collective $1.9bn.
The purpose of this article is to paint a clear picture of what it takes to be among the top 1% of any field. It takes years of consistent hard work to get there. Elon Musk is the perfect example of an individual with a very strong work ethic. His story below will prove that to you.
This article will briefly look at the 3 successful businesses Elon Musk founded and sold for a collective $1.9bn before starting Tesla. Let's go!
READ: Blue Origin Vs Space X: Bezos and Musk's subtle battle for supremacy
Blaster ($500)
A 12-year-old Elon Musk facing bullying in high school and a not so friendly dad taught himself how to code. According to the Inc. Magazine, he mastered BASIC a general-purpose coding language making use of a commodore PC he acquired himself. He later that year, sold the code for his PC game Blastar to a PC magazine for approximately $500.
This was his first business endeavour which he started and sold.
READ: Tesla investor sues Elon Musk for causing problems with his tweets
ZIP 2 ($340m)
After the sale of Blastar for $500, Elon Musk and his brother Kimbal took a $28,000 seed money from their dad and started another internet venture, Zip 2. They rented an office and slept in it because they couldn't afford a house.
Zip 2 was a web software startup that created online city guides for newspapers. The software was patronized by the New York Times and other notable media companies.
Elon Musk and his brother Kimbal sold Zip 2 to PC giants Compaq for $340m. The year was 1999 and Elon Musk was 28 years old.
READ: Reinvestment: The powerful strategy used by the 2 richest men in the world
X.com/PayPal ($1.5bn)
Elon Musk continued on his journey of starting companies and selling them. He took $10m out of his earnings from the Zip 2 deal and joined the internet boom.
He founded x.com an online platform he envisioned to be the future of internet banking. In 2000 X.com merged with a Fintech startup, Confinity, founded by Peter Thiel, another would-be billionaire. Both companies combined to become what we know as PayPal today. Elon musk was named CEO of PayPal and had the highest number of shares in the company.
In 2002 PayPal was acquired by eBay for a whopping $1.5bn.
READ: Elon Musk gains $25 billion in a day, as Tesla surges by 20%
What you should know
Elon Musk has often stressed the need to be consistent and have strong work ethics. In a graduation ceremony by the USC Marshall School Of Business, Elon Musk shared his opinion on work ethics according to CNBC.
"You need to work super-hard. Work hard every waking hour," Musk said in 2014.
"If you do the simple math, and say if somebody else is working 50 hours [a week] and you're working 100, you'll get twice [as much] done in the course of a year as the other company."
We hope this Monday article will inspire you to work harder and strive to get more work done in record time.
Nairametrics | Company Earnings
Access our Live Feed portal for the latest company earnings as they drop.