Fidelity restates support to small business as Enugu First Lady, ABCON commend bank
The webinar is part of concerted efforts to assist entrepreneurs unlock their full potentials and take their businesses to the next level of growth.
Fidelity Bank Plc, top Nigerian lender has reaffirmed its commitment to enhancing the productivity and prosperity of Micro Small and Medium Enterprises (MSMEs) in the country by providing capacity building and advisory services, innovative funding options and other forms of relevant support that would significantly improve their overall contributions to national development.
Fidelity CEO, Mrs. Nneka Onyeali-Ikpe gave the assurance at the Fidelity SME National Capacity Building Webinar organized by the bank for entrepreneurs in Enugu State, in collaboration with the Enugu State Ministry of Trade and Commerce and the Enugu SME Centre; Small and Medium Enterprises Development Agency of Nigeria (SMEDAN); Nigeria Association of Small & Medium Enterprises (NASME) and Enugu Chamber of Commerce, Industry, Mines and Agriculture (ECCIMA).
The webinar which will take place across the country on a state-by-state basis, is part of concerted efforts to assist entrepreneurs across all sectors of the Nigerian economy develop requisite capacity to unlock their full potentials and take their businesses to the next level of growth.
Mrs. Onyeali-Ikpe who during her remarks on Wednesday provided insights into the bank's unique approach to managing MSMEs, pointed out that SMEs which are businesses with less than N100m annual turnover contribute about 48 percent of national GDP, account for 96 percent of businesses and 84 percent of employment in Nigeria.
She noted that despite the significant contribution of SMEs to the Nigerian economy, challenges still persist that hinder the growth and development of the sector. Chief among these are funding, lack of infrastructure, poor management, low entrepreneurial skills, improper planning, poor digital skills, etc. The Fidelity CEO however noted that the webinar seeks to proffer appropriate solutions to these challenges in a very practicable manner.
"We have a dedicated SME Desk with innovative products and services to assist your business. Fidelity Bank, in partnership with various private and public institutions provides funding, business advisory services for all our customers. This webinar is an excellent opportunity to network, share information and deepen the SME sector in Enugu State", she explained.
Themed "Funding and Financial Management", the Enugu Edition had in attendance special guests including Mrs. Monica Ugwuanyi, First Lady, Enugu State, Sir Robert O. Anwatu, Managing Director/Chief Executive Officer, Roban Stores, and Mr. Chiedozie Atuegwu, Director, Michelle Laboratories Limited, amongst others.
In her remarks, Mrs. Ugwuanyi applauded the bank for its unrelenting support for MSMEs in Enugu State, stating that the Ifeanyi Ugwuanyi-led administration remained at the forefront of SME development in Nigeria as exemplified by its continuous investments in infrastructure deployment and provision of labor policy frameworks to further encourage investments.
Speaking in the same vein, President, Association of Bureau De Change Operators of Nigeria (ABCON) (ABCON) Dr. Aminu Gwadabe commended the bank for its sustained efforts at promoting MSMEs nationwide. Gwadabe noted that the bank had been very supportive to its 5,000 licensed members nationwide. "The Bureau De Change (BDC) does about N1.4trillion per annum. Fidelity Bank controls 60 percent of these transactions in the country", he explained.
Whilst shedding light on the dynamics of the Bureau De Change sector, Dr, Gwadabe revealed that exchange rate stability was determined by the country's SME structure. Given the immense potentials inherent in the nation's MSME space, he said that the fledgling sector, if properly positioned, could assist the Central Bank of Nigeria (CBN) achieve its mandate on exchange rate stability.
Click here to watch the full webinar.
Dangote: Cement price from our factories is between N2,450 and N2,510 per bag, VAT inclusive
…says Nigeria price is in line with or lower than prices across the West African coast.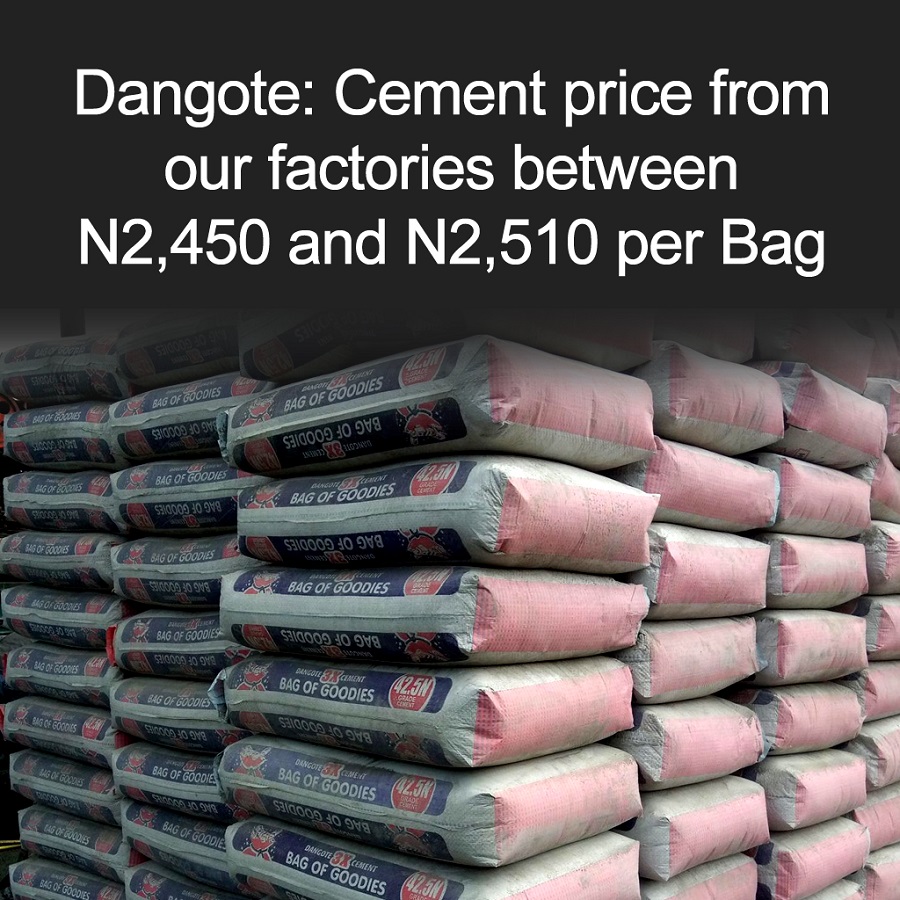 Management of Dangote Cement Plc has clarified that the price of a bag of cement from its factories and plants across Nigeria (as at 12th April, 2021) is N2,450 in Obajana and Gboko, and N2,510 in Ibese inclusive of VAT. The clarification was made in view of recent insinuations that the company sells cement in Nigeria at significantly higher prices relative to other countries, particularly Ghana and Zambia.
Dangote's Group Executive Director, Strategy, Portfolio Development & Capital Projects, Devakumar Edwin revealed that, while a bag of Cement sells for an equivalent of $5.1, including VAT in Nigeria, it sells for $7.2 in Ghana and $5.95 in Zambia ex-factory, inclusive of all taxes. He said that though the company has direct control over its ex-factory prices, it cannot control the ultimate price of cement when it gets to the market. He advised that it is important to distinguish Dangote's ex-factory prices from prices at which retailers sell cement in the market.
READ: Dangote Cement pays N1.1 trillion in dividends in 5 years.
He, therefore, frowned at intentional misinformation or demarketing, allegedly sponsored by some individuals, that Dangote sells its cement at higher prices in Nigeria relative to other African countries at the expense of Nigerians. He described the allegation as false, misleading, and unfounded, while giving the media persons present at the press conference copies of invoices from Nigeria and some other African countries (Cameroun, Ghana, Sierra Leone, Zambia), and urging them to conduct independent investigations on the price of cement across the West African coast.
Edwin further explained that while Dangote cement has 60% share of the market, other companies have the remaining 40%. DCP has no control over neither the prices charged by other cement manufacturers nor the prices charged by retailers in the markets.
READ: Dangote Cement joins MTN in the trillion-naira club, as 2020 revenue surpassed N1 trillion
He further explained that "Demand for cement has risen globally as a fallout of the COVID crisis. Nigeria is no exception as a combination of monetary policy changes and low returns from the capital market has resulted in a significant increase in construction activity. To ensure that we meet local demand, we had to suspend exports from our recently commissioned export terminals, thereby foregoing dollar earnings. We also had to reactivate our 4.5m ton capacity Gboko Plant which was closed 4 years ago and run it at a higher cost all in a bid to guarantee that we meet demand and keep the price of Cement within control in the country."
READ: Dangote Cement considers debt funding options under 300 billion bond issuance programme
He said: "Over the past 15 months, our production costs have gone up significantly. About 50% of our costs are linked to USD so the cost of critical components like: gas, gypsum, bags, and spare parts; has increased significantly due to devaluation of the Naira and VAT increase. Despite this, DCP has not increased ex-factory prices since December 2019 till date while prices of most other building materials have gone up significantly. We have only adjusted our transport rates to account for higher costs of diesel, spare parts, tyres, and truck replacement. Still, we charge our customers only N300 – 350 per bag for deliveries within a 1,200km radius. We have been responsible enough not to even attempt to cash in on the recent rise in demand to increase prices so far." 
Zylus Group launches new estate in Lagos
…rewards outstanding realtors with cars.
Leading real estate company, Zylus Group International, has continued with its mission to make every Nigerian a property owner and addressing the housing deficit problem in the country. The company expanded its reach to the Abraham Adesanya neighbourhood of Lagos, a developed and serene environment, by launching its new housing project: Lekki Pride on January 10th 2021.
This new estate comes with a mouth-watering and flexible payment plan which would allow buyers to enjoy the world-class amenities which Lekki Pride will provide. Some of the facilities at the estate include Cinema House, Recreational Centre, Solar Powered Streetlights, CCTV Surveillance, Estate Gym, Cameras, Smart Home Features 24-hours Power Supply. Others are modern drainage system, Perimeter Fencing, Portable water, spacious parking space and a lot more.
The GMD of Zylus Group International, Oluwatosin Olatujoye said that Lekki Pride Estate is an estate that offers apartments tailored to meet your highest standards, with excellently designed luxury homes, that bring comfort, luxury, and appreciation over time.
He explained that, "we aim to aid the drive of the government in reducing the recurring housing deficit problem in Nigeria. Lekki Pride will set a new hallmark for sophisticated urban and luxury living in Nigeria."
The MD, Zylus Homes and Property noted that the estate has unique features and elegant designs tailored to meet the luxury needs of the modern-day upwardly mobile resident and investors as well as aesthetic appeal. It enjoys good proximity to landmarks like Abraham Adesanya Roundabout, Agofure Motor Park, Ajiwe Police Station.
Engr. Williams Popoola, the project manager explained that Lekki Pride comprises of tastefully finished units of one, two and three-bedroom apartments, two and three-bedroom Terraces, three and four-bedroom semi-detached apartments. Some of the apartments will also have BQ apartments and Penthouses.
The highlight of the launch was when the Group rewarded realtors with cars for being outstanding and meeting various targets in the past month. Some of the winners expressed their happiness, as many couldn't contain their joy. They thanked Zylus Group, for recognizing their hard work and encouraged others to do more.
The event was well attended by dignitaries and popular celebrities including dignitaries, Comedian Bash, Koffi, popular Nollywood actresses, Dayo Amusa, Sikiratu Sindodo, actor James (Ogbolor), and Brand Ambassador Jumoke Odetola, among other stakeholders in the real estate industry. They and many others present at the event praised Zylus Group for all that they do in solving the housing needs of Nigerians.
Lekki Pride is a product of Zylus Homes and Property Limited, a subsidiary of Zylus Group International a fast-rising privately owned and internationally recognized business capital organization based in Lagos, Nigeria with an interest in real estate, human capital development, agriculture, infrastructure, general construction, among others.
About Zylus Group
Zylus Group International is a fast-growing real estate firm in Nigeria. It is a privately owned and internationally recognized business capital organization with an interest in Real Estate Investment, Property Sales, Human Capital Development, Agriculture, Infrastructure and General Construction, Property Valuation, Designs and Printing, Media, Transport and Logistics, Travelling and Tours, Property Management and many more.
Our corporate culture speaks Professionalism, Excellence, Integrity, Knowledge, and Service to offering top-notch business relationship to all our partners across all our operational subsidiaries.
Integrated in our Philosophy which is "At all times to deliver quality services with accountability and professionalism.
For more information about us, visit https://www.zylushomes.com/
Nairametrics | Company Earnings
Access our Live Feed portal for the latest company earnings as they drop.