These stocks made money for investors in January
January was great for Nigerian stock and these were the best stocks.
The Nigerian Stock market ended the month of January in positive territory as the All Share Index recorded a month to date return of 5.32%.
Stocks have continued with the bullish run which started in July 2020 culminating in a year-to-date return of 50.3% in December 2020 by far the best in the world. Investors will also not mind that the 5.32% return recorded in January is the lowest month to date return since August 2020.
Nevertheless, stocks got a flying start with about 20 stocks gaining more than 20% during the month alone. In total, 68 stocks posted gains during the month compared to losses from 20 stocks. Investors who purchased the top 10 best-performing stocks during the month gained at least 30% and above.
READ: If you had $100,000 in cash, where would you invest it in US markets?
See the chart below
Sectorial Performances
In terms of indices, the insurance sector led the way with a whopping return of about 29.77% one of its best months in years. The sector is in a recapitalization mood, so it was not surprising to see most stocks gain impressively. By our estimates, 9 insurance stocks posted a return of at least 10% and in January.
Nairametrics Stock Select Newsletter (SSN) included AIICO, Mansard, Custodian, and NEM Insurance as stock picks last year. They have each returned +33%, 33%, 2.6%, and 25% respectively.
READ: NSE Exchange Traded Funds (ETF) market capitalization hits N24.51 billion
Though not a separate index, telecom giants, MTN and Airtel also enjoyed a rewarding January as their share prices rose by 8% and 9% respectively, taking them to new year highs. MTN was recommended by Nairametrics for a buy-in may last year when it was just N107.4. It has gained over 68% since then.
Cement company Lafarge which closed at N30 per share is among the best performing stock in the month of January posting a return of 43% one of the best stocks last month. The stock was also included in Nairametrics SSN when it was selling for just 11.75 providing our subscribers with a return of 155.3%.
Just last week we recommended Consolidated Hallmark Plc (CHI Plc) at 37 kobo. The stock gained 18% during the week and is close to hitting our target exit price of 45 kobo per share.
READ: iPhone users top 1 billion, Apple posts revenue of $111.4 billion
Is January a bellwether?
The Month of January is hardly a bellwether for what to expect throughout the year but if data is anything to rely on then stocks have ended the year on a positive note 19 times out of 24 whenever January ends with a positive return.
This suggests the year has more chances of closing positively than negatively. However, this is merely statistical, and not certain that stocks will close positively.
In fact, in the last 10 years where stocks have closed positively in January, the year has gone on to close negatively 2 out of 6 times.
And as we have stated often on Nairametrics, the drive for the Nigerian Stock market performance this year will be the exchange rate, interest rates, and oil prices.
READ: High demand for Azure, homework tools boost Microsoft earnings
Stocks to watch
FUGAZ
Caverton
CHI
Julius Berger
Transcorp Plc
NASCON
Presco
Subscribe to Nairametrics Stock Select Newsletter for more.
---
To subscribe to Nairametrics Newsletter, follow this link.
Wall Street upsurges as unemployment and treasury yields fall
The S&P 500 increased by (+1.11%). The Dow also made a gain of (+0.90%).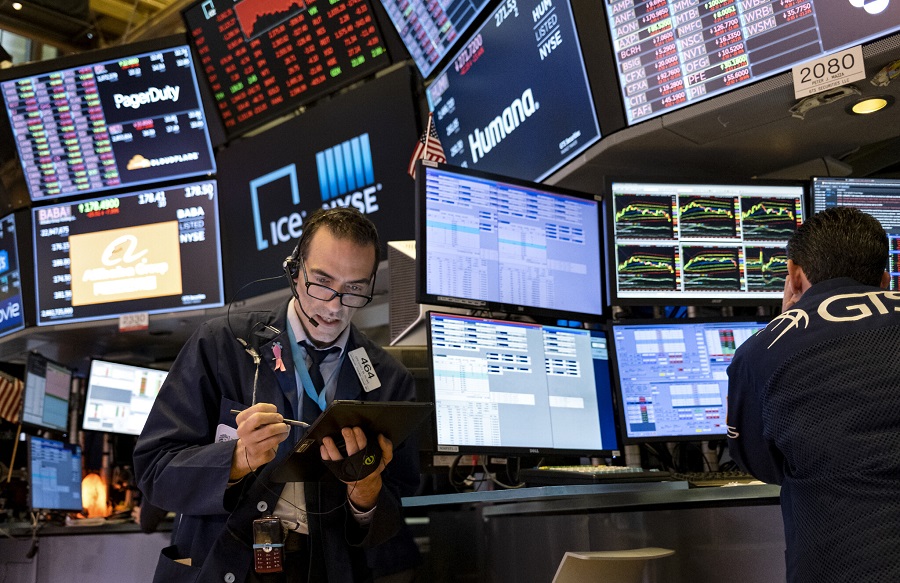 Stocks soared to new highs on Thursday, as investors awaited a far stronger-than-expected reading on consumer spending and a dramatic drop in the number of new jobless claims.
Retail revenues increased by 9.8%, with stimulus checks and lowered social distancing expectations contributing to the increase. Nasdaq surged (+1.31%) at the end of the trading session. The S&P 500 increased by (+1.11%). The Dow also made a gain of (+0.90%).
Treasury Yields fell. Retail sales increased to their highest level since May 2020, in March.
The yield on 10-year Treasuries was at 1.58%, after falling six base points.
The volume on U.S. exchanges was 9.3 billion shares, versus the 11.4 billion average for the last 20 trading days.
Unemployment claims fell to 576,000, the lowest level since the Covid-19 pandemic began, adding to the good economic news.
READ: Walls Street upsurges as unemployment declines
Top gainers  
AMD up 5.68% to close at $83
NVIDIA up 5.63% to close at $645.49
Coty Inc up 5.55% to close at $9.13
Xilinx Goldcorp up 5.25% to close at $130.10
Newmont Goldcorp up 4.74% to close at $64.78
Top losers
Trust Financial Corp -4.14% to close at $57.22
MGM down -3.81% to close at $39.69
Nordstom down -3.21% to close at $35.94
Norwegian Cruise Line down -3.18% to close at $28.28
Charles Schwab down -2.88% to close at $65.50
READ: Bitcoin ETF in North America has reached $1 billion in assets
Outlook
Among the best ETFs, the Innovator IBD 50 ETF (FFTY) climbed 0.8%, while the Innovator IBD Breakout Opportunities ETF (BOUT) was up 0.7%. The iShares Expanded Tech-Software Sector ETF (IGV) gained 1.85%, with Microsoft and ADBE stock major components.
Nvidia (NVDA), Adobe (ADBE), and Facebook (FB) were among the first to make bullish movements around entry points. Apple (AAPL), Microsoft (MSFT), Amazon.com (AMZN), and Alphabet (GOOGL), the parent company of Google, have made significant gains.
Nairametrics, however, advises cautious buying in this era of growing uncertainties.
Jaiz Bank and EcoBank survive the plunge of the NSE Banking Index
Market sentiments trend strongly bearish as the losers outweighed the gainers substantially.
The NSE Banking Index traded bearish at the end of the trading session yesterday as two banks posted gains as opposed to two stalemates and six losses. The NSE Banking Index finished in the red with a loss of -0.97% to put the index point at 344.83. Market sentiments trend strongly bearish as the losers outweighed the gainers substantially.
Jaiz Bank continued with its outstanding performance to post profit of +6.67% pushing the price to N0.61 from its N0.60 held on the previous day. EcoBank was also saved from a sudden dip of the NSE Banking Index with gains of +2.08% putting the price at N4.90. Fidelity Bank posted zero profit, to put the price at N2.47. Access Bank also saw a stalemate holding the price at N8.10 once again.
Union Bank topped the losers with a loss of 7.14% putting the price at N4.75 from its previous N4.90. Wema Bank declined from its previous day gains pushing the price downwards from N0.60 to N0.55 showing a -6.67% loss. UBA was 3rd among the losers with a loss of -2.16% pushing the price downwards to N6.80.
Zenith Bank also saw a loss of 0.91% pushing the price from N22.00 to N21.80 technical analysis shows major consolidations with a downward pressure felt during midday. Zenith Bank shares saw recovery during the late hours of the trading session but it was not substantial enough to put it above the opening price.
Sterling Bank was not left out of the claws of the bears with losses of -0.61% pushing the price downwards to N1.70. GT Bank also posted a loss of -0.17% moving the price from N28.95 to 28.75.
Outlook
Market sentiment trended bearish as 6 companies made losses as opposed to 2 stalemates and 2 gains at the end of the trading session yesterday.
Nairametrics counsels cautious participation in the market amid growing uncertainties in Nigeria.
Nairametrics | Company Earnings
Access our Live Feed portal for the latest company earnings as they drop.