52.5 million Ethereum wallets are making money
Since the start of 2021, 35 new $ETH whale addresses have been created, controlling $447 million combined.
Most Ethereum holders are obviously having a lot to laugh about.
This is because over 52 million wallets are now in a state of profit. In other words, the current price is higher compared to the price point at the time the coins were last kept in those wallets.
Data retrieved from Glassnode, a crypto analytic company revealed Ethereum Number of Addresses in Profit (7d MA) just reached an all-time high of 52,471,986.
READ: Why Ethereum is becoming more attractive than Bitcoin
Metric Description:
The number of unique addresses whose funds have an average buy price that is lower than the current price. "Buy price" is here defined as the price at the time coins were transferred into an address.
Only Externally Owned Addresses (EOAs) are being counted, contracts are excluded.
READ: Ethereum suffers biggest one-day percentage drop since March 12, 2020
📈 #Ethereum $ETH Number of Addresses in Profit (7d MA) just reached an ATH of 52,471,986.030

View metric:https://t.co/9t2b8JZ83s pic.twitter.com/IZN0Tae0JR

— glassnode alerts (@glassnodealerts) January 31, 2021
What this means: The prevailing bullish trend in the flagship utility crypto asset has to do with ETH 2.0 launch which is a major catalyst. Every phase of ETH 2.0 over the next 2-3 years brings ETH closer to its final state and will be catalysts for Ethereum.
READ: Investor moves $1 billion for $7 fee on Ethereum Blockchain
At the time of drafting this report, Ethereum traded at $1,350.27 with a daily trading volume of $27.2 billion. Ethereum is up 0.08% for the day.
That said, the number of whale wallets holding 10,000 Ether, some days ago reached a 13-month high.
Since the start of 2021, 35 new $ETH whale addresses have been created, controlling $447 million combined meaning institutional investors are significantly responsible for the bullish trend in play at the second most valuable crypto asset.
Coin of the week: Ever heard of EOS?
EOS is currently trading $11.33 with 936 million coins in circulation and a total supply of 1.02 billion.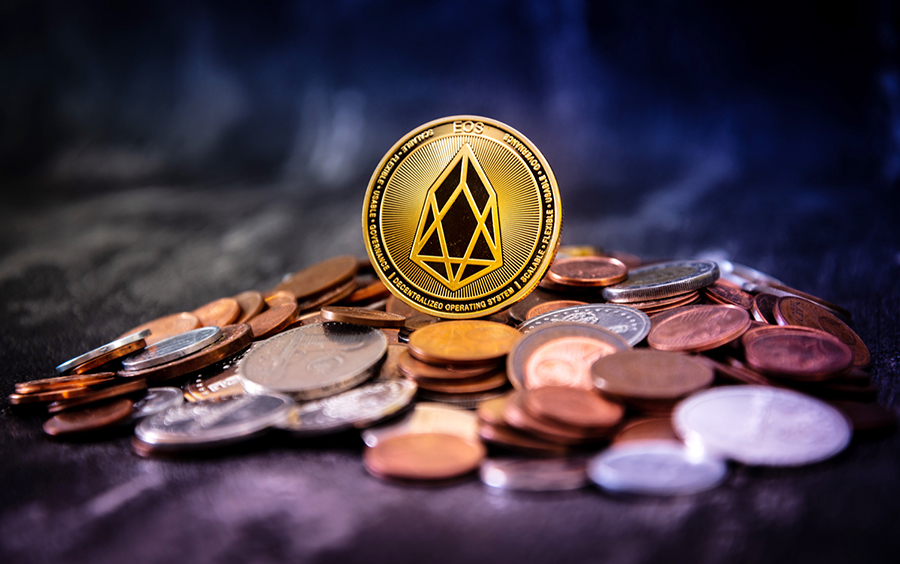 EOS was created and designed to allow developers to build decentralized apps (DApps). DApps are any computer applications whose operation is maintained by a distributed network of computer nodes, as opposed to a single server.
The EOS platform was developed by the company Block.one, to make it as straightforward as possible for programmers to embrace blockchain technology and ensure that the network is easier to use than rivals. It also aims to deliver greater levels of scalability than other blockchains which can only do a dozen transactions per second.
EOS was created by Daniel Larimer and Brendan Blumer. Brenden Blumer is an entrepreneur, who was one of the co-founders of Okay.com, a digitally focused real estate agency in Hong Kong while Daniel Larimer is a software programmer who has also started a series of crypto ventures such as the crypto trading platform BitShares and the Steem blockchain. They are both members of Block.one's executive team, with Brendan Blumer as CEO and Daniel Larimer as CTO.
Why Invest in EOS?
Block.one stated that EOS can accommodate the demands of thousands of DApps, even if they were being used by a high number of people. Parallel execution, as well as a modular approach, are said to drive this efficiency.
EOS represents a truly democratic system that takes into account the will of the people, in this case, its token holders, as they can vote for block producers as well as other matters such as protocol upgrades.
Network Security
EOS, like many other coins, uses a delegated proof-of-stake consensus mechanism. This concept was conceived by Daniel Larimer and aims to solve some of the flaws that are seen in conventional PoW (Proof-of-Work) and PoS (Proof-of-Stake) systems.
As stated earlier, those who own EOS tokens can vote for representatives who will be responsible for validating its transactions. One of the advantages is that it helps eliminate consolidation, where smaller miners are pushed out by those who have greater levels of computing power and resources.
Price Analysis
EOS is currently trading $11.33 with 936 million coins in circulation and a total supply of 1.02 billion. EOS has gained approximately 466% return comparing its 52 weeks low to its current price today. It is currently down 49.71% from its all-time high of $22.89 that was last traded on the 29th of April, 2018.
Recently, after the Biden administration's proposed tax hike, the coin dropped from its previous 2021 peek of $8.80 to a 0.236 Fibonacci retracement zone of $4.74, creating a new higher-low that indicates a bull market. No surprise that the market broke its previous 2021 high to create a new high of $13.18 on the 6th of May, 2021, following news of the coin proposing to increase its staking rewards. It is believed that this running will lead the coin to break its previous all-time high of 2018.
Although it is not advisable to buy coins at peak prices, recent news as earlier mentioned, suggests that an increase in demand for the coin is imminent. Block.one mentioned that the protocol needs to increase the rate of inflation from its current pace of 1% to a rate between 1.2% and 3.8% intended to increase financial incentives for voters and block producers. While token holders still need to settle on what exact size the inflation rate will increase to, the possibility of higher yields for community participation has brought demand to the coin.
A second major development for the protocol is the EOS PowerUp model, which intends to allow users to pay a fee to power up their account for 24-hours to transact on the network as opposed to paying a transaction fee for every transaction. Block.one mentions that the PowerUP model offers EOS token holders another way to earn a yield by depositing unused EOS tokens to receive a percentage of all the 'power-up' fees that are generated by the network. This has become an increasingly attractive option as investors are searching for ways to avoid the high gas fees (transaction fees) and network congestion on the Ethereum (ETH) network.
With the overall cryptocurrency market bullish and projects like Litecoin (LTC) and Ethereum Classic (ETC) reaching new highs, EOS is a blockchain project that could benefit investors as the cryptocurrency bull market continues.
Altcoin season? Ether, ADA, Doge and others hit all-time highs
The cryptocurrency market is said to be in "Altseason" as the majority of the altcoins in the top 100 on CoinMarketCap.com rallied yesterday.
The cryptocurrency market is said to be in "Altseason" as the majority of the altcoins in the top 100 on CoinMarketCap.com rallied yesterday. Ether, ADA, Doge, and Ethereum Classic hit new all-time highs.
Several large-cap tokens reached multi-year highs but Bitcoin's price struggles to hold any of the news-driven gains that it has accrued throughout the week. The recent pump in altcoins has led to the decline in the market dominance of Bitcoin over the past few weeks. According to analysts, this is another indication that the Altcoin season is here.
The market dominance of Bitcoin has dropped to 45.31% from the previous peak of 72.48% (as of January 2021) representing a 37.48% decline in market dominance. This means that the altcoin correlation with Bitcoin is relatively low and bitcoin is no longer a "drag" on other altcoins as bitcoin trades $56,500 (down by 12.84% from its all-time high) as at the time of writing this report.
READ: 3 altcoins likely to get price explosions in the next few months in 2021
What is causing the rally?
For Ethereum, over the past few months, high gas fees (transaction charges of the crypto world) have plagued the Ethereum network as a result of the volume of transactions executed on the network which is majorly driven by DeFi (decentralized finance) platforms such as Uniswap (UNI Token). This has caused investors to switch to other networks such as the Binance smart chain network which has cheaper gas fees. Ethereum just announced that its London hard fork network will be upgraded with the implementation of "EIP-1559." This upgrade is expected for July 2021 and the network claims it will help to significantly reduce the gas fees.
ADA is going into the smart contract space with its "Alonzo Testnet" scheduled for lunch in May 2021. The recent rally in ADA should come as no surprise, as the popular saying in the crypto world goes, "Buy the testnet and sell the mainnet launch."
READ: Crypto aftershocks send Doge crashing by 10%
Dogecoin, which started as a meme, created an all-time high following its listing on eToro and Gemini exchanges. The listing should come as no surprise because of the calibre of individuals that are pushing for the adoption of the coin – Mark Cuban, Elon Musk, Snoop Dogg just to mention a few names.
Ethereum Classic, popularly known as the "first Ethereum" has gained about 295% to create a new all-time high. Despite the security issues of the cryptocurrency, the coin has surged to new levels without any changes.
Other altcoins like Litecoin, EOS, Vechain, Steller have also surged significantly with gains of 20% or higher.
Nairametrics | Company Earnings
Access our Live Feed portal for the latest company earnings as they drop.