U.S stocks fired up, triggered by COVID-19 vaccine
U.S. stocks recorded impressive gains as global traders bet bullish amid signs of a potentially effective COVID-19 vaccine
U.S. stocks recorded impressive gains as global traders bet bullish amid signs of a potentially effective COVID-19 vaccine and economic recovery in 2021.
What we know
The S&P 500 gained by 1.4% to 3,585.15 points, as it printed impressive gains. The Dow Jones Industrial Average gained 1.4%, to close at 29,479.81 points. The Nasdaq Composite, the tech-dominated index, advanced 1% to 11,829.29.
READ: Nigeria's inflation rate hits 13.22% in August 2020, highest in 29 months
The Russell 2000, which tracks small-cap stocks, jumped more than 2% to an intraday record and posted its first all-time closing high since August 2018.
Disney closed 2.1% higher on the back of impressive earnings.
Shares of cruise operator Carnival rose more than 7%. United Airlines and Boeing were both up more than 5%. At the sector level, energy and industrials rose 3.8% and 2.2%, respectively, to lead the S&P 500 higher. Financials were up more than 1%.
READ: NASDAQ down 2%, Tesla loses over 12%
Stephen Innes, Chief Global Market Strategist at Axi, in an explanatory note to Nairametrics, spoke on the macros that could disrupt global stocks in the coming week. He said:
"Policymakers need to bridge between this week's positive vaccine news and mass rollout. A timetable for immunization in the US, for example, could encourage bipartisan efforts to support consumers and firms through 2021. Meanwhile, monetary policymakers can afford to maintain extreme accommodation until CPI inflation rises materially above target.
READ: U.S dollar tumble, Currency traders more risk averse
Related to ongoing policy support, social mobility restrictions will likely remain in place to varying degrees for months to come. Risk assets require carefully calibrated monetary and fiscal policy support for this period.
They will be increasingly sensitive to insufficient policy support as the virus spreads ahead of a vaccine rollout."
READ: Report any employer without Group Life Insurance for employees – PenCom
U.S stocks fired up on Joe Biden's pick for US Treasury post
At the close of trading at the New York Stock Exchange, the Dow Jones Industrial Average surged by 1.55% to hit a new all-time high.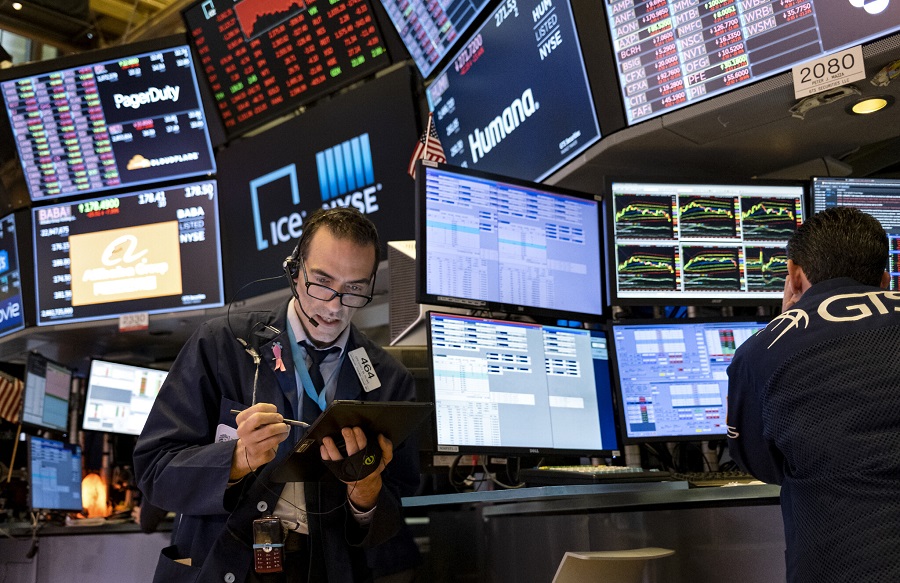 U.S. stocks were all fired up at its most recent trading session, amid high hopes on U.S President-Elect, Joe Biden's smooth transition to power and its top pick for the post of U.S treasury, Janet Yellen, saw investors buying at record levels, leading the Dow 30 to reach its all-time high.
A significant number of gains were seen in the Basic Materials, Oil & Gas, and Financial sectors.
At the close of trading at the New York Stock Exchange, the Dow Jones Industrial Average surged by 1.55% to hit a new all-time high, while the S&P 500 index gained 1.63%, and the NASDAQ Composite index added 1.32%.
The best performers of the session on the Dow Jones Industrial Average were Chevron Corp, which rose 4.92% or 4.48 points to trade at 95.51 at the close.
Meanwhile, JPMorgan Chase & Co (NYSE: JPM) added 4.28% or 5.05 points to end at 122.92 and American Express Company was up 3.88% or 4.51 points to 120.60 in late trade.
What they are saying
Stephen Innes, Chief Global Market Strategist at Axi, in a note to Nairametrics, hinted at key fundamentals presently pushing U.S stocks to record high:
"The Dow Jones index hit a symbolic milestone overnight, breaking through the 30,000 level. Market sentiment remains underpinned by the trio of successful vaccine trials announced in recent weeks, as well as, by the U.S. President's decision after the close on Tuesday to co-operate with a transition of power to President-elect Joe Biden.
"Thanks to the multiple vaccines in the pipeline. 'Joy to the World' is ringing in earlier than expected as global investors are elated by the vaccine news."
What this means
Janet L. Yellen, a highly respected Economist, has been tipped to become the first female Treasury Secretary. This has apparently excited investors based on her impeccable records leading the U.S Federal Reserve, some years ago.
Bottom line
Stock traders are simultaneously reveling in the drop in political existential risk premium now knowing the finishing touches on the U.S. election process will not devolve in mobocracy, as the U.S. General Services Administration acknowledged that Joe Biden can start his formal transition to the White House.
Flour Mills' GMD acquires shares worth ₦54.6 million
Paul Miyonmide Gbedebo has acquired 1,949,839 additional units of Flour Mills Nigeria Plc, worth ₦54.6 million.
Flour Mills Nigeria Plc (FMN) has notified the Nigerian Stock Exchange that its Group Managing Director, Paul Miyonmide Gbedebo, has acquired 1,949,839 additional units of Flour Mills Nigeria Plc's shares, worth ₦54.6 million.
In line with the Nigerian Stock Exchange policy on insider dealing, the formal disclosure was made by the Group's Secretary, Mr. Joseph Umolu.
According to the disclosure, Mr. Gbedebo acquired the additional shares in a single transaction, at an average share price of ₦28.00 per share, on November 17th 2020.
This put the total consideration for the shares purchased by the Managing Director at ₦54,595,492.00
At the end of trading activities today, November 24 2020, shares of Flour Mills Nigeria Plc closed at ₦25.40. This price, however, is 49.41% higher than its 52-week low of ₦17.00.
Why this matters
Dealings by insiders of listed companies are corporate actions to be disclosed, as required by the Nigerian Stock Exchange to aid transparency.
First Bank, UBA, Stanbic jumpstart Nigerian stocks
STANBIC led 25 Gainers as against 16 Losers topped by ETERNA at the end of today's session.
Nigerian bourse ended Tuesday's trading session on a positive note. The All Share index gained 0.64% to close at 34,340.56 points as against the 0.04%  drop recorded on Monday. Its Year-to-Date (YTD) returns currently stands at +27.94%.
Nigerian Stocks trading turnover cumulatively tanked lower, as trading volume dipped by 35.67% as against +64.69% uptick recorded on Monday. ZENITH BANK, TRANSCORP and GUARANTY were the most active to boost market turnover.
The market breadth closed positive as STANBIC led 25 Gainers as against 16 Losers topped by ETERNA at the end of today's session – an improved performance when compared with the previous outlook.
CILEASING leads the list of active stocks that recorded an impressive volume spike at the end of today's session.
Top gainers
STANBIC up 7.08% to close at N42.35
UBA up 6.49% to close at N8.2
ACCESS up 5.70% to close at N8.35
FBNH up 6.72% to close at N7.15
UPDCREIT up 9.64% to close at N4.55
Top losers
ETERNA down 9.98% to close at N4.15
FIDSON down 9.81% to close at N4.87
JBERGER down 8.95% to close at N17.3
UACN down 3.77% to close at N7.65
GUINNESS down 2.78% to close at N17.5
Outlook
Nigerian Stocks soared higher at the second trading session of the week, coupled with Africa's largest exporting earning product, crude oil reaching its highest level since March.
Significant buying pressure from Nigerian tier-1 banks which include First Bank, UBA, Stanbic, rallied Nigerian Stocks north, on the bias showing Nigeria's apex bank in its just-concluded monetary policy meeting retained the monetary policy rate and cash reserve ratio.
Nairametrics envisages cautious buying amid reports that still show COVID-19 pandemic will remain on the major headlines, at least in the near term.